Rain or shine, the feast must go on. Excluding the two-year pandemic, Pahiyas in Lucban has never been postponed due to inclement weather. It has been said that Mt. Banahaw and its surrounding areas have their own micro-climate.
Austere but festive
Coming down from a mountain resort in Mt. Banahaw, we were eager for a change of scenery. There was intermittent rain in the morning until it continuously poured by mid-afternoon. But the heavy pour did not dampen the spirits of the Lucbanins — although austere compared with the pre-pandemic celebrations, it was nonetheless festive. To ensure the safety of everybody, online registration was available and vaccination cards and temperature checks were required before entering Lucban.
Kiping, Anok, Araña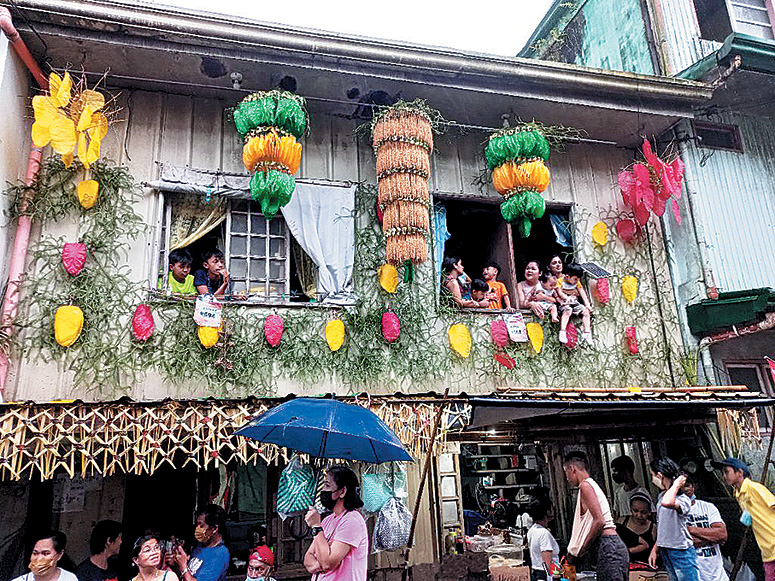 Pahiyas comes from the word "payas" which means to decorate. Since it is a celebration of the feast of San Isidro Labrador, the patron saint of farmers, the locals bedeck their houses with agricultural produce – vegetables, fruits, and flowers. What makes the decors colorful are the "kiping," a leaf-shaped wafer made from glutinous rice which comes in different vibrant colors. Another decor is "anok," which is a miniature made up of fruits & vegetables. The locals also create  chandelier-looking decors called "araña" made from farm produce. Interestingly, in Gumaca Quezon, the townspeople celebrate the feast of San Isidro Labrador in a fiesta called "Araña't Baluarte." Araña is Spanish for chandelier. The other surrounding towns of Tayabas, Sariaya, Tiaong, and Lucena City celebrate their own brand of fiesta in honor of San Isidro Labrador. To encourage the residents' creativity, a contest is held to award the best decorated house.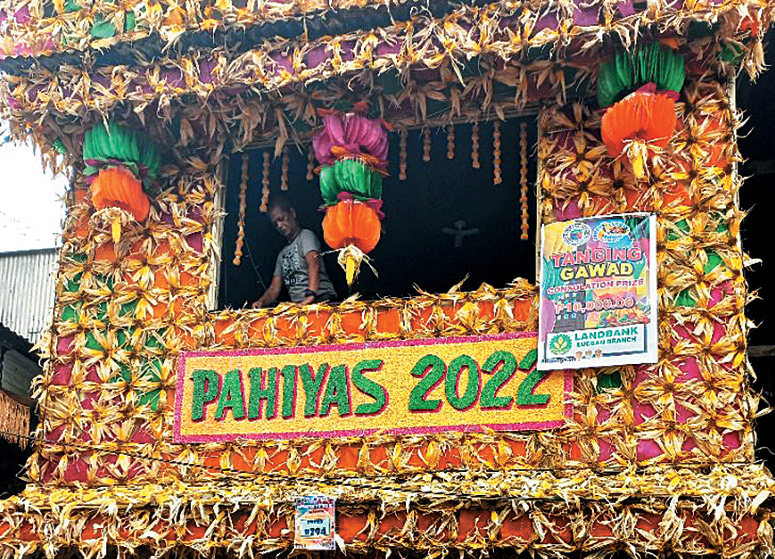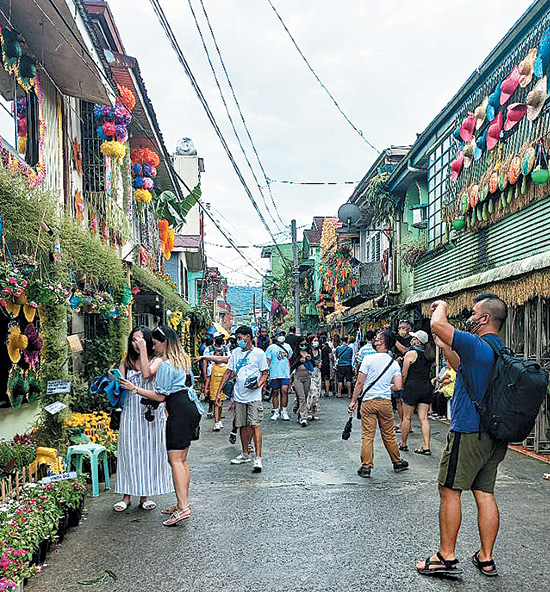 Origins
The origin of this festivity dates back to the 16th century when farmers brought their harvest  at the foot of Mt. Banahaw. When the friars arrived, the farmers brought their produce to the church to be blessed by the priest. When the time came that the church could not accommodate all the crops, the townspeople brought their yield to their homes and displayed them in a decorative way. The priest would then roam around to bless the houses. A mass is celebrated and a procession in honor of San Isidro Labrador is also held using different routes each year to "distribute" the blessings.
Longganisa, Pansit Habhab…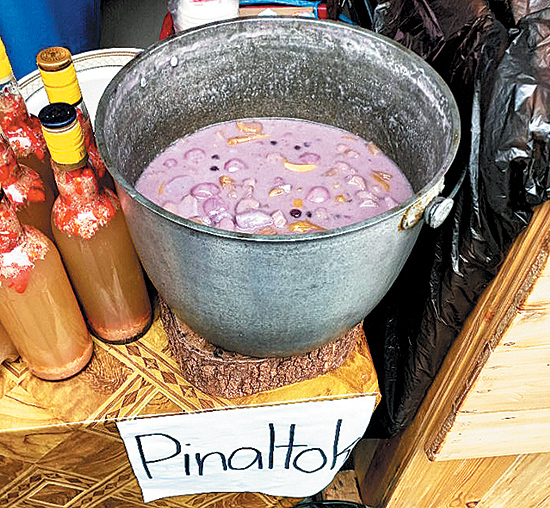 Lucban is also known for its food. During Pahiyas, longganisa was sold in almost every corner. Lucban longganisa is an aromatic and garlicky pork sausage which uses oregano, lean pork, pork fat, and coarse salt. It is red in color because of the paminton or Spanish paprika. In one stall, I saw longganisa being grilled. Another popular food is pansit habhab. What makes it unique is the way you eat it—with your mouth and without utensils. Instead of calamansi, you pour vinegar before gobbling it. I also tried "pinaltok" which is ginatan with gabi. There was a stall selling fried kiping and potato fries but I wasn't able to try it. In nearby Sariaya, we tried tamales which is rice topped with slivers of chicken or pork, a slice of hard-boiled egg and crushed peanuts.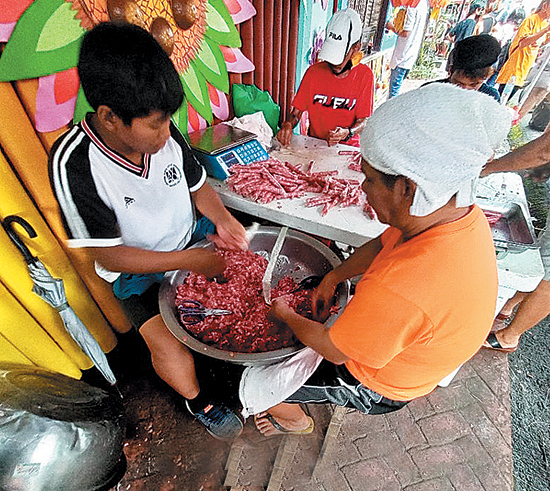 Lucban church
After walking through the colorful streets of Lucban, we decided to go to the church. Before reaching the church, we saw an outdoor gallery of paintings by Lucban artists. A few meters from the gallery was the town's church. I was astounded at the grandeur of Lucban Church which is officially called San Luis Obispo de Tolosa. It was established by the Franciscans in 1595, ruined in 1629 and damaged by fire in 1733. The present church was completed in 1738. It was also damaged during WWII but was restored.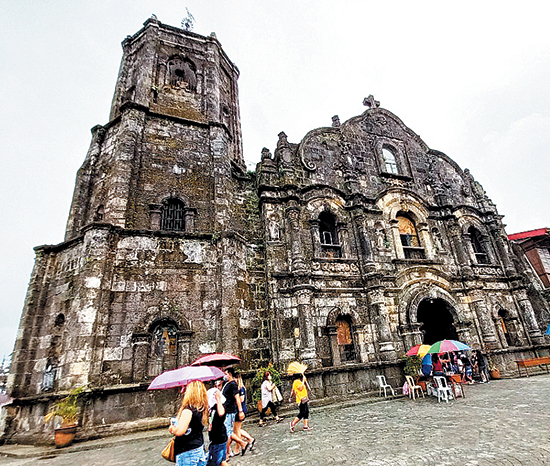 We were outside the church when it rained hard. While we were seeking shelter, a drenched marching band walked past us. They wore kilts similar to those worn by Scots, without the bagpipes. When the rains trickled, we decided to go back to our vehicle via tricycle. Since they were all full, we had no choice but to walk.
Higantes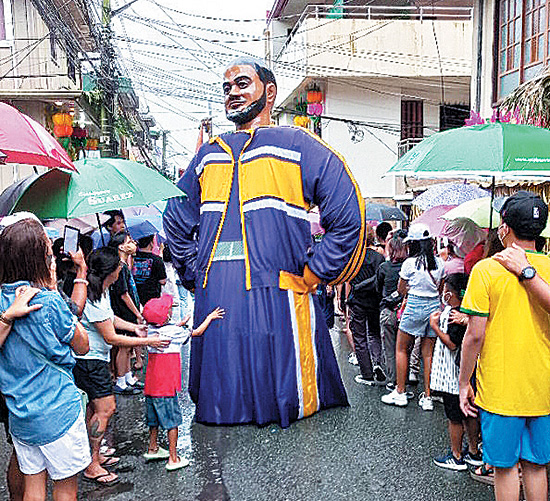 It was a good move because we saw the parade of Higantes. These giant puppets were crowd pleasers especially to the children who shouted, "Dito!" so that the giant puppets would approach them. Later, I found out there were also "Los Gigantes" in Mexico and Spain. In the Philippines, the Higantes Festival originated in Angono, Rizal as a sort of mockery of the bad hacienda owners during the Spanish times. I was told that in its purest form, no form of advertisement on the higantes was allowed. Other towns, including Lucban, added these giant puppets in their fiesta. We left at 5 pm so we don't know if they still practise "kalas," a fun event, wherein the crowd tries to take down the edible decorations with the owners seemingly stopping them.
Rain as blessing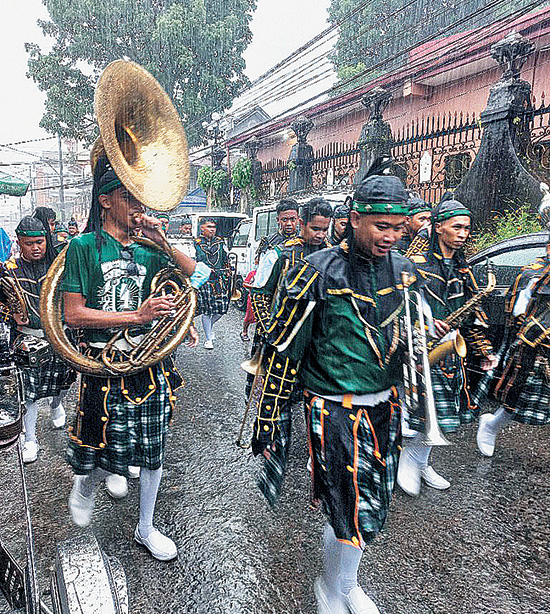 A fiesta is a microcosm of society, a community endeavor. I remember decades ago, there was a move to ban fiestas. The proponents of this ban reasoned out that Filipinos prepared and saved for one year only to spend it in one day during the festivity. But the Pahiyas endures for it serves as a thanksgiving for a bountiful harvest. Pahiyas happens every May 15 which is the transition between summer and the rainy season. It may have rained hard last May 15 but the Lucbanins looked at it as a blessing. Pahiyas means precious offering. Rain or shine, Pahiyas must go on.
JP Ordoña (Manilakad) leads Manilakad Walks in Intramuros, Binondo, Quiapo and more. In between, he writes, climbs, dives and more. Let him guide you to several walking destinations in Manila. Manilakad (JP Ordoña) can be reached on Facebook Messenger or through text at 0916-3597888.