(Lakad sa Dilim)
"This is not a ghost tour," I emphasized to the tour participants.
I've always wanted to get a closer look at the mysterious mansions of New Manila, dubbed as the pre-war Millionaires' Row.
Almost all people of distinction lived there, notably president Manuel Quezon and vice presidents Emmanuel Pelaez and Teofisto Guingona, Jr.
Joseph Estrada's Boracay mansion is also there. Even the old Senate could have a quorum there with the likes of Eulogio Rodriguez, Jose Roy, and Lorenzo Tañada. The house of Geronima Pecson, first Filipina senator, has a marker in front.
Ninoy Aquino also lived there when his father, Benigno Sr., bought a house on Broadway.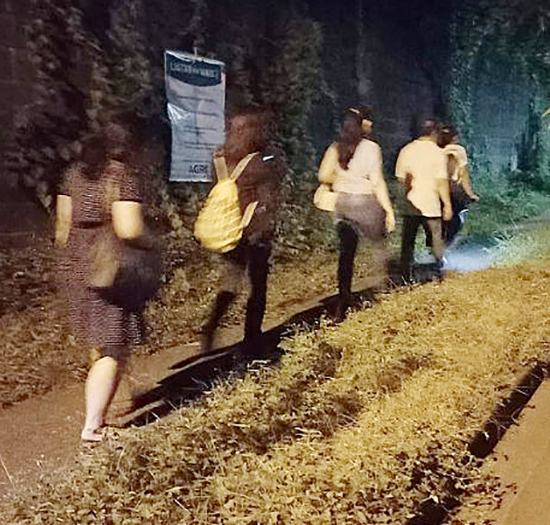 On the other side of Balete lived Danding Cojuangco with his bevy of cars. Claro M. Recto also lived on this fabled road. It is said that Recto's granddaughter who died in a vehicular accident is the real "White Lady of Balete Drive." The neighbors created this urban legend which has titillated many people's imagination including Peque Gallaga who directed "Hiwaga sa Balete Drive" starring Zsa-zsa Padilla. This movie was shot in Villa Caridad on Broadway. It was originally a resthouse for Jesuits then bought by an antique and art loving doctor. It was occupied by the Japanese during the war. After the war, it was sold to Ambassador Manuel Gallego and his wife, hence, the house became known as Villa Caridad.
Other movies that were filmed there were "Tanikalang Dugo," "Fe, Esperanza, Caridad," and "Halimaw sa Banga." Villa Caridad was eventually sold to a Chinese businessman who attempted to demolish it. However, every time they attempted to tear it down, the workers would hear wails of anguish so the owner decided to stop knocking down the house.
Hollywood of the Philippines
New Manila was also called "Hollywood of the Philippines" not only because Gloria Romero, Charito Solis, Amalia Fuentes, and Pilita Corrales lived there but also because Doña Narcisa "Sisang" de Leon resided on Broadway.
Her house, which was also used as a film location, was designed by National Artist Pablo Ocampo of FEU and Manila Polo Club fame.
Doña Sisang de Leon, together with Carmen Villongco and Eleuterio Navoa, started LVN Pictures which was named after the first three letters of their names.
LVN produced the award winning "Anak Dalita" and had a stable of actors such as Rogelio de la Rosa, Nida Blanca, and Armando Goyena.
Doña Sisang's grandson, acclaimed director Mike de Leon, continued her film making legacy. Near Gilmore is Sampaguita Pictures. Even "Mother Lily" Monteverde reportedly lives near that area.
Education and culture
New Manila is also an educational and cultural center. Saint Joseph has been around since 1932 whereas St. Paul opened in 1946. British Council used to be on 3rd St. and Goethe was on Aurora Blvd. Magsaysay awardee Philippine Educational Theater Association (PETA) has transferred from Intramuros to Eymard Drive.
Lebanese connection
Magdalena Hashim Ysmael-Hemady developed New Manila. She was a Lebanese emigrant who escaped the rule of the Ottoman Turks. When she arrived in Manila, her brother already owned the Manila Grand Opera House.
She bought real estate from the American colonial government which acquired it from the Jesuits.
She was married to Juan Ysmael and had three children. Her favorite son, Johnny Ysmael, a fast living millionaire, married Chona Recto, daughter of Claro M. Recto. He died of tuberculosis at the age of 32. His widow became the glamor icon, Chona Kasten, when she remarried Hans Kasten. Chona and Johnny had three children, one of whom is Louie Ysmael (a.k.a. Louie Y) who was the disco king of the '70s and the '80s with his successful discos and bars. Doña Magdalena remarried Kemal Hemady who helped her in her business.
Retreat houses
This rich neighborhood did not only attract the wealthy set but also those recuperating from tuberculosis which was prevalent during that time. It was convenient because of its proximity to Santol Sanatorium, now Quezon Institute. President Quezon, who died of tuberculosis, lived on Gilmore.
Names and lot size
Gilmore, by the way, was named after the American Governor General in 1920. Hemady used to be Pacific Avenue in reference to the Spanish-American War. New Manila is under Barangay Mariana, named after the daughter of Magdalena Hemady. The 1st to 13th streets were patterned after the streets of Manhattan, New York.
The lots on these streets average 1,000 square meters while the major roads Victoria, Broadway, Gilmore, Hemady, and Balete have an average of 2,000 square meters. It is the precursor of today's Forbes Park.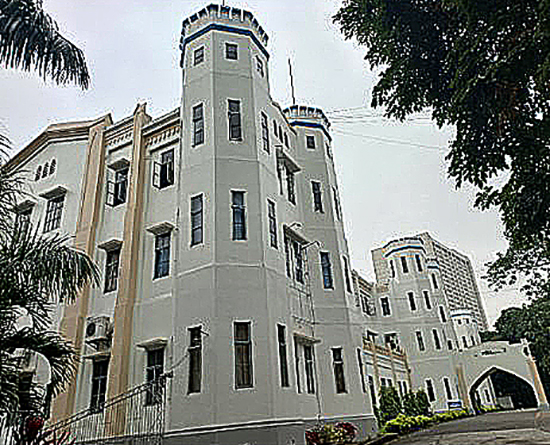 Religious houses
With many religious houses, New Manila became a mini Tagaytay. The biggest, probably, is the Society of the Divine Word Seminary. Founded in 1875 by St. Arnold Janssen in Steyl, Netherlands, it is one of the largest missionary congregations in the world. Their seminary was built in 1934 and has an architectural style similar to the National Penitentiary. It draws film makers who want to shoot the facade. Behind the church and seminary is the garden of the Divine Word columbary which is the most beautiful I have seen, so far.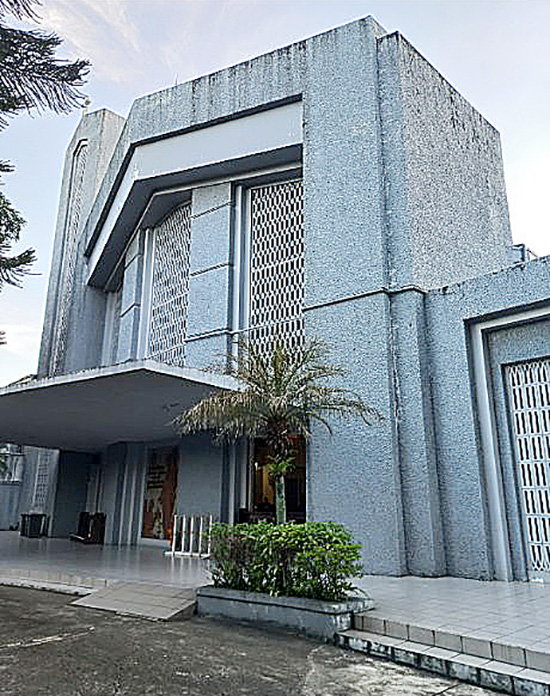 Crossing to E. Rodriguez, on Hemady is the St. Joseph of Perpetual Adoration. They are commonly called the Pink Sisters. Their church was built in 1965 by National Artist for Architecture Jose Maria Zaragosa of Sto.Domingo and Meralco Center fame. He studied liturgical art and architecture and is known for his modernist international style. Going toward Balete Drive via 10th St., we see a lot of pink ribbons.
On the left side near the corner of Balete is the rear gate of the infamous Erap Boracay mansion which is now occupied by the Office of the Vice President. It measures 7,145 square meters and occupies two adjoining lots with gates on both 10th and 11th Sts.
All extravagant amenities were stripped off before the government took over. On Balete is the low key Opus Dei and several big properties. At this point, some of the participants in the walking tour experienced headaches. One saw a fleeting image in his peripheral view. I didn't feel anything and I'm not an expert in these things so I don't know if their headaches were products of their imagination.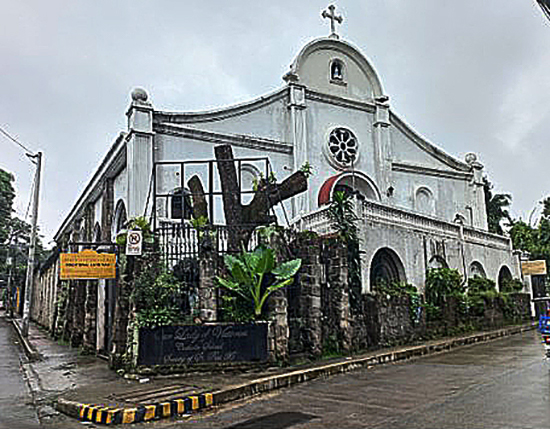 Weaving and passing through more religious houses, we arrived at Our Lady of Victories Church of the Society of St. Pius X (SSPX). This is the controversial, conservative Catholic group founded by French Archbishop Marcel Lefebvre in 1968. He was in favor of celebrating the mass in Latin rather than the local language. SSPX has a novitiate in Iloilo and several priories and chapels around the Philippines. Churchgoers have to follow a dress code, with women wearing a veil. The canonical situation of the Society of Saint Pius X is still unresolved.
After SSPX, we traversed the four main roads of New Manila – Balete, Hemady, Gilmore, and then Broadway while passing through the rear of Saint Paul Quezon City. On Broadway is an imposing structure called the Wisdom Park which is run by the Universal Wisdom Foundation, a Buddhist resource center that spearheads the spread of Buddhist trachings in the Philippines.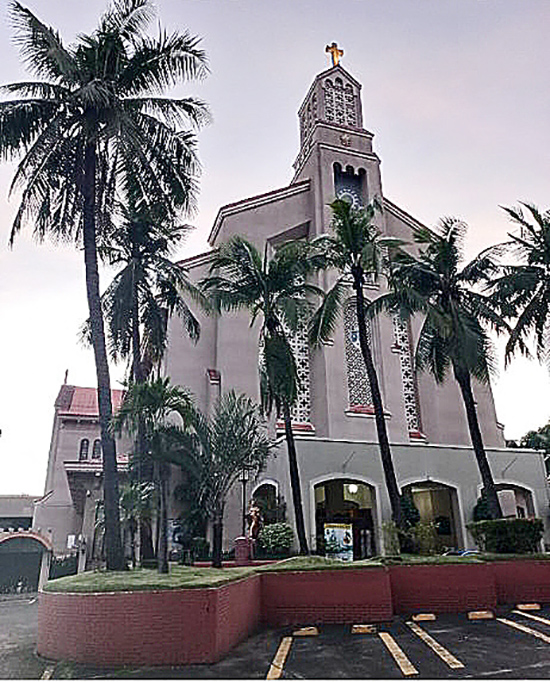 Between the 4th and 5th Sts. on Broadway is the Minor Basilica of the National Shrine of Our Lady of Mt. Carmel. It is under the Discalced Carmelites, a reform group of the Order of Carmelites. The basilica was designed by Architect Maximo Vicente Jr., the son of Maximo Vicente Sr., the master sculptor of religious images.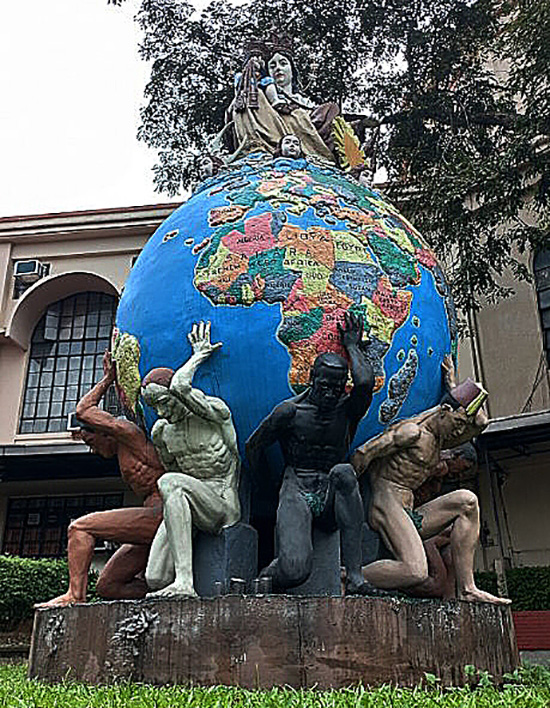 It is the only basilica in the Diocese of Cubao. One beautiful sculpture of Our Lady atop a globe is the "Ina ng Mundo" which was sculpted by Anastacio Caedo and painted by Graciano Nepomuceno. This was donated by the Ocampos of the Pagoda Mansion in Quiapo. Across the Carmel Basilica are the Pastorelle Sisters of the Sisters of Jesus the Good Shepherd which was founded in Italy in 1938. They now occupy a beautiful property which used to be owned by Magdalena Hemady.
Walking along Broadway toward E. Rodriguez, we passed by majestic mansions with a storied past including one which used to be owned by Felix Manalo.
Gora Lane
This walk was inspired by the GORA (Green Open Reclaimed Access) Lane which the Quezon City government recommends for walking. It starts in the Scout area (Mother Ignacia) and ends in New Manila (Hemady) covering more than five kilometers. It is connected to two MRT/LRT stations (Quezon Ave. and Gilmore) and passes through three main roads (Timog, E.Rodriguez, and Aurora Blvd.). The Scout area, named after the Filipino Boy Scouts who perished in a plane crash on their way to a World Jamboree, is a nice, quiet neighborhood with varied food establishments.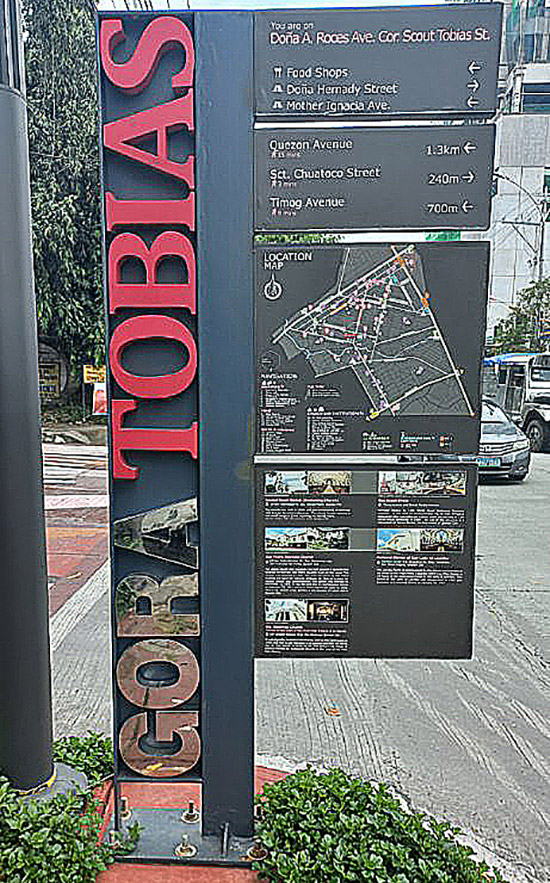 "Scouting the Spirits (Lakad sa Dilim)" may not be a ghost tour. Perhaps "Food for the Souls" is more fitting. Whatever the name is, let's keep on walking and scouting!
Sources :
Isidra Reyes – The ghosts of New Manila's Millionaires' Row and the spirits of Broadway
Lakbay ng Lakan – Quezon City: The History of New Manila and Dona Magdalena Hemady
JP Ordoña (Manilakad) leads Manilakad Walks in Intramuros, Binondo, Quiapo and more. In between, he writes, climbs, dives and more. Let me guide you to several walking destinations in Manila. Manilakad (JP Ordoña) can be reached on Facebook Messenger or through text at 0916-3597888.