F. Scott Fitzgerald, in his 1926 story The Rich Boy, famously wrote:
Let me tell you about the very rich. They are different from you and me. They possess and enjoy early, and it does something to them, makes them soft where we are hard, and cynical where we are trustful, in a way that, unless you were born rich, it is very difficult to understand.
Decades later, Fitzgerald's words still ring true, now reverberating all the way to the sun-kissed beaches of the Philippines, such as in the fire-shaped islands of Batangas.
Now, let me tell you why.
While many Filipinos are tightening their belts to cope with the challenging environment brought about by the COVID-19 pandemic, the rich, as always, see things differently.
There is now a mad scramble for weekend homes among the rich in case the quarantine extends or perhaps when the next global health pandemic strikes, multiple sources in the business community told Property Report PH.
Thus, the rich are now buying weekend homes in nearby Batangas, such as in Fuego Point, commonly known as Punta Fuego, which literally means the tip of fire.
Fuego Point is a flame-shaped headland located in western Batangas in the Philippines, just a two- to three-hour drive from Manila. It extends 2.9 kilometers long into the West Philippine Sea, with a breathtaking view of Fortune Island and Nasugbu and Calayo bays.
Moderately high and rocky, Fuego Point is also home to a vast expanse of residential seaside developments.
It is home to the exclusive members-only Club Punta Fuego and Peninsula de Punta Fuego resort and seaside community.
Peninsula de Punta Fuego is an 88-hectare residential resort, which has several private beaches, a golf course, marina and a heliport, developed in 1995 by Landco Pacific and Roxaco Land.
This is among the spots where the rich are buying homes.
Property analyst David Leechiu, president and CEO of Leechiu Property Consultants, confirmed this trend now in the luxury property market.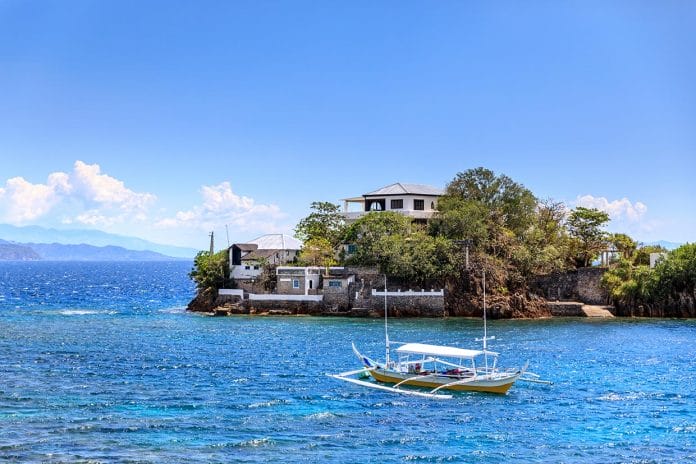 He said as people were going "crazy" over the COVID-19-related lockdowns, those who can afford went on panic-buying for homes.
"The luxury buyers are so active… Here's one phenomenon… People were so cooked up and going crazy that you'll see the craziness manifested in property prices in Punta Fuego, Tali Beach and Kawayan Cove (all in Batangas)," Leechiu said.
Property prices in those three places are now 20- to 50-percent higher than when they were in February.
"The transaction volumes are the highest I've seen in 20 years. Some people are fed up because some want to buy and they can't buy anymore," he said.
One listing on an online property website showed a four-bedroom house in Terrazas de Punta Fuego now priced at P60 million.
The house and lot, with a floor area of 460 square meters, utilized hardwood materials on most interiors, with the main door done by a wood sculptor. Terrazas' amenities, meanwhile, include infinity pools, free-form cascading pool, private beach and several water sports facilities.
Cyndy Tan Jarabata of Tajara Leisure, commenting on demand for vacation homes in general, said: "There's a demand within driving distance from Metro Manila, like Batangas, Tagaytay, Subic and Baguio, places where people can escape for weekends and holidays with close proximity to the beach, mountain and ideally with sense of community. Boracay, Bohol and Cebu are definitely hot spots as well, and soon, areas like La Union, Palawan and Siargao."
BEACH HOUSES, BOATS
It's not only beach houses that are selling like hotcakes, at least nowadays.
The rich are also buying more yachts and boats.
In fact, just recently, Club Punta Fuego's Marina has already reached its designated capacity of accommodating 52 vessels on the berthing and mooring locations.
"We would like to share that the maximum number of vessels which can be accommodated on land and the board parking is 250; the to-date inventory is nearing its full capacity with 10 remaining slots. Kindly note that these remaining slots will be awarded upon request, on a first-come, first-serve basis," Club Punta Fuego said in a letter to the club's boating community.
"Hence, the club can no longer accommodate new vessels without contracts until further notice. Until we have a new solution to expand the marina with additional slots, we are more than happy to place your requests for berthing or boat parking of your vessel on the waitlist," it also said.
One wealthy doctor who has chosen to spend the early days of lockdown in his weekend home in Batangas said the location is perfect because it's not very far from Manila.
The best part, he said, is the view of the "clear skies and blue seas as well as the tall trees and flowering plants."
Indeed, the rich are always a step higher as they prepare for the next strict quarantine or the next pandemic. While they can always trot around the globe, this extraordinary crisis has taught them that jet-setting isn't always possible and the next best thing for them perhaps is just to spend another lockdown in a luxurious seaside villa. — With reports from CATHERINE TALAVERA