In celebration of Habitat for Humanity's (HFH) 40 years of building and influencing in Asia and the Pacific, HFH, in cooperation with UN Economic and Social Commission for Asia and Pacific (UN ESCAP) and the Hilti Foundation, gathered national and local government policy makers, multi-sectoral representatives, and donors/supporters to the 9th Asian Pacific Housing Forum in Suwon, South Korea, with the theme "Enabling sustainable and affordable housing in informal settlements."
The forum discussed the challenges as well as solutions and recommendations over four simultaneous tracks namely (a) adequate housing for informal settlements, and policy solutions; (b) climate change adaptation on settlement/household level, and affordable greening technologies; (c) trends and opportunities in housing microfinance in Asia Pacific, and use of financial technology solutions to expand access to affordable housing; and (d) addressing the rising challenges in housing, and influencing reduction in housing deficit through policy and system change.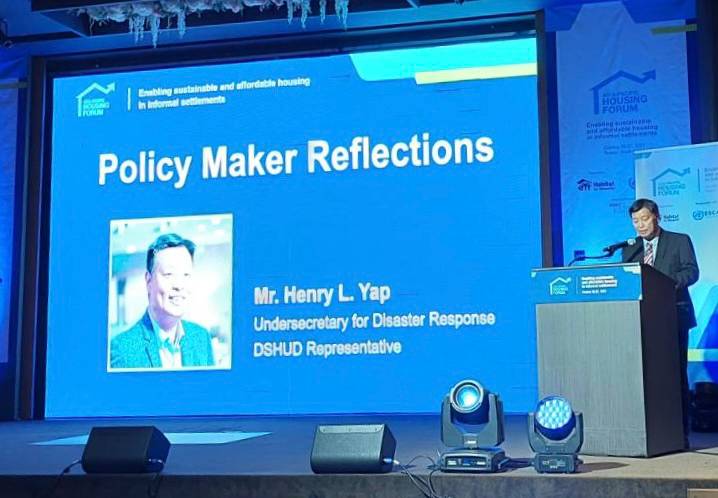 In one of the round table discussions, I joined the regional urban dialogue, a convergence of six national dialogues, where I shared the results of the Philippine discussions, outlining the policies and programs, gaps raised, solutions put forward, and suggested areas of cooperation. Participating in the round table dialogue were government officials and grassroots representatives from Nepal, Bangladesh, India, Philippines, Indonesia and Cambodia, along with representatives from UN ESCAP and Asian Development Bank (ADB).

At another side meeting, representatives from 10 countries from Bangladesh, Bhutan, China, India, Kazakhstan, Mongolia, Pakistan, Papua New Guinea, Philippines and Uzbekistan participated in the ADB Cross-Country Peer Learning on Affordable Housing, and shared their respective countries' housing situation, challenges and opportunities faced in affordable housing, opportunities for ADB support and investment, and exchange insights and recommendations.
During the Plenary Closing Ceremony, I was asked to give the policy maker reflections, briefly explained our roles in aligning and leveraging both government and private sectors into the new Philippine Flagship – Pambansang Pabahay para sa Pilipino (4PH) Program.

In highlighting our belief that the successful implementation of any housing Program will not only address the housing needs, but will also generate positive impact on the lives of families we sworn to serve, I mentioned that there is a need to advance the goals of the government, partners and stakeholders in order to help attain our collective aspirations to make a difference in addressing our inevitable task of helping our informal settlers.
It is important for us to address this concern of providing affordable and decent housing, not only in our country, but also in the participants' countries that we aim to serve. I acknowledged that no program is without issues and concerns. Thus, there is greater need for all parties to collaborate further so we can address certain hesitations brought about by the shift from traditional modes of addressing housing production, funding and delivery.

Like many, we should value feedback so we can continuously improve and refine any program to make it better and more responsive. These challenges can only be overcome through open communications and continuous engagement with stakeholders, as any program can only be successful with the shared vision and partnership of all parties.

I also emphasized that together, we need to provide our homeless families with resilient, sustainable and adequate homes in well-planned communities, in an environment where no one has to worry about finding a place of his own to call home.
During the Innovations Awards 2023 ceremony, congratulations should be accorded the City of Manila for its "Manila Housing Program," for winning in the Policy: Public Sector Housing Solutions Category, and for getting the Honorable Mentions, Sustainable Consumption and Production Innovation Awards in the Policy: Public Sector Housing Solutions Category.
Henry L. Yap is an Architect, Fellow in Environmental Planner and Real Estate Management, and one of the Undersecretaries of the Department of Human Settlements and Urban Development.