Did you know that Oktoberfest typically starts around mid-September? In Germany, the world's largest beer festival kicks off in September with the final day falling on the first Sunday of October to take advantage of the warmer weather.
For beer-loving Pinoys, September serves as a good warm-up to all the seasonal beer celebrations and festivals happening around the metro. While there are several cool new craft beer spots you can visit around Manila, for those looking for reasons to go on road trips, we've rounded up some of the newest, most unique, and thoughtfully designed craft breweries worth traveling to around the Philippines.
Papa Bolo, Tagaytay
Want to head up somewhere cooler with the family for the weekend? Papa Bolo, which opened in June 2022, is a stunning and huge new brewpub in Tagaytay City in Cavite offering great food, beers, and ambiance.
The three-story industrial building located right across Sky Ranch Tagaytay offers loads of aesthetic seating areas including wooden barrel booths and an al fresco roof deck with a glass window view where you can look down at the bar system. This contemporary and sophisticated brewery is perfect for date nights and family celebrations. It also doubles as an events space for rent for larger meetings, parties, launches, and photoshoots.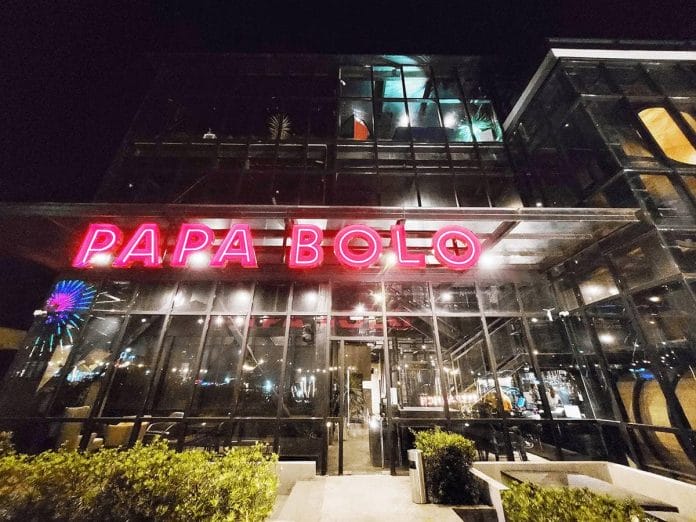 The brewpub serves six core craft beers on tap brewed with local ingredients including Pina Nina, a Pineapple Ale that makes use of Tagaytay pineapples, and Tsokmate, a Chocolate Porter that makes use of cocoa grown in Alfonso Cavite. Papa Bolo also serves refined appetizers and dishes like soft-shell crab, wagyu skewers, pizzas, and even a Beeramisu dessert.
Papa Bolo, Corner Crisanto Delos Reyes Avenue, Tagaytay-Nasugbu Highway, Kaybagal South, Tagaytay, 4120 Cavite. Open from Wednesday to Saturday from 12nn to 12mn, and Sunday to Monday from 11am to 9pm. Closed on Tuesdays.
Craft 1945, Baguio City
Baguio City is always popular during the 'Ber months, and one relatively new place you can go to for drinks is Craft 1945, a Spanish restaurant located in a nostalgic '50s-era house in Baguio City.
Located along Outlook Drive on the outskirts of town and surrounded by pine trees, this charming brewery and restaurant can be found in a two-story American heritage home that maintains its original exterior. Inside, the interiors are clean and modern with white walls, high ceilings, locally-made wooden furniture, and cozy booths. A mural of a bull and matador adorns one brick wall for a creative touch.
Craft 1945 serves a rotating line of craft beers on tap from Baguio Craft Brewery, including crowd favorites like Lagud Strawberry Beer, Keywheat kiwi-flavored beer, and Zigzagger IPA. The restaurant serves Heirloom Spanish dishes such as paellas, callos, chorizo, gambas, steak, and more.
Craft 1945, 9 Outlook Drive, Baguio City. Open from Monday to Thursday from 12nn to 10pm and Friday to Sunday from 12nn to 11pm.
Sagada Cellar Door, Sagada
If you're traveling to the chilly town of Sagada in the Mountain Province, one of the best places where you can enjoy a drink or two is Sagada Cellar Door. This homegrown establishment nestled in the middle of a pine forest serves craft beer and imported wine.
The brewery and distillery pub has an outdoor drinking spot right in front of a bonfire pit and right next to a traditional Ifugao hut that doubles as an Airbnb space. In case the weather gets too cold for you at night, there's also an indoor cabin-style dining area with brick and wood details where you can cozy up next to a fireplace. A private wine cellar displays a variety of imported wines.
Sagada Cellar Door serves uniquely made craft beer brewed in Sagada using local ingredients like Balatinao black rice, orange zest, and wildflower sunflower honey. They also brew their own Purple Mountain (rice wine beer), gin, vodka, rum, and liqueurs. Casual drinkers can pair the beers with sausages and smoked meats. Dinner buffets (strictly by reservation) are also available for a minimum of 15 people per group.
Sagada Cellar Door, Lallal-ay, Patay, Sagada, 2619 Mountain Province, Philippines. Open from 4pm to 10pm. P300 consumable for walk-ins. The last entry is 8pm.
Calle Brewery, Vigan
Looking for a place to enjoy craft beer, smoked meats, tapas, and wine in the historic city of Vigan? Calle Brewery, established in March 2018, offers a relatively new place to enjoy good eats and drinks with Vigan's old-world charm, just a short walk from the cobblestone streets and historic houses and museums along the famed Calle Crisologo.
The brewery powered by Manila-based Joe's Brew is set inside a historic two-story house along Calle Encarnacion that was built back in 1875. Guests can enjoy drinking at the steampunk industrial bar inside the century-old stone house for a distinctive dining experience. Private parties can be held at the brewery's dining area, which can fit up to 50 people.
Calle Brewery offers craft beers named after some of the country's national heroes along with unique bar chow with an Ilocano twist. If you're hungry, order their Two Meat Plate Combo (which comes with a choice of meat like pork belly and beef brisket) served with pickled onion and cucumber, a choice of dirty or plain rice, bibingka cornbread, and a choice of two sides.
Calle Brewery, 11 Calle Encarnacion, Vigan City, Ilocos Sur, Philippines. Open daily from 11am to 12mn.
Bogsbrew HQ, Bacolod City
If you're headed to the City of Smiles anytime soon, be sure to look out for Bogsbrew HQ. This relaxing and unique beer garden hidden inside a furniture store serves Bacolod City's best craft beer.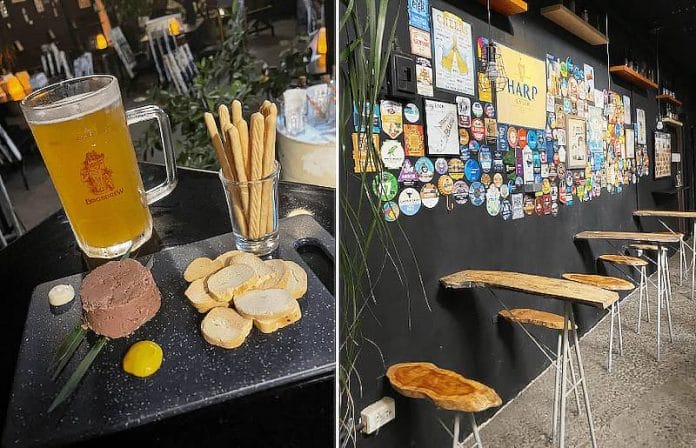 Bogsbrew is known as the oldest craft beer maker on Negros Island, but they just launched their new taproom right next to Art Energy, a lifestyle and furniture store in 2022. Located in what was previously the store's pocket garden, the beer garden now showcases the unique furniture creations designed by the Hagad Family, who also runs Bogsbrew HQ. The furniture shop is known for its elegantly crafted houseware and furniture made using wood, metal, and indigenous materials such as bamboo and abaca.
BogsBrew HQ currently serves three craft beers on tap on rotation, including a Bogsbrew Light, the crowd-favorite Primo Cream Ale, and a strong Kawayan Ale that makes use of bamboo shoots and sweet potato in the brew. The brewpub also serves some Bacolod beer chow like chicken inasal, chorizo, cheese sticks, and peanuts that you can pair with your beers.
Level up your drinking sessions by dropping by these beautifully designed breweries next time you travel around the country.
Bogsbrew HQ, Lacson & Magsaysay St. Brgy Taculing /Art Energy Bldg., Bacolod City, Philippines. Open Mondays to Saturdays from 4:00 pm onwards. Closed on Sundays.