Every August of each year, Sillimanians from all over the Philippines and around the world—from the oldest batch to the youngest—descend upon Silliman University in Dumaguete City for their grand reunion. Founders Day is eagerly anticipated by classmates, dorm-mates, fraternity brods, sorority sisters, organizational colleagues, and friends.
While I am not an alumnus, my love and links to the University are through several alumni in the family like my wife and her siblings who finished their college education there; my dad who graduated from Silliman High School; and my uncle who also finished high school there and previously served on the Board of Trustees as chairman and later on as chairman-emeritus.
Early beginnings
Silliman University is the first American and Protestant institution of higher learning in Asia. It was established as the Silliman Institute by the Board of Foreign Missions of the Presbyterian Church in the United States, with seed funds from Dr. Horace Silliman, a New York-born businessman and philanthropist.
Founded on August 28, 1901 as an elementary school for boys and named in honor of its Christian philanthropist, it rose to be a college in 1910 and started admitting girls as early as 1912. Granted university status in 1938, Silliman University is among the top Philippine universities today.
Happy days of school and college
The main campus is filled with heritage structures and was declared a National Historical Landmark in 2002. It is a fascinating place to visit because of its century-old buildings and its Instagram-worthy attractions such as overarching acacia trees, beautiful landscapes and wide quadrangles.
Silliman Hall, 1903. The oldest building was built in the Eastern Stick style, with its interior still dotted with iron posts as well as the ceilings from an old theater in New York City.  Its exterior has touches of the bahay na bato like coral blocks and capiz-shell windows. For over a century, the building was used as an office, dormitory, library, Japanese headquarters, faculty and classrooms, and Anthropology Museum. Today, its ground floor can host small assemblies while the Fine Arts department uses the second floor.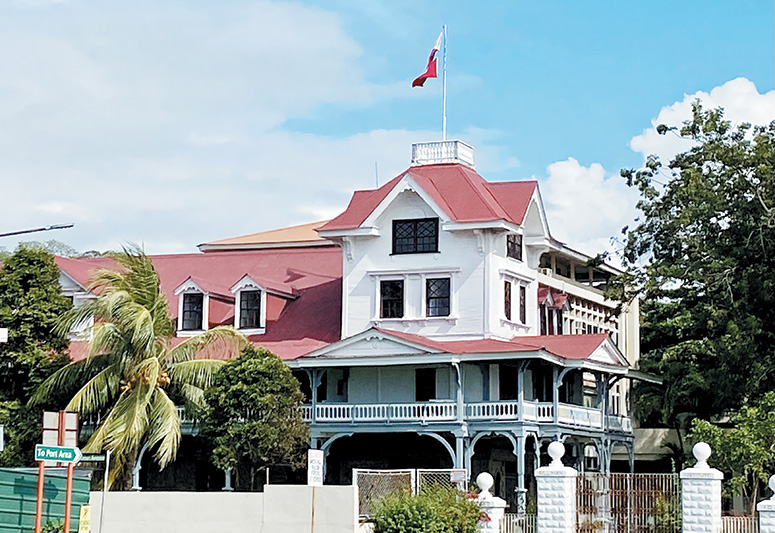 Katipunan Hall, 1916. Off Hibbard Avenue, this former Mission Hospital was built through the efforts of the pioneers of missionary medical work in Negros Oriental, Dr. and Mrs. Langheim. Its name changed to Katipunan Hall when the hospital operations ceased and it was converted into classrooms. At present, the distinctly capiz-shell and jalousie window-adorned structure hosts various offices, departments and programs of the College of Arts and Sciences and College of Education.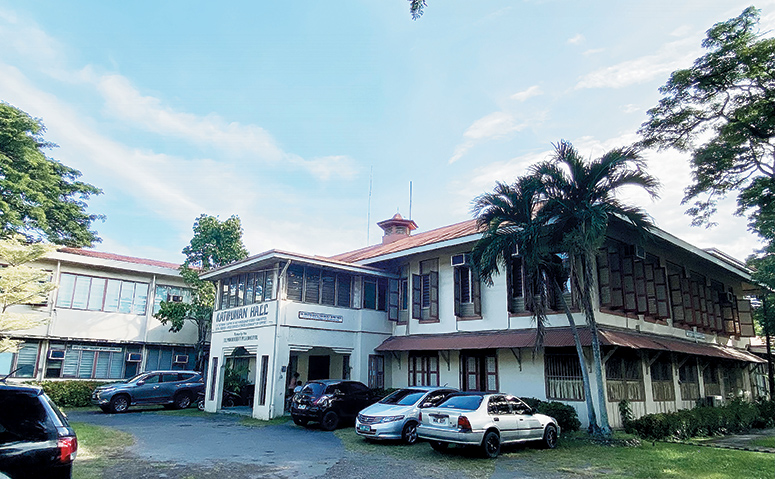 Guy Hall, 1918. North of the Ruiz Administration Building, this building was completed with donation from William Guy in memory of his wife, Kathryn Lemoine, and was first utilized as a boys' dormitory. 
Built with two wings, the three-level structure was used as a detention camp during the war and eventually housed the offices of the Post Office, University Bookstore, SU Press and the Weekly Silliman. It also hosted the College of Mass Communication, College of Performing and Visual Arts, Public Information Office and radio DYSR. Today, it is used as an academic facility and University Conference Center.
Oriental Hall, 1921. The oldest female dormitory opened with fifty-five girls for its first batch of residents. It later became a classroom-cum-office building of the College of Business Administration and the College of Education. Presently, the Student Government, Student Services, Student Organizations and Activities Division hold offices there.
Amphitheater, 1921. Located at the end of the western quadrangle, and cloistered by Hibbard Hall, Silliman Church and Oriental Hall, it has played host to countless events like the Sunrise and Vesper services, Miss Silliman Beauty Pageant and many other university programs and presentations. It is among the students' favorites.
Hibbard Hall, 1932.  Built in honor of the founding president and the province's adopted son, Dr. David Hibbard, this neoclassical- cum-art deco structure has an upper floor which hosts the Anthropology Museum, which has extensive exhibits from excavations by Sillimanian anthropologists. The University Registrar and Admission Office is on the ground floor and is currently busy with the students' enrollment.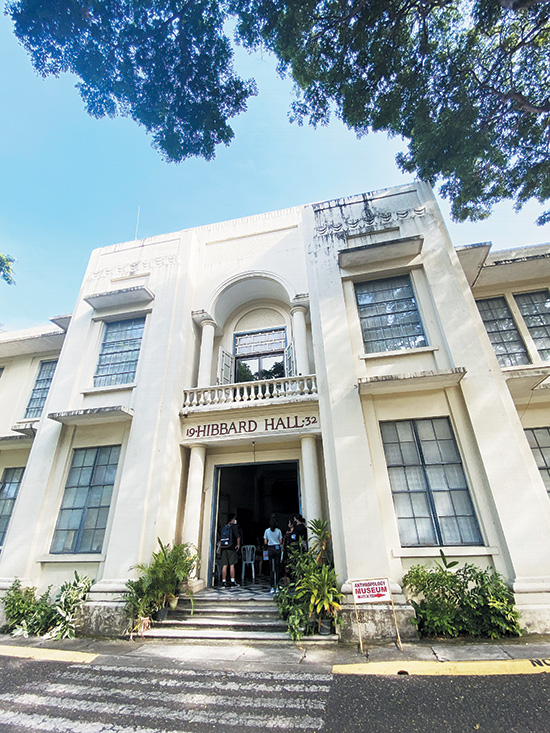 Silliman Portals. The University has three portals: the original Gates of Service is across Silliman Hall, while the Gates of Opportunity between the Administration Building and Guy Hall welcomes students and visitors across the sea and pier, and provides a direct view of the Silliman Church in the distance. The Gates of Knowledge situated along Hibbard Avenue and faces downtown, was inaugurated by the late President Magsaysay almost seventy years ago. 
Ever lovely, ever dear
When I again visited the campus in early August, I realized that it is this combination of charming old structures amidst modern and contemporary buildings that create a sense of humble beginning and adolescent familiarity that most alumni treasure and look forward to, as they join this year's 121th founding anniversary.
The next time you visit the City of Gentle People, spend some time inside the lovely 33-hectare Silliman campus and explore its numerous buildings. For the young at heart, sightsee using the Silliman Cruiser. For the energetic guests, walk from the boulevard's promenade or downtown into these edifices, as many alumni, students and visitors have been doing for ages .
Many thanks to the SU officials, especially Jane Annette Belarmino, Melita Aguilar, Val Vinarao and Krystle Ozoa.
* * *
Henry L. Yap is an architect, environmental planner, real estate practitioner and former senior lecturer.