I've always loved immersing in forests–especially those with waterfalls or rivers.
When the pandemic hit–which made people reconnect with nature to anchor themselves and to cope–I saw countless pictures on social media of city people who drove out of town to quaint rivers and falls or to breathtaking mountain peaks, enjoying seemingly low-key nature spots, and I, too, wanted to have such an experience.
Thus when I saw the Instagram account of Forest Bathing Manila (@forestbathingmnl), I immediately signed up for the chance to bask in the forests of Rizal, one of the mountainous provinces most accessible to the city, and an oasis of fresh waters and greenery.
Along with three other women who enlisted in the same time slot, my mother and I were picked up by Dr. TJ Malvar, our guide, in the designated meeting place. He then drove us to Calawis, Antipolo.
Before the actual session, he briefed us about forest bathing. It originated from Japan, translating into "Shinrin-yoku" and unlike a hike which is often fixated on the destination, it's rather a mindfulness practice of utilizing one's five senses while immersing into the forest. It's all about noticing everything about the journey.
After a soaking walk that included seeing locals going about their usual business in the river, sighting a horse eating grass, and crossing the stream twice, we settled into a rocky segment of the river and were led by Dr. TJ into meditation.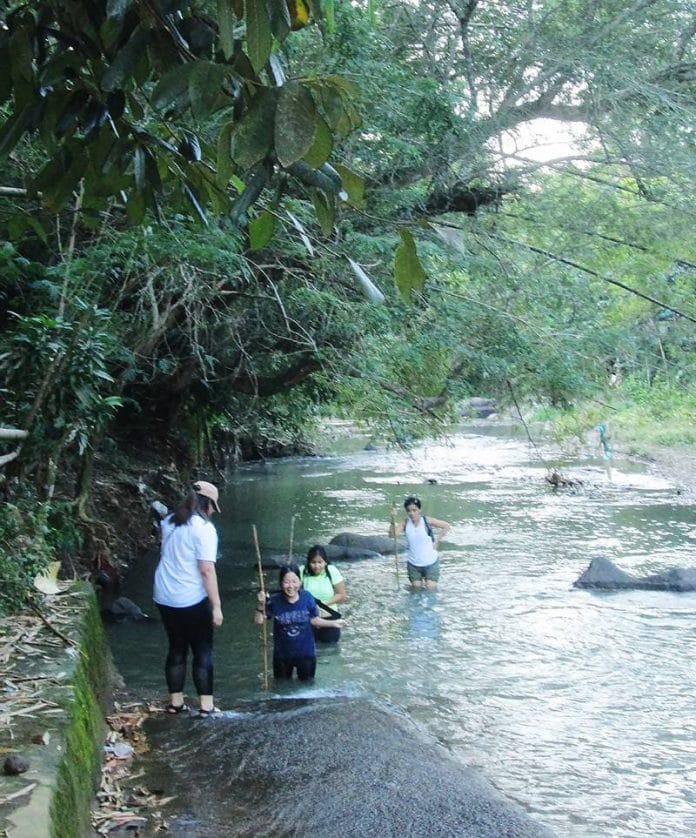 Each of us found our place on the rocks and heard nothing else but the gush of the flowing water. Attached to the zen I was feeling, I realized how much I need to meditate more regularly again as I haven't been doing so lately. I mentioned this later on when Dr. TJ gathered the group to share what we learned or noticed from the forest-bathing experience so far.
He did this a few more times throughout the afternoon, and it was therapeutic to verbalize my realizations and it was enriching to have gained insights from individuals who experienced uniquely the space we all shared.
Like what our guide said, one advantage of forest bathing with a group is that one gets to absorb the forest with not just one's own senses but also with the senses of others; one takes home others' observations and learnings aside from just one's own.
During our last gathering, in which the theme was gratitude, we all commonly answered that we were grateful for having been able to be there to take a break. One even bursted out in tears and opened up about how glad she was that she had her "me time" and finally "some peace away from the noise at home." Having experienced the forest-bathing session made me realize how connected everyone is to each other and to nature.
This was highlighted by Dr. TJ, who said that despite the myth championed by this hyper individualistic society which is that the self is all that one needs to survive and thrive, human beings, by nature and throughout history, are co-dependent; we need and rely on communal care and on the provision of mother nature, and I realized that this should not be taken with a negative connotation but should urge us to examine how we can both give and take from our surroundings– exuding empathy and understanding that no human being is above another nor are we above other beings in this world.
In this time of human greed, arrogance, and apathy with effects ranging from climate change to genocide, we must remember what Pocahontas said, as quoted by Dr. TJ during the end of the session:
"You think you own whatever land you land on,
The Earth is just a dead thing you can claim,
But I know every rock and tree and creature,
Has a life, has a spirit, has a name.
You think the only people who are people
Are the people who look and think like you,
But if you walk the footsteps of a stranger,
You'll learn things you never knew, you never knew."
* * *
For those who want to try this unique experience, visit on Instagram.