"God built lighthouses to see people through storms. Then He built storms to remind people to find lighthouses." – Shannon Alder
Thus started our quest for lighthouses. But was it possible to find two of them in one weekend? We gladly accepted the challenge.
Lighthouses have been used as metaphors as well as names of organizations and establishments but the fascination for lighthouses stems from mystery. A lonesome sentinel that literally weathers the storm, even wars. A beautiful structure seldom visited by curious eyes.
Maragondon, Ternate
Our search starts in Maragondon, Cavite. In an earlier trip in Maragondon, we went to the Bonifacio Trial House and the hinterlands of Maragondon where Katipunan founder Andres Bonifacio and his brother were executed. This time we were just passing through.
Our first stop was at a highway stall selling rice cake mostly known to bikers. Freshly cooked with burnt aroma, the rice cake called bibingkang bigas actually originated in the Visayas and was brought to Cavite.
We also stopped by a coffee shop, which turned out to be a scenic one, overlooking Corregidor. We chose a coffee house aptly called "Monkey Haus" because of the presence of monkeys in the nearby forest.
Nasugbu
We arrived in Nasugbu after crossing the boundary between Cavite and Batangas and stopped at the Church of Saint Francis Xavier. It looked old but it is actually a new church built in the '90s. The parish was established by the Jesuits in 1852. The church burned in 1896 and was replaced by a wooden church. It was declared a pilgrimage church.
Cape Santiago
Next town was Calatagan. Passing through several posh beach resorts, we kept focused on our objective. We were already close to our first lighthouse. Driving through unpaved roads for almost half an hour, we finally arrived at our first lighthouse, at last!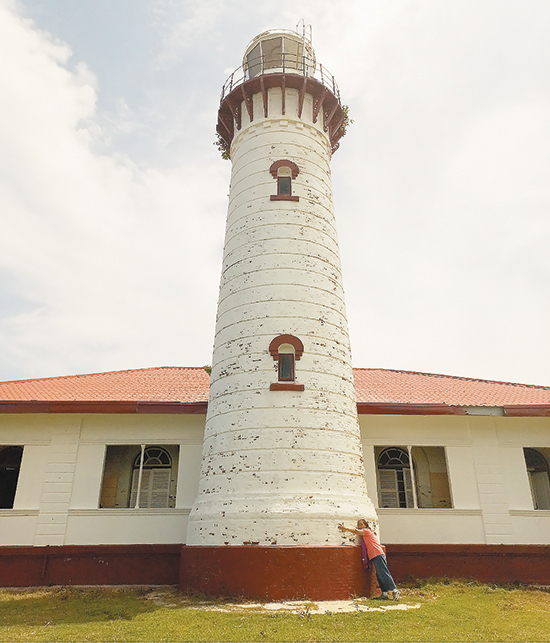 Cape Santiago Lighthouse in Calatagan, Batangas was named after Don Santiago Zobel who donated the land where the lighthouse now stands. This is one of the oldest structures in Calatagan which survived several wars as proven by bullet marks. The tower at 51 feet is located in the back. At present, all lighthouses are under the Philippine Coast Guard. There is a decommissioned Coast Guard helicopter on display too. Tourism staff charge P50 for entrance. We went inside the lighthouse but not atop the tower. It was high noon and wanted to enjoy the moment and stay longer but we had to move on.
Calatagan
We were famished but we decided to make a stop-over at the town proper of Calatagan. Calatagan is known for its beaches and the Calatagan pot, one of the oldest anthropological artifacts. The name Calatagan was derived from "latag" which is synonymous to "kapatagan." There is a large expanse of wide plain land between mountains and hills which probably attracted the Roxas-Zobel clan to purchase large tracts of land and convert them into farms and stables for their horses. At the town plaza were statues that memorialize the Zobel family. There are century old trees and a seemingly Mexican-inspired church, Sto. Domingo de Silos, built in 1913. We finally gave in to our hunger pangs and had a heavy, authentic Batangas lomi for lunch.
Maka Forest Villa
It was mid-afternoon and we were on our way to Tagaytay. After Balayan, we drove through Madalunot Road then Diokno Highway before reaching Alfonso, Cavite. Alfonso gained popularity because of Sonya's Garden. Eventually, other establishments followed suit. One of these is Maka Forest Villas, one of my favorite places, because of the building philosophy it embraces. It advocates regenerative architecture which is the integration of the site, the building, the system, the energy, the flora and fauna. They use clay from a termite mound and mix it with little cement as construction material. This rammed earth technology is being propagated by Ronnie Yumang, the architect behind Maka. They use available materials and practice adaptive reuse. It is more than sustainable, it is regenerative.
La Bella Boutique Hotel
Less than an hour drive from Maka is La Bella Boutique Hotel in Brgy. Neogan, Tagaytay. This Santorini-inspired hotel advocates holistic living through proper diet, alternative medicine and environmental consciousness. They have meditation and yoga classes and offer a massage called Abhyanga with Takradhara which is the best I have experienced so far.
Aside from the hotel, they also have condominiums and cottages for sale. One of their projects is to help farmers and entrepreneurs from nearby Cavite towns to sell their goods and produce during a weekend market.
We also went to a mass at Our Lady of Lourdes Church in Tagaytay to wind up our loaded first day. This Capuchin-administered church is a favorite wedding venue because of its accessibility. I don't know if it was serendipity but the priest used the lighthouse as a metaphor in his homily.
Laurel
The following day we drove down to Laurel, Batangas to continue our trip to the second lighthouse. In Laurel, we made a side trip to Simbahang Bato, a chapel etched from a cave. It was a Sunday so there were many vendors selling their wares from coconut water to plants.
From Laurel, we passed by Buso-buso which was the closest we could get to the volcanic islands of Taal Lake. There were sunken villages along the way from recent volcanic eruptions. It was the longest drive of the weekend and we resisted the urge to stop in Lemery and Taal with its magnificent church and houses because our objective was to see the second lighthouse.
Lobo
After more than an hour of driving, we reached our final destination in Lobo. Thirty years ago, only the adventurous would go to Lobo because of the bad roads. Now with smoother roads, even bikers enjoy the ride.
Lobo is known for its fish sanctuaries, especially the Submarine Garden. What I didn't know is that it is also the "Atis Capital of the Philippines." Lobo is found at the southern tip of Batangas and is part of the Verde Island Passage, the center of marine biodiversity in the world.
When we were there last month, we were hosted by the gracious Let Casilihan. She is one of the ecological heroes of Lobo who helps monitor that no environmental damage is done in her hometown. When we went to the beach, she even reminded beach revelers not to leave trash. She also toured us in the Lobo Mangrove Conservation Area which is one of four declared marine conservation areas together with other fish sanctuaries in Sawang Olo-olo, Malabrigo and Biga. Her son, Ramil, a free diver, accompanied me while snorkeling.
In previous years, the people of Lobo, with the help of an NGO, have protested the operation of large-scale mining that would affect the biodiversity of their town and the Verde Island Passage. Lobo is worth coming back to, even for its cassava cake which is the best I've tasted.
Malabrigo
The last leg of our weekend journey was at a barangay in Lobo called Malabrigo. I first went there thirty years ago and remember opening my transistor radio and hearing a Chinese station. It is one of the southernmost points in Batangas. It was supposed to be a side trip from Lobo but turned out to be the most unique beach I've seen in Batangas. It was more of a pebble beach with big stones known in the vernacular as "panghilod." Little did I know that there was a more compelling reason to come back— the lighthouse!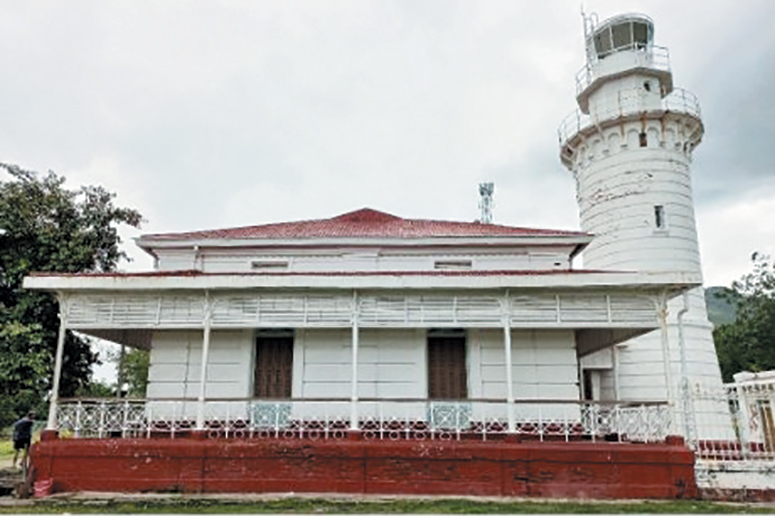 The Malabrigo Lighthouse was completed in 1896 and is one of the oldest lighthouses in the Philippines. It is inspired by Victorian architecture and was declared a National Historical Landmark. It was built to guide seafarers because of the strong currents and rocky coastline of Malabrigo. Malabrigo means bad shelter in Spanish. We arrived at dusk and it seemed that Malabrigo was a fitting conclusion to a long weekend.
Malabrigo may mean bad shelter but two lighthouses in one weekend are more than enough to shelter us from the storms of our lives. It is, indeed, a tale of two lighthouses with a happy ending.
* * *
JP Ordoña (Manilakad) leads Manilakad Walks in Intramuros, Binondo, Quiapo and more. In between, he writes, climbs, dives and more. Let him guide you to several walking destinations in Manila. Manilakad (JP Ordoña) can be reached on Facebook Messenger or through text at 0916-3597888.