Bataan is the embodiment of bravery. Filipinos sometimes use the word "Bataan" to refer to a plucky group of people.
On April 9, we will celebrate "Araw ng Kagitingan" (Day of Valor) to commemorate the courage of Filipino and American soldiers in defending Bataan. This year is the 80th anniversary of the Fall of Bataan which is celebrated not only in the Philippines but also in the United States, particularly in New Mexico where many American soldiers in the Battle of Bataan came from.
The Battle of Bataan
The Battle of Bataan, which lasted from January 7 to April 9, 1942, occurred one month after the Pearl Harbor attack on December 7, 1941. Bataan and Corregidor were the last strongholds in South East Asia. The Japanese wanted to occupy the Bataan Peninsula which was the key to control Manila Bay. The Allied Forces were given orders to defend to the last extremity.
The Fall of Bataan
After three months of gallant Allied resistance, the Japanese were victorious. It was one of the most devastating military losses in American history and the largest American Command ever to surrender. Almost a month after, on May 6, 1942, Corregidor fell.
The Death March
After the bloody battle, the Japanese had a logistical nightmare of transporting the Filipino and American soldiers to Camp O'Donnell in Capas, Tarlac. Thus commenced the Death March of 60,000 to 80,000 Filipino and American prisoners of war. Starting in Mariveles on April 10, 1941 and Bagac on April 12, both in Bataan, the Allied prisoners converged in Pilar, Bataan and marched up to San Fernando, Pampanga where they were herded into unventilated boxcars on their way to Capas, Tarlac. During this entire odious odyssey, roughly 20,000 "captives" died.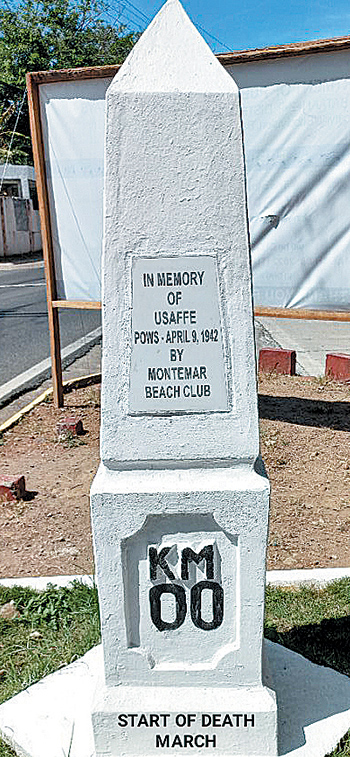 Athlete – Soldier
One prominent prisoner was Teofilo Yldefonso, the first Filipino to win an Olympic medal and the first Filipino to win multiple medals in two Olympics. He was called the Ilocano Shark and considered the Father of the Modern Breaststroke. He survived the Death March but later died at the concentration camp. Olympic silver medalist Yoshiyuki Tsurota, who was then a lieutenant in the Japanese Army, offered to get Yldefonso out of the prison camp. Teofilo Yldefonso refused and died in the arms of his younger brother, Teodoro.
Vintage Planes
My trip to Bataan was unplanned. My friend, Allan, informed me that WWII planes were being fabricated at the U.P. campus. My curiosity brought me to  the basement of one of the buildings of the U.P. College of Fine Arts where I met Visual Communication Professor Mel Silvestre who was in charge of the assembly of the vintage planes which will be displayed in the Bataan Capitol on Bataan Day on April 9. One of the planes is a Ki-51, a Japanese plane manufactured by Mitsubishi Jukogyo KK. It is a dive bomber which was also used in kamikaze attacks. The other plane is a Boeing P-26 Peashooter. It is the first pursuit monoplane to enter the squadron service of the U.S. Army Air Corps. Interestingly, Captain Jesus Villamayor and his squadron flew P-26s and, despite being outclassed, claimed four kills. Villamor Air Base was named after the intrepid pilot.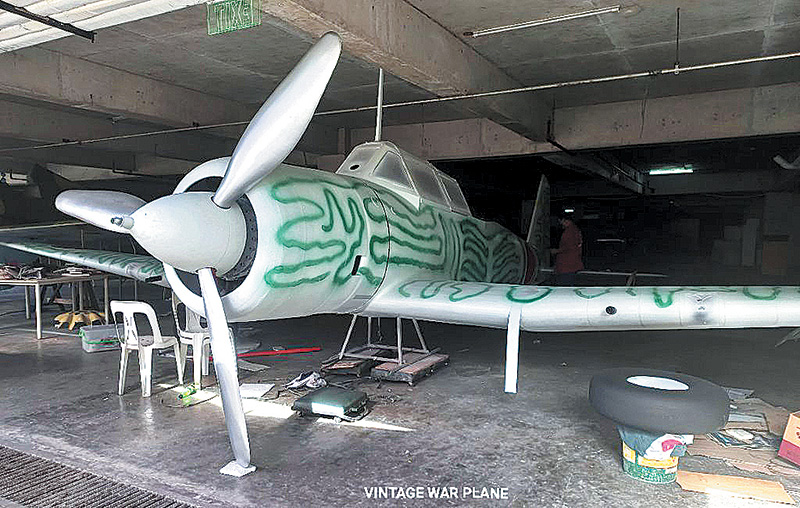 Upon realizing that April 9 was a week away, I immediately contacted my travel buddy, Joseph, to make a Bataan travel itinerary. We invited five more travelers on our Bataan day trip. Our first stop was the Bataan Refugee Camp in Morong. It is located south of Subic Bay and north of the Bataan Nuclear Plant. We initially planned to visit the Bataan Nuclear Plant but learned it was open only on weekdays from 8 am to 10 am. This power plant was completed but never operated. It was mothballed due to the 1986 nuclear accident in Chernobyl in the now embattled Ukraine.
Refugee Camp
We passed through the Subic Base on our way to the Philippine Refugee Processing Center, more commonly called Bataan Refugee Camp. This huge complex opened in the1980s at the height of the Indo-Chinese refugee crisis. Mostly economic refugees, Vietnamese, Cambodians and Laotians braved the treacherous ocean to cross to the nearby South East Asian countries, Hong Kong and China. Many died on their escape attempt, prompting the United Nations High Commissioner for Refugees to organize the Bataan Refugee Camp. It functioned as a processing center for the "boat people" on their way to be resettled in the United States, Canada, France and Norway. It operated like a small city with its own school, hospital, restaurant and places of worship. Many Filipinos were hired as English teachers. I noticed a football field with rusty goal posts.
Museum, temples
Inside a museum, we read about the Indo-China War and saw replicas of bunk houses and refugee boats. We drove around with a security personnel as guide. There were several different temples spread out in the big compound. We first went to a memorial shrine where Pope John Paul II made a visit in 1981. There was a statue of Our Lady of Immaculate Concepcion with seemingly Asian features. Next was a Khmer statue with four heads representing Loving Kindness, Equanimity, Sympathetic Joy, and Compassion.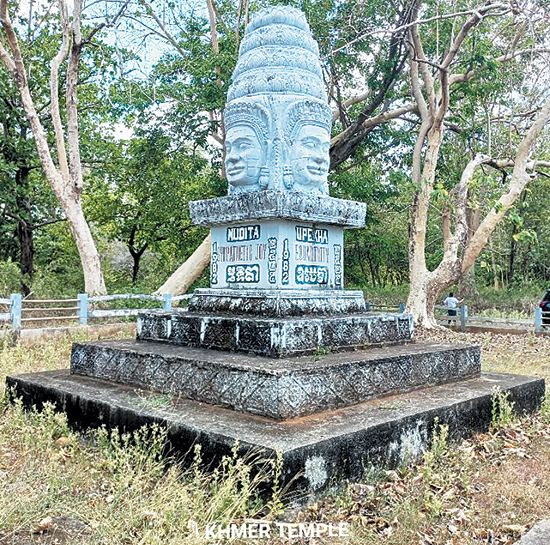 Then we went to a Vietnamese temple with strong Chinese elements. The last temples were a combination of Catholic and Buddhist temples.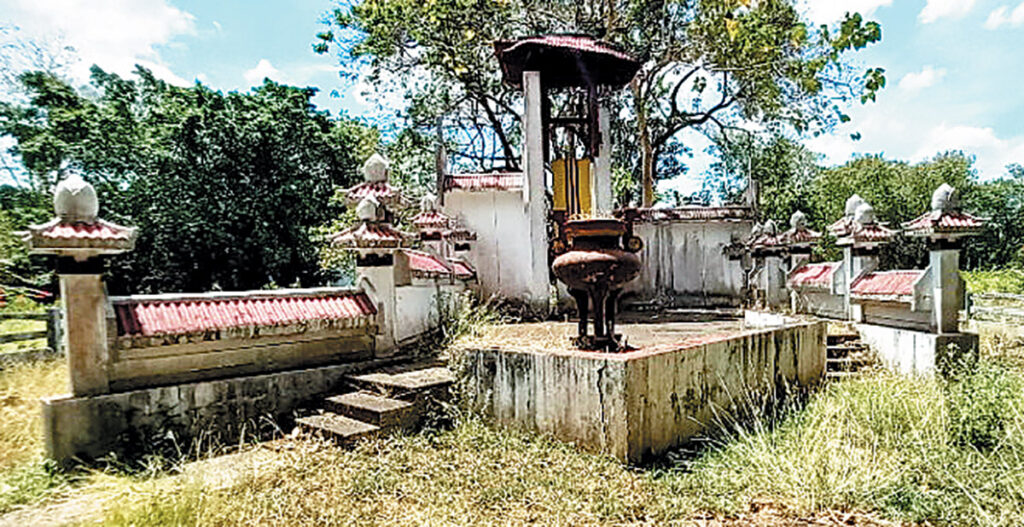 The visit to the temples was one of the most unique experiences in this Bataan tour. Although very few people visit the Bataan Refugee Camp, the overgrown grass and unswept dried leaves added a nostalgic charm to the place. It was educational to the participants who became aware of the Philippines' role in the Indo-Chinese refugee crisis. Before we helped the Indo-Chinese, the Jews and White Russians found refuge in our country. We were just following a tradition of generosity.
Vietnamese Food
Turning Vietnamese, we went to Morong town to have our lunch at Loleng's which serves Vietnamese and Filipino food. It is run by Loleng who used to be a cook at the refugee camp. After a hearty meal of banh mi, Vietnamese noodles and spring rolls, we made a short stop at the old Morong Church which is dedicated to Our Lady of Pillar.
KM 00, Rancho Bernardo
On our way to the Dambana ng Kagitingan, we passed by a marker with KM 00 depicting the start of the Death March in Mariveles. Out of nowhere, in one of the barrios of Bagac, emerged an almost exact replica of the Arc de Triomphe. It is actually the entrance of the luxurious Rancho Bernardo, which was named and patterned after a resort in San Diego, California with the same name. In popular culture, this is where Derek Ramsay and Ellen Adarna exchanged vows.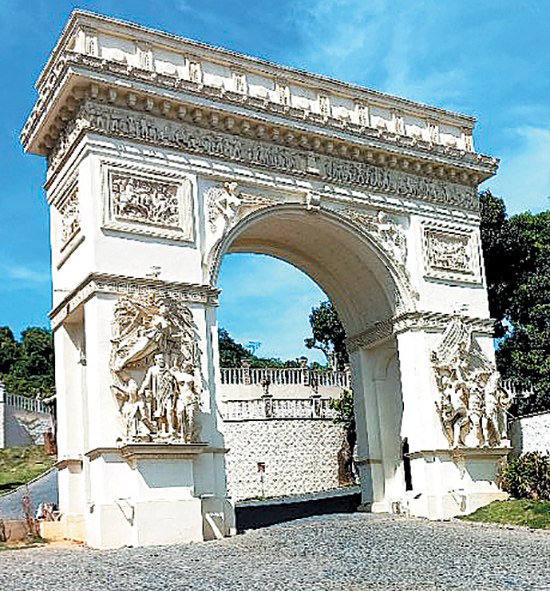 Little Batanes
We continued driving on a surprisingly well-paved mountain road with hardly any vehicle behind or approaching us until we reached a spot called Little Batanes. I didn't know what to expect and was astonished to see a 360 degree view which included Mt. Natib, Mt Mariveles and the West Philippine.
Mt. Samat
We finally reached the Mt. Samat National Shrine in Pilar, Bataan before it stopped admitting tourists at 4 pm. The Dambana ng Kagitingan seeks to honor the courage of Filipino and American soldiers in their effort to defend Bataan against the Japanese. It offers a view of Bataan, Corregidor and Manila on a clear day. The memorial ground features a colonnade that houses an altar, esplanade, and a museum.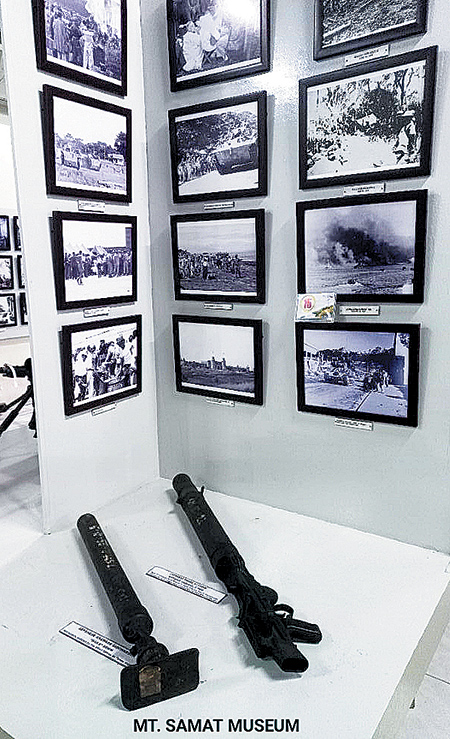 Memorial Cross
After visiting the museum, we decided to hike up to the memorial cross. At 312 feet, it is one of the tallest crosses in the world.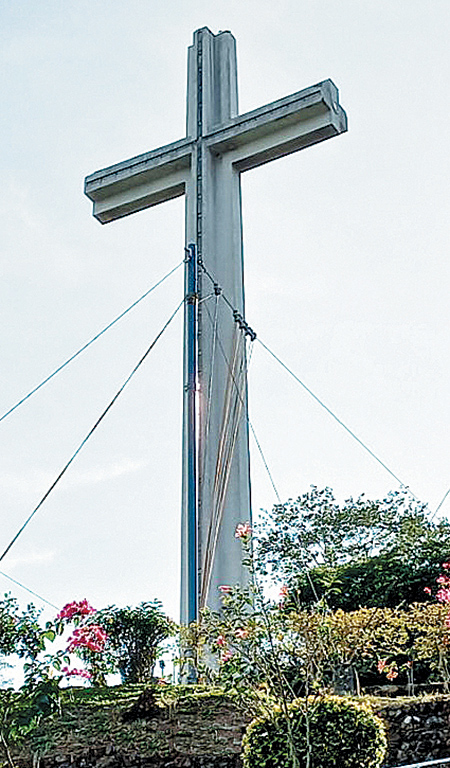 Balanga
On our way back to Manila, we decided to pass by Balanga, the capital of Bataan. We walked to the Plaza Mayor where you will find a mall, hotel and other buildings in classical architecture. Across the street is the Balanga Cathedral (Diocesan Shrine of Cathedral Parish of St. Joseph). This plaza has been described as one of the most beautiful city plazas in the country.
In one discreet spot is a marker with KM 44 of the Death March. It may have remained unnoticed but we will always remember the soldiers and people of Bataan who, eighty years ago, may have fallen with their heads bloodied but unbowed. Bataan fought during the Second World War and gave sanctuary to Vietnamese War refugees. Bataan is not just an embodiment of bravery and magnanimity but also of progress and growth. We are now witnessing the Rise of Bataan.
Credits: The trip was organized by Joseph Bautista of Cavite.
JP Ordona (Manilakad) leads Manilakad Walks in Intramuros, Binondo, Quiapo and more. In between, he writes, climbs, dives and more. Let him guide you to several walking destinations in Manila. Manilakad (JP Ordoña) can be reached on Facebook Messenger or through text at 0916-3597888.