One stood out of our many recent realizations: green spaces aren't just for nature — it's for us, humans, too. Those who have spent much time in gray, concrete cities have surprisingly yearned for a change in scenery and found joy and serenity in small dashes of greens.
We have also seen city dwellers wanting to move out of tight areas to live in less dense communities where they can move and breathe after juggling chores and long hours of work in the same space. Above all, people are on the lookout for communities that will make them feel more connected to their environment, especially with the people in it.
For urban planners and property developers, such experiences are valuable learnings and cues to create designs around nature amid an increasingly urbanized world. But for Rockwell Land, this realization has long been a reality and priority, evidently seen in all its properties, such as 32 Sanson in Cebu. And as one of the property frontrunners, Rockwell is further developing the 32 Sanson with an exciting new inclusion in the community.
Abundance of indoor and outdoor experiences
32 Sanson is Rockwell's first development in the Queen City of the South. As its first footprint outside Metro Manila, Rockwell delivered nothing less than the quality it has been known for.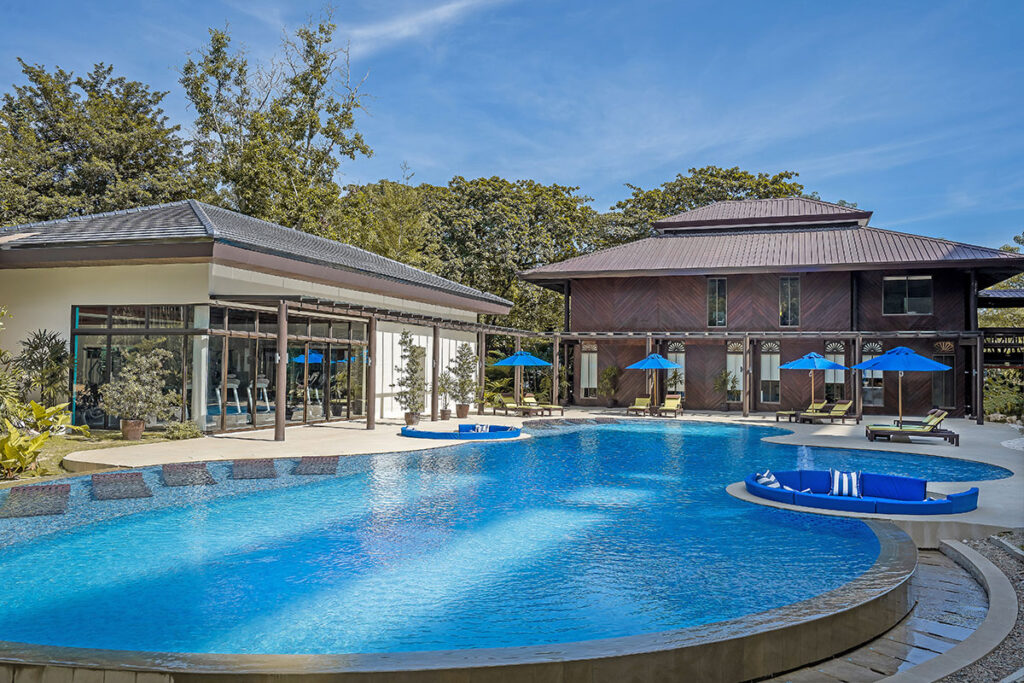 "It was envisioned to be unique—an oasis within a busy concrete jungle, a safe place for children to play, for the athlete to run, and for neighbors to comfortably get to know each other and eventually form a Rockwell Community," Rockwell Cebu GM Vienn Tionglico-Guzman shared.
The 3.2-hectare property breathes new life to Sanson Road, where old and new dwelling places converge. It is enveloped by teeming green landscapes, making up 70 percent of the property. Amid this are five residential buildings designed to bring an abundance of indoor and outdoor life, three of which — Raffia, Gmelina, and Buri — are already homes to families while Solihiya, the fourth building, is currently being turned over. Now, joining the fray is the Sillion building, the newest addition to the 32 Sanson community.
Sillion is for those who value privacy and exclusivity, with units spaciously spread in five residential floors. Inside, the units cater to the needs of every user. It has one-bedroom units for young couples mapping out their future as well as two- and three-bedroom units for growing families. Those at the Garden units have their own slice of nature next to their homes as it has a garden fringed with landscaping. But, wherever one is in 32 Sanson, each unit preludes to the harmonious landscape right outside their window or balcony.
"Our goal was to transform an urban property into an oasis where residents are sheltered from the chaos of a big city and create a community for city dwellers to reminisce on the "good old days." A quiet place, with lush greenery and where people are friendly—a place to meet old friends and make new acquaintances. This was achieved by providing large, fully-landscaped open spaces, with walking paths and strategically located amenities," Arch. Ed Gallego uncovers the inspiration behind the property.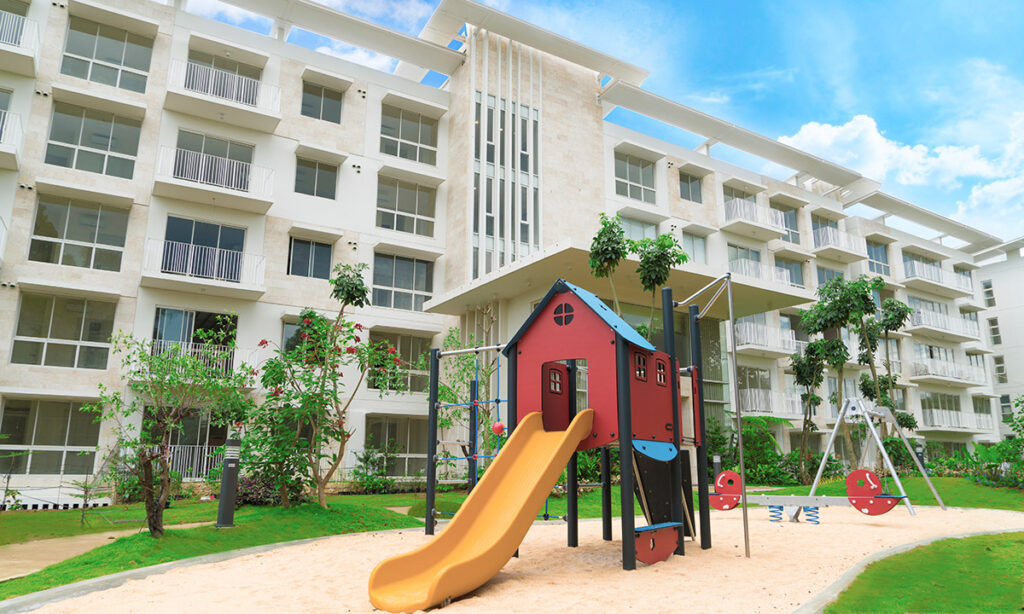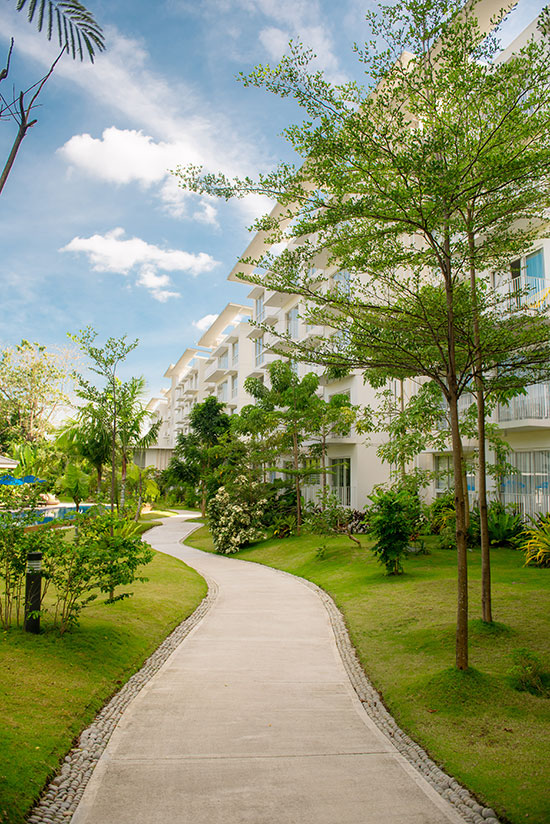 Homeowners at Sillion can make the most out of the Rockwell lifestyle, thanks to the easy access to various amenities at the heart of 32 Sanson. Before grinding in the morning, residents at Sillion can go for a quick morning workout at the gym or stroll down the jogging path after a day of online meetings. On weekends, families need not travel far for leisure. Within the property, toddlers can explore the playhouse or run free on the expansive lawn. For the hot summer days, there are two pools where one can go for a cool and refreshing dip. As intimate gatherings are well part of Filipino culture, the clubhouse and Sillion function room is ideal for hosting more memorable small celebrations.
A tight-knit community
These and more are exactly why residents Javier Marcalain and Ayla Gomez felt that 32 Sanson is a sound community they can call their home, especially during the challenging times due to the pandemic.
"We've been living here, in one of 32 Sanson's buildings, for over three years now. But we felt it was about time to move to a bigger unit in Solihiya so we could properly start our future family. The environment is great and it's not very easy to find lush patches of nature within the busy city. And we're happy about the close-knit community of Rockwell," Javier said, noting how happy he has been with the decision to live here.
Echoing this experience is Ayla. Although she has been living here for some time now, she feels 32 Sanson is less like a condominium and more like an actual home, alluding to her surroundings and the tight-knit Rockwell community.
"The 32 Sanson community just feels very safe and peaceful. We can go out for a walk with our dog and feel completely safe doing so. The surrounding greens play a big part. You can also easily spot (and hear) a number of bird species happily thriving amongst the greenery. As it is a pet-friendly community, we've also gotten to know our neighbors more through our pet encounters. It's really a great community to grow in, raise a family and ultimately build a future in," she shared.
During the lockdown in 2020, the couple all the more felt how safe it was to live in a Rockwell property, saying, "protocols were properly implemented, updates from the admin were constant, and the community was generally very cooperative."
32 Sanson building manager Ara Tamondong, herself, has seen how the community fostered and relationship sprouted throughout the years.
"The 32 Sanson community started out small, with a few people loving the outdoors and our beautiful garden. They then started to become friends with each other from meeting in our pathways and common areas. Now, everyone is part of this loving and energetic community, where everyone treats everyone as family," she said.
"People here are really close to each other supporting their businesses, and when someone is sick, they would really give their support to whoever it is. I am even close with most of the residents here as they are so warm and friendly to everyone."
Prime location
"Indeed, eight years after our first launch, we are now experiencing the lushness of a sprawling landscape and finding solace in an exclusive, low-density neighborhood with retail conveniences within close proximity," Tionglico-Guzman said.
As with every property hunter, location is important. Future homeowners at the Sillion are not just steps away from amenities but are also close to life's conveniences. Soon, the property will be opening its retail pavilion, curated with shops that cater to resident's distinct wants and needs.
In the morning, employees or executives alike may cut down their travel time as central Cebu's business districts are a short drive away. For convenient errand runs, it is also within proximity to essential establishments and shopping centers. Families with students may also quickly reach prominent schools near the area.
Convenient, worthy investment
32 Sanson has its own property management office that oversees the property's overall upkeep and ensures everyone's safety while on the property.
Further proving that it is a wise investment, investors who opt to have their units rented can have smooth transactions with its Secondary Sales Team, as well as a dedicated Leasing team, assisting all its clients throughout the whole process.
As everything around us changes, our wants and needs evolve alongside. We have long put behind us letting go of one need for another, especially when it comes to home and living and property investment. At 32 Sanson, residents can tick all their boxes — be it wanting to live in a serene, green space or needing to live near the conveniences of city life.
To learn more about 32 Sanson and its newest offerings, visit 32sansonbyrockwell.com.