"More tropical cyclones (TCs) are entering the Philippine Area of Responsibility (PAR) than anywhere else in the world. With the average of 20 TCs in this region per year, about eight or nine of them cross the Philippines," says the Philippine Atmospheric, Geophysical and Astronomical Services Administration (PAGASA).
TCs are classified according to its strength and grouped according to the maximum sustained winds near the center. They are classified into Tropical Depression (less than 61 KPH), Tropical Storm (62-88 KPH), Severe Tropical Storm (89-117 KPH) and Typhoon (118-220 KPH).
To us, we just call it bagyo and we measure their severity according to how it physically affects our surroundings at the time of the typhoon. We measure it real-time by checking if the water is coming in through the gate to the front door. The bagyo is strong if we can hear the roof shaking, peeling off or flying away—or when the neighbor's roof lands on ours. In worst-case scenarios, we know it's another heartbreaking bagyo if the ref is floating and we begin to figure out how to evacuate to the roof.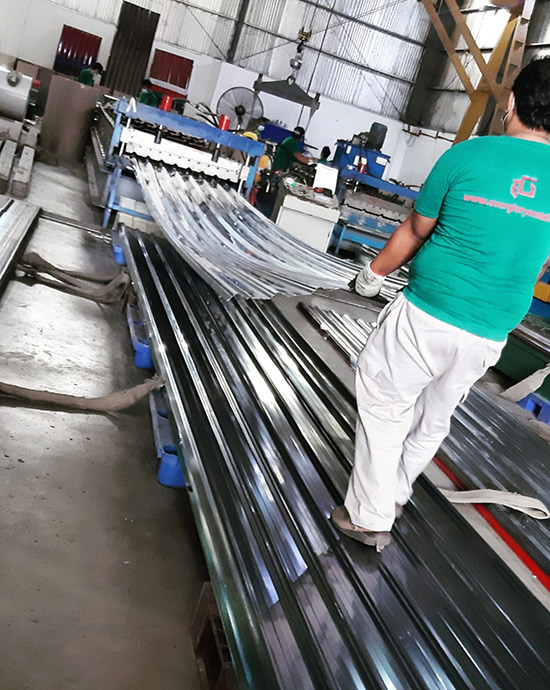 Year in and year out, this is our story as a nation. Bagyo is our weather dialect that we are all too familiar with. It's March, it's summer, and yet it's the best time to talk about typhoons—because this is the best time to do repairs in preparation for the upcoming rainy season.
It's time to actually think about the roof over your head. When was the last time you had it repaired? Is it high time to change the whole roofing system?
The big three
The roofing industry, just like the oil companies in the Philippines, has its top three manufacturers: Puyat Steel (since 1956), Jacinto Steel (since 1958) and Union Galva Steel (since 1963). Their distribution trickles down to the local hardware level via resellers and 90 percent of the supply is the usual corrugated galvanized yero that comes in standard sizes: 3.5 feet x 8 ft / 10 ft / 12 ft and that's it.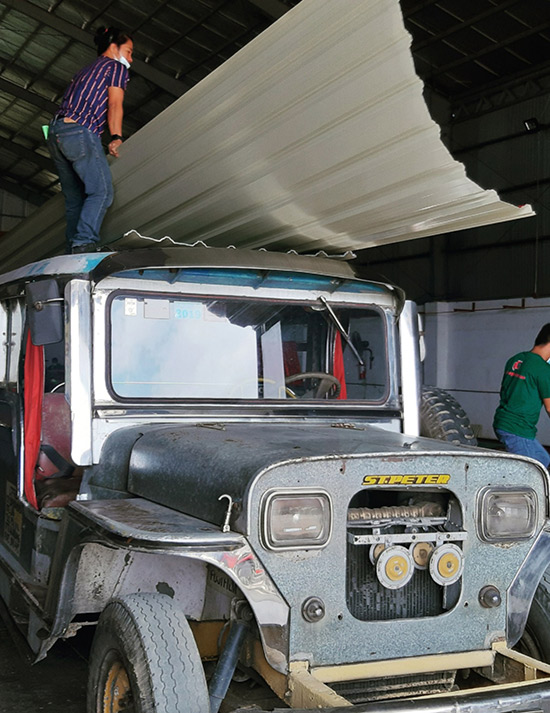 Roof repair becomes a cycle and the repair becomes bigger than the last. Why? Because the recurring rust problems in roofs can only be resolved if you install long-span roofing. Rust actually comes from the water that seeped into the parts where the yeros are connected. Long-span roofing will eliminate this because its panelized and uses a lock-in technology then screwed in place to prevent water seepage.
Roofing basics
Colored long-span roofing has been around since the '90s. It is not accessible since the usual yero is what's available in our local hardware. There is also a misconception that long-span roofing is much more expensive. When you buy yero from the hardware, you still need to apply primer and topcoat then sealant. These extra steps extend repair time thus adds onto material and labor costs.
Aside from the roof itself, there are other materials involved, like screws, gutter flashing, spandrel, insulation, etc. Since it takes the whole length of your roof, expect that there is almost zero wastage as compared to using yero from the hardware. This makes it a more sustainable choice with a 10-to-20-year lifespan.
Design-wise, it comes in different profiles; corrugated is one example. Rib-type is commonly used for residential, commercial and industrial projects. Other profiles mimic the look of traditional tile roofs which are usually used for clubhouses and resorts.
Even the gutter flashing has different designs that should go well with the overall roof design. If I'm going for a dark gray rib-type roof then I'll go for end flashing or box gutter to keep the minimalistic vibe going. The other gutter types with wavy shapes go well with the faux tiled-roofing design for a more traditional look.
From yero to long-span
I had the opportunity to learn more on roofing when I was invited by Alpha Steel managing partner Diane Jean Cruz to visit Ever Glory Metal's (EGM) manufacturing plant in Lipa, Batangas.
Alpha Steel distributes and installs EGM roofing products. They also have distributors in Quezon province, Albay and Aklan. The good thing about Alpha Steel is that they cater to individuals, and not just big projects. You can actually go to them for roofing supply and installation. This is what EGM CEO David Lucenario has established—to open up the plant to homeowners.
When you go to the plant with a rough sketch of your roof with dimensions, they will redraw it with AutoCad with specifications down to complete labor and materials quotation. The local hardware doesn't have the capacity to do this. Alpha Steel even gives business opportunities to those who wants to be a distributor.
In a country where super typhoons are always expected, roofing is a basic need. It's March, it's summer and it's time to "raise" the rusty roof!
For inquiries, visit www.alphasteelinc.com and www.everglorymetal.com.