Nowadays, pets are considered members of the family, so we take their welfare seriously. This is especially true when we are building or moving to a new home or planning home renovations. We design our home according to our taste and lifestyle, but we make sure we have provisions set for our four-foots' comfort and safety.
As a licensed interior designer, dog behavior specialist, and mom to four wonderful dogs, I would like to share here suggestions to make one's home pet-friendly.
Consider the materials you will use for flooring and furnishings. You would want to use hardwood floors or floor tiles with a moderate to high rate of slip-resistance to withstand those sharp claws and, at the same time, keep them from slipping. Use softwood flooring and carpets for areas in the house where your four-foots will not hang around often (which, I'm assuming, is pretty much non-existent).
Use stain-resistant fabrics like leather or microfiber for the upholstery to avoid collecting animal hair. Should you fancy silk, velvets, or tweeds, make sure to invest in stain-resistant sofa covers and heavy-duty vacuum cleaners, which can also be used for your carpets. It'll be wise to provide a comfortable bed for your dog and a cozy hammock for your cat so they won't have to resort to using your sofas for sleeping.
Know that there are dog beds in the market which use organic materials that are eco-friendly and free from synthetic or harsh chemicals and other potentially dangerous components for your dog.
• Provide secure storage for medications, chemicals, and other items toxic to animals. Cats can reach high areas.
You may secure cabinet doors with a lock. Ensure you have a safe place for food items not good for your dogs like chocolates, chips, grapes, avocados, and cake, to name a few.
• Install window screens, especially if you have cats, to avoid accidents or escapes.
• Design an escape plan for cats, especially if you have dogs or planning to get one. These are normally tiny holes on walls that allow cats to run from one room to another for escape.
• Provide garbage cans with a lid or cover. Choose tall ones for areas like the pantry, kitchen, or bathrooms. We don't want our nosey pups to develop a nasty habit of getting into our trash.
• Whether with gardens or none, every household should provide an indoor target zone for pets to do their business. It will be very convenient for everyone, especially if potty walks are made impossible by heavy rains or, like recently, lockdowns. Make sure to clean this zone diligently.
• You may want to explore alternative home-made or organic fertilizers for your gardens and identify toxic plants in your landscape. Regularly check for frogs.
Reports say dogs licking or ingesting a frog or toad is usually not life-threatening. However, the bufo toad, also known as the giant or cane toad, is extremely toxic.
• Groom your four-foots regularly and make sure to install well-fitted baskets in your drains to catch all those hair during bathing and drying.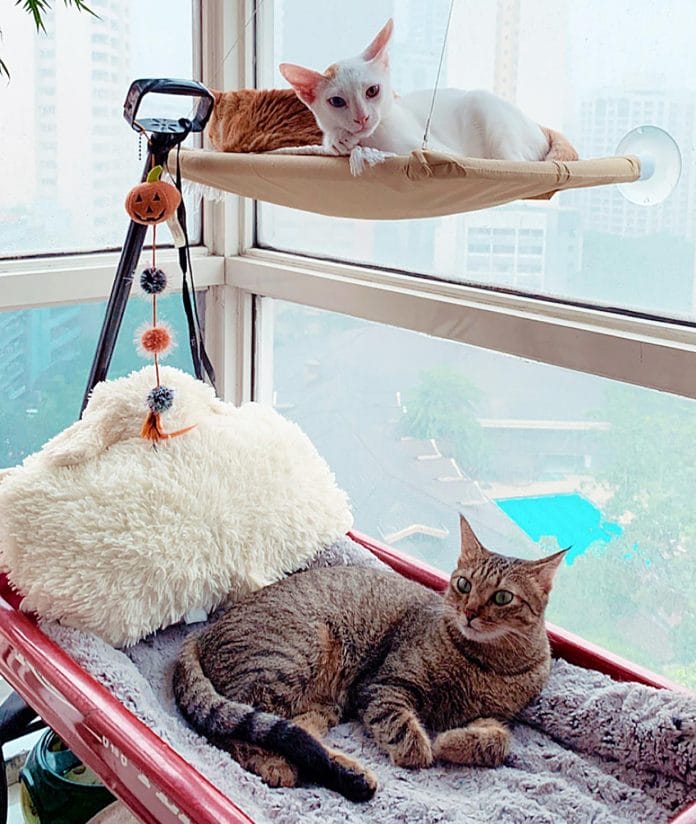 This will help avoid pipes from clogging and save you the hassle of having to call your plumber every now and then.
• Ensure that your pets are getting their mental and physical cravings so you will not have to pet-proof every corner of your home. Provide a spot where you can keep all their toys, chew items, and other paraphernalia for their mind enrichment activities.
To keep them busy, invest in puzzle toys, nutritious chew items like dehydrated cow tails, bully sticks, cow knuckles, and the likes. If you have a garden, you can set up a mini agility course or safe playground equipment for dogs.
• Remember, your four-foots cannot be exposed to toxic dust and fumes during house renovations or even when doing pest control. During these times, ensure that you have a safe place to bring them to.
Perhaps relatives who are knowledgeable in looking after your dog and/or cat. You may also look for boarding facilities with professionally trained staff and are exceptionally particular about cleanliness, safety, welfare, and enrichment of the animals while under their care.
(The author is VSA Certified and a Dog Behavior Specialist. She runs Pup Culture Dog Enrichment Center in Eastwood. You may reach her at +63906 210 9160).