Inside the community itself, one can relish in fresh air with most of the place dedicated to open spaces and lush greenery.
It has often been said that location is key when choosing a home to invest in. Having easy access to one's workplace or school makes one's daily routine more convenient and allows for more time to rest and recuperate.
Such is why many opt to live in vertical communities that are a stone's throw away from central business districts. Another factor that is equally important to consider is the safety and security of a home. Keeping in mind that it is where you and your family will be spending most of your time, your place of residence should be the least of your worries.
Located in Muntinlupa City is East Bay Residences, a vibrant community by Rockwell Primaries. In it is the newly-launched The Larsen Tower, which is set to stand 20-stories high, and follows The Fordham Tower, Rockwell Primaries' first residential building in the property. East Bay is situated close to the heart of Metro Manila. It is only minutes away from Parañaque, Makati, Taguig, Las Piñas, Cavite, and Laguna.
Traveling to both the north and south is made even easier with access to major throughways like C6 and the South Luzon and Cavite-Laguna Expressways, as well as Stage 3 of the Skyway coming to completion.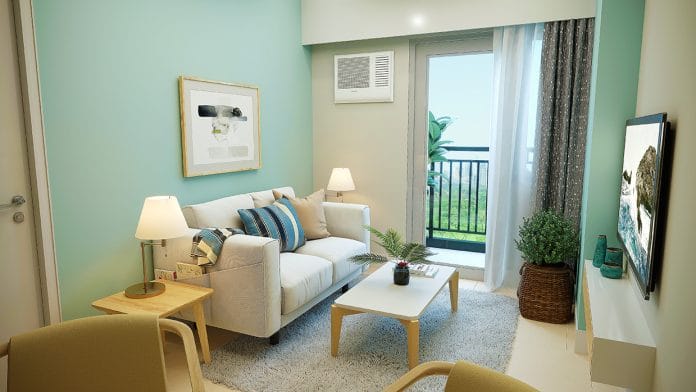 Despite being in close proximity to a number of malls and leisure areas, East Bay Residences has its own retail area to keep your needs truly within reach. At the East Bay Retail Row, one will find The Marketplace for daily groceries, as well as Suds Go and BDO, for other essential errands. Starbucks Coffee, Pan de Manila, and Royce Tea are also located here for a choice of specialty food to enjoy.
Inside the community itself, one can relish in the fresh air with most of the place dedicated to open spaces and lush greenery. The Central Amenity area is at the core of the property, and in it is where the swimming pools, clubhouse, and great lawn are. These areas allow you to enjoy a slice of nature without venturing away from the city and are nestled right within your home.
Being afforded such conveniences at East Bay Residences is made even better knowing that your safety and security are assured. Each unit is provided with its own access card, limiting entry to the parking area and elevators in its residential towers. Property Management also ensures that the community is kept in its best shape and provides round-the-clock security to safeguard against unauthorized entry.
Apart from these, the spacious units at East Bay's residential towers make one's investment all the more worthwhile. The recent addition of The Larsen Tower to the East Bay community, with units that range from one- to three-bedroom units, ensures that you get to choose a home that truly suits your needs. Rest assured that here at East Bay Residences by Rockwell Primaries, one can freely unwind in a home that allows for your peace of mind.