It wasn't that long ago when social media had a fun and witty debate about which one is the better community: North or South. For someone who's seen the best of both, each offers a charm of its own.
Metro Manila's south side gives off a laid-back vibe mainly due to its proximity to the urbanites' favorite quick-escape destinations, Tagaytay, Batangas and Laguna. But beyond this, it knows how to balance its best features: exuberant energy by day and relaxed ambiance at night.
Behind the budding commercial infrastructures along bustling roads, the south holds tight-knit communities, hole-in-the-wall finds, and serene, green breathing spaces.
In an upcoming Modern Living episode, host Bianca Gonzalez-Intal heads down south and discovers with SM Southmall AVP for mall operations Bernice Baculi, Medical City's Dr. Mariann Almajar and homeowner Dhey Bool how SM made life more dynamic for these southerners.
Everything's within reach
SMDC's recent endeavor is nestled in Las Piñas — awarded as the cleanest and greenest city in Metro Manila. It is accessible to all parts of Metro Manila via MCX, SLEX, Emilio Aguinaldo Hi-way, and Metro Manila Skyway. It is also close to 'Build, Build, Build' infrastructure projects such as the Skyway Extension, LRT-1 Cavite extension, and C-5 Southlink.
Perched within the sprawling 20-hectare SM Lifestyle City, South 2 Residences brings residents closer to life's conveniences with SM Southmall, SM South Tower Offices, transport terminals, and the future site of another National University campus.
With the premier lifestyle center, SM Southmall as its neighbor, South 2 Residences homeowners have easy access to 350 retail, dining, leisure and entertainment choices.
"We have evolved the whole mall to be like a live-work-play environment. You live here, you work here, you play here, and you also shop here. Our integrated city concept provides a 360-degree lifestyle for our residents," Bernice told Bianca.
SMDC South 2 Residences rises alongside SM South Tower, which provides office spaces with a 21,700-square-meter leasable area. The tower features a sky deck where employees can unwind before grinding again at work to maximize break time.
"We're more than happy to be here. In two years, we built a good rapport with our clientele, mostly coming from South Residences and neighboring areas around Alabang-Zapote Road," Dr. Mariann said.
"We have to look into the site, image, the history of the place itself. SM has already built its mark in terms of building and operating mall clinics. Next will be the demographics. We need to know who our clients will be, how close they are to the location and, at the same time, the community surrounding the location itself," she shared how they decided to lease space at South Tower.
"Knowing that it's SM-made would entail safety. It also meets the requirements that we need to support our clinic operation, such as parking and accessibility to the mall."
Since Medical City is also near the transportation hub, the doctor said that the clinic's location enables them to cater to patients from nearby provinces of Laguna and Cavite, even health queries of mallgoers.
Ideal living down South
Switching from house to condo living is a life-changer for South Residences homeowner Dhey.
"It's convenient to live here because everything I need is right here. I also feel secure. Outsiders can't simply come and go due to the tight security here," she said.
"The breeze is cool, so I don't need to turn on my air conditioner that often. I'm also on the ninth floor, so I feel relaxed every time I look out the window and see the scenery. In the morning, I walk around the neighborhood and enjoy the greenery," she added.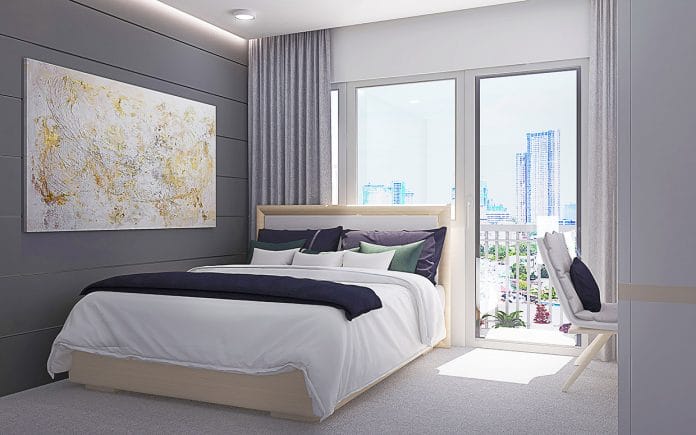 Dhey decided to purchase another unit, this time at South 2 Residences, to generate rental income.
The upcoming three-tower condominium is bound to exude modern and luxurious living. Each of the 15 floors holds various unit types, all with balconies and functional layouts.
Truly giving a seamless lifestyle, future residents would not only enjoy the advantages of locating within the SM Lifestyle City. Right outside their doorstep, they have quick access to lifestyle amenities such as adult and kiddie swimming pools, playground, function rooms, a gazebo, and landscape areas.
Visit its showroom at the 2nd Floor, West Wing, SM Southmall, Las Piñas City. For more information on South 2 Residences, visit https://smdc.com/properties/south-2-residences/.