Federal Land is primed for the real estate rebound in Ortigas Center
The property's interiors and landscape take inspiration from the Japanese concept of wabi-sabi and miyabi, which focus on the discovery of imperfection and expression of elegance and refinement.
It's true that the pandemic is making property seekers move a little farther, searching along the metropolis' fringe areas or eyeing provincial business districts. But with the central business districts coming back to life and hinting at economic pickup, interest in refined condominium units located in these busy areas is showing optimism.
Federal Land's The Grand Midori Ortigas, located immediately across the Tektite Towers or Ortigas Stock Exchange, continues to enjoy land value appreciation, despite the pandemic.
Considered the real halfway point between the north and south ends of Metro Manila, Ortigas Center has long enjoyed being a favorite location of big establishments, where headquarters of multinational companies neighbor IT and BPO giants.
Soon, this walkable business township will also be more commuter-friendly with the completion of the Ortigas North and South Subway Stations, BGC-Ortigas Link Road and Ortigas Greenways Project. This is aside from the existing MRT stations and SM Megamall Bus Stop along EDSA.
The convenience is made more apparent by surrounding healthcare facilities (The Medical City, Cardinal Santos Medical Center and VRP Medical Center), places of worship (St. Francis of Assisi Parish, Mary Queen of Peace Shrine/EDSA Shrine and CCF Center), malls (SM Megamall, The Podium, Shangri-La Plaza, Robinsons Galleria, Ayala Malls The 30th, Estancia at Capitol Commons and Greenhills Shopping Center), and schools (Lourdes School of Mandaluyong, University of Asia and the Pacific, Saint Pedro Poveda College, La Salle Greenhills, Immaculate Conception Academy, O.B. Montessori, Xavier School and Ateneo School of Medicine and Public Health).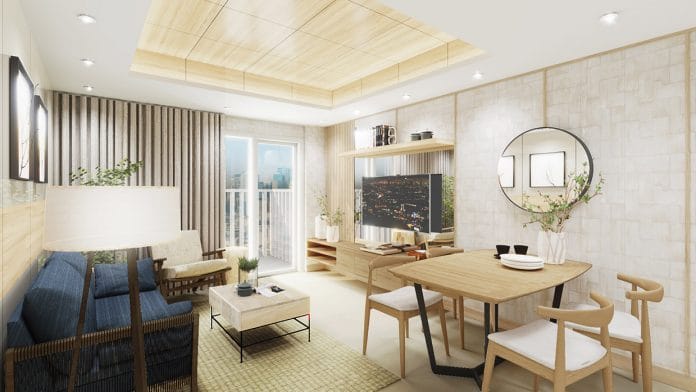 'Midori' means 'green'
Tange Associates, a world-renowned Tokyo-based architectural firm, designed the two-tower condo, which showcases a fusion of Japanese aesthetics, technology and innovation. Offering a Zen-like sense of tranquility while at the heart of the city, the 5,090-sqm. prime property will provide a calming yet vibrant urban home, especially during uncertain times.
The property's interiors and landscape take inspiration from the Japanese concept of wabi-sabi and miyabi, which focus on the discovery of imperfection and expression of elegance and refinement. It applies creative and practical space planning, but without scrimping on the floor area.
While targeting the upper middle income segment, the skyscraper offers value for money with its generous unit cuts and relatively affordable price compared to its competitors within the location.
Available in studio, one-bedroom, two-bedroom and three-bedroom options, each Grand Midori unit includes a balcony — a place of respite to fuel the growing interest in garden nooks for pandemic-ready homes. Aside from optimizing fresh air and having a well-thought-out ventilation system, the units also maximize natural lighting through huge windows.
"Midori" means "green," which can be related to how the building was designed with green spaces on its amenity floor.
Even with the limitations of the new normal, The Grand Midori Makati residents will not lack for green sanctuary designed to provide breathing spaces for relaxation and recreation.
Grand Midori's amenities include a jacuzzi, lap pool, kiddie pool, children's play area, indoor playroom, exercise lawn, yoga room, game room, study lounge and a conference room.
Lamudi recently reported that residential property seekers continue to put value on amenities that bring comfort and active leisure. Regardless of the lockdowns, property seekers find it important to have swimming pools, clean gyms and fitness centers.
Best to invest
Real estate is less volatile than stocks and regarded as a smart investment during a crisis. During uncertain times, development projects offer flexible payment options, which investors and end-users should consider. They should take advantage of the pent-up demand, especially in CBDs such as Ortigas where properties continue to appreciate in value. This can lead to higher take-up once market conditions improve, as patterns of previous economic crises showed.
"Previous crises have shown that prices recover immediately once market sentiment and business activities start to improve. During the Asian Financial Crisis, prices dropped between nine percent and 14 percent from 1998 to 1999, followed by a recovery in 2000 when prices grew by 24 percent. The same trend was observed during the Global Financial Crisis, when prices dropped by 1.5 percent in 2009 and immediately recovered in 2010 with a 2.1-percent increase in average prices," according to Colliers International Philippines.
Colliers also earlier projected that average prices may soften by 13.8 percent in 2020, but added that an economic recovery in 2021 should boost demand. "Hence, we see prices growing by a slightly faster 2.1 percent per annum from 2021 and 2022 from our initial estimate of 1.9-percent growth during the period."
Metro Manila continues to have one of the most attractive rental yields in the Southeast Asian region because of relatively low prices and sustained demand from investors and affluent Filipinos.
As of mid-2019, the most expensive condo in the country was priced at P550,000 ($10,400) per sqm., which is still lower than in other neighboring countries.
In all, investors should take this opportune timing and bear-market prices to heart.
For more information, visit www.federalland.ph/properties/the-grand-midori-ortigas.