We will continue to build beyond ordinary communities. The shift in market behavior because of the crisis has led to make changes in our plans to deliver more exciting developments.
History shows that Philippine real estate remains  solid and resilient, and it comes as no surprise that residential developers are seeing a strong demand in the Visayan region's key business districts.
Business centers in the VisMin areas, including Davao, Iloilo and Bacolod, are believed to be the first areas to bounce back after the pandemic, as present circumstances force people to move out of congested and polluted Metro Manila.
In one of Lamudi's recent webinars, property players mentioned that Filipinos abroad as well as millennials are realizing the potential of investing at this time, especially in real estate.
"We used to have an average age of 30 to 40. [Now] our 20-to-30-year-old market segment has doubled in the last three months," said Raphael Felix, chairman of the board of Subdivision and Housing Developers Association (SHDA).
Being at home during the quarantine, young investors are understanding the significance of having a long-term investment or a safer home that prioritizes the residents' well-being with grand open space to adapt to the times.
"It's very important now that you are in a building where there's enough sanitation, enough sunlight. If you're in a condo, you have to make sure that your property manager is implementing enough safety protocols," said Joey Roi Bondoc, senior research manager of Colliers International Philippines.
A crisis and an opportunity
Real estate is regarded as a great investment during a crisis because of flexible payment options. Investors should take advantage of the pent-up demand, which can lead to higher take-up once market conditions improve, as patterns of previous economic crises showed.
"Previous crises have shown that prices recover immediately once market sentiment and business activities start to improve. During the Asian Financial Crisis, prices dropped between nine percent and 14 percent from 1998 to 1999, followed by a recovery in 2000 when prices grew by 24 percent. The same trend was observed during the Global Financial Crisis when prices dropped by 1.5 percent in 2009 and immediately recovered in 2010 with a 2.1-percent increase in average prices," according to Colliers.
On the one hand, for investors who are willing to take calculated risks, the current pandemic makes the best opportunity to invest because the rebound will be better. On the other, companies are aligning themselves to the market's insights.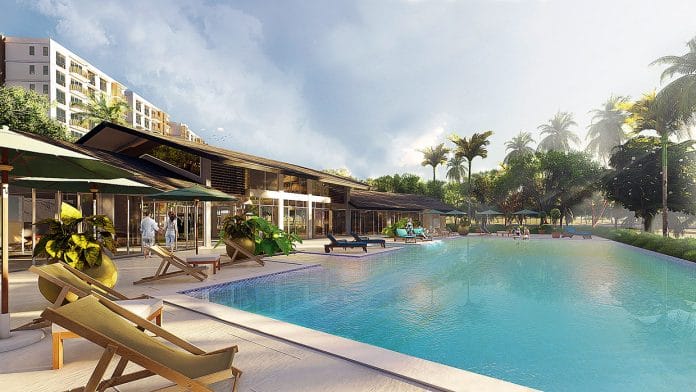 Such company is Rockwell Land, which promises to offer more horizontal developments with more open, healthier spaces for its future residents.
"We will continue to build beyond ordinary communities. The shift in market behavior because of the crisis has led us to make changes in our plans to deliver more exciting developments. This includes a new 30-hectare, self-contained, inner-city, mixed-used development in Bacolod set to launch in 2021," says Valerie Soliven, chief revenue officer of Rockwell Land.
Pioneering Rockwell's venture to Bacolod is an 11-hectare self-sustaining property, Nara Residences, which will also be adapting to the current market demand and soon, with wider product offerings and horizontal living spaces.
Strategically located along GM Cordova Avenue (Buri Road) near Lacson Street in Barangay Mandalagan — in close proximity to New Bacolod-Silay International Airport, Mandalagan Golf Course and premier establishments and business centers — the new development highlights the heritage and rustic beauty of Bacolod, with green landscapes and mountain vistas in the background.
With 80 percent of the area remaining as open space, the project is a welcome respite to family and friends looking for an al fresco setting for new-normal gatherings and activities. Since it's mixed-use, residents can expect multiple retail establishments and high-end leisure options for daily lifestyle needs within the property.
Being a Rockwell development means having expansive and exclusive amenities. At the heart of the premium community is a 303-sqm clubhouse for play and leisure. There are also swimming pools so residents can squeeze in a swim before starting their day or relax after a hard day's work. Completing the world-class amenities are a fitness gym, multi-purpose court, function rooms and an events place specially designed for the modern lifestyle.
The thriving Rockwell community offers generous living spaces coming in wide cuts and high ceilings — studio (36-38 sqm), one bedroom (50-75 sqm), two bedroom (82-83 sqm) and three bedroom (104 sqm). With wide windows in every room, it captures what families are now looking for in a home: lots of sunlight, fresh air and an unobstructed beauty of the province.
The studio comes in handy for the jet-setting professionals of Bacolod, which is expected to increase as more companies consider setting up sites outside Luzon, making Visayas more attractive for business continuity plans.
Whether for leasing purposes or as a living space to restart life after the pandemic, investing in a Rockwell development in this opportune time is a smart choice.
Colliers is projecting average prices to soften by 13.8 percent in 2020, but it says that an economic recovery in 2021 should boost demand. "Hence, we see prices growing by a slightly faster 2.1 percent per annum from 2021 and 2022 from our initial estimate of 1.9-percent growth during the period," according to its second-quarter report.
A crisis is a great opportunity to invest in something bigger for the future — something elevated, resilient and flourishing like Nara Residences.
To learn more about Nara Residences by Rockwell, call (0917) 515-NARA or visit nararesidencesbyrockwell.com.