Property preferences are changing and AboitizLand knows this well.
Crowding, pollution, and mobility problems in major urban centers are putting the megacities' labor forces at risk, even more so during a pandemic.
As Filipinos prepare for a post-pandemic scenario, AboitizLand communities beckon, given that they are located outside the National Capital Region where there are wide open spaces and cleaner and healthier environments.
Ajoya, the developer's residential projects in the new-wave growth region of Central Luzon, supports a new and better way of life for families.
Changing Property Preferences
Ajoya communities in Pampanga, Tarlac, and Nueva Ecija represent AboitizLand's understanding of the population's yearning to live better and more sustainably. The residential communities are characterized by a superior masterplan with signature features like greenbelts or natural green open areas and a network of walkable spaces and amenities, all of which are shared spaces that help build warm friendships through chance encounters with neighbors.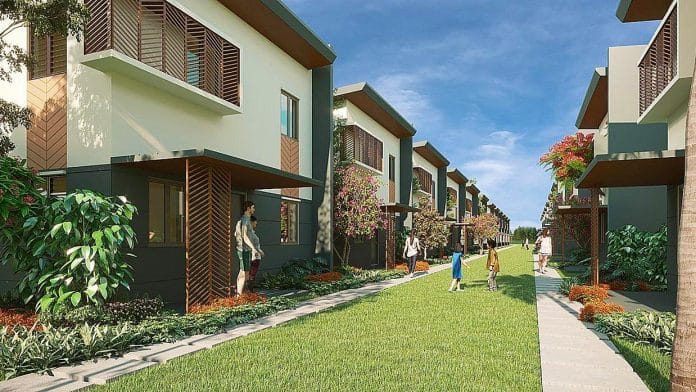 In Pampanga for instance, there are house options that face pedestrian-only parks, providing direct access to greenbelts where children can play without the danger of incoming vehicles. As a mixed-use development, Ajoya fosters employment, enjoyment and convenience, safe connections, and security for families.
For the residents' peace of mind, the gated neighborhood has round-the-clock security and strictly-enforced pandemic protocols. Having a centrally located town plaza in Ajoya means getting back home easily after running a quick errand. Families can reap the benefits of a daily dose of the pleasant outdoors while being inside a safe, walkable, and flood-free community.
Stay-at-home parent-entrepreneurs, who desire to provide a good life for their children while staying close to them, are supported through the village shophouses.
Townhomes
These are three-story, townhouse-type units that serve as a residence and business address in one. The ground floor is dedicated to commercial space, while the second and third floors house the owner's living and dining areas, and bedrooms for the family.
Ajoya homes are designed to make residents feel better about life through optimum natural lighting and ventilation, and a balance between privacy and social connectedness. In light of the new normal, the porches and ventanillas help foster community relations while promoting social distancing.
Construction Milestones
Another compelling reason for property investors to choose Ajoya developments is the presence of major infrastructure developments that will connect the region better and will guarantee property value appreciation over time. These include the Central Luzon Link Expressway (CLLEX), Tarlac-Pangasinan-La Union Expressway (TPLEX) Extension, Manila-Clark Railway, Clark International Airport's new passenger terminal, and New Clark City.
Site development at the 17-hectare Ajoya Pampanga in Brgy. Eden, Mexico, Pampanga is targeted for completion by the first half of 2021. Aside from single-attached units, buyers can choose from a limited inventory of five-bedroom single-detached, and lots-only.
In Tarlac, development in Ajoya Capas is already 99-percent constructed and will be completed in the third quarter of the year.
The 13-hectare development that straddles Brgys. Talaga and Estrada in Capas, Tarlac has a clubhouse, court and pool, which will be fully operational by the second half of next year. It offers lots-only, duplexes, shophouses, and townhouses.
The largest Ajoya community is in Brgy. Valle Cruz, Cabanatuan City where site development is nearly 75-percent completed and remaining construction will finish by the first quarter of 2021. Recreational facilities like the clubhouse, athletics court, pool, and pool pavilion will be ready by the second half of 2021.
Affordability and ease of transaction are further reasons why #LifeIsBetterHere in Ajoya. Property seekers can take advantage of budget-friendly monthly payments.