There's something oddly alluring about the metro's awe-inspiring skyline and glittering night lights, especially if you're getting an uninterrupted view from sky deck lounges or from the hills of Antipolo.
But as a probinsiyana, who's spent most of her young adult life in the bustling metropolis, I get a familiar feeling of comfort and peace when I chance upon homes made out of sawali, tucked amid beautiful green landscapes.
As urban spaces continue to conform to the needs of modern living, bahay kubo is slowly becoming a thing of the past — until aspiring architects gave it a fresh, new look.
On Facebook, 23-year-old Adreinne Cristobal and Jherica Baltazar of North Scale Architecture incorporated elements of the traditional Filipino homes into modern designs.
Jherica took up Architecture at the University of Northern Philippines in Vigan City while Adreinne finished the same course at Saint Louis University in Baguio City.
With the Architecture board examinations postponed due to the COVID-19, the aspiring architects took the time to hone their skills, explore their creativity, and prepare for the real world. While on quarantine, the two reimagined and created 3D visualizations of the iconic bahay kubo.
Bamboo
"This pandemic has affected our normal lives and has brought us back to the province. We both grew up in Abra, a province where bamboo abundantly grows. Knowing that bamboo is readily available in our vicinity, we envisioned a house concept that radiates a provincial vibe — totally away from the urban landscape," Jherica told Property Report PH.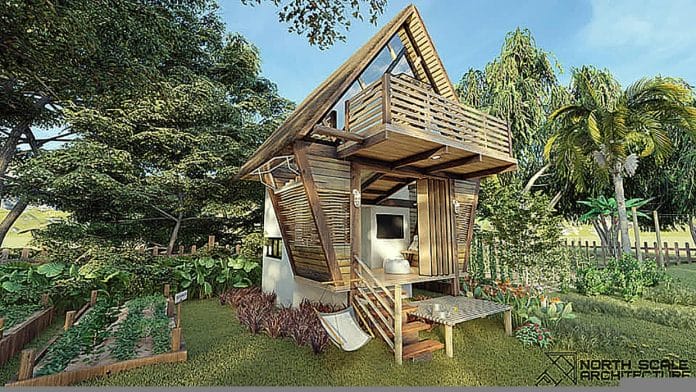 "The concept is to make a modern bahay kubo that combines traditional design and meets our modern needs. It is comparable to a traditional dwelling and revolves around the concept of 'elegance in simplicity'," she said as they share the inspiration behind their works.
The design of the aspiring architects is simple yet functional. They draw inspiration from the Filipino's culture and way of life, particularly in the provinces.
"Filipinos are family-oriented, often religious, and have an appreciation of art, music, and food. Considering the site, we incorporated easy access to their daily needs to make living sustainable. Some features in the conceptualized design include a fish pond, vegetable garden, and mini poultry, which we see as an undeniable part of the lifestyle in the province. Add to these is a wooden platform at the rear for family gatherings and a hammock for siestas," Adreinne said.
The key to giving the house a true bahay kubo vibe lies not only in the use of bamboo. The minds behind the North Scale believe that location is also a big factor.
"For us, the main consideration should be setting — the location and its surroundings. Not to make a general inference, but we believe that it would be hard to achieve a bahay kubo vibe if the chosen site isn't tranquil or peaceful," Jherica shared.
"It is best to use environment-friendly and sustainable materials that are native to our localities. In this manner, we are not only promoting Philippine architecture, we can also support and be an advocate of the country's very own products," Adreinne capped.
With the modern version of bahay kubo, an icon of Philippine culture lives on and is hopefully kept alive through generations and generations to come.