It's not a surprise that metropolitan cities worldwide are hit hardest by the ongoing pandemic. The abundance of commercial and business centers naturally makes metropolitan areas like Metro Manila dense in population, where people continue to work, study, and live despite the threat of the virus outdoors.
In circumstances like this new normal, it's a blessing for city-dwellers to reside in real estate developments that ensure their safety and comfort — whether it's because of the sizing of their units, the proximity to essential establishments, or the availability of amenities, which allow them to unwind.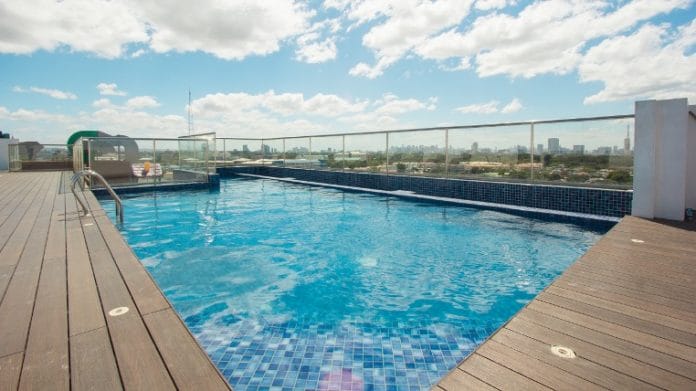 Prosperity Heights in Quezon City is a development of New Beginnings Inc., a member of the B&P Property Group™. Located in Tandang Sora and accessible via Commonwealth, QC Circle, EDSA, and Katipunan, the development ensures safe and convenient city living for its residents even before the pandemic.
When it opened for occupancy last Aug. 2019, Prosperity Heights has been a haven for its residents who study and work in various parts of the city. It provides easy access to establishments, public vehicle terminals, schools, hospitals, and churches around the vicinity while providing comfortable living spaces and amenities within. Now, in the time of the new normal, each unit within the property continues to serve as a haven where residents can stay safe, healthy, and secure.
In the building's ground floor itself, Prosperity Heights is home to commercial establishments, such as a 24-hour convenience store that caters to its residents' most essential needs, so that residents are kept safe as touchpoints remain limited from their unit to the store and back. Within less than five kilometers from the property, residents can access Quezon City's most top-notch malls and commercial hubs such as UP Town Center, Trinoma, SM City North EDSA, Ayala Vertis North, and UP Technohub.
As people are encouraged to stay home and go out only for essential needs, the proximity of these key establishments ensures that residents can easily grab-and-go when shopping for what they need at home. Churches, government offices, hospitals, and even schools are also quite accessible from the property.
Meanwhile, residents who are still required to go out for work will not have a problem adjusting to the new normal, as the MRT 7 and the Metro Manila subway — both a short walk from Prosperity Heights — are already being constructed.
Within the development, Prosperity Heights is home to just 117 units that adjust seamlessly to its residents' changing lifestyle while offering safety and privacy. Beyond the high-ceiling reception lobby, each unit comes with its own balcony, and each floor was designed with wide hallways that promote better air circulation and ventilation to ensure the health of each resident. Venturing inside each unit, residents have ample space to make their homes suitable for work, study, and relaxation.
Units in Prosperity Heights are constructed to be bigger than standard condominium unit sizes, making it more convenient for residents to design and organize their space according to the new demands of working and resting at home. Each family member can have their own little corner in the home given the size of the space.
Even outside the units, amenities within Prosperity Heights ensure that residents have enough space to unwind without leaving the safety of home. The rooftop area has well-designed leisure spaces such as a swimming pool, a kiddie pool, a playground, a garden to unwind and enjoy a breath of fresh air in, and even a function room, to address the need for personal space and entertainment amidst the stresses brought about by the new normal. And because the property is low-density, there will always be ample space for social distancing and adherence to safety protocols.
On top of it all, the property management of Prosperity Heights adheres strictly to the highest safety standards of hygiene, sanitation, and security at all times. Truly, when one prospers at home, there's no reason to leave the comforts offered within and close by it.
NewBeginnings Inc. — as a member of the B&P Property Group™ — stays true to the developer group's long-term vision of fulfilling the dreams of Filipinos to live better, safer, healthier lives, and achieve homes that they can deem #TheBetterPlace, through progressive properties that have innovative and disruptive features. With the group's projects and developments spreading fast throughout the country, there's a better place to live for every Filipino.
Developments of the group include the WV Towers 1 & 2 in Mandurriao Garden Residences Iloilo under Westernland Property Development Inc., Palm Glades Residences in Capiz under Centrumland Development Corp., and Prosperity Heights and One Mariposa in Quezon City, both under NewBeginnings Inc. For more information, visit www.bandppropertygroup.com.