Accessibilty and convenience at your fingertips from your coveted address at Arcovia City.
The past few months have made us rethink the way we dream and pursue our goals for the future. From hereon, we know that every minute of our day counts — every thing that we wish to achieve and every dream we dared to take on can be ours if only we are able to maximize our time to claim them.
In our journey towards fulfilling that goal, we need to be at an excellent starting point.
How about owning your own address at a prime location in the middle of the capital? Imagine the possibilities you can enjoy with a place where you can be in major central business districts faster than it takes for your morning brew to cool down.
Jumpstart your dream life at Arcovia City
If there's an ideal place to establish your roots and pursue your goals at the same time, it would be where we can have all the space we need. Arcovia City — a 12-hectare township along C-5 in Pasig City — is a community masterplanned by Megaworld, the Philippines' leading township developer.
As we make our way to achieve the goals we have set ahead of us, ease of access should be a top-of-mind priority.
Strategically located along C-5 road in Pasig City, Arcovia City is only 23 minutes from University of the Philippines Diliman, 14 minutes away from Ateneo de Manila University, and five minutes from St. Paul College. And since it's in C-5, the township is only 15 minutes away from Fort Bonifacio and 21 minutes away from the Makati central business district (CBD).
Within the community are a variety of retail and commercial hubs. Also rising fast inside the development are live-work-play developments, including several LEED-certified office spaces.
A can't-miss feature of Arcovia City is the tallest bronze monument in the country, the iconic Arco de Emperador composed of nine massive sculptures. This new tourism landmark serves to inspire the residents of the township with the message of how hardwork, passion and perseverance can create a self-made successful man.
Other than accessibility, sustainability is a priority for us when choosing our home.
A thousand trees set to be planted in Arcovia City complement Megaworld's commitment to reducing the carbon footprint of its integrated developments.
Indeed, being in a space that fosters ample opportunities to nurture your wellbeing and embrace sustainability has become the new considerations in looking for that dream home.
Everything you'll ever need in one convenient community is in Arcovia City. Do weekly groceries at Landers Superstore. Have a quiet cup of coffee at Starbucks, indulge in a boatload of snacks from the country's first Popeye's store inside the township, and savor your own corner of this dynamic and growing community from your future home at Arcovia Palazzo.
Create at Arcovia Palazzo
Designed by UK-based world-renowned architectural firm Broadway Malyan, the three-tower Arcovia Palazzo will offer high-standard, quality of living to its would-be residents.
Composed of the 40-story Altea Tower, the 45-story Benissa Tower, and the 49-story Cantabria Tower, Arcovia Palazzo offers would-be residents a variety of unit options to suit their exciting lifestyles. This include Studio units with or without balcony (up to 32 sqm.); one-bedroom with or without balcony (up to 46.5 sqm.); two-bedroom with balcony (up to 77 sqm.); and three-bedroom with balcony (up to 193.5 sqm.).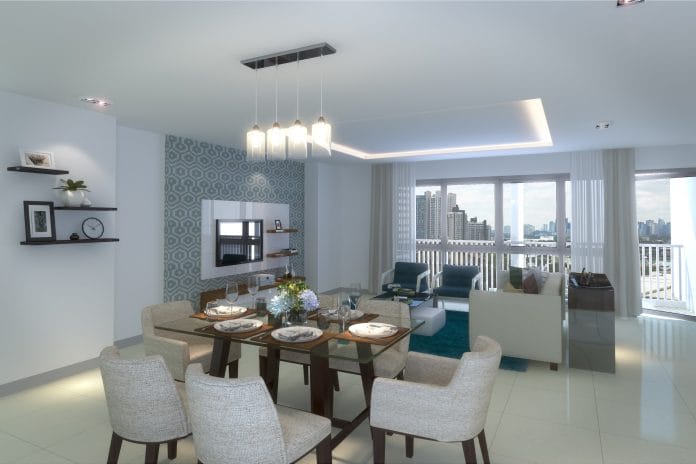 Select bi-level units for one-bedroom and two-bedroom are also available, offering generous layouts of up to 107 sqm. for one-bedroom, and 139 sqm. for two-bedroom units.
With generous amenities at the fifth level including an infinity pool with pool deck, pavilion, Jacuzzi, game room, fitness center, daycare center, outdoor seating lounge, children's playground, function rooms, and a multi-purpose lawn, a well-rounded life can easily be built at your home in Arcovia Palazzo.