In the midst of the COVID-19 pandemic, real estate industry experts have remained positive on the outlook of the industry. While developers are prepared to slow down until the end of the year, most remain upbeat. This is boosted by continued interest in certain segments of the market.
This sentiment is further buoyed this week by Bangko Sentral ng Pilipinas Governor Benjamin Diokno's statement on inflation rates remaining within the two to four percent range for the next three years, and interest rates being cut by 175 basis points to support the economy and to boost consumer consumption.
In as early as May 2020, property expert David Leechiu, chief executive officer of Leechiu Property Consultants has been encouraging investors, with enough liquidity, to continue investing in property.
Developments such as The Seasons Residences, a joint venture development by Federal Land, Inc., Nomura Real Estate Development Co., Ltd. and Isetan Mitsukoshi Holdings Ltd., was ahead of the curve and is reported to be at nearly 90 percent take up for Haru, its first tower and about 40 percent for Natsu, its second tower, which was launched just a couple of months before the crisis.
In a video call, the effervescent Cathy Casares-Ko, president of the joint venture company Sunshine Fort North Bonifacio Realty Development Corporation, is keeping in step with the positive outlook in the industry. Even with a strong sales velocity, Cathy weighs in with a healthy dose of conservatism.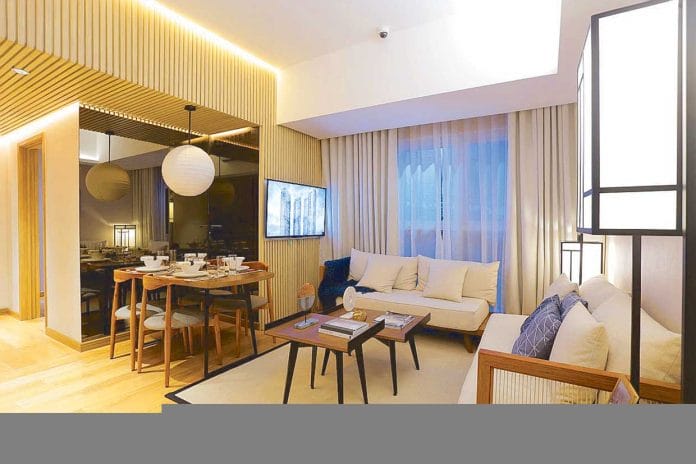 With nearly three decades of experience spanning residential, commercial, industrial and township developments, Cathy came aboard at Federal Land with the joint venture project as her priority assignment.
When asked about the cyclical patterns in the real estate industry, and how Federal Land has remained in business since 1972, she shares, "Federal Land has always remained active even during the downturns. In keeping with the conservative approach of the Metrobank group, considerations in cash preservation and focusing resources on strategic projects have enabled the company to hurdle the transitions, and continue building its legacy."
It is with this same guiding principle that Cathy confidently shares that the development of The Seasons Residences, as launched, remains on track. Moreso, with the continued market absorption of existing inventory. She adds, "With the first two towers, Haru and Natsu launched, we are gearing towards delivering to our buyers as promised. There is a slight adjustment to the timetable given the lockdown, but we are challenging our construction team to catch up and meet original schedules."
The Seasons Residences was reportedly launched with an investment value of $400 million in 2018. But, this number may be bumped up as unexpected costs brought on by health and safety considerations against COVID-19 will weigh in on aspects of construction and delivery.
Indeed, the nomenclature of the development truly puts it in season. The four towers, Haru (Spring), Natsu (Summer), Aki (Autumn) and Fuyu (Winter) remain timeless and timely in their design. A marriage of Asian traditions of Filipino and Japanese cultures, one can say that the fine details which were integrated into the design of the spaces are sensible.
At a time when parallel conversations are ongoing between the sense of personal safety living in single-detached house or in a high-rise development, The Seasons Residences levels the playing field.
The Asian tradition of keeping the "outside clothes and footwear" outside, and the more recent practice of sanitizing, disinfecting and disrobing in a safe space, is possible with a genkan integrated into the design. In a typical Japanese home, a genkan would be akin to a modern foyer where one can change into house slippers or store a jacket in the hallway closet. A typical three-bedroom unit at Haru and Natsu highlights this convenience. The genkan introduces a graceful and private transition from the "outdoor" to the "indoor" space within one's unit. Even smaller units still afford a small closet for storage of personal items as people arrive.
Storage and access, two major considerations we had to live with during the lockdown.  Where to store all the packaged goods for survival?  Or, how to service repairs when plumbing is usually accessed via other units?  Oh, the travails of living in quarantine!
Ahead of the pandemic, The Seasons Residences has thoughtfully considered those conveniences. "Floor-mounted storage have been provided for. Even a below-floor drainage system on wet areas, primarily for piping and in-unit access of repairs, have been maximized for storage of handy items," Cathy beams.
With so much time spent indoors, the design team have chosen to rethink the layout of the living spaces in response to the shifting demands for work and study areas of the family. "The home has become an extension of the office so we have dedicated an area that can be converted to a workspace." Cathy shares. "If you need more space than that, or require a more business oriented set-up, a Business Center is part of the building amenity."
To complete the lifestyle experience within The Seasons Residences, Japanese retail brand Mitsukoshi will open a mall at the podium level commercial space anchored by a Mitsukoshi supermarket. Adding to the mix of destination shopping experience within Bonifacio Global City is the beauty section of Mitsukoshi. When asked about the unique finds in Manila's Mitsukoshi Beauty section, Cathy enthuses, "Unlike the Mitsukoshi selections abroad, this one will carry much more "color" products in keeping with the Filipino definition of aesthetics."
At an average price of P385,000 per square meter for its second tower, The Seasons Residences places itself in the luxury segment, and Cathy defines luxury beyond a number. "Luxury is about comfort. It is about spaces that are well-planned, where we can imagine ourselves being in, it's about convenience of having the right amenities and shops that provide essential goods within your reach."