When you want to renovate and upgrade your bathroom, tiling is the most practical way to create a stunning, beautiful, and fresh look for your space. Choosing the right tiles will not only make your space look great, it can also go a long way in protecting your bathroom walls and floors.
Whatever design you want to achieve in your bathroom, there's always a perfect tile that can improve a boring space. The tiles differ in terms of color, patterns, shapes, and even finishes and textures — there are many available options! So here then are the top-picked bathroom tiles that can suit any aesthetic. I've got the best tile ideas and collections from Wilcon Depot to create a chic-looking bathroom space.
Intricately patterned accent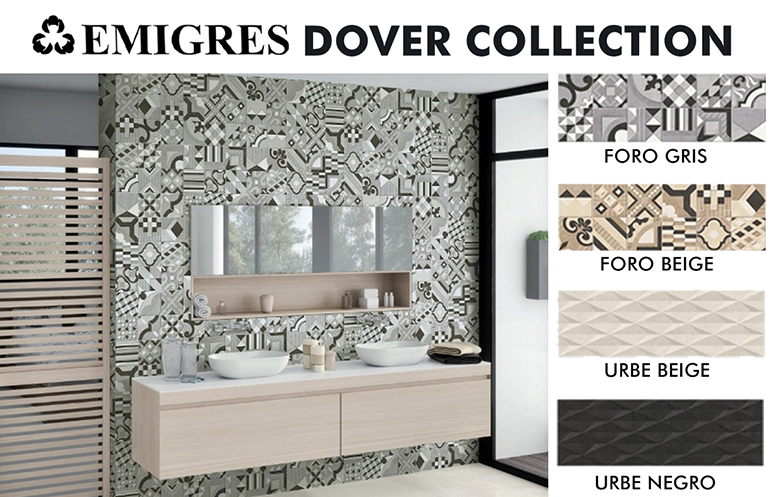 Jazz up your space with a gorgeous and interesting accent wall with the Emigres Dover Collection. This ceramic tile collection features intricate and subdued patterns in gloss finish and rectified edges. Achieve any style and look, from minimalist to maximalist, with the Emigres Dover Collection: Foro Gris, Foro Beige, Urbe Beige, and Urbe Negro. The tile patterns provide elegance and extraordinary beauty to your bathing space. When you choose this tile collection, your wall design becomes a real showstopper.
Glossy and shiny look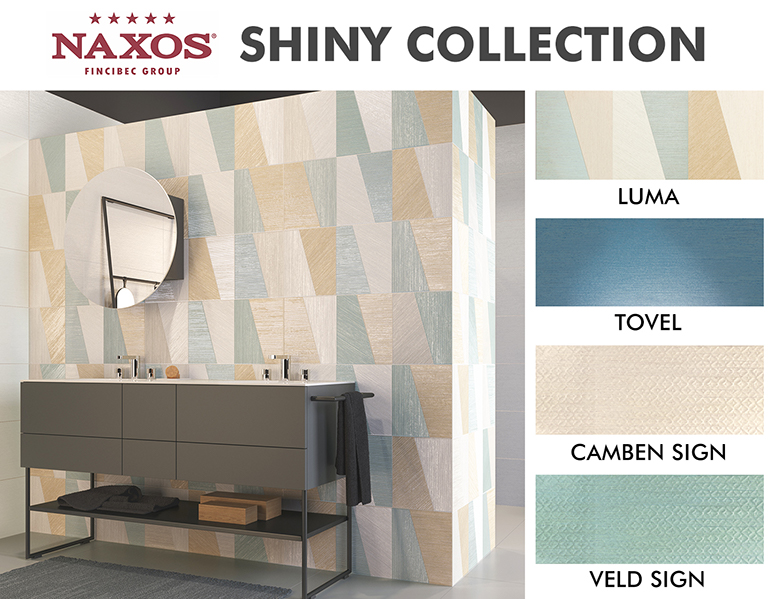 If you love minimalist color palettes, the Naxos Shiny Collection is for you. It can give both beauty and personality to your space. The Naxos Shiny Collection is all about the sophisticated and elegant contemporary style. Its rich and versatile graphic patterns definitely add vibrance to any space. Choose from the following tile designs: Luma, Tovel, Camben Sign, and Veld Sign.
Trendy and vibrant vibes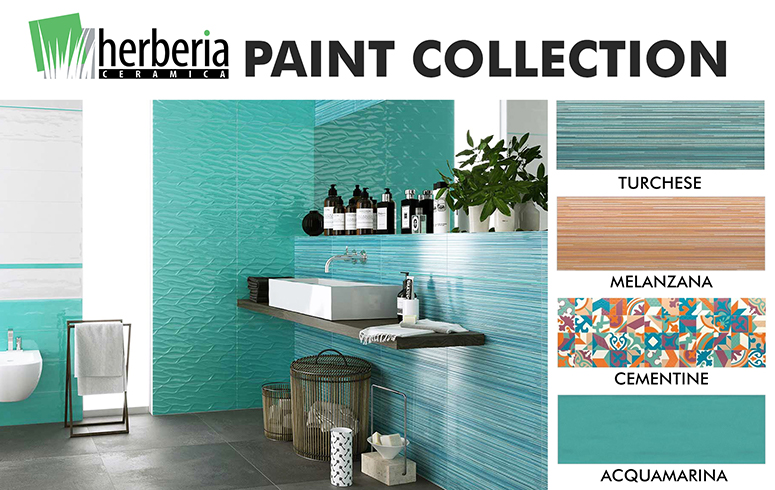 Give your space a trendy color palette and some vibrant vibe with the Herberia Paint Collection. This trendy ceramic tile collection combines impeccable craftsmanship and contemporary appeal. Their beauty comes from the lines, patterns, and glossy finish that translate to some of the most vibrant and unique textures and designs. Achieve the perfect design and an impressive personality for your bathroom space with Herberia Paint's range of contemporary colors: Turchese, Melanzana, Cementine, and Acquamarina.
Graphic textured design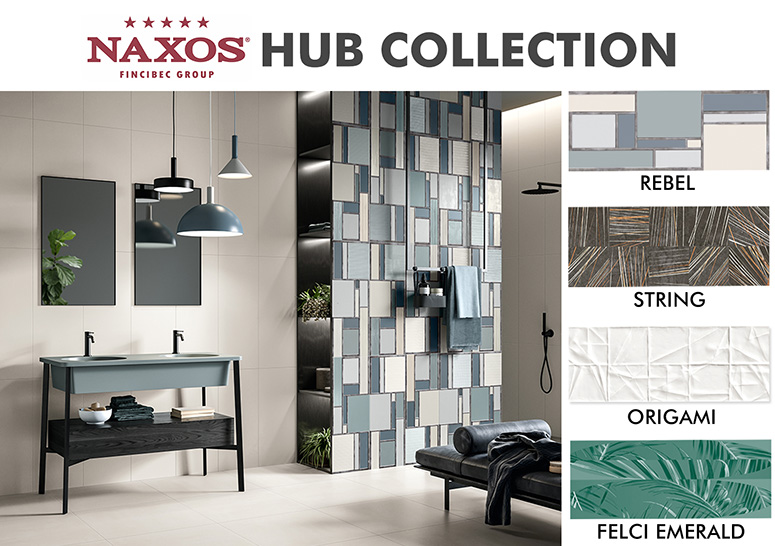 Create and feel the perfect texture in your bath space with exciting tile pieces from Naxos. The Naxos Hub Collection presents original graphical elements and a texture palette ideal for your accent wall. It combines natural inspirations and eclectic visual impressions in clean, sometimes asymmetrical patterns. You can bring an Italian flair inside your bathroom, for example, as as you choose from designs in matte surfaces, rectified edges, and with different sizes and thicknesses. Showcase your creativity and style and create a contemporary bathroom design with Naxos Hub Collection. Choose from these designs and colors: Rebel, String, Origami, and Felci Emerald.
Luxurious golden explosion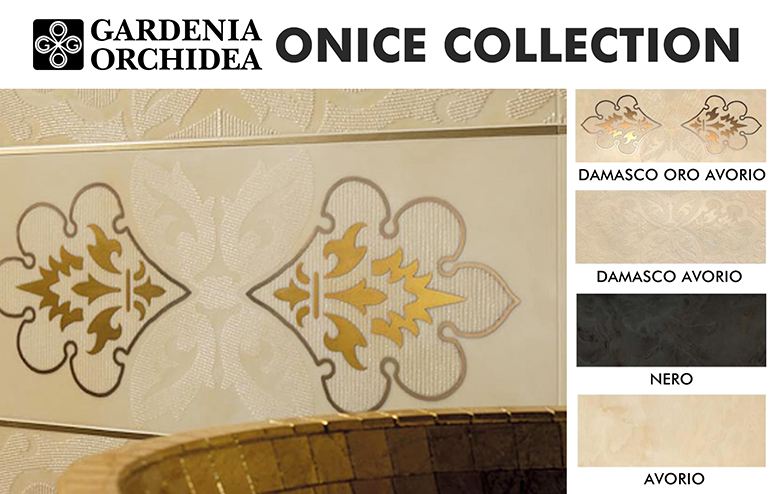 An elegant bathroom features tiles that exude charm and class. And a great way to elevate the overall look of your space is to have a luxurious golden explosion of colors and design with the Gardenia Orchidea Onice Collection. This tile collection lends harmonious beauty and glamour to your bathroom walls. Immerse yourself in sophisticated sensuality and luxury as you enjoy the stylish ambience and the classic design schemes of the Gardenia Orchidea Onice Collection. Brighten up your bathroom and create the most beautiful space you've ever dreamed of with any of the four designs available: Damasco Oro Avorio, Damasco Avorio, Nero, and Avorio.
Wilcon Depot, your favorite and well-loved home improvement retailer, offers an expansive tile selection that speak of quality, elegance, and good design so you can create an exceptionally stylish bathroom space. Explore limitless possibilities with premium quality Italian tile brands like Novabell, Energie Ker, Gardenia, Imola, Herberia, Opera, Castelvetro, Keradom, Naxos, Dom, and Versace; alongside Spanish tile brands such as Alcalagres, Grespania, Rocersa, Cifre, Emigres, Keros, Tesany, Onix, Oset, Vitacer, Grupo Halcon, Myr, Eco Ceramica, and Etiles. Asian tile brands are also available: Arte, Sol, Lola, Huanqiu, Verona, Picasso Mosaic, Roman, Mulia, Kia, China Natural Granite, Basel, Saigres, and Gemma.
You can shop at any of Wilcon's 67 stores nationwide or through the WIlcon Online Store by visiting shop.wilcon.com.ph. Get all your home improvement and building needs from Wilcon's wide product selection of various Tiles, Sanitaryware, Plumbing implements, Furniture, Home Interior items, Building Materials, Hardware, Electrical needs, Appliances, and other DIY items.
For more information, you can log on to www.wilcon.com.ph and follow its social media accounts on Facebook and Instagram. You can also connect with them on the Viber community, LinkedIn, and YouTube.