It's no coincidence that Panacea, the Greek Goddess of Universal Healing, she with long cascading hair, exudes an iridescent green-colored aura.
Green after all is the color of life, of unconditional love and of health.
Over at Villar-owned AllGreen, one gets exactly that — a strong positive vibe and a strong life force energy.
Located at the Evia Lifestyle Center in Las Piñas, AllGreen is a new haven that provides essentials for health, beauty, wellness, pharmaceutical needs and food selections to the communities in the south. Very soon, this new haven of health essentials will also be opening locations in Taguig and Las Piñas.
OFFERINGS & AMBIENCE
AllGreen is yet another innovation by real estate tycoon Manuel B. Villar Jr., whose rags-to-riches tale has enabled him to understand the needs of ordinary Filipinos — from easy-to-own houses to affordable retail shops to accessible medicines. Consistent with Villar's vision of providing the needs of Filipino consumers, AllGreen was created as a direct answer to the changing priorities of people brought about by the pandemic.
First, it has all the essentials — from food, to toiletries and cosmetics, to cleaning supplies.
Items are more readily available, eliminating the need to go to bustling supermarkets or other crowded places.
It also has a pharmacy that gives people quick access to vitamins and medicine for self-care but unlike other pharmacies or drugstores, AllGreen has a wellness vibe. One does not feel like entering a decrepit pharmacy inside a hospital.
And true to its "green" name, it also has a wide variety of options for a healthier and better lifestyle.
With that, AllGreen provides a wide variety of choices for every need.
HEALTH AND BEAUTY
In the health and beauty section, options for natural, clinically recommended, and best-buy products are available, whether it's for one's skin-care needs, cosmetics, bath and body essentials or personal care products.
GRAB & GO
For instant food cravings, Grab & Go supplies a quick boost of energy for the day. For those looking to replenish their stack with ready-to-eat and ready-to-cook food, AllGreen has plenty to offer at the Food Corner. Everything that you can expect your local convenience store to have is surely in AllGreen.
PHARMACY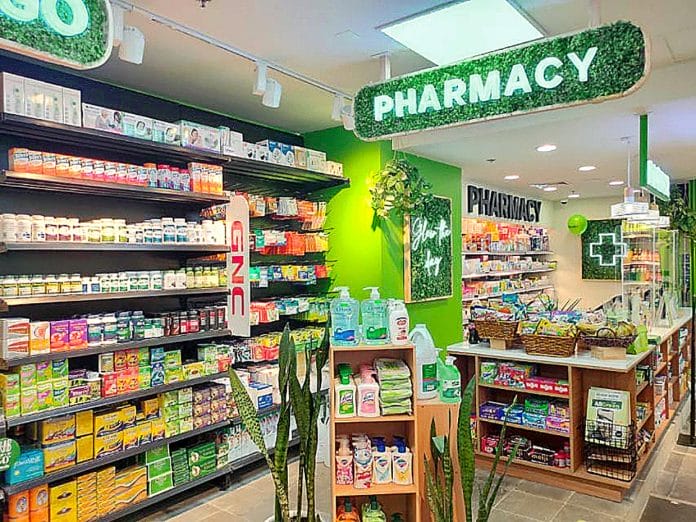 It also has its own pharmacy, carrying both branded and generic medicine, prescription drugs, and vitamins for kids to adults — for both immediate response to sickness and maintenance medicine.
HEALTHY LIVING
Most importantly, AllGreen encourages eating and living healthy with its carefully curated products filled with healthier options. There are organic items, zero-sugar alternatives, and a whole range of products that aim not only to help people get well but to help them stay well in mind, body, and spirit.
A NATURE-INSPIRED LOOK
To complement its product offerings, AllGreen's store is bursting with earth tones — wooden shelves, green walls and plants, and a touch of radiant lighting, giving off a homey vibe and a nature-inspired look.
Its facade and interiors are peppered with live plants all over that are not just visually pleasing but also contribute to better air circulation. AllGreen believes that a simple and conscious lifestyle helps to create a happy life.
COVID-19 PREVENTION
And true to form, AllGreen has all the health protocols in place including social distancing measures.
Customers, of course, may also order safely from the comfort of their homes through ShopBuddy — Evia Lifestyle Center's personal shopper service.
Mall personnel will shop and prepare the orders from AllGreen, with no service charge. Transactions made via Shopbuddy will be paid via GCash and similar to the website, customers also have the option to pick up or have their orders delivered through AllGreen and Evia's official delivery partner, GetAll.
Indeed, one can shop everything at AllGreen — from health, beauty and wellness needs to medicines, food and other essentials. Visit them at the Ground Level, Building B, Evia Lifestyle Center, Daang Hari Road, Las Piñas City. Learn more at allgreen.ph and follow their official Facebook page @allgreenph and Instagram @allgreenph.