People have been confined to their homes for months because of the pandemic and now, more than ever, they have more time to pay attention to themselves discovering new talents, starting new hobbies, and finding ways to improve their homes.
Some focused on getting more pots for plants and gardening tools, trying out new recipes, baking sushi and selling them online, getting organizers, appliances, and even furniture for that long overdue home upgrade. Everyone seems to keep themselves busy and find time to enjoy and make most of their stay at home.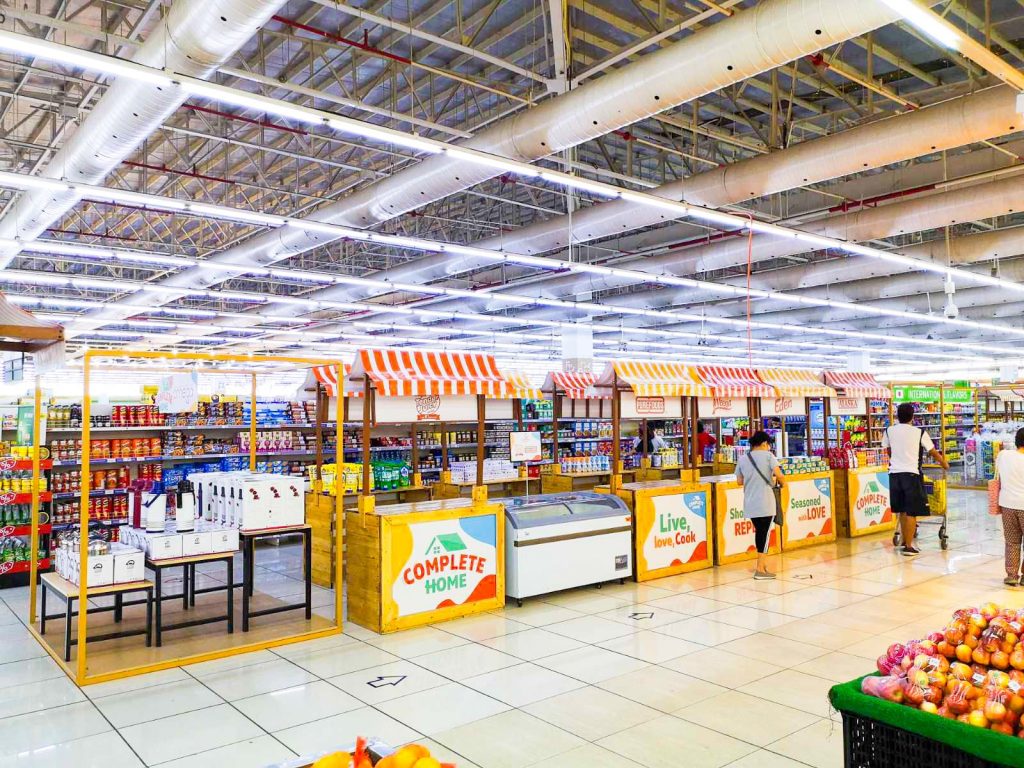 Here are some tips on how staying home and spending more time with family can be made more worthwhile with things that can make for a complete home.

1. A degreaser for all your post kitchen explorations
Now that you're a lot busier in the kitchen, there will always be more pots, plates, and containers to clean. What a drag right? Wrong! Everyone knows that Joy is the most effective in taking out stubborn grease. It's antibacterial too so your plates come out squeaky clean and virus-free. They also come with 15x bonus SMAC points too so feel free to continue honing your cooking skills.
Earn bonus points on Joy dishwashing liquid at SM Hypermarket's Complete Home
2. Dinner time in no-time
You're in a work-from-home arrangement but you still don't have enough time to prepare lunch for your homeschooling kids. Running the home is no easy task and if you have all these new hobbies, juggling everything is not that simple. But then, you can always go for ready-to-cook food like Purefood's Chicken Breast Nuggets that'll cook in minutes. These breaded babies are made from the leanest part of the chicken making every bite fuller. All that's left is to dunk them in your favorite dips or dust them up with flavoring. Better get as many as you can especially when you can earn extra 25x SMAC points.
So many variants of great-tasting Purefoods chicken nuggets to choose from and you get 25x SMAC points too!
3. Cream everything
By now, you've probably ran out of recipes to cook. It's been months now and your arsenal of dishes might be running low. The hack is actually as they said in the commercial. Make it creamier with Nestle All Purpose Cream. Making pasta? Make it creamy! Cooking adobo? Make it creamy! Making dessert? Make it creamy! Almost everything can be made creamy so stock up on all-purpose cream especially now when you get 5 times more SMAC points when you do.
Make it creamier with Nestle All Purpose Cream
4. Don't say it, spray it
At this point, nothing is crystal clear and there's really no use debating about it. With no signs of the virus leaving anytime soon, it's best to just leave no surface unsanitized and blast the house constantly with the most effective virus killer. Lysol disinfectant aerosol has proven to be effective in eliminating COVID-19 making it a definite must-have for your Complete Home. Choose from a variety of scents and rest easy knowing that you and your family are safe.
Stocking up on Lysol disinfectant aerosol has never been so timely.
5. The thicker the better
It pays to be praning! The enemy is invisible and it could be anywhere which is why frequent cleaning is a must. Thank goodness there's Domex Thick; the concentrate cleaner that kills coronavirus in just 60 seconds. And because it's concentrated in a very thick state, you're actually getting a lot more than you thought. Dilute it and completely clean all surfaces so you and the family can rest easy.
Domex is extra thick for that extra clean.
6. Upgrading your favorite entertainment
In today's new normal, we bet you find yourself in front of the TV longer than ever before. Sure, you've managed to watch your favorite shows but you know that it can get better right? SM Hypermarket slashes a whopping P6,000 off Hanabishi 40-inch LED TVs to make sure you catch every detail of your favorite series. If that doesn't convince you to upgrade, we don't know what will.
7. Cheesy Peasy
Everything tastes better with cheese! Burgers taste dull, samgyupsal seems incomplete, you can't bake mussels without cheese, and spaghetti is much more tempting when topped with a mountain of cheese. With all the cheesy possibilities, you should always have some cheese at home. Stock up on Eden cheese right now while it's buy 1 take 1 at select SM Hypermarket Complete Home.
Don't miss out on Eden's buy one get one offer!
8. A multi-functional resting device
If there's one thing you should've learned during the lockdown, that's how important having a sofa bed is. It's not just for guests but it's a versatile piece of furniture that lets you lounge in your home however you want. You can sit, slouch, or lay down. Use it while watching, reading, working, or sleeping. And if this isn't a sign enough, Uratex Neo Sofabeds are on sale giving you a discount of almost P900!
9. Load, hang, repeat!
Gone are the days when doing the laundry means spending the whole day sorting, scrubbing, and squeezing. It's time to reap the fruits of technology and get a fully automatic washing machine from Hanabishi. All you have to do is load your clothes, put in soap, and in a few minutes, you're ready to hang. Get one now and save P1,500 at SM Hypermarket.
Hanabishi's Fully automatic washers does the washing, scrubbing, rinsing, and squeezing for you
10. Joining the lunchwagon
Have you noticed that more and more people have started to bring their own lunches at work? If you're planning to join the band, better get your own Biokips lunch bag that not only comes with all the containers you need, it's insulated, too, making sure your food stays hot longer.
Biokips' thermal and trendy lunch pack keeps your lunch hot and mess-free all day
SM Hypermarket Complete Home puts in the spotlight the things every shopper needs to have a complete home like best-selling groceries, ingredients, homeware, cookware, furniture, kitchen gizmos, appliances, and even easy recipes and tips from today's top chefs.
At the end of the day, the goal is to turn the house into a place that's conducive to working, playing, and resting and SM Hypermarket's Complete Home is your perfect partner in turning your dwelling into something you can really say is complete.