The country's real estate market is seen to remain in a fluid environment next year, with factors such as the national elections and shifts in the policy landscape influencing movement in the market.
Jones Lang LaSalle (JLL) Philippines head of research and consultancy Janlo de los Reyes said shifts in the property and policy landscape over the next 12 months may influence movement in real estate.
"With the PEZA (Philippine Economic Zone Authority) work-from-home (WFH) memorandum extended up to March 2022, subdued leasing activities for the office and residential sectors may continue," de los Reyes said.
"The national elections may also dampen leasing and investment activities across the board as investors may slow down in their decisions and activate again when the market stabilizes," he added.
JLL shared that many occupiers are pushing office re-entry timelines to 2022.
"Many are still uncertain about their space requirements in the next few years, with some already piloting hybrid work setup, and this will push a lot of the leasing decisions up until the fourth quarter or even next year," de los Reyes said.
He added that supply will peak in 2022 for most sectors, with an anticipated new stock of 714,000 square meters (sqm) for offices, 535,300 sqm for retail spaces, and 6,300 rooms for hotels.
"It's still going to be a continuous fluid environment that the real estate market will be in. Flexibility and agility, which have been a recurring theme across different sectors, will serve as key instruments in treading uncertainties in the market," de los Reyes said.
JLL reported that in the third quarter of the year, the Philippine real estate market saw a mixed performance among sectors.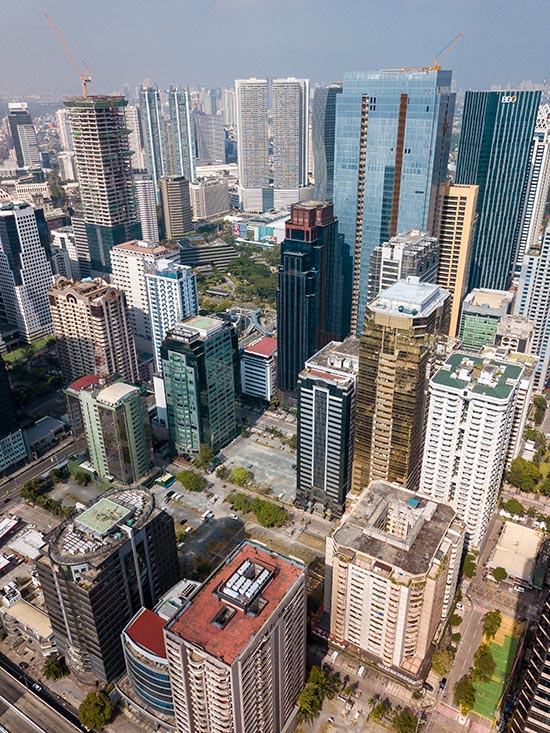 "The third quarter of 2021 saw the start of mass vaccination in the country, but also a sharp increase in COVID-19 cases, leading to ECQ implementation in August, travel bans, and extension of WFH arrangements," JLL Philippines said.
"All these affected the real estate landscape for the quarter, including a continued subdued lease activity in the office and residential sectors," it added.
Data from JLL showed that office take-up slowed down to 72,000 sqm in the third quarter of the year, down 35.7 percent year-on-year.
Despite lower take-up and increasing vacancy, overall rentals hold steady. The average monthly rent in Metro Manila in Q3 was around P1,082 per sqm, the same rate from Q2, but 5.6 percent lower compared to the same quarter last year, which was at P1,147 per sqm.
JLL said the condition of the office sector has led to continued weak residential lease demand in Metro Manila due to the spike in COVID-19 cases and continued WFH arrangements, especially with BPO (business process outsourcing) employees allowed to work from home. BPOs have been one of the main demand drivers of the office sector pre-pandemic.
It added that the sell side for residential condominiums, however, remains resilient, with the luxury pre-selling market recording a 0.5 percent take-up increase quarter-on-quarter.