The world entered the decade with optimism and high hopes. However, as the months passed, the world faced one of its biggest challenges – the COVID-19 pandemic. It tested the stability and resiliency of individuals and businesses. Now, there are significant changes in the way we live and work as society adapts to the new normal.
Despite the current situation, ADGO Architecture and Design Inc. (ADGO) proved that there are opportunities amid these trying times.
The Professional Regulation Commission (PRC) named Arch. Daniel Go, founder and principal architect of ADGO, as the 2020 Outstanding Professional of the Year in the Field of Architecture.
"We are grateful for this award because it means that, after many years of hard work, we have made a positive impact in the architectural and construction industry," said Arch. Daniel Go. "It is also a great blessing from the Lord and a testament to our commitment to design excellence."
The Outstanding Professional of the Year Award is the highest award bestowed by the PRC upon a professional for his competence, integrity, meaningful participation in the advancement of the profession and professional organization, and his contribution to Corporate Social Responsibility (CSR) projects and activities.
For Go, this award was totally unexpected. "I honestly did not expect to win this award because we had strong competitors who were more well-known and famous than us. I had been nominated twice before, but both times, I did not make it. So this time around, I had no expectations," said Go.
The award, in God's perfect timing, is a sign not only of excellence but of the firm's strength during the pandemic. To achieve something like this in a time of great difficulty only proves that ADGO is capable of great feats.
"This comes as a very wonderful gift and surprise for all of us since ADGO will be celebrating its 25th anniversary this coming August 2021. We are blessed and ready to face the future with even higher hopes and goals and with our best foot forward," Arch. Go said.
Celebrating 25 years of architectural excellence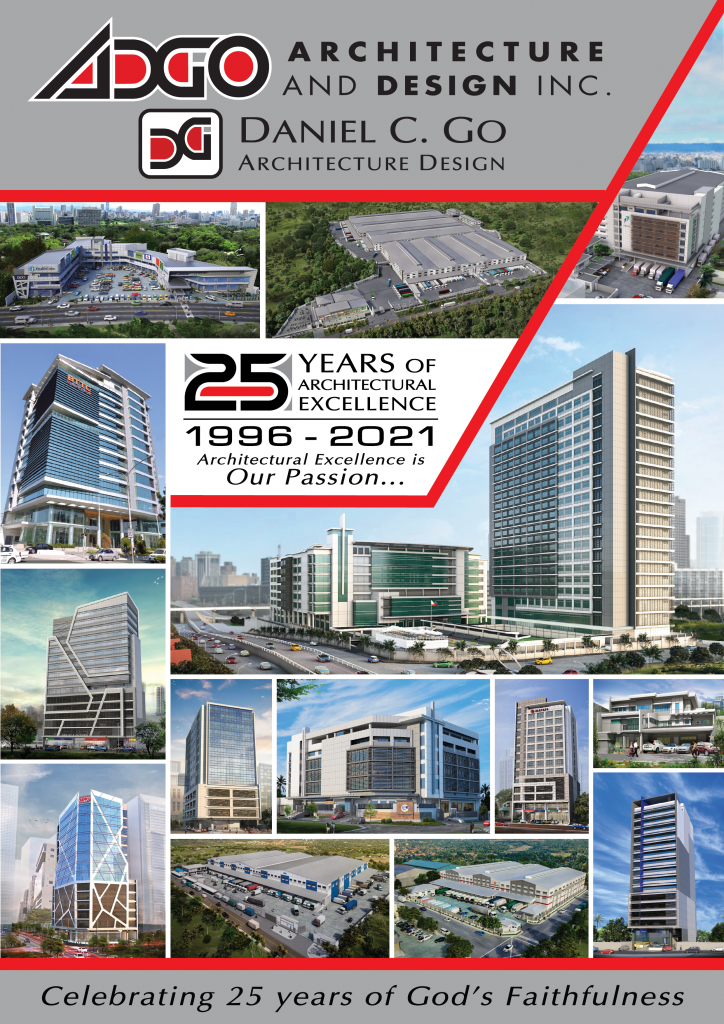 After becoming an intern for one of the top architects in the country, Go established Daniel C. Go & Associates as a single-proprietor firm in 1996. His first two projects were a 12-unit townhouse and an eight-unit warehouse. "We are proud to say that they have remained our clients over the years," shared Go. As he took on more projects, he began to make a name for himself in the architecture community.
In 2006, he received his big break — the opportunity to design the Christ's Commission Fellowship (CCF) Worship and Training Center, the largest auditorium type worship center in the country. In the same year, Architect Go was elevated and conferred to the College of Fellows within the United Architects of the Philippines (UAP). Membership to the College is exclusive to architects with significant contributions to the profession, and he was one of the youngest to have been awarded this honor.
Two years after being awarded the CCF project, he incorporated his firm as ADGO Architecture and Design, Inc., in order to ensure the company's readiness for the future. "I want to build a name not just for myself, but also for the roster of talented architects working with me," he explained further.
To strengthen his company's capability and compliance with international standards, Architect Go registered as an APEC and ASEAN architect in 2008 and 2015 respectively. APEC and ASEAN architects are architectural professionals within member countries who promote and enhance information exchange of the best practices and standards of architecture internationally.
Architect Go states that his company is ready to take on projects of an even bigger scale, having developed a solid foundation of architectural practices that have been key to their success. "Our goal is to create iconic and landmark buildings and structures, which we are always doing to every project our firm has been commissioned to design. I know we are fully capable of giving our best in every aspect of our architectural services. It is our prayer that we would be given more opportunities to design significant projects that would make a positive impact in society," he said.
Versatility in every project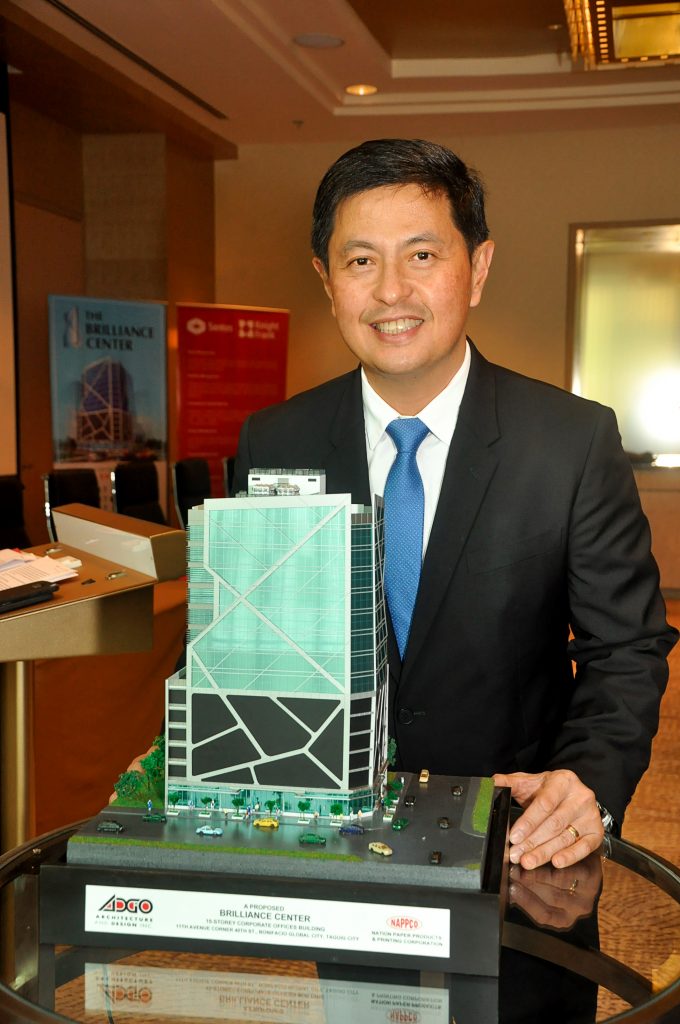 A major element that has contributed to the company's rise in the architecture industry is the versatility of their design philosophy. ADGO does not conform to a single design style. Instead, they adapt to the client's needs and requirements from which they base their design solutions.
"We are versatile and meticulous in our work, and our designs vary depending on what we know is best for each client. We religiously apply our core values with every project and we do it with a sense of urgency," Go said.
One of ADGO's flagship projects and Architect Go's personal favorite is the CCF Worship and Training Center located in Pasig City. "I am most attached to the CCF Center because they believed in us even though we were just a small firm back then. It is very close to my heart as it was a humbling experience to be given such an honor to do a magnificent structure," Go said.
CCF was looking for an architect who could design a space that would be a worship and training center inside Frontera Verde. ADGO submitted its designs and was awarded the project in August of 2006 despite having a team of just 10 architects, including Architect Go.
"When we were awarded this project, we were both surprised and excited because we had never designed something of its magnitude at the time," Architect Go said. "There were a lot of bigger architecture firms interested in doing the CCF, but by the grace of God, we were the one chosen. Five architects from my team dedicated their time to complete this project, and it took us seven years to complete. It remains our most memorable project."
The CCF Center provides a place where men and women who have encountered and committed their lives to God, make an impact and transform lives, families, communities, and nations for the Glory of God. It has seating capacity for 10,000 people in its worship hall, a convention hall with sports and training facilities, and a 20-storey school within its premises.
Cultivating young and dynamic architects
The work environment espoused in ADGO is another critical element to the company's success. "My team is composed of a small group of very dedicated, talented, and passionate architects. For us, it's not in the number, but in the quality of the people that we have," said Architect Go. "We are passionate about architectural excellence and we serve beyond what is expected of us."
According to Architect Go, the culture of mentorship he has established in the office has helped transform his staff into dedicated, well-rounded individuals who could deliver exemplary solutions to any design problem. Character and competence are crucial facets of the ADGO culture.
"My management style is visionary and mentoring-based. I want my team of ADGO Architects to embrace the vision I cast for the firm and I treat them as family so I mentor and train them as if they are my own sons and daughters. I want them to become better as individuals and as a cohesive team, which is why I empower them and give them more responsibilities. Someday, I want them to carry on with the same vision and core values, and I trust that they will know how to take this architectural firm to the next level." said Architect Go.
Because of Architect Go's management style, the working environment in the ADGO office is both professional and pleasant, where employees are often encouraged to share their ideas. With the creative and dynamic nature of their team, ADGO is consistently capable of providing excellent service to the client and has since earned a reputation for innovation, flexibility, and quality. "I want to give my staff a safe and secure working environment. That is why we committed that we will only purchase and install original and licensed softwares in our office. Although this is a very expensive and costly investment, integrity in all aspects of our lives cannot be compromised, and it is the right thing to do." said Go.
Employees regard the company as a close-knit family, and this even manifests in their warm-hearted service to their clients. "I am most proud and happy when I hear our clients commend our architects about their knowledge and ability in carrying out their assigned work." Architect Go shared. "We encourage mentorship in the firm because, at the end of the day, we want to see everyone happy with the work they put out, which entails a lot of healthy communication and teamwork. We help each other overcome the obstacles we encounter."
Investing in Modern Technologies
ADGO also invests in modern technology to complement its team of talented architects. For Architect Go, using up-to-date software increases the team's efficiency and their capability to churn out quality output.
"Back in the day, architectural plans involved a lot of hand-drawn rendering, pencil and eraser shavings, a lot of paper, and a lot of blisters at the drafting board. Now, while we still have those, technology helped us create better output while improving productivity," said Architect Go.
ADGO takes pride in using authentic and top-of-the-line design solutions and software. These innovative tools allow the team to precisely cut their vision, using three-dimensional visualization that allows for realistic renders that can walk clients through the designed space or building even before the project has begun construction.
"Architecture has grown by leaps and bounds throughout the years, and it always leads to creating better environments and living conditions."
Weathering the challenges
Like any business, ADGO continues to face its fair share of challenges. One of the more alarming ones is the public's changing perception of the architecture field. More and more people are doing away with hiring architects altogether, instead insisting on taking on the job themselves, armed with Pinterest pegs and saved Instagram posts.
Despite this growing do-it-yourself trend, the firm remains confident in their essential expertise. "Laymen will not have an eye for detail that architects have cultivated after years of training and professional experience," said Architect Go. He believes architects will always be crucial to coming up with an efficient, effective, and productive master plan. "The design process of a structure is like a puzzle. To be able to complete it properly, every design and engineering trade has to contribute their part and the determining role of the architect is not only to provide an architectural design but to put all of this together."
"Design is not just about the aesthetics of a structure but also its practical use. There are a lot of factors we take into consideration when designing," explained Architect Go. "It's about finding harmony in the beautiful and the useful. It should always be a balanced approach. Otherwise, the structure will not be able to fully maximize and serve its purpose.
ADGO has built many meaningful relationships that have withstood the test of time, just like their designs.
The 'new normal'
As ADGO weathered one challenge, the new normal proved to be another. At the onset of the COVID-19 pandemic, a number of ADGO's projects were put on hold, but as lockdown restrictions were lifted, the company quickly bounced back. "Despite the circumstances, we are thankful to have gained a lot of new projects when the restrictions relaxed," said Architect Go. Their business has steadily grown, proving there is no shortage of the demand for industrial buildings and warehouses, a niche in the market for which ADGO is known for.
This swift action has become ADGO's operating standard. As architectural trends have shifted to accommodate these unique and trying times, once profitable spaces have taken a hit. Observing the changes, ADGO adjusted accordingly. "It's important to take note of public concern when designing. At ADGO, we stay on top of the trends and how they will affect our design philosophy," Architect Go said.
Prior to the pandemic, there was a high demand for office space. Now that most of the workforce is working from home, many office spaces have been let go. Currently, the focus is on public spaces with room for social distancing. It's yet another design concern architects must take into consideration. "The way we design has definitely changed. We are always reviewing safety protocol and making sure that we design with the need for minimal physical contact in mind," said Architect Go.
ADGO remains unfazed and ready to face the future. "My short-term goal is to get my team through this pandemic safely, but my long-term goal remains the same—to mentor a group of architects who will develop a passion for excellence in their lives and put God above all else," he said.
Honoring God and Giving Back to the Community
The compassion for others and the desire to give back to the community d to honor God were instilled in Architect Go by his parents, Rev David Go Chin Hua and Mrs. Emmy G,o and seem innate to him. Aside from his team, he uplifts students in need through the ADGO Design Foundation Incorporation (ADFI).
The idea of creating ADFI was born when Go paid a visit to a colleague in his alma mater, University of Santo Tomas. Here, he spotted a letter from a parent whose child had been forced to take a leave of absence due to financial difficulties. "That letter stirred something inside me," he said. "I could feel the pain of the parent writing it, and I felt for the student who had solid plans for the future. I was deeply moved and decided to do something about it."
ADFI's aim and purpose are to give back to society and the community by providing financial assistance to various non-government organizations during times of crisis and provide scholarships to financially challenged but deserving students.
During the pandemic, ADFI was able to donate PPEs to various barangays, communities, hospitals, and health centers throughout the country. They were also able to donate relief goods to the victims of Typhoon Rolly and Typhoon Ulysses.
ADFI scholarship was first granted to the children of some of Arch. Go's staff members. He sees this as his way of giving back and securing the financial future of children who harbor hopes of having a successful career in their chosen field.
ADFI Scholarship is open to deserving students who excel in their academics but are financially challenged. Applicants must share the same core values of ADGO and have the desire to succeed in life, and are willing to contribute and give back to society. Applicants may email their letter of application to [email protected].