Full-range property developer Filinvest Land, Inc. invites you to live green in the heart of a modern metropolis at Sanremo Oasis, a midrise residential development from Aspire by Filinvest. It offers a unique blend of tranquility and convenience within City di Mare (CDM) in Cebu's South Road Properties.
Following the tremendous success of Sanremo Oasis Buildings 1 to 7, Filinvest Land now presents the eighth installment of this exceptional urban oasis, where comfort, style, and modern living converge.
Progressive Lifestyle Hub: The City of Tomorrow
Sanremo Oasis stands at the forefront of CDM's dynamic urban landscape. A joint venture between Filinvest Land and the city government of Cebu, CDM is envisioned to be the City of Tomorrow where business, lifestyle, and nature all interconnect.
A 58-hectare integrated development that fosters a complete and modern live-work-play lifestyle, CDM covers a 48-hectare mixed-use sector and a 10-hectare commercial component. Strategically located in South Road Properties, CDM enjoys easy connectivity to Metro Cebu via the Cebu-Cordova Link Expressway.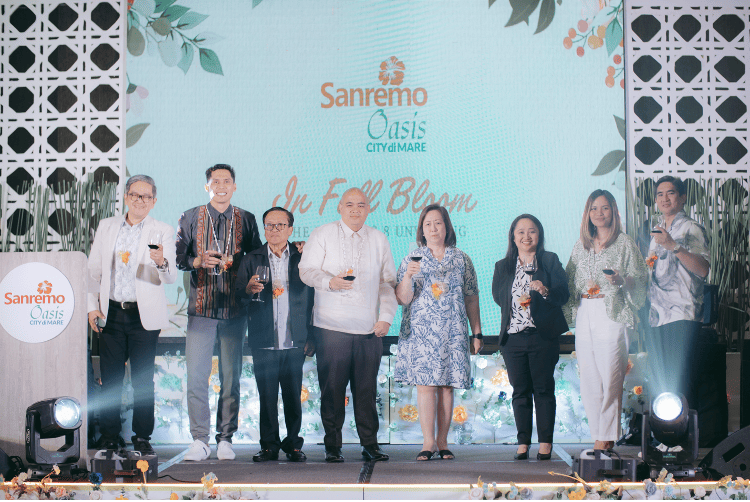 It was the venue of the 2023 Sinulog Festival and again in January 2024, and home to Cebu City's first-ever pump track for active bicyclists. Indeed, Sanremo Oasis at CDM ensures you're at the heart of it all.
Resort-style Leisure: Your Year-round Vacation Destination
At Sanremo Oasis, you'll find yourself surrounded by lush landscapes and spacious environs that create a year-round vacation ambience. Resort-style amenities such as a swimming pool, clubhouse, outdoor play area, jogging trail, and pocket parks—all these are hallmarks of the Aspire by Filinvest brand catering to your fitness and relaxation needs, providing the perfect setting for you to relax, rejuvenate, and recharge.
Providing even more leisure choices, CDM's IL Corso waterfront mall is directly connected to Sanremo Oasis through a pedestrian bridge.
Ready Community: Breathe in Fresh Urban Living
Step into a fully developed community where every facility is ready for you to enjoy. With an impressive 65% of the property dedicated to open spaces and pedestrian-friendly environs, Sanremo Oasis offers you a lush refuge, providing you that longed-for sense of space and privacy. Meanwhile, walkable, bikeable and car-free roads offer a truly green in-city mobility experience.
Future-proof Investment: Smart and Lucrative
Choose from our well-appointed units in studio- and 2-bedroom layouts, carefully designed for your comfort and convenience. With smart and value-adding features such as ground-level commercial spaces, a roof deck garden, and digital locksets that cater to your modern lifestyle, Sanremo Oasis Building 8 is primed for property appreciation and taps into Cebu's lucrative rental market.
Don't miss your chance to be part of this vibrant, thriving community. Discover a refreshing lifestyle and secure your future at Sanremo Oasis Building 8. Your urban oasis awaits!
For inquiries, call (0917) 545-7788, (0919) 076-4836 or scan the QR code for more information.
#BrandedUp