When I was a graduate student in education, I submitted a thesis proposal to my adviser. As a former teacher and tour organizer, I wanted to write about the effectiveness of field trips in educating students. Nowadays, field trips are called educational tours or "educ tours" for short. I was excited to start my research but my thesis adviser thought my thesis idea was too trivial so she shot it down. After finishing a 30-day tour guide training under the Department of Tourism, I am now back to prove the effectiveness of educational tours in the learning process of students not as a thesis writer but as a tour guide. It is especially challenging to handle students of the TikTok generation who have very short attention span. Educ tours should not only be educational but entertaining. There are many variations to organizing educational tours but the best are combinations of technology, history, culture, and flora and fauna. 
Dream Lab: Encouraging Entrepreneurship
One unique venue is Dream Lab at the Ayala Circuit in Makati. I personally like this because it encourages entrepreneurship among the youth which is a vital cog in a country's economy. Just like the other educational venues, the displays are colorful, attractive, and simplified for easier understanding. There are staff who function as inhouse guides. The whole gamut includes conceptualizing a business through research, product development, and marketing. There are booths for business registration and business name at Department of Trade and Industry (DTI), Securities and Exchange Commission (SEC) and City Hall. The Bureau of Internal Revenue (BIR) and Department of Labor and Employment (DOLE) are also represented. There is an advertising laboratory as well as a play school and craft and creative laboratory. Accounting is given importance while explaining assets and liabilities are explained. Banking and investing together with practicalities such as check preparation and money sorting are illustrated. Other establishments such as police, gas station, emergency and pharmacy are also present. Of course, being a fun place, the educ tour ends with a group dance where the audience is encouraged to participate.
Omniverse Museum
From entrepeneurship, we shift to scientific. Being a baby boomer, I was exposed to Star Trek and the other super heroes. The most famous Japanese characters were Voltes V. Superman and Batman are still around but there's a plethora of other heroes who gained popularity not only in comics but in the movies. The movie Avengers: The End Game attracted hundreds of moviegoers. Watching them on screen is entertaining but seeing the life-sized statues may be overwhelming for comics fans.
You will be welcomed by Star Wars characters such as Darth Vader and the Storm Troopers. Marvel and DC characters abound such as Ironman, Ant Man and my childhood favorite, Thor. Classic comics characters such as Superman, Batman, and Flash have endured. Aquaman and Green Lantern have achieved fame too.
Every closed door opens to a room of wonder. Everybody's favorite is the Harry Potter room which will transport you to a realistic Hogwarts. Sometimes, the super heroes are grouped together.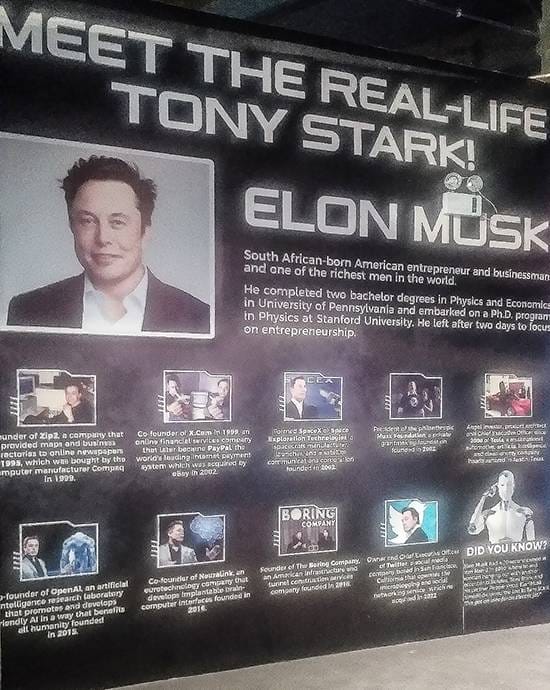 Beyond the iconic pop culture collectibles and memorabilia are the science and fact that inspired movies and comics. There is a section on Elon Musk, inspirational women leaders and scientific facts that would inspire high school students enrolled in STEM Strand (Science, Engineering, Engineering, and Mathematics.
Food Wanderer X Lakbay Museum
At Ayala Malls Manila Bay is the Food Wanderer X Lakbay Museum. This is ideal for hospitality students and the regular tourist. Popular tourist attractions such as Mayon Volcano and the Ifugao house are recreated. Tour guides garbed in indigenous people attire skillfully explain the culture of the regions. Coffee, vinegar, bagoong, lechon and dried fish are clearly illustrated. Special interest is the section on weaver ant and giant water bugs. The culinary adventurer is even challenged to nimble some edible bugs! Festivals are also represented with indigenous people attire on display. Children would surely have fun trying out Pinoy games such as tiyakad and kadang-kadang. Even the TikTok generation would be thrilled!
* * *
JP Ordoña (Manilakad) leads Manilakad Walks in Intramuros, Binondo, Quiapo and more. Let him guide you to several walking destinations in Manila. Manilakad (Jing Ordoña)