Two Botanika, the sequel project of the highly successful Botanika Nature Residences Tower 1, is on time to deliver its promise of modern luxury living in Alabang as it recently held its first concrete pouring last Nov. 7, 2023.
With this progress, the property's investors and future residents can expect the project to be ready for turnover by the committed timeline, which is in the third quarter of 2027.
This first concrete pouring takes future residents one step closer to a modern luxury lifestyle that offers the best of both worlds: the comforts of space and greens while living in a thoughtfully-designed enclave, similar to living in a single-detached home in an exclusive village but with conveniences of condominium setting.
"Space is the new luxury at Two Botanika," said Daphne Sanchez, Filigree business unit head. "The ultimate plan of Botanika [is to have] 350 units scattered over three towers in 1.5 hectares of land," she said.
"That's how much space we are giving our residents, and I think it's unmatched and translates to a more exclusive and closer-to-nature kind of lifestyle," Sanchez said.
A high-end, high-rise condominium usually has 350 units over a 3,000-square meter (sqm) plot. With the plan of Botanika, luxurious units were made possible allowing bigger open spaces to be enjoyed by the residents.
"It is going back to the simple things—a beautiful garden, bumping into your friends, feeling part of a community, feeling safe and breathing good air," said Andy Locsin of Leandro V. Locsin Partners, Architect of Record of Botanika.
Two Botanika offers more unit selections with special units of up to 375 sqm. But aside from bigger spaces, these units also promise lanai living as they are designed with deep and wide balconies.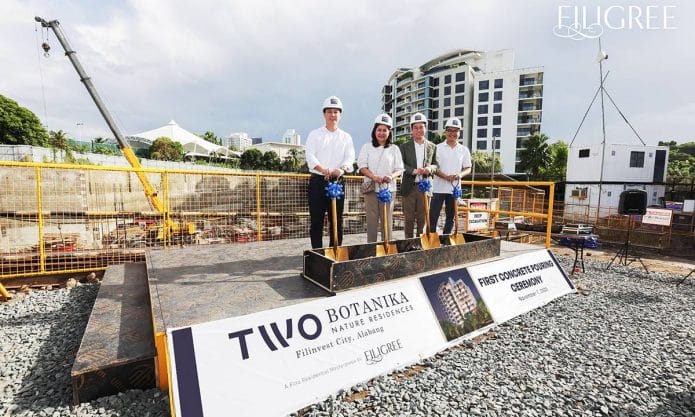 "As an interior designer and space planner of residential structures, I see my job as more than making places out of spaces. My ultimate task is to curate experiences in the home," said Tina Periquet, Principal Architect of Periquet Galicia Inc., responsible for space planning of Two Botanika.
Periquet added being on the inside of a curved, well-defined formal shape makes residents feel enclosed and safe, and gives them a sense of being out in the open and free to wander.
On top of these well-crafted features, Two Botanika residents can enjoy the property's curated amenities and reliable property management for an elevated lifestyle.
This includes tiered swimming pools and sunbathing deck, children's indoor and outdoor play area and game room, business center, veranda, amphitheater, line garden, sky lounge, fully-fitted gym, greenhouse, lawn space, and exclusive access to The Palms Country Club for members.
As part of Filigree's line of crafted communities, Two Botanika has enlisted the expertise of the best-in-class contractors, designers, and consultants in the industry.
The project is led by Andy Locsin of Leandro V. Locsin Partners, the Architect on Record, Tina Periquet of Periquet Galicia Inc. for the Unit Space Planning and Interior Design of Filigree Showsuites, Singapore-based Isabelle Miaja of Miaja Design Group Pte Ltd for Interior Design of Two Botanika's common spaces, Bill Higgins and John Sheehy of Architecture International as the Masterplanning Consultant, AECOM Singapore as the consultant for the landscaping design, and now, EEI Corporation – a quadruple-A rating as a General Engineering Contractor for its general contractor work of the project.
Two Botanika progressively coming to life is proof of its commitment to delivering a luxurious lifestyle like no other. This is also evident in Filigree's other projects including Botanika Nature Residences Tower 1 – the real estate brand's award-winning flagship project that is a BERDE-certified vertical village; 1001 Parkway Residences, the iconic garden towers in the heart of the Filinvest City; and Golf Ridge Private Estate, a high-end residential landscape offering the distinctive country-club lifestyle in Clark, Pampanga.
To learn more about Two Botanika Nature Residences, visit www.botanika.com.ph.