"Have you ever wondered what lies beyond those walls?" asked my wife looking at the houses while we were walking along Broadway Avenue on our way to the Gilmore LRT Station on Aurora Blvd. after attending mass at Our Lady of Mt. Carmel Church.
One night, we decided to change our routine after Sunday evening mass and walked the entire Broadway up to E. Rodriguez Ave. It was dark with those tall mango trees shielding the scant light from above. Except for a couple of houses with grilled fences, the rest had high walls, some with electric fences. The streets were almost empty except for some residents walking their dogs. I have driven this street several times on my way to work but it was only while walking that I became more intrigued with these stately homes.
Lebanese Moguls
Tucked between Aurora Blvd. and E. Rodriguez Ave. in Quezon City, New Manila has a rich history, being the abode of the rich, the famous, and the powerful from the 1930s up to the 1970s. It was founded by Magdalena Hashim Ysmael who, together with her first husband, Juan Ysmael, fled Lebanon to escape the rule of the Ottoman Turks. They were originally destined for Australia but fate brought them to Manila. Magdalena's brother, Faride, had earlier settled in Manila and owned the Manila Grand Opera House. The Lebanese couple, now part of Manila's 400, pioneered in the steel industry in the Philippines with Ysmael Steel Manufacturing Company and manufactured Admiral Appliances.
They were blessed with three children, Felipe, Mariana, and Johnny. Johnny Ysmael, the horse-riding, sports car lover, bon vivant and bachelor, lived in the fast lane but died young at 32. He was married to Chona Recto, daughter of prominent statesman Claro M. Recto. One of their children, Luis Miguel, inherited his father's flair. Also known as Louie Y., he became Manila's nightlife legend.
Magdalena Estate
When Magdalena was widowed, she got married again to another Lebanese, Kemal Hemady. The Magdalena Estate was born after they purchased a vast estate from the American Government. Originally friar lands, the Magdalena Estate was renamed New Manila and it attracted Manila's elite who wanted a more spacious and healthier environment.
Manila's elite
President Quezon himself had a house on Gilmore while recuperating from his illness. Vice-presidents Emmanuel Pelaez and Teofisto Guingona were also residents together with renowned senators and other politicians such as Eulogio Rodgriguez, Lorenzo Tañada, Soc Rodrigo, Claro M. Recto, and Jose Roy.
Chief Justices Ramon Avanceña and Jose Yulo lived in New Manila too. On the distaff side, Cecilia Muñoz-Palma, first woman justice of the Supreme Court and Geronima Pecson, first lady senator, were former residents. Former vice president Leni Robredo held office in the former "Boracay Mansion" near Balete Drive.
Silver Screen
New Manila did not only attract the mighty and the powerful but also the beautiful and the wonderful. Several entertainment personalities lived there, namely Amalia Fuentes, Gloria Romero, Charito Solis, and Pilita Corrales. Doña Sisang de Leon of LVN Studios built a house on Broadway designed by Pablo Antonio of FEU and Manila Polo Club fame. It is now an events place and used for movie location shootings. Last year, it was converted to Villa Bridgerton to promote the Netflix series of the same name. On the other side of Aurora Blvd. is the former Sampaguita Pictures now transformed into an events place called Sampaguita Gardens.
Haunted Houses
Back in Broadway is the ruins of Villa Caridad, one of the spookiest places in New Manila. It was formerly a rest house of the Jesuits then bought by society dentist and antique collector Dr. Jose Lerma. During the war, it was occupied by the Japanese Imperial Army. After the war in 1950, Manuel Gallego bought the house and named it Villa Caridad in honor of her wife, Caridad Ongsiako-Gallego.
Many horror movies have been filmed in this house such as Peque Gallaga's "Hiwaga sa Balete," "Tanikalang Dugo," "Fe, Esperanza, Caridad," and "Halimaw sa Banga." The new owner, a Chinoy businessman, halted the demolition of the house because wails of anguish were heard with every hammering.
Across Villa Caridad is the former residence of Felix Manalo, founder of Iglesia Ni Cristo. During the war, he fled to Sta. Cruz when the Japanese occupied his house. In 1950, Florencio Reyes bought the Manalo house. He raised his family there and invited other relatives to live in the compound. A former resident narrated she saw a white lady, a black-cloaked female, and a man and woman staring at the foot of her bed.
Near the corner of Aurora Boulevard is a mansion with fancy cars in the garage including a black stretch limousine. This was originally owned by Dr. Potenciano Malvar, brother of Miguel Malvar and his wife Eusebia Fule. Dr. Malvar was a former governor of Laguna and mayor of San Pablo where you will find another Fule-Malvar mansion. The current resident buys, sells, and rents luxury cars and is also a painter whose works appear in houses of the elite.
A few blocks away is the Cortes-Joven house. This house was a wedding gift from Dr. Felix Cortes to his wife, Amparo Joven. During the war, the house was occupied by the Japanese secret police Kempeitai. Their former gardener turned out to be a kempeitai. When the Japanese were fleeing, they left explosives inside the house which, fortunately, were not detonated.
At 56 Broadway was the house of Benigno Aquino Sr. who was the Speaker of the National Assembly during the Japanese Occupation. Ninoy Aquino and his siblings grew up in that area.
Religious Houses
When Magdalena Hemady acquired a large estate, there were already religious congregations which settled earlier. Even Magdalena Hemady's original house across Carmel Basilica on Broadway is now occupied by the Pastorelle Sisters of Italy.
The first religious congregation to establish in New Manila was Carmel of Therese of Lisieux in 1926. This was followed by St. Paul Novitiate in 1931 and St. Joseph in 1932. The Society of the Divine Word (SVD), the second biggest religious congregation in the world, occupies the biggest tract of land which includes a garden columbary. The SVD has been around since 1933. The Immaculate Conception Cathedral, the seat of the Diocese of Cubao, was built by the SVD in 1950 and administered it until 1990 when the Cubao Diocese took over its administration.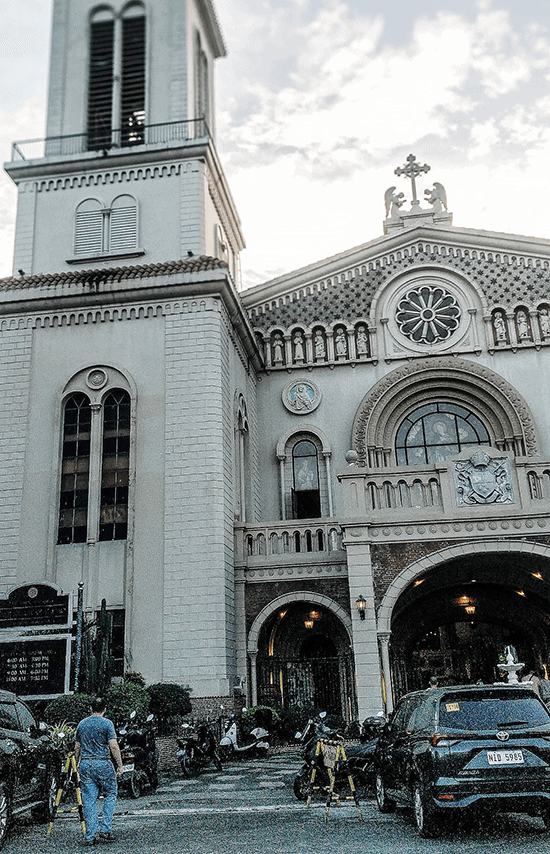 Along Broadway between 4th and 5th Street is the Minor Basilica of the National Shrine of Our Lady of Mt. Carmel which opened in 1964 after ten years of construction. It was designed by Architect Maximo Vicente Jr., son of Maximo Sr., the renowned religious sculptor. It was the 15th Minor Basilica in the Philippines and the first in Cubao Diocese. It is a popular wedding venue because of the long walk for the bride.
On Hemady is the St. Joseph Convent of Perpetual Adoration run by the Pink Sisters. It was designed by National Artist Jose Maria Zaragoza who also designed Sto. Domingo, Meralco and Casino Español. He had a diploma in liturgical art from the International Institute of Art in Rome. The Pink Sisters will celebrate 100 years of presence in the Philippines in November.
Near the boundary of Cubao is Our Lady of Victories Church. This is the controversial church founded by French Archbishop Lefebvre who adhered to traditional Catholicism such as the Latin Mass. This was built in the mid-1990s and is undergoing renovation at the moment.
Balete Drive
Before reaching Our Lady of Victories from Carmel is the fabled Balete Drive which has become infamous for ghost stories of a white lady riding in vehicles before disappearing. The white lady is said to be Elena Recto Garchitorena, daughter of Nena Recto who is the daughter of Claro M. Recto. With some sleuthing, I discovered that that ghost story was concocted by some bored tabloid journalist and perpetuated by some neighbors and horror movie directors but the legend continues. In one of my walking tours, some participants felt heavy while we were in Balete. Whether it was imaginary or not still remains a mystery.
One of the prominent residents of Balete was the late Danding Cojuangco Jr. An adjacent lot is said to house his hundred or so cars. Across this car haven is the low-key Opus Dei house. An interesting house on Balete is the Bahay Sentenaryo, an old-looking house which is actually a new structure with antiques for sale inside. Beside Bahay Sentenaryo is the place of Renee Salud. Other designers who flocked to Balete are Ditta Sandico and Leonard Co.
New Manila may have lost some of its glitter and glory when residents started to transfer to Makati and Alabang but the aura of mystery persists. It may no longer be the Quorum of the Senate or the Hollywood of the Philippines but the religious houses have remained if not prospered. After researching, exploring, and interviewing, I still cannot answer the question of what lies beyond the walls.
If only the walls could talk…
* * *
Sources:
The ghosts of New Manila's Millionaires' Row and the Spirits of Broadway Ave. – Isidra Reyes;
Blogger Lakansining
Some photos by Zald and Angelique de Fiesta
NEW MANILA AFTER DARK Halloween Walk will be on October 29 and 31 starting at 2 pm at Devour Food Hub. Please confirm attendance through text at 0916-3597888 or Viber (George Ordoña) at 0960-6975930.
* * *
JP Ordoña (Manilakad) leads Manilakad Walks in Intramuros, Binondo, Quiapo and more. Let him guide you to several walking destinations in Manila. Manilakad (Jing Ordoña) can be reached on Facebook Messenger or through text at 0916-3597888 and Viber (George Ordona) at 0960-6975930.