Nearly 2,000 employees from the Villar Group recently flocked to one of the open grounds at the 3,500-hectare Villar City for the much-awaited Vista Fun Fest 2023.
Led by tycoon Manuel B. Villar Jr., this year's sports fest saw the assembly of 12 teams at the crack of dawn all geared for an invigorating day of fun, games and camaraderie. From calisthenics, fun run, to cheerdance competition and an assortment of games, the Villar Group's residential and construction groups battled it out on the open grounds to showcase their team spirit, endurance, sportsmanship, and creativity.
Powerful message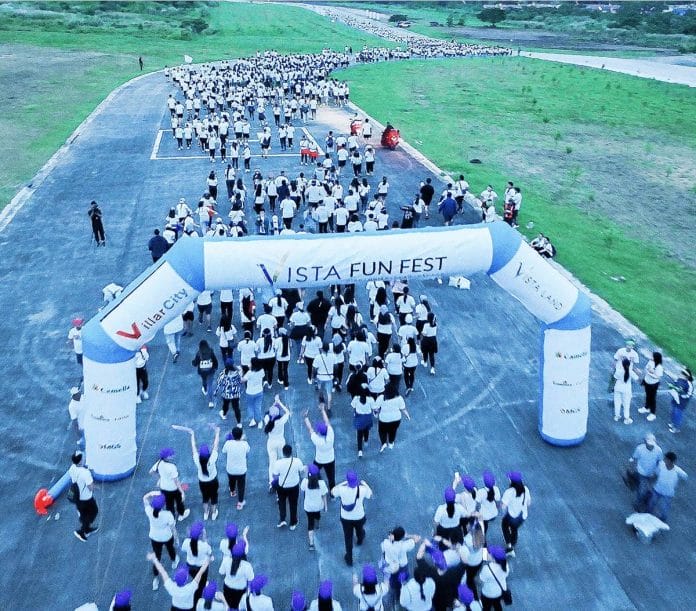 Aptly themed "Rise, United, Lead, Exceed" (RULE), the Vista Fun Fest 2023 served more than just a welcome breather for the employees. It also sent a powerful message and had set the tone for a sports fest that goes beyond mere competition. For the Villar Group, this gathering—which marked the resumption of its yearly assembly after a four-year hiatus because of the pandemic—was aimed at fostering a spirit of growth, unity, leadership, and excellence.
At the same time, the Vista Fun Fest 2023 highlighted the importance that the Villar Group places on healthy, active lifestyles in today's times. It recognizes the vital importance of striking the right balance between work and leisure. After all, a content, well-rounded employee is more likely to be a productive one.
This is why it made sure to provide nurturing environments not only within the workplace and the beautiful themed communities that Vista Land and Lifescapes Inc. creates, but also outside—literally. And in this case, the Villar Group gave employees another avenue outside the four walls of their offices to stretch their muscles, bask in the great outdoors, rejuvenate their spirits, and form deeper connections with their colleagues.
Holistic lifestyle at Villar City
It was thus only fitting that the Villar Group held this year's sports fest within the 3,500-hectare Villar City—a groundbreaking megacity development that spans across 15 cities and towns in Metro Manila and Cavite province.
That's because Villar City, touted as Metro Manila's new center of gravity, is seen to embody this holistic lifestyle that can enrich the vibrancy and quality of life owing to the comprehensiveness of its offerings, especially upon full completion. A legacy project of Villar, this masterplanned community is poised to become a dynamic nexus where economic, lifestyle, cultural, and leisure activities converge.
At present, 900 hectares of this integrated, mixed-use development are already "activated" with existing neighborhoods and commercial spaces built by the Villar Group. Other areas of the Villar City, which will have a total of 15 satellite cities, will also have a modern central business district, a Tech Valley, a university town, residential communities, and premier lifestyle hubs, all amidst lush land-scapes graced by over 10 million trees.
Definitely, the Vista Fun Fest 2023 is just one of the many activities and events coming your way in Villar City. Exciting things are truly up ahead for Metro Manila's new center of gravity.