Education is a powerful tool. It is a gateway for people to land successful careers and become productive members of society.
Landco Pacific Corp., known for pioneering landscapes for more than three decades now, strongly believes in education as every individual's right to a bright future. Its Adopt-A-Scholar program aims to help underprivileged youth within the vicinity of Landco BeachTowns in Calatagan and Laiya, San Juan, Batangas.
In partnership with Batangas State University and local public high schools in the province, Landco's Adopt-A-Scholar program chooses five college scholars each from Calatagan and Laiya, providing them with financial assistance to complete a four-year course in Hospitality at the Batangas State University.
The financial aid covers the scholars' daily needs for food, transportation, dormitory, school necessities, and projects.
"We partnered with the local high school to select the students based on academic performance and financial capability. We visited the houses of the candidates to meet their family members and learn more about the candidates, their dreams, and if they are serious about finishing their studies," said Landco president and CEO Erickson Manzano.
Upon graduating, the 10 scholars have options to start their career at Landco BeachTowns and Millennial Resorts, the hospitality arm of Landco which currently manages unconventional accommodations, such as Crusoe Cabins in CaSoBe (Calatagan South Beach), Cocoons (CaSoBe and Club Laiya) and Camperisti (Club Laiya); and leisure facilities Aquaria water park (CaSoBe) and Laiya Beach Club (Club Laiya), among other upcoming developments.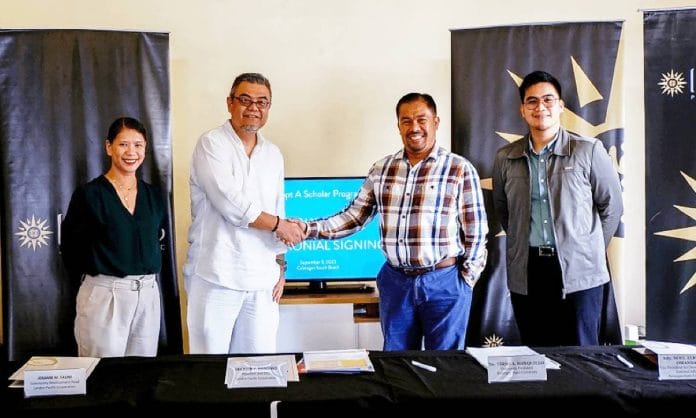 Education as a great equalizer
Manzano is hopeful that the Adopt-A-Scholar program will accomplish their mission of teaching the youth how to study and work hard for what they need in life.
"We all start off at different levels in life and education is the great equalizer. And this is what we hope to accomplish with Landco's Adopt-A-Scholar program. We don't believe in dole-outs. We believe in helping people learn how to fish," Manzano asserted.
For Manzano, the Adopt-A-Scholar program is close to his heart as this initiative was inspired by the educational journey of his parents who, he recalled, were able to finish their studies because someone paid for their tuition and other expenses.
"My dad used to shine shoes growing up. His eldest sister, who was a teacher at the time, paid for my dad's schooling. My dad was able to get into the University of the Philippines in Diliman, Quezon City, and graduated with a Civil Engineering degree. My mom, on the other hand, used to be a nanny when she was young but her brother sent her to the University of the East where she finished college as well," Manzano recounted.
"My parents have done very well for themselves and it was really through education that they were able to rise from where they started in life." he added.
With that in mind, Manzano hopes that Landco's scholars will be able to pay it forward someday. "We hope that they become successful in their lives and come back and help their own families and relatives."
Paying it forward, he believes, would help Filipinos get out of poverty.
Apart from their efforts on eco-friendly design and sustainable initiatives that will help conserve the natural environment and the pristine beaches of Batangas, Landco is also committed to making a meaningful, positive, and lasting impact on the people inside and around the communities of their BeachTown developments in Batangas.
Through community development and support for the education of underprivileged youth at the grassroots level, Landco aims to create inclusive growth in the tourist destination of Batangas and a legacy for the communities that the company nurtures.
"In both our project locations in Batangas: San Juan, Laiya, and Calatagan, we are the biggest developments there. We'd like the families around us to be successful. We'd like them to grow as we grow. It's a lot more gratifying to work when you're able to help the people around you. That's what the 'R' in CSR means," Manzano pointed out.
Landco Project director and head for Community Development Jeramie Fauni, BSU president Dr. Tirso Ronquillo, and BSU vice president for Development and External Affairs Atty. Noel Alberto Omandap joined Manzano in signing the agreement for Landco's scholarship.
Landco also carries out environmental, social, and governance (ESG) initiatives that create a better future for their stakeholders.
Being a subsidiary of the Metro Pacific Corp. (MPIC) helmed by its chairman Manuel V. Pangilinan, Landco aligns its sustainability strategy with MPIC's commitment to achieving the United Nations Sustainable Development Goals.
Landco's holistic approach to sustainability encompasses LEED (Leadership in Energy and Environmental Design) registration of Resort Estates CaSoBe and Club Laiya; EDGE (Excellence in Design for Greater Efficiencies) certification of Crusoe Cabins; employment of approximately 70 percent locals for Millennial Resorts, and initiatives such as mangrove sapling planting, release of turtle hatchlings and support to fisherfolk.
* * *
For more information about Landco, visit www.landco.ph.