People go to Makati for the convenience and the modern setting of places such as Greenbelt and Rockwell.
Tucked between Makati's Central Business District and Rockwell is Poblacion, Makati's original barrio and birthplace of the Ayala business empire.
Sometimes jokingly called 'Backwell' since it is located in the back area of Rockwell, Poblacion also happens to have the best nightlife in the metro with its international restaurants, bars, and hotels.
Yuppies, expats and nocturnal denizens frequent Poblacion for a night out of dining and drinking especially on Fridays and Saturdays.
The New Malate
Poblacion is the new Malate. At the height of its glory, Malate was home to hip bars, clubs, and trendy restaurants. It attracted the fashionable set, perfumed crowd, even some radical intelligentsia.
When its popularity waned, the party people were transported to Poblacion. The red light district of Ermita, after being closed by Manila mayor Alfredo Lim, also transferred to P. Burgos in Poblacion. Fortunately, the old Manila vibe of Malate and Ermita was captured by Poblacion.
Among the must-go places is Hotel 1898 that combines the old Manila aura and an ambience of antiquity.
Old Manila Photos
Enlarged black and white photographs of Manila of the olden days and our National Heroes abound inside the hotel.
A coffee shop on the ground floor is called Cafe Tranvia. On the second floor is Tiabuela Discoteca which functions as a discotheque from Wednesday to Saturday and breakfast buffet at P750 daily.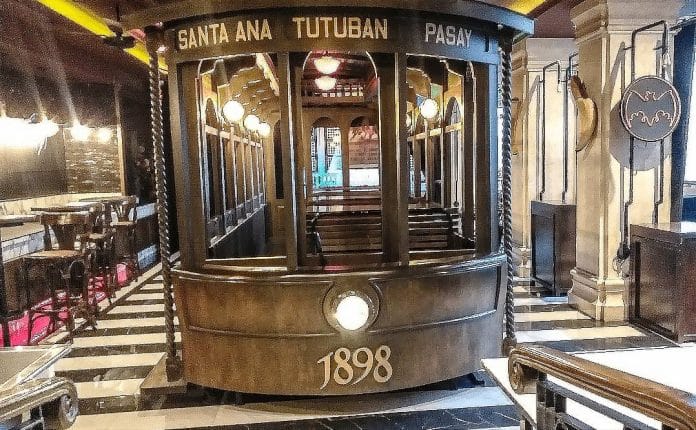 This is my favorite place in Hotel 1898 because of the beautifully recreated tranvia or tram at the center of the room where you can travel back in time and feel nostalgic. Its function rooms have large photos of Jose Rizal and Douglas MacArthur.
Instead of paintings, the rooms have black and white photos of the Old Philippines.
Even the hallways are dotted with photos of national heroes such as Andres Bonifacio, Apolinario Mabini and others.
Facilities
Hotel 1898 has several function rooms. Intramuros is a multi-purpose hall that has a capacity of 100 to 130 persons. The third floor function rooms can fit 100 to 180 persons. Casa Rizal is good for 10 to 12 persons. The 25th floor function room has two board rooms.
The hotel has 137 rooms. The largest room is a two-bedroom space which has a queen bed, two single beds, a fully equipped kitchen, bath tub and a living and dining area.
There is a business center and a fitness center and a swimming pool (La Piscina) and an adjacent function room. There is also a restaurant with exquisite Spanish cuisine. You can enjoy free wifi in all rooms, 24-hour room service, 24-hour security, and daily housekeeping.
Ideal Location
Hotel 1898 is conveniently located at the corner of Kalayaan Ave. and P. Burgos, right at the center of Poblacion. It is a few minutes walk to Century Mall and Power Plant Mall and a hop away from 24-hour American diner Filling Station Bar and Cafe. At the other end of P. Burgos is the 99-year-old Insular Bakery and 403-year-old St. Peter and Paul Parish Church.
The complete name of Hotel 1898 is 1898 Hotel Colonia en Las Filipinas.
Its slogan is "Experience History with us today."
As a history buff, I am delighted to be able to experience this hotel named after our country's independence year.
Established in 2018, Hotel 1898 looks forward to establishing a foothold as a premium hotel in Makati's Poblacion. 
Hotel 1898 is a hotel with a turn-of-the-century aura and an ambience of antiquity. At the same time, it also has an ambience of positivity. It strives to move forward into the future much like our beloved República de Filipinas.
* * *
1898 Hotel Colonia en las Filipinas
503 P. Burgos corner Kalayaan Avenue, Makati
02 8876 3333
* * *
JP Ordoña (Manilakad) leads Manilakad Walks in Intramuros, Binondo, Quiapo and more. Let him guide you to several walking destinations in Manila. Manilakad (Jing Ordoña) can be reached on Facebook Messenger or through text at 0916-3597888 and Viber at 0960-6975930.