As a UNESCO World Heritage Site, Vigan attracts tourists from all around the world. The heritage city in Ilocos Sur known for its well-preserved Spanish-era houses and landmarks is drawing travelers anew after the pandemic. For history buffs, the popularity of the hit series Maria Clara at Ibarra, which was filmed here, is another reason for a revisit. 
Chances are if you've been to Vigan, you've already dined in popular homegrown restaurants like Cafe Leona, Cafe Bigaa, Kusina Felicitas, 1995 Studio Cafe, BarTech, Calle Brewery, and other cafes along Calle Crisologo to enjoy authentic Bagnet Ilocos (deep-fried pork belly), empanada, and other Ilocano cuisine.
For repeat visitors, what's new in Vigan? Here are just a few of the recently opened cafes that we spotted in the heritage city during a visit on September 2023.
Cantina Mercante
Hotel Mercante is a new, chic boutique hotel occupying a Colonial-style building near Calle Crisologo that houses a modern food court-style restaurant on the ground floor next to the lobby. Cantina Mercante, established in 2022, serves local breakfast, sandwiches, pasta dishes, mains, snacks, and drinks. The restaurant's menu has a few vegan dishes (a rarity in the pork-loving Ilocos region) on the menu including an ALTO Vegan Sandwich, Aglio Olio, Elaine's Plate (dry bulanglang or vegetable stew with zero animal products and salt), Vegetable Sinigang and Labbaga Spaghetti-based Pasta (which can be veganized).
(Cantina Mercante, Bonifacio, corner Plaridel St, Barangay 1, Vigan City, 2700 Ilocos Sur. Open daily from 7 a.m. to 9 p.m.)
Amian Coffee
Amian Coffee, which opened in March 2023, is a new coffee shop that aims to provide a quality coffee shop experience in the heritage city. The cafe gets its name from a local term which means northern wind, which serves as the inspiration for the café. Cafe Amian offers premium quality coffee drinks and high-end comfort food made and sourced from the North. The cafe aims to create a local coffee culture while reflecting the genuine North and Ilocano pride through its offerings. Some of the favorites and bestsellers include the Amian Signature Latte, Salted Caramel Latte, Matcha Frappe, and Caramel Coffee Jelly.
Interesting dishes on their menu include Bridgerton Big Breakfast, Grilled Longga Sandwich, Longganisa Macaroni, Truffle Mushroom, and Federico Wild Tenders.
(Amian Cafe Vigan. Calle Crisologo, Vigan City, 2700 Ilocos Sur. Open from Monday to Thursday from 9:00 a.m. to 10:00 p.m. and Friday to Sunday from 7 a.m. to 11 p.m.)
Starbucks Balay Mestizo
Aside from homegrown restaurants, Vigan is home to modern fast-food chains that have adapted their design to fit the vibe of Vigan. One of the newest branches of the international chain Starbucks can now be found along the famed Calle Crisologo. The stunning new cafe, which opened in September 2023, can be found in The Florendo House, an ancestral house located at the corner of Calle Crisologo and Calle Salcedo which was built in 1870. Called Starbucks Balay Mestizo, the chain's latest branch, "pays tribute to this iconic heritage site by harmoniously uniting history and coffee experience."
The building's century-old facade was preserved and given a fresh coat of white and light yellow paint, while the interiors have a more contemporary look with patterned floor tiles, wooden accents, good lighting, and coffee-centric art hung on the walls. Expect a long line to get a table here, as the branch is popular with both locals and tourists eager to get their usual caffeine fix.
(Starbucks Balay Mestizo Vigan. Calle Crisologo corner Calle Salcedo, Balay Mestizo, Vigan City, Ilocos Sur. Open from Monday to Thursday, 8 a.m. to 10 p.m., and from Friday to Sunday, 8 a.m. to 11 p.m.)
Dunkin'
Aside from Starbucks, you can also find a new branch of the popular donut shop Dunkin' on the famed heritage street. Dunkin' Vigan, which opened on August 2023, is said to be the 798th store of the brand. This cozy branch brings in modern touches, with the use of wooden tables, and patterned tiles on the floor and stairway, integrated into the structure of a former ancestral house. You can find this branch on Calle Bonifacio, just a few steps away from the main Calle Crisologo. The small, but cozy loft dining area offers a quiet spot to cool down and take a break, especially in the morning or late at night when many other cafes are closed.
(Dunkin' Vigan, Calle Bonifacio, Vigan City, Ilocos Sur. Open 24 hours.)
Coffee Corner and The Bar at Hidden Garden
Lilong and Lilang Restaurant (literally grandfather and grandmother), the main restaurant of Hidden Garden located outside the Vigan city proper, is not exactly new. This popular tourist destination, where visitors can also buy plants and souvenir items, has been dishing out authentic Ilocano and Filipino dishes since 1991.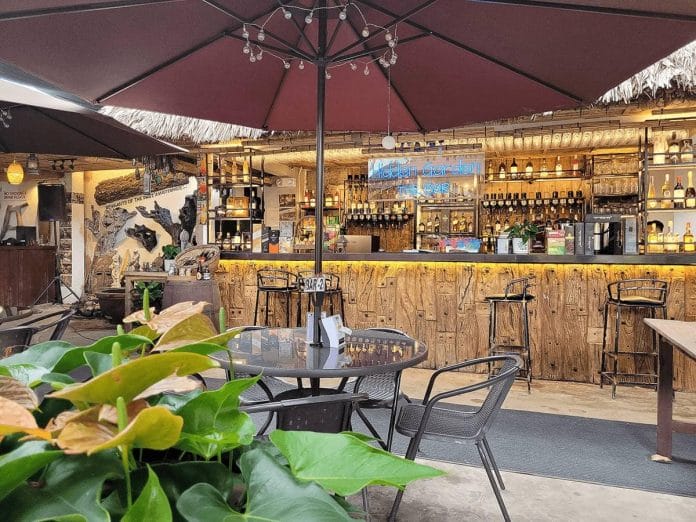 In case you're a plantito or plantita looking for somewhere to enjoy coffee or drinks while in town, there are some new dining concepts and limited menus within the same garden destination that might be worth a revisit.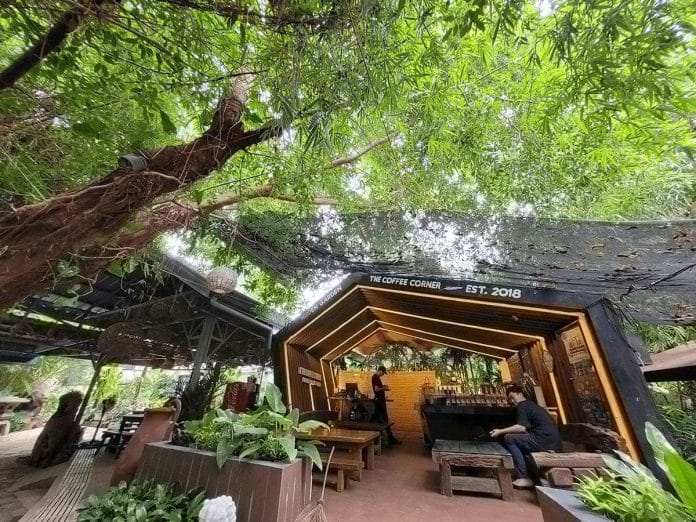 The Coffee Corner, established in 2018 and reopened in 2021 after the pandemic, offers a relaxing al fresco spot to enjoy espresso-based hot drinks, iced coffee, blended drinks, and frappes. There's also a Milk + Tea Academy serving Wintermelon Rocksalt and Cheese, Classic Milktea, Uji Matcha Puff Cream, Mango Fruit tea, Kiwi Fruit Tea, and more. One corner has been transformed into The Dessert Shop, serving assorted types of desserts and pastries.
Meanwhile, The Bar of Hidden Garden, serves cocktails, cold beer, wine, and liquor with a lush garden setting and live music to boot.
(Hidden Garden. Bulala Centro, Vigan City, Ilocos Sur, Philippines. Open daily from 6 a.m. to 6:30 p.m.)