The celebration continues for the country's real estate landscape and its luminaries.
The 11th PropertyGuru Philippines Property Awards proudly recognised outstanding Filipinos who have left an indelible mark on the real estate industry.
Jose R. Soberano III of Cebu Landmasters Inc. (CLI) emerged as the Philippines Real Estate Personality of the Year at the recent awards.
The recognition comes as CLI celebrates 20 years of excellence in the industry.
This comes as no surprise given Soberano's vision, enduring leadership and warm personality as he continues to steer CLI to greater heights.
A real estate luminary
Indeed, Soberano is a real estate luminary with over 20 years of excellence in the industry. He has earned the highest distinction for individuals as the Philippines Real Estate Personality of the Year.
As the driving force behind CLI, he brings a wealth of experience and expertise to real estate development.
Said Property Guru in its commendation:
"Under his leadership, CLI has achieved significant milestones, contributing to the growth of Cebu's economy through transformative projects such as the Cebu Business Park and Cebu IT Park. Beyond business, Soberano is deeply committed to society, serving on various boards and organizations dedicated to education and culture."
A real honor
Soberano, for his part, said: "Receiving the award is a real honor, one that extends beyond myself. I owe it to the entire CLI organization and everyone who has supported us all the way."
He dedicated the award to the CLI team, homeowners, partners, stakeholders, and the whole Visayas and Mindanao community, highlighting his dedication to bridging the housing gap and contributing to the country's development.
CLI continues to grow. Its latest project is a new joint venture with NTT UD Asia Pte. Ltd. a Singapore-headquartered company.
This partnership with NTTUDA will give birth to a premium grade residential tower which will rise in the heart of Cebu City.
CLI is the leading real estate developer in VisMin with over 116 developments across 16 major locations.
To date, the listed property company has a residential portfolio encompassing over 37,000 units worth P122 billion that are 90 percent sold over-all as of the first half of the year.
These projects include Premier Masters, Garden-Series, Casa Mira, and Villa Casita Residential offerings.
In all, it has more than 100 projects in different stages of development in 16 key cities in VisMin.
For this year alone, CLI has a target to launch P29.75 billion worth of pipeline projects following a record performance in 2022, and potentially launch its own real estate investment trust (REIT).
Aside from continuing to fill in Visayas and Mindanao housing backlog by expanding to new areas, CLI is also establishing its foothold in the hospitality industry with three projects slated this year, namely, The Pad, lyf Cebu City at Base Line Center, and Citadines Bacolod City.
Moving forward, CLI is working on its "Next Level CLI" strategy, which includes growing the company's capital, expanding its portfolio, developing new areas, and striving for sustainability.
For sure, there's no stopping CLI from soaring higher. Congratulations to Jose Soberano III and to CLI for this big win.
Rising Stars
The grandsons of taipan Lucio Tan received well-deserved recognitions as well.
Lucio Tan III and his Kyle Tan were recognized as first recipients of the inaugural Rising Star Award.
The Tan brothers are known for innovation and dedication as they redefine the future of real estate.
According to Property Guru, the new Rising Star Award is a prestigious accolade granted to individuals who have demonstrated remarkable achievements and potential in a short time span.
These young leaders have shown exceptional dedication and innovation in their respective roles.
Tan III is president and COO of LT Group Inc. He has steered Tanduay Distillers, Inc. to remarkable growth and international expansion.
"It is both an honour and a privilege to receive the first-ever Philippines Rising Star Award alongside my brother, Kyle," said Lucio.
Kyle, president and CEO of Lucio Tan's Eton Properties Philippines Inc., has been instrumental in shaping the future of the company with a focus on integrated communities and philanthropy.
"I'm truly amazed and in awe just being on the same stage with the individuals who really push the envelope in the Filipino real estate industry. I feel far from a Rising Star, but I think what's more important is we shed light on what makes stars shine and for me, it's first and foremost God and also my family, who is behind me every step of the process, led by the chairman of Eton Properties, my grandfather, Dr. Lucio C. Tan, and also to the Eton team that empowers me to achieve and maximize my potential so without any of them, I would not be standing here, and I dedicate this award to all of them," Kyle said in his acceptance speech.
Kyle is a dynamic and visionary leader whose priority is to expand Eton Properties' core businesses that will help drive the company's growth for the next five to 10 years.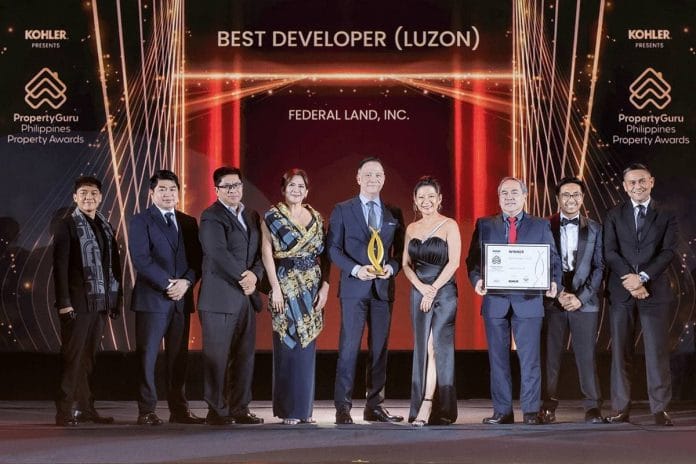 Future proof
"One of the key elements to future-proof the company is through diversification. We will venture into other businesses to tap other market segments with different client base," he said.
Both Lucio III and Kyle have showcased remarkable vision, leadership, and dedication, making them exemplary Rising Stars in the real estate industry. Their commitment to innovation, community development, and nation-building embodies the spirit of this prestigious accolade, according to Property Guru.
As they continue their journey in the real estate landscape, the organizers of PropertyGuru Asia Property Awards are confident that their visionary leadership and dedication will inspire future generations in the industry. Their achievements are testaments to the boundless possibilities and innovation that shape the future of Philippine real estate.