The world has continuously recognized the importance of adopting sustainable practices in various fields, including the realm of modern construction.
One particular material has been revolutionizing eco-friendly architecture, specifically with its strength, versatility, and renewable qualities that boosts socialized housing not only in the Philippines but around the world.
Bamboo was the main point of discussion among various experts in the field at the second annual Bamboost, a bamboo forum held last Sept. 15 at The Loft in Manansala in Makati City, which centered around the theme "Building with Bamboo: The Future of Sustainable Construction."
It was hosted by the Base Bahay Foundation Inc. (BASE), a non-profit organization by the Liechtenstein-based Hilti Foundation, and was attended by professional architects, civil engineers, students, researchers, developers, and bamboo enthusiasts around the country.
"Bamboo has a strong tradition as a building material not only in the Philippines but everywhere where it grows naturally," said Johann Baar, director of affordable housing & technology at the Hilti Foundation.
"What we did in BASE is we try to make it a quality building material that resists earthquakes and typhoons and withstand any kind of natural disasters. We are on our way to making it a standard building material like timber and, at the same time, we know that bamboo has better characteristics in terms of carbon capture and climate change," he also said.
Poor man's timber no more
Dr. Pablo Jorillo, BASE general manager, emphasized three key factors that make bamboo a material that contributes greatly to socialized housing and reshapes the realm of sustainable construction—that it is affordable, environment-friendly, and disaster-resilient.
"In our socialized housing projects, the houses we build are 30 percent bamboo," he said. "The type of houses we build, we make sure its configuration is optimized so that we can have a house that is 30 percent to 40 percent low-cost compared to your standard conventional materials that is used to build houses of the same size."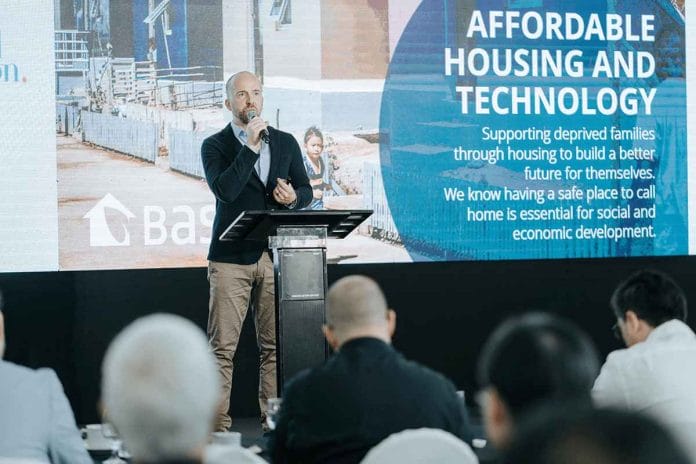 "It is also disaster-resilient because this is not your typical bahay kubo. This is a bahay kubo built with modernized technology that can withstand typhoons at a wind speed of 240 to 280 km/hour and it can resist earthquakes from 6.5 to 7.5 magnitude," he added.
Liu Kiwei, Global Bamboo Construction Programme coordinator at the International Bamboo and Rattan Organisation sees the use of bamboo as a solution in slowing down climate change, with its ability to store carbon for many years.
"Using bamboo, we can store carbon for a very long time and we can greatly reduce the pressure of present carbon emissions in the atmosphere," she told Property Report.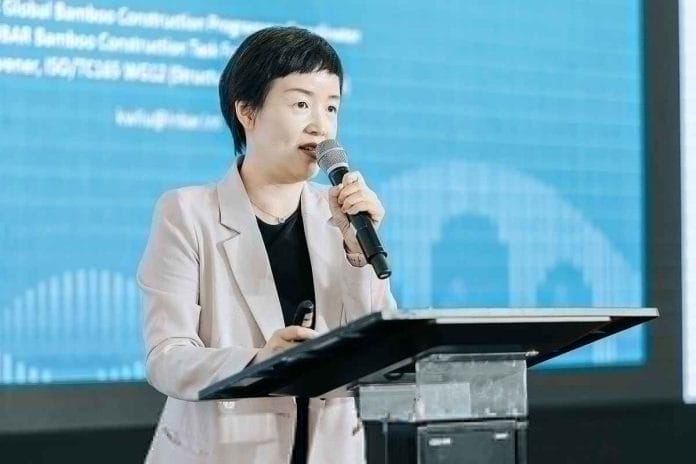 "That is why I believe bamboo is more important to use than other mainstream construction materials."
A housing solution
Dr. Pablo Jorillo, BASE general manager looked back at how bamboo has already been a material of use for the Global South for hundreds of years, transforming such into temporary housing materials, furniture, and musical instruments.
With knowledge about the historical use of bamboo that spans a millennia, BASE studied the material and used it as a way that can contribute to the permanent housing needs of Filipinos, coming up with the Cement Bamboo Frame Technology (CBFT). Since the foundation's inception in 2014, they have built over 1,600 bamboo houses across the Philippines and Nepal, with plans to expand in Sri Lanka and India.
Some of these bamboo houses was built through a project called Negros Occidental Impact 2025 (NOI25), which aims to build 10,000 housing units in sustainable communities that are clean, green, safe, disaster-resilient, and progressive where families enjoy security in their homes.
"We refocused the use of bamboo, having all that knowledge and expertise from the Global South, and put that in housing technology," Jorillo said.
Boosting a sustainable advocacy
Furthermore, Jorillo emphasized the significance of the ongoing development of a national structural code for bamboo as a building material. Once pushed through, he believes it can allow architects and engineers to perceive bamboo as a standard construction material.
"The sooner we get the release of the National Structural Code of the Philippines (NSCP) with bamboo as part of its eighth edition, the sooner we can entice all engineers and architects to start thinking of bamboo as a construction mainstream," he said.
Baar, on the other hand, hopes for more discussions and research on bamboo construction to emerge, such as on other housing possibilities for mid- to high-rise structures.
"Bamboo still has the image of being a poor man's material. That's a perception we want to change because we see the opportunity to make bamboo even bigger and it will need more research in the future. We are not yet able to build medium and high-rise structures which is a big topic for the future. There are a lot of things that need to be done in order to achieve our target," he said.
The annual Bamboost is part of BASE's learning series for people interested to learn about bamboo construction. The organization also conducts free training programs for architects and civil engineers under its Continuing Professional Development (CPD) learning series, giving them a head start in anticipation of the aforementioned standardization of bamboo construction & design and mainstreaming of bamboo in building codes.
Through these initiatives, BASE continues to provide alternative building technologies, enabling various partners to build quality socialized homes that are comfortable, affordable, disaster resilient, ecologically friendly, and with social impact.
* * *
For more information on Base Bahay Foundation Inc. and their ongoing projects, you may visit http://www.base-builds.com