On the island of Camiguin, a new restaurant is proving to be a haven for those on plant-based diets who want something flavorful and local. Daos Beach Bistro (which means "to eat" in local Kimaigin language) was launched by Wilven "Potpot" Pinili in November 2022 out of the lack of dining optons on the island.
The restaurant is currently the only 100% plant-based restaurant in Camiguin with a steadily growing clientele of vegetarians, vegans, and eco-conscious travelers. As part of its sustainability efforts, the restaurant does not make use single-use plastic and aims to eventually be completely zero-waste.
The cafe is located inside Haruhay Eco-Beach Beach Tavern, an eco-destination also run by Pinili. Both the restaurant and the resort's cottages are made of easily renewable materials such as bamboo, cogon and nipa which are locally grown and ethically sourced.
"Our tables and chairs are upcycled from fallen trees during Typhoon Odette. We serve our food on bamboo plates, banana leaves and coconut bowls. Our utensils are also made of bamboo and coconut shell made by local craftsmen," Pinili told The Philippine STAR.
According to the travel blogger turned restaurateur, Daos only makes use of 100% whole food, with no preservatives and prepares dishes from scratch every order. For seasonings, only natural herbs and spices are used.
Pinili aims to show that vegan food can go beyond simple salads with his unique offerings. Bestsellers in Daos Beach Bistro include Kare-Kare (made of young jackfruit instead of beef), Surol (a veggified chicken stew cooked in coconut milk), Vinuguan (mixed mushrooms in pureed blackbeans and activated bamboo charcoal), and Adlai Rice Bowls with different Pinoy toppings like adobo, sweet and sour "pork" and vegetable curry.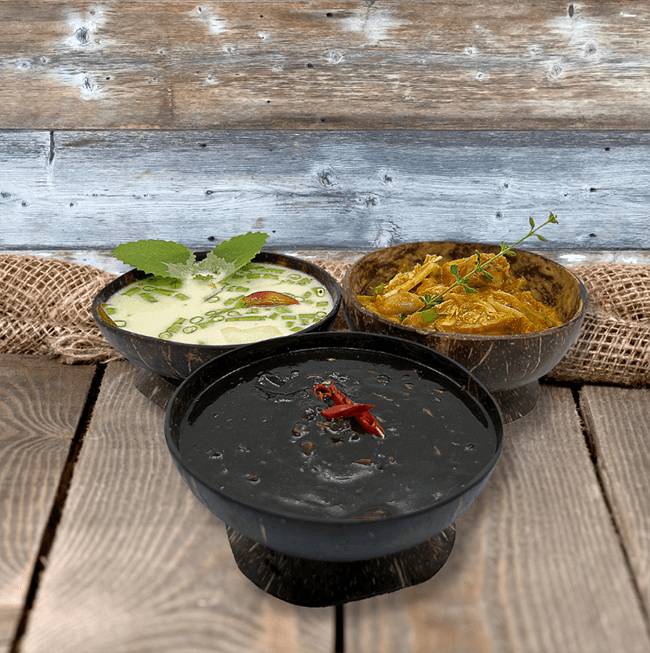 For starters, they offer Chichashroom (oyster mushroom chicharon) and mushroom sizzling sisig. For dessert, there's coco-kalamansi ice cream, pineapple-ginger ice cream and turon in kalamansi topped with vegan ice cream. They also have Pancit Haruhay, eggless noodles cooked Asian style in sweet and spicy sauce.
They also recently started to cater to tour packed meals for island-hopping trips, wrapping their vegan dishes in banana leaves and jute string with bamboo utensils.
Zero waste efforts are at about 80% since the eco-restaurant composts trash, while some vegetable and spice peelings are even turned into dips to lessen food waste.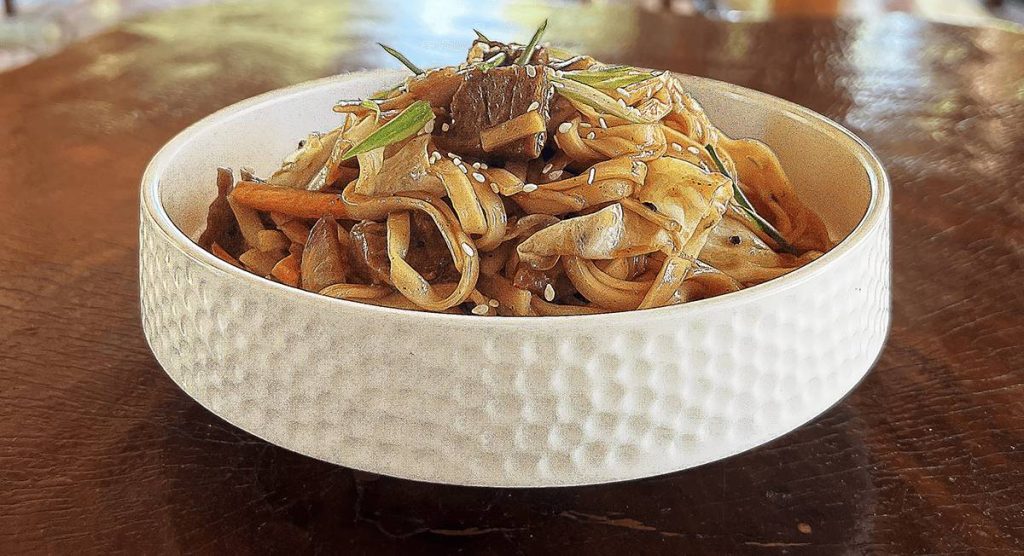 While it's been challenging to promote 100% plant-based food to predominantly meat-loving locals, the restaurant owner shares that there's growing interest from foreign tourists, though arrivals have yet to reach pre-pandemic numbers.
"Since Camiguin reopened its tourism, many foreigners, usually vegetarians are looking for plant-based restos. We have sort of become the go-to resort for vegans and vegetarians because they know they won't go hungry here" said Pinili.
Reviews on Happy Cow, an online site that lists sources of vegan, vegetarian and healthy food around the world have high praises for Daos Beach Resort, describing the place as cozy, affordable, with "amazing friendly staff" and a "nice atmosphere along the beach."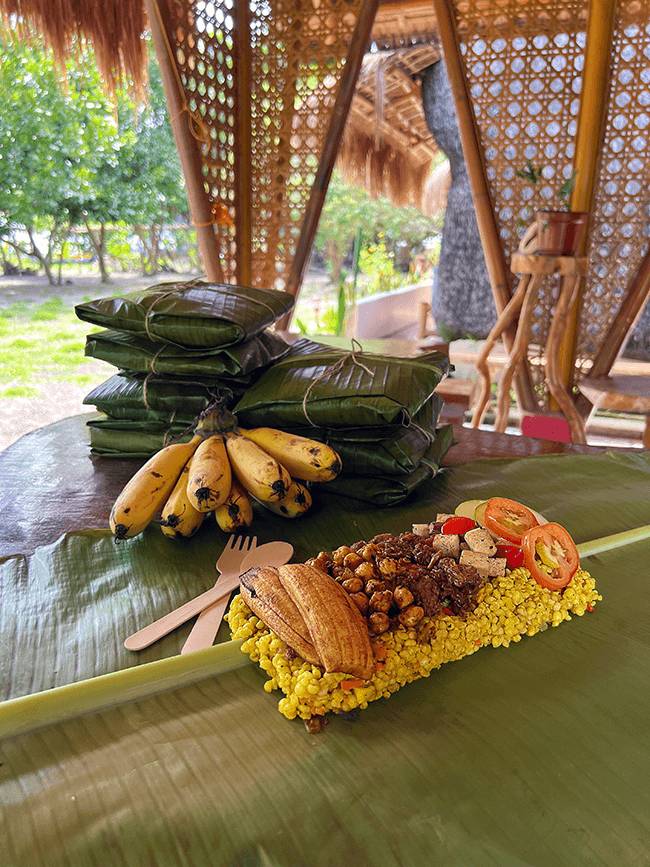 "Hard to choose a favorite cause all meals we ate were incredible tasty. The best vegan foods we had in the Philippines," wrote one guest.
"Aside from the fact that the owner is a lovely and ambitious person who has a 150% passion for food and cooking, he also breaks the mold for vegan cuisine, which is still relatively virgin in the Philippines. The food that we tried tastes very delicious and is a feast for the eyes," another satisfied diner wrote on the site.
The restaurant and resort initially started as a passion project eight months ago yet the business is already providing livelihood to the local community. According to Pinili, while some produce and ingredients are sourced from nearby provinces in the mainland northern Mindanao or imported, some vegetables are grown in Camiguin itself.
"It's also my community development effort to contribute by employing locals and buying produce from my neighbors like kalamansi, buko, guyabano, and patola," he shared.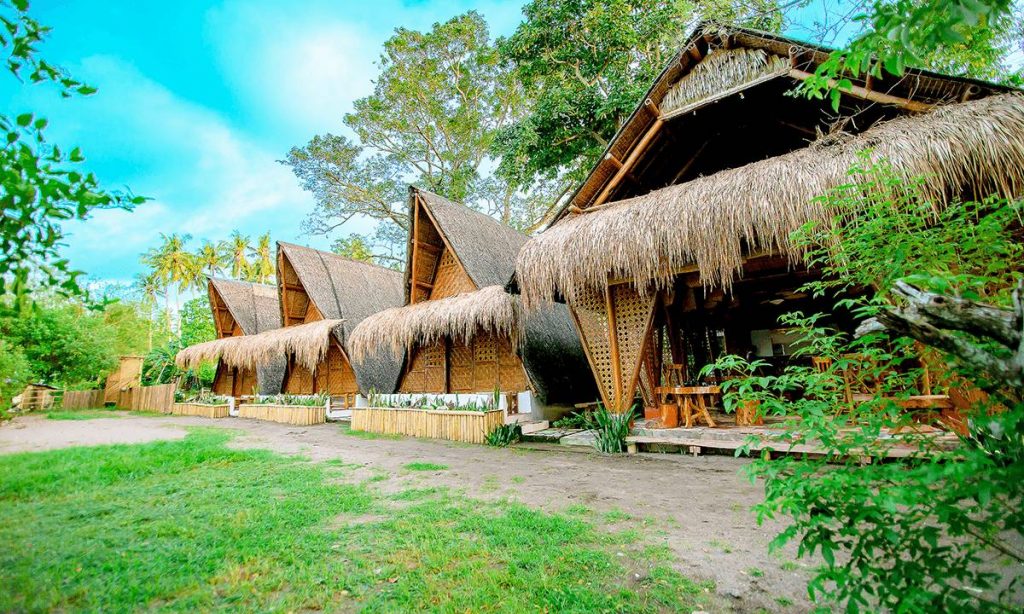 "Since we came into business, some local businesses also thrived like mushroom farms (we are their biggest client now). Namatay na ang mushroom growing, but when the restaraunt came about, it encouraged a mushroom grower to regrow and expand his business," he told The STAR.
Daos is also able to support other vegetable growers specializing in varieties of lettuce, capsicum bell peppers and homebased bakers who supply the restaurant with vegan pastries.
Pinili shared that he has his own herb garden and community garden that he shares with locals for their personal use and will soon be rolling out a livelihood program for housewives with a partnership from the LGU.
The restaurant and resort is also involved in beach clean-up drives with the local community to preserve the natural attractions in the area.
"We clean the beach everyday. In fact, we are grooming it to become a sanctuary for hawksbill turtle as a nesting ground. We have already seen signs of pawikan marks on our sand," shared Pinili.
The resort is also protecting beach trees and keeping them purposely dark to protect the fireflies in the area.
* * *
Daos Beach Bistro in Camiguin is open from 11:00 a.m. to 8:00 p.m. Wednesdays to Mondays. The beach bistro and Haruhay Eco-Beach Tavern is open to parnerships and funding to make the properties fully solar-powered in the future.