For Bicolanos, the month of September signals one thing—the Peñafrancia Festival. The annual cultural and religious festival honors the feast day of Our Lady of Penafrancia, Patroness of the Bicol Region. The main highlight of the month-long event is the fluvial procession along the Naga River.
Those looking for a new place to stay in Naga City while catching the festivities or for future leisure or business trips in Bicol in the coming "Ber months" can check into Litton Hotel by Carterson along Magsaysay Avenue.
The stylish hotel is walking distance from the Basilica of Our Lady of Peñafrancia, Our Lady of Peñafrancia Shrine, and the City Hall. It's also located at the center of Naga City's vibrant business, lifestyle, and dining district for food tripping.
The lobby lounge of the hotel is elegant, well-lit, and beautifully designed, showcasing Bicolano culture and landmarks through paintings and sculptures, but with a modern touch. The lobby's airy interiors make it ideal for photoshoots, particularly for debuts, pre-nuptial shoots, and weddings.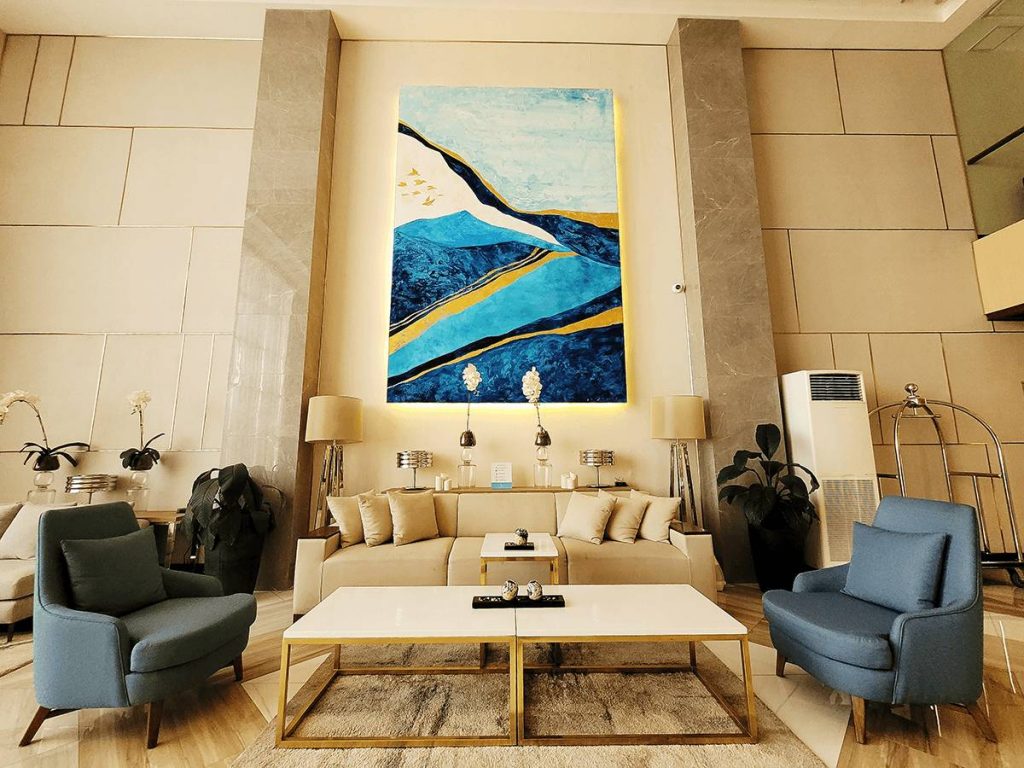 The five-story property offers 40 modern rooms with a minimalist Scandinavian design and seven accommodation options. During a recent trip to Naga City, my sister and I stayed overnight in one of the Deluxe Twin rooms, a 25-sqm room with two single beds, ideal for those traveling with colleagues or family members.
Each room comes with standard amenities, including a flat-screen TV with cable channels, high-quality linens, a desk, easily accessible power outlets, and coffee- and tea-making facilities. I appreciated the effort to reduce plastic waste, as each room is provided with a pitcher of water instead of plastic bottles, while shampoo and soap containers in the bathroom are placed in refillable containers instead of single use sachets or containers.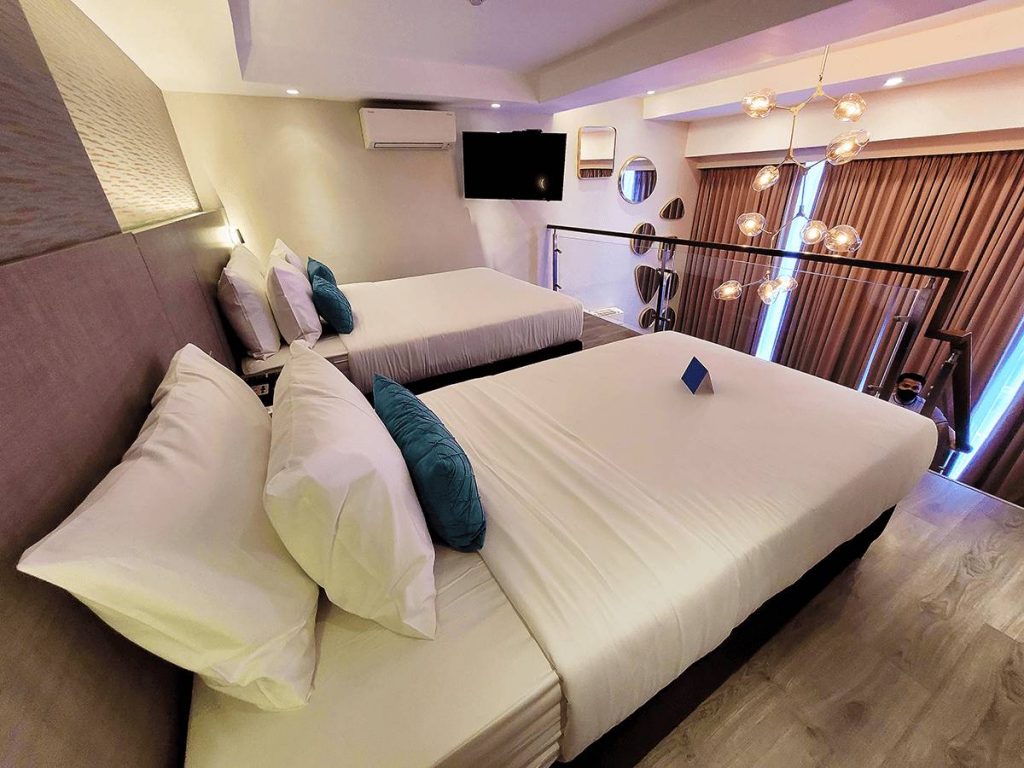 Other room types at the hotel include the Deluxe Queen (25 sqm) and Deluxe Triple (30 sqm) rooms, Premier Loft Triple (45 sqm), Premier Loft Quad (55 sqm), 1-Bedroom Suite (50 sqm) and 2-Bedroom suite (90 sqm).
The Litton Hotel prides itself on being the first hotel in Naga City to offer loft type rooms specially designed for families, friends and colleagues, which we requested to see for possible future stays with other relatives.
For families and groups who want more space, the Loft rooms (Triple and Quad) are ideal for family staycations, while the Litton Suite (1-BR and 2-BR) are for those who want best-in-class comfort and amenities. The loft rooms boast of a high-ceiling ground floor, a spacious living area with a sofa set, a work desk, a coffee- and tea-making facility, a flat TV with cable, and a closed wardrobe with full-length sliding doors. In the triple and quad loft rooms, which can accommodate three to four adults, up to two children 12 years and younger may stay in the room with parents, for free, using existing bedding.
All room stays come with a complimentary plated breakfast and access to a mini-buffet of other breakfast dishes like pancakes, salad, fruits, coffee and drinks. The hotel's cafe and lounge also offers an ala carte menu with a unique mix of Mediterranean, American, and Filipino cuisine, and an extensive list of wines, cocktails, and non-alcoholic beverages for lunch and dinner options.
In case you're heading to Naga City for business, the hotel also offers three compact function rooms (The Café Meeting Room, Tomson & Fortune Meeting Room, and Sol Meeting Room) for small business functions, work meetings, and intimate social gatherings with family and friends.
Whether you're in town for business or leisure, The Litton Hotel offers a comfortable and convenient base in Naga City. With family reunions and events back in full swing, the hotel offers another comfortable option for Bicolanos heading home for the holidays.
* * *
The Litton Hotel is located along Magsaysay Avenue, corner Catmon I St., Naga City, 4400 Camarines Sur, Philippines. For bookings and more information, visit https://thelittonhotel.com/