If you happen to be friends with a vegan, you know that eating out can be a tricky affair when you travel. Most local restaurants in the Philippines cater to meat-lovers and only a few really know the difference or make an effort to serve vegetarian and vegan-friendly options. Basically, vegans can eat food made from plants, but any food that comes from animals (including common ingredients like eggs, cheese, milk, and honey) are off limits.
During a recent trip to the tourist hotspot of La Union, I ended up trying a few new restaurants with plant-based food options just because it's the only place where my travel buddy could eat.
Here are some new cafes with meat-free and dairy-free dishes that you can check out in San Juan. As a bonus, you can also get quality coffee and local craft beer in most of the spots listed below.
Little Canggu and Little Cat Coffee
Little Canggu is a beachfront bistro that serves Balinese fusion dishes. This cozy al fresco space, that gets its name from a coastal village on the south coast of Bali, offers a great view of the ocean. You'll just want to hang out all day here while enjoying Indonesian favorites like nasi goreng, duck, rendang, satay, and more.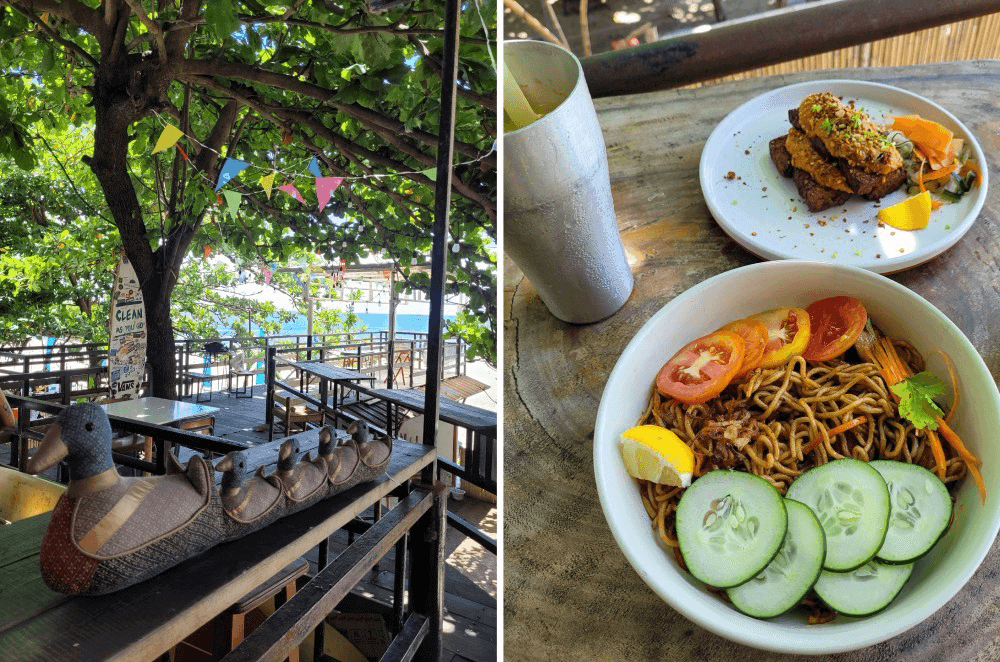 They have several dishes on their menu suitable for vegans including Nasi Goreng and Mie Goreng (homemade noodles, stif-fried vegetables, tomato and cucumber slices) with mushroom balls instead of chicken and without the fried egg; a delicious Tempeh Satay (peanut satay sauce, pickled cucumber and carrots), Kentang Fries, Tempeh Chips, and Garlic Kangkong, to name a few.
Little Cat Coffee, which shares a space with Little Canggu, is a good spot to get your after mid-day coffee fix. The cafe serves freshly brewed coffee including drinks topped with nitro foam.
Little Canggu. Pentecostal Compound, Urbiztondo, San Juan, La Union. Open 9:30 a.m. to 8:00 p.m. (closed on Tuesdays). Little Cat Coffee serves coffee from 9:00 am to 3:00 p.m. (closed on Tuesdays).
Kermit La Union
Kermit restaurant and pizzeria has long been known for serving the best Italian food in Siargao. Their branch in La Union, which opened during the pandemic, can be found on the second floor of the beachfront side of the Great Northwest, a popular food hub in Urbiztondo.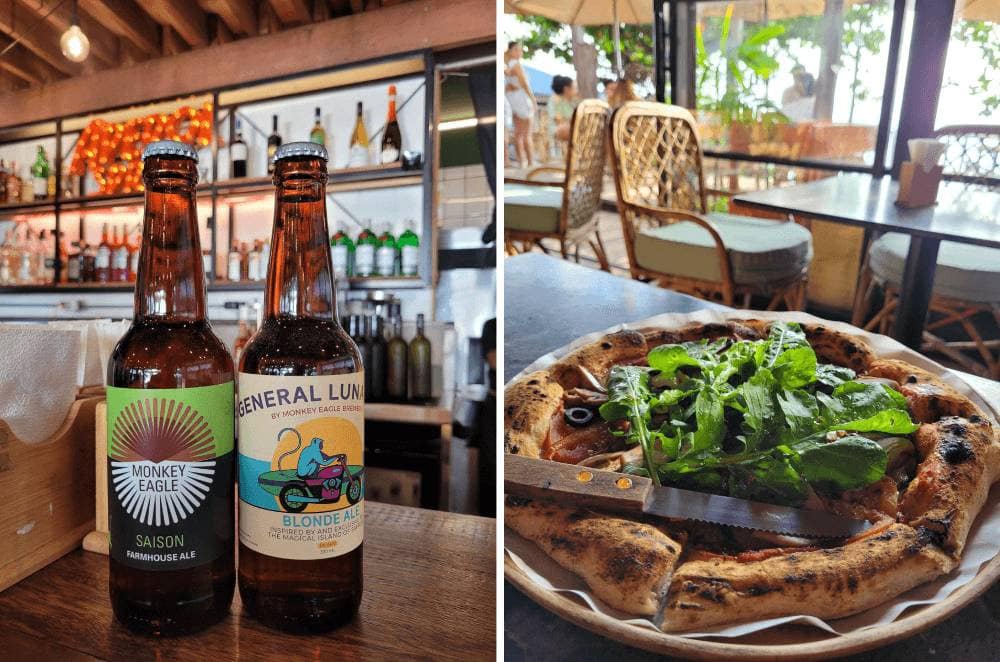 While they have a lot of pizza, pasta, and appetizers on their menu, the options for vegans include their Vegan Pizza (topped with Zucchine, artichokes, mushroom, bell pepper, olives and arugula), and Vegan Linguini Pesto. The resto also serves a wide selection of cocktails, wine, and beer including craft beer from Monkey Eagle Brewery.
Kermit La Union. The Great Northwest Philippines Travel Stop & Viewing Deck. 183 MacArthur Hwy, San Juan, La Union. Open daily from 11:30 a.m. to 2:00 p.m. and 4:00 to 11:00 p.m.
Clean Beach
In case you want a spot to hang out and work (or chill) from the beach all day, the solar-powered Clean Beach is a good option. This pet-friendly, self-service beachfront cafe offers coffee, meals, and snacks you can enjoy throughout the day. As a way to get tourists to keep the beach litter-free, Clean Beach offers free drinks to those who participate in a beach cleanup.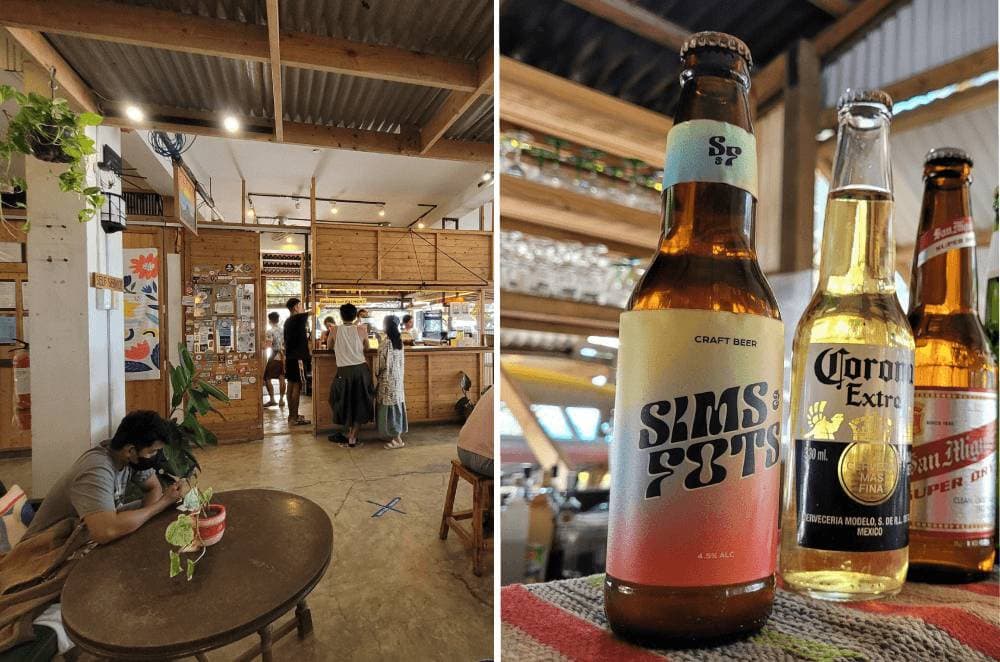 For vegans, the must-try food option here is a Vegan Burger, an all-veggie patty burger with a side of kamote fries, so you can get a filling meal without feeling too heavy. You can also opt to swap the milk in coffee with dairy-free options like soy milk, macadamia milk, hazelnut milk, or oat milk, for an additional cost.
Want to pair your meals with beer instead? Clean Beach serves a few local beers for summer day drinking, including Sims & Fots craft beer, which makes use of fresh tropical fruits, grapefruit, lychee and zest flavors with a clean wheat ale.
Clean Beach. Urbiz Garden Bed & Breakfast, 134 MacArthur Highway, Beachfront Collective, Urbiztondo, San Juan, La Union. Open Monday to Thursday and Sunday from 7:00 a.m. to 8:00 p.m. and Friday to Saturday from 7:00 a.m. to 10:00 p.m.
Seabuds
Located inside the San Juan Surf Resort property, Seabuds is a cafe that specializes in plant-based smoothie bowls, smoothies, rice meals, sandwiches, juices, sourdough toasts, desserts, and more. This cafe has a good selection of vegan sandwiches like Beetroot Hummus, Pesto, Mushroom and Garlic, and plant-based rice meals served with tofu scramble and garlic brown rice. They also have delicious homemade pastries like vegan cookies, vegan banana bread, peanut butter cups, banana popsicles, and coffee drinks that make use of oat milk.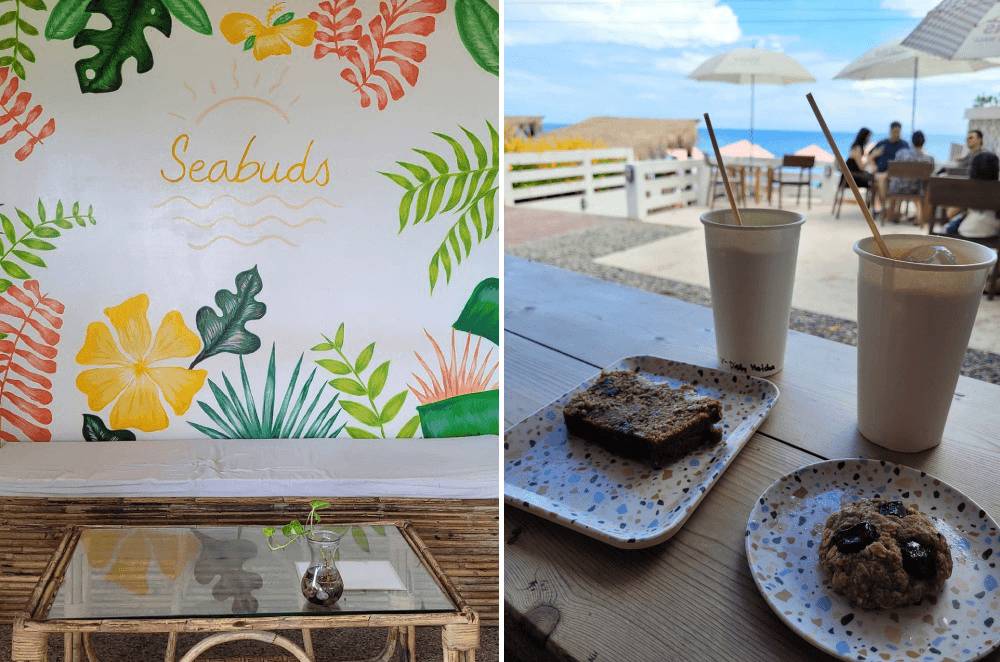 Seabuds, San Juan Surf Resort. 238 Urbiztondo, San Juan, La Union. Open daily from 8:00 a.m. to 5:00 p.m.
Seawadeeka
In the mood for Asian street food? Seawadeeka serves a mix of Indonesian, Thai, Malaysian, Singaporean, and Vietnamese cuisine, including laksa, pad thai, and curry. While not all dishes can be veganized, there are some options for vegetarians including the Tofu Curry and Bahn Mi with mushrooms instead of meat as the main filling. For drinks, try the Thai Milk Tea.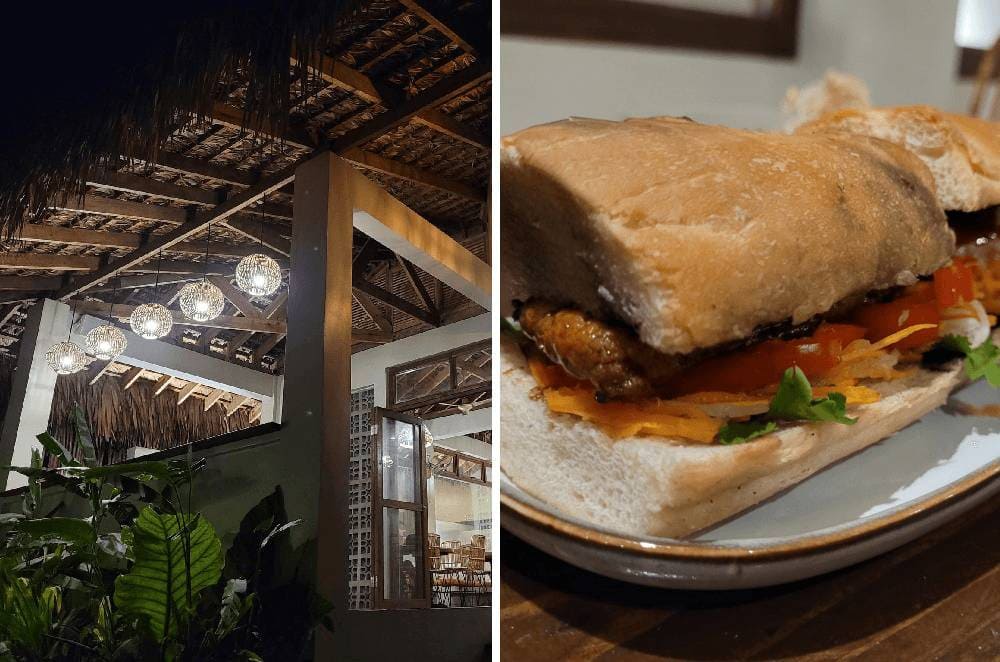 Seawadeeka, Manila North Rd, San Juan, La Union. Open daily from 11:00 a.m. to 9:00 p.m.
Tipple & Brew
If you're not into the noisy drinking scene and just want a quiet spot to drink, Tipple and Brew Resto Bar is a quaint resto bar along the main highway that serves a variety of food and craft beer options. This bar carries craft beers from Engkanto Brewery and flavored craft beers on the sweeter side from Happy Hour, including the vegan-friendly Peach Summer Ale and Passionfruit Summer Ale that you can pair with simple bar chow like french fries.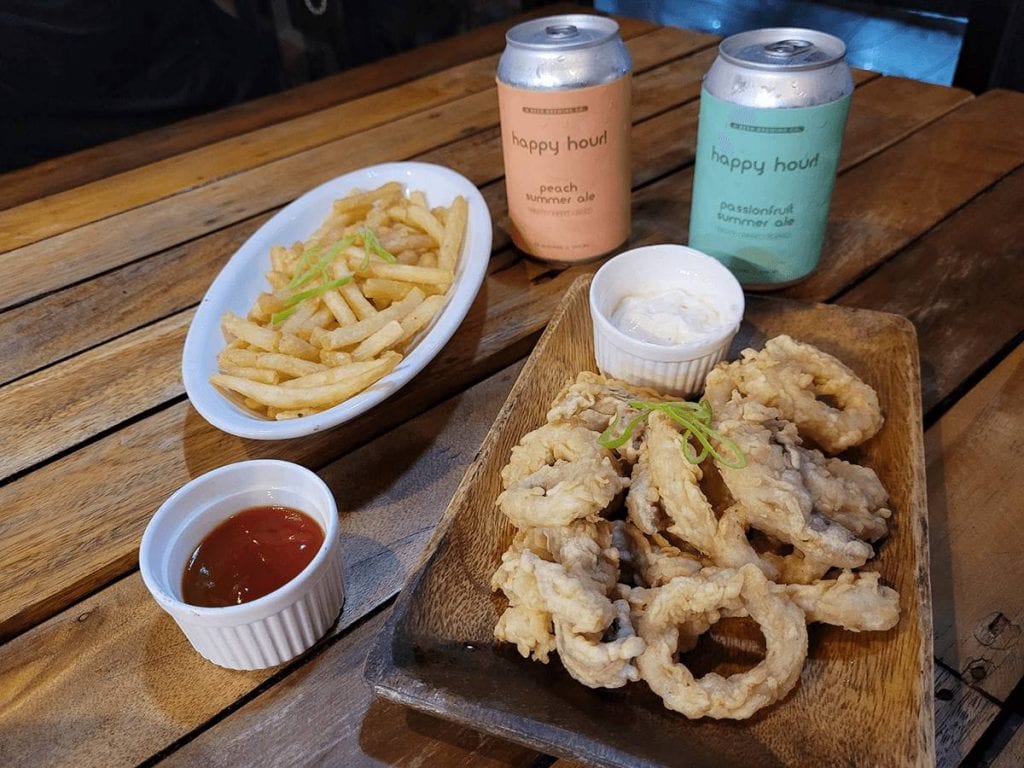 Tipple & Brew, Urbiztondo Rd, San Juan, La Union. Open Monday to Thursday from 12:00 p.m. to 11:00 p.m. and from Friday to Sunday from 11:00 a.m. to 11:00 p.m.
Funky Quarters
No trip to Elyu is complete without a night out for drinks, and you can enjoy the drinks and vibe at Funky Quarters. This alternative boutique hotel that celebrates art, music, and surf also runs a bar that specializes in cocktails and street tacos.
Funky Quarters offers Tacos and Burrito Plates with that can be modified with mushrooms for vegans, served with chimichuri and sambal sauce. They also have a deep-fried squash flower bar chow.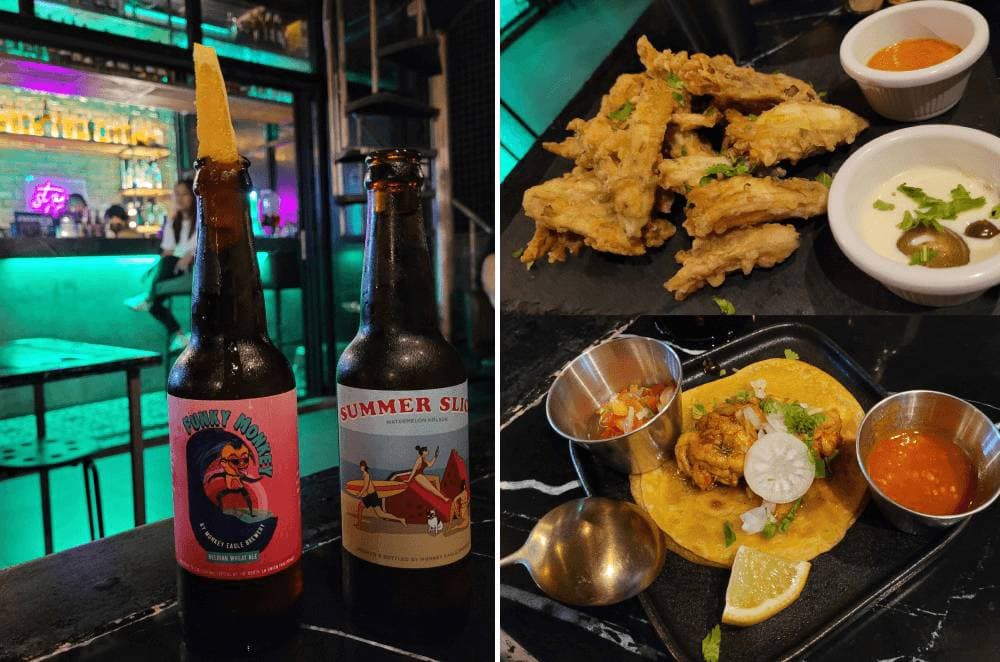 Look out for Funky Monkey, a Belgian wheat ale exclusively brewed for the bar by Monkey Eagle Brewery. Other must-tries include Summer Slice, an easy refreshing Kölsch-style beer brewed with fresh watermelon, and Daydream, a light and sessionable pale ale.
Funky Quarters, Brgy. Urbiztondo, MacArthur Hwy, San Juan, La Union. Open Friday and Saturday from 11:30 a.m. to 1:30 a.m., Sunday to Tuesday from 11:30 a.m. to 11:00 p.m.
The food scene in La Union is definitely alive and kicking. Whether you're a vegan yourself, traveling with one, or just want to eat healthier on your next beach trip, the variety of options in Elyu will make the long drive worth it.