Young visionary Aevan Georgeline de Jesus designs an active community hub to propel urban prosperity in Metro Manila.
Titled Humanity's Playground: Modern Bayanihan at Play, the study examines the neighborhood of Barangay Pitogo, one of the densest areas in Makati City, as its target location.
"The vision is to develop the land for change and growth," de Jesus shared. "It offers a new perspective of prosperity – putting the planet and its people at its center and understanding profit not as a measure of success but as a way of unlocking greater sustainability."
Conceptualized with empathy and innovation in mind, it fosters Filipino values and kinship. It diverges nature and human interactions, and utilizes indigenous and waste materials to build environmentally and culturally sustainable areas.
The De La Salle-College of Saint Benilde Interior Design student explained the proposal as a call to reform urban mobility as it converges the social, commercial, and service areas. It is spread out in a vertical layout to maximize space and open opportunities for expansion.
Enjoying the community
The Pitogo Learning Hub and Urban Community Farm were positioned together to explore how communities can be strengthened through creative learning.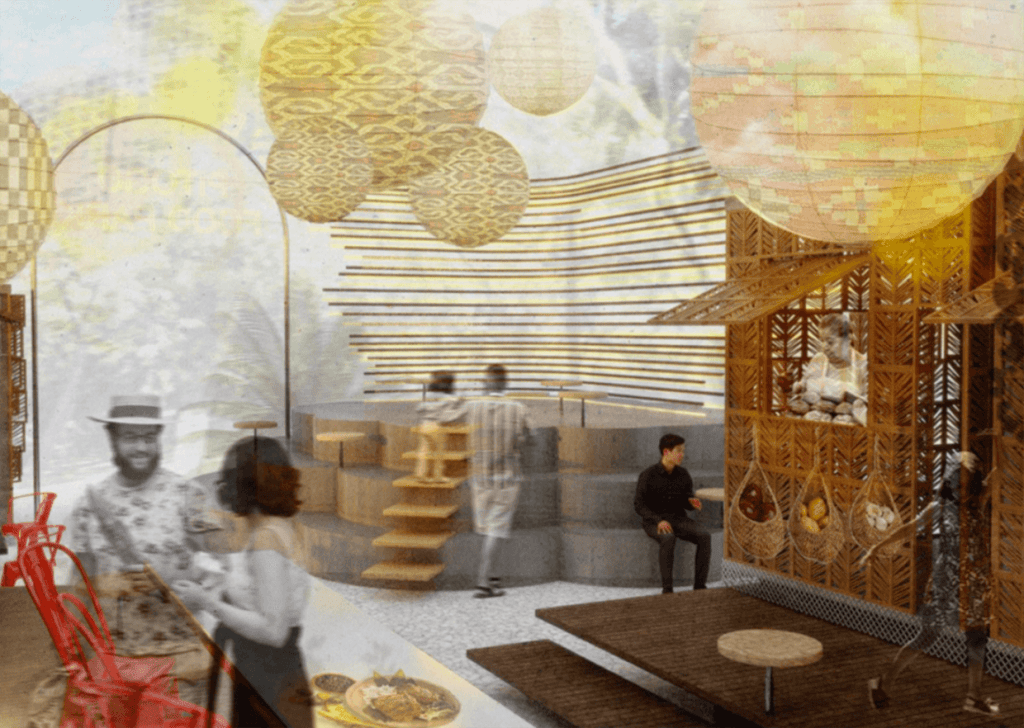 Equipped with hydroponic systems, the farm encourages people to garden together, share knowledge and seedlings to grow, and harvest greenery to bring to their families. "The repetition of a single grid is anchored in the philosophy that despite differences we are all just one, and when we come together, the possibilities are endless," de Jesus said.
It features engineered bamboo grid structure and customizable box inserts to hold plants, books, board games, or drawing materials or serve as seats for those who wish to climb and read with a view.
The Active Ramp celebrates freedom of movement through cycling and skateboarding. The conceptual design that explores one's freedom of movement and expression is rooted in de Jesus' awakening during the pandemic, when she reconnected with her yearning to create.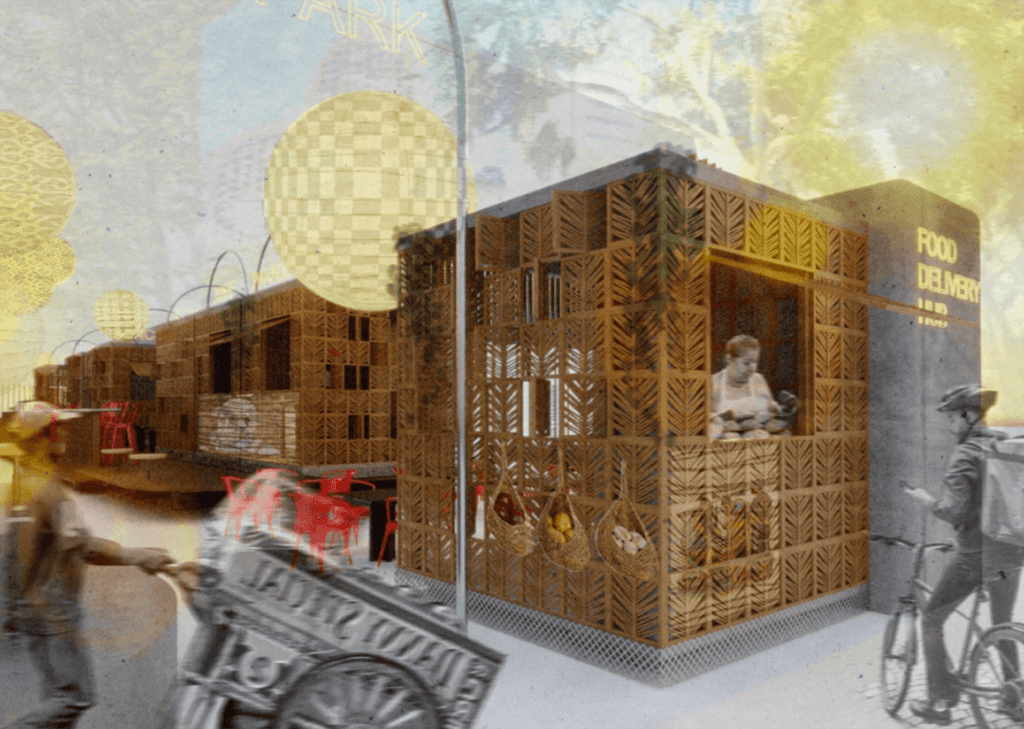 In finding deep connection through cycling and being around nature in her hometown, she discovered the dream to build vibrant active communities.
The Active Travelers Hub allows commuters and riders to safekeep their baggage and share routes and tips toward improving urban mobility. It also offers practical facilities and tools to aid a safe commute.
To empower the burgeoning local food industry, the Pitogo Food Park includes nipa kiosks for small businesses and vendors while the Food Delivery Hub provides a place for riders to rest.
There are also free-moving panels with the distinct pattern of Pitogo plants to ensure healthy air and moisture flow amid the busy center.
"What excites me about my role as a future designer is the extraordinary power of space and the mind-twisting complexity of a study. And yet at the end of the day, we come back to every profession and vocation's shared purpose: To serve humanity with an opportunity to change for the common good – a space to nurture our planet, gather people, and sustain what we have built together through a green economy," she shared.
"While I recognize the distinction of art and design, I am empowered by my passion to explore what makes us human, what makes us move, relate, seek for goodness and newness," the aspiring artist added.
Award winning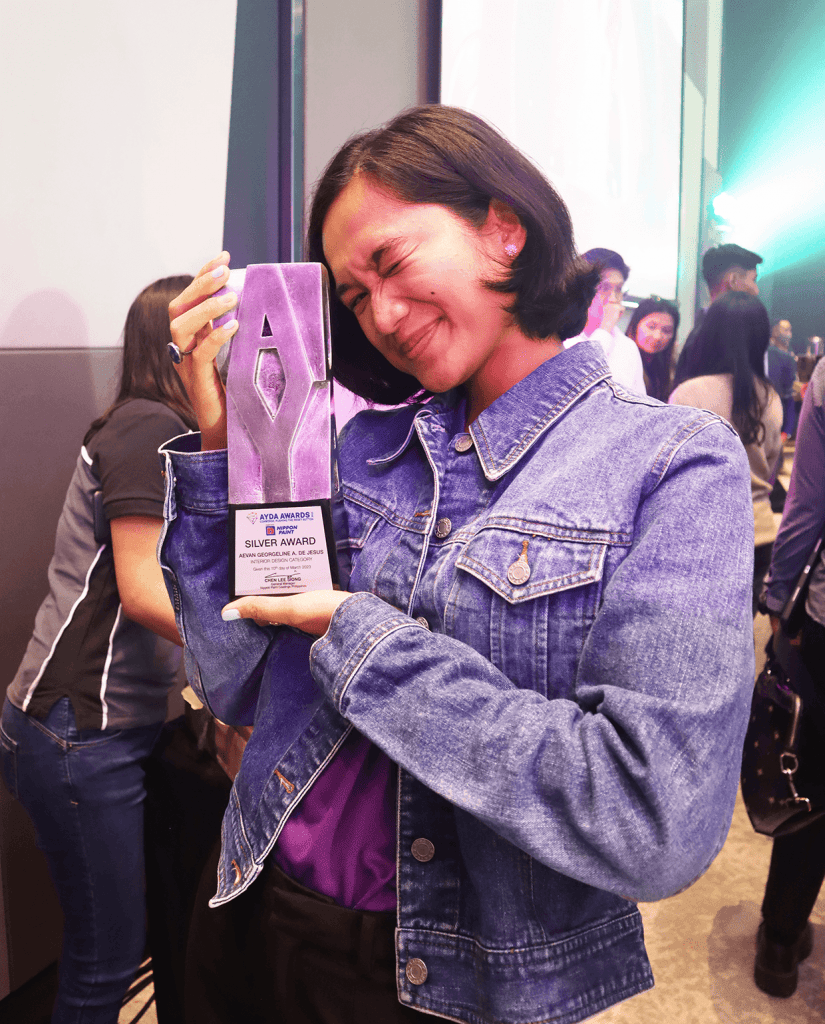 Under the guidance of educator-mentor IDr. Candice Arboleda, Humanity's Playground finished with the Silver and Best Green Innovation Awards in the Interior Design Category at the recently concluded Nippon Paint Asia Young Designer Award.
It is the Philippine edition of the prestigious Asia Young Designer Awards (AYDA) with the common aim to motivate interior design and architecture students to be innovative, creative, and socially involved in design implementation.