Kalinga means headhunter or fighter in Ibanag or Gaddang. Although the fierce name has no ethnic basis, the people of Kalinga (y'Kalinga) have come to accept it. Tall in stature, the Kalingas are a proud and brave people.
Macli-ing Dulag
Pangat (leader) Macli-ing Dulag of Butbut Tribe best epitomized the courage of his tribe when he led a resistance, together with Pedro Dungoc, Lumbaya Gayudon and other tribal leaders, to oppose the construction of the Chico River Dam which would have submerged many barrios along the river including Barrio Bugnay where he was a three-time tribal chief.
The defiant leaders were wined, dined, and bribed but not one of them budged. On April 24, 1980, Macli-ing Dulag was assassinated. His murder unified the Cordillerans, causing the government to abandon the project.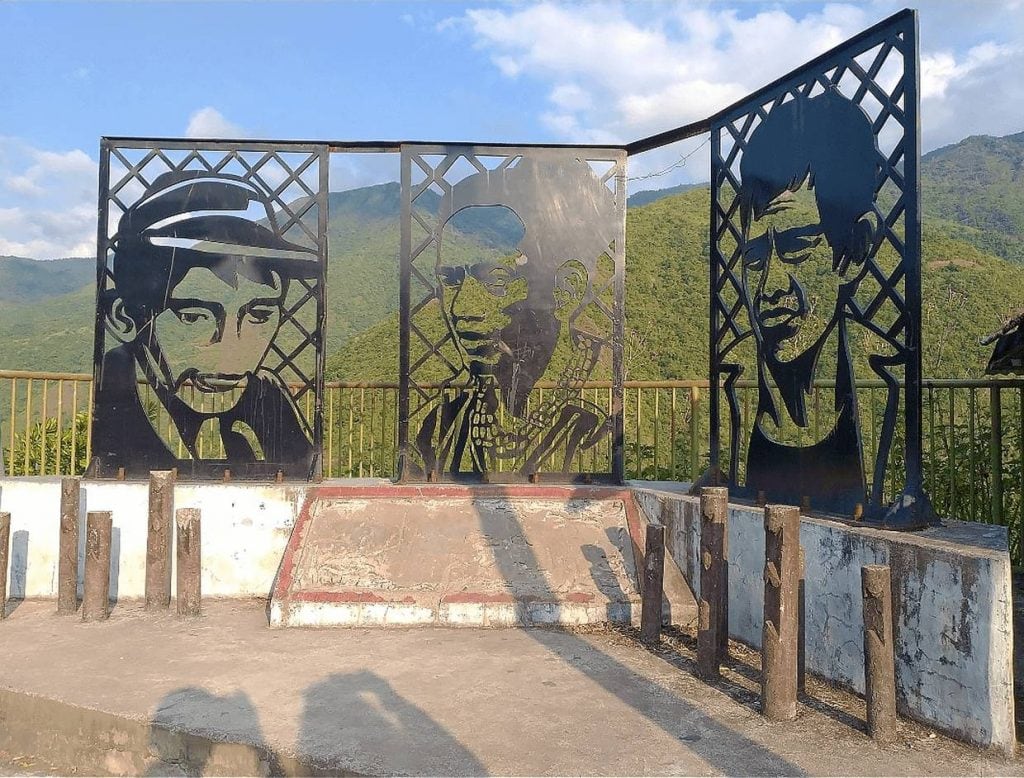 April 24 is commemorated as Cordillera Day. His name is now inscribed on the Bantayog ng Mga Bayani Wall of Remembrance. Macli-ing Dulag, a local folk hero, belongs to the pantheon of martyrs and heroes who fought against the regime of Marcos Sr.
The women of Kalinga and Bontoc, on the other hand, showed their fortitude in a non-confrontational way. Bontoc women, opposing the exploitation of natural resources by corporate mining giants, and Kalinga women resisting the construction of the Chico River Dam project, performed tribal rituals in front of the engineers and workers which included disrobing their upper garments. This bare-chested protest was meant to jinx unwelcome strangers. Moreso, the tattooed bodies of the women spooked the intruders. It brought bad luck to the surprised viewers.
Tattoos were symbols of power and pulchritude. Men earned them by proving their bravery. Headhunters wore them with pride. Women inked their bodies as a testament to beauty. Tattooing is an age-old tradition in the Philippines. Even the Spanish chroniclers called the Visayans "Pintados." Up north in the Cordilleras, a centenarian gained world-wide fame after she was "rediscovered."
Apo Whang-od Oggay
Whang-od is a 106-year-old tattoo artist who is considered the last "mambabatok" of her generation. She practices a tattooing method involving hitting or tapping using a traditional stick and bamboo. The thorn needle used is from the pomelo tree while the ink is from the soot of pots. I have heard of Whang-od during my backpacking days in Sagada and Banaue but never explored Kalinga except for some swimming lessons and transit point to Bontoc. Kalinga gained some attention again because of Chico River but this time because of white water rafting. Adventurers, local and foreign, flocked to Kalinga to try Kalinga's world class rapids.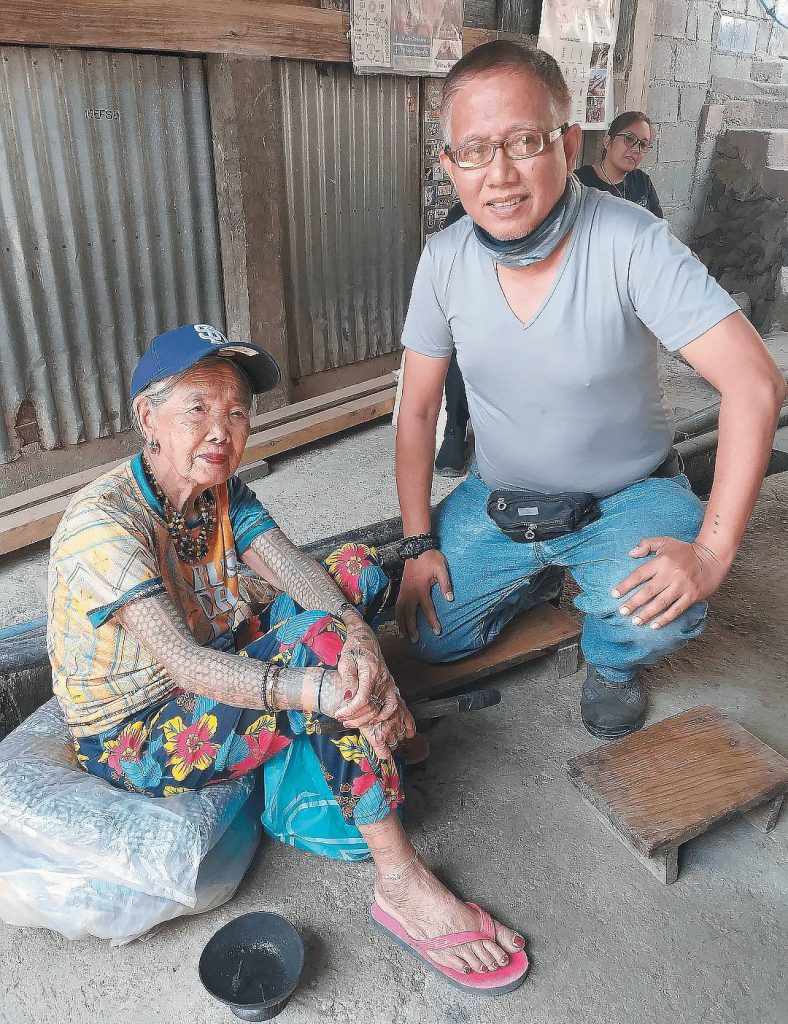 Nowadays, droves of tourists brave the winding roads of Buscalan in Tinglayan, Kalinga to be tattooed or simply have a photo with Whang-od. Recently, Whang-od has been the unofficial poster girl of Kalinga. You will see her image in posters, brochures, even Kalinga Coffee products. But what made her an international sensation was when she made it as the cover of a glamour magazine. Hollywood celebrities, supermodels went agog after seeing the cover. Whang-od became the oldest person to grace the cover of the renowned magazine. She not only redefined the concept of beauty but also revived traditional Kalinga tattooing by mentoring first her two grand nieces. Later, many Kalinga women and girls learned the ancient art. There are many designs to choose from symbolizing bravery, beauty and other traits but I opted for the simple Whang-od signature of three dots. Now, I wear them with pride.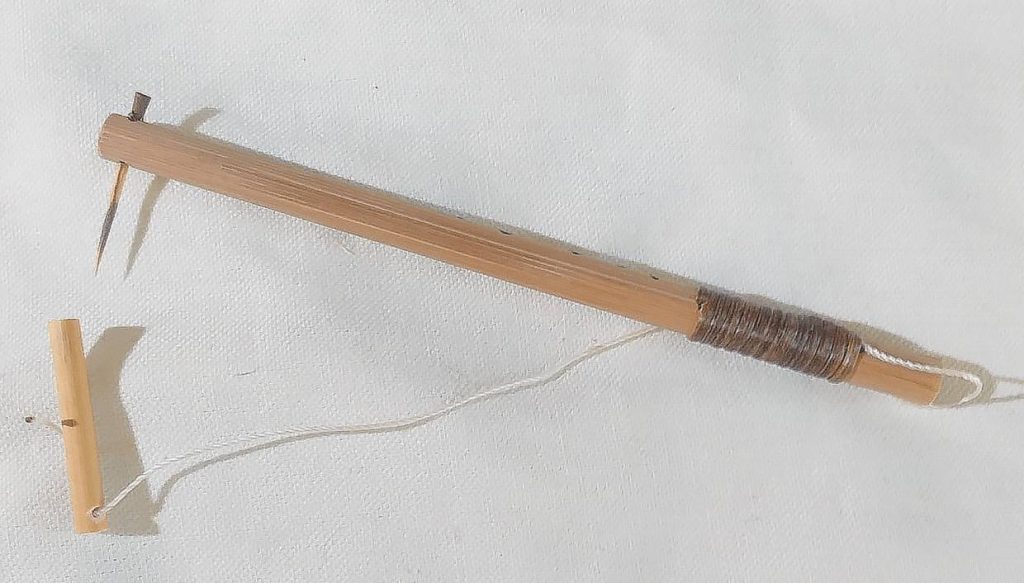 Beauty is not only expressed skin deep in tattooing but also skin cover in weaving. At Barrio Mabilong, Lubuagan, a band of designers, models, and media personalities combed the hilly houses for traditional weavers. Many houses practiced backstrap weaving, all done by women. Their favorite color is red for bravery with strands of green, yellow, and white. It takes seven days to weave a blanket and three and a half days to make six yards excluding setting up for color combination (ganay). Every year, Lubuagan celebrates the Laga Festival which highlights the weaving tradition of Lubuagan.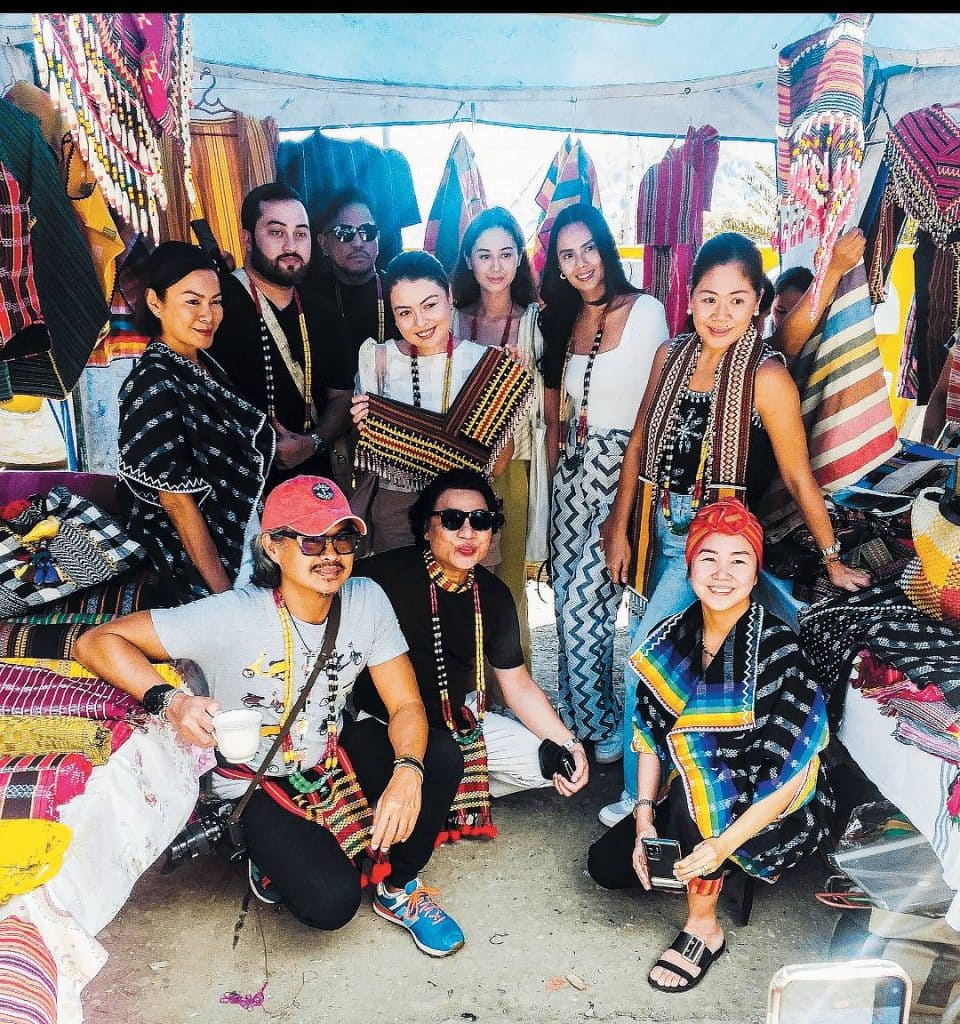 Capital of the Revolutionary Government
Historically, Lubuagan was once the capital of the Revolutionary Government when Emilio Aguinaldo stayed there from March 6 to May 17, 1900 before being captured in Palanan, Isabela. A marker is temporarily placed inside the municipal building.
Awichon Cultural Village
A few minutes from Lubuagan town proper is Awichon. This is a cultural village established by Alonzo Saclag, the Gawad Manlilikha ng Bayan 2000. There are several authentic Kalinga houses and rice terraces with a sunken area where Kalinga dance is performed with the participation of guests garbed in Kalinga attire. Although the Kalinga dance is simple, I was mesmerized to no end. The slightly slumped men playing the gongs were followed by women who danced gracefully with their arms spread apart as if in a flying mode.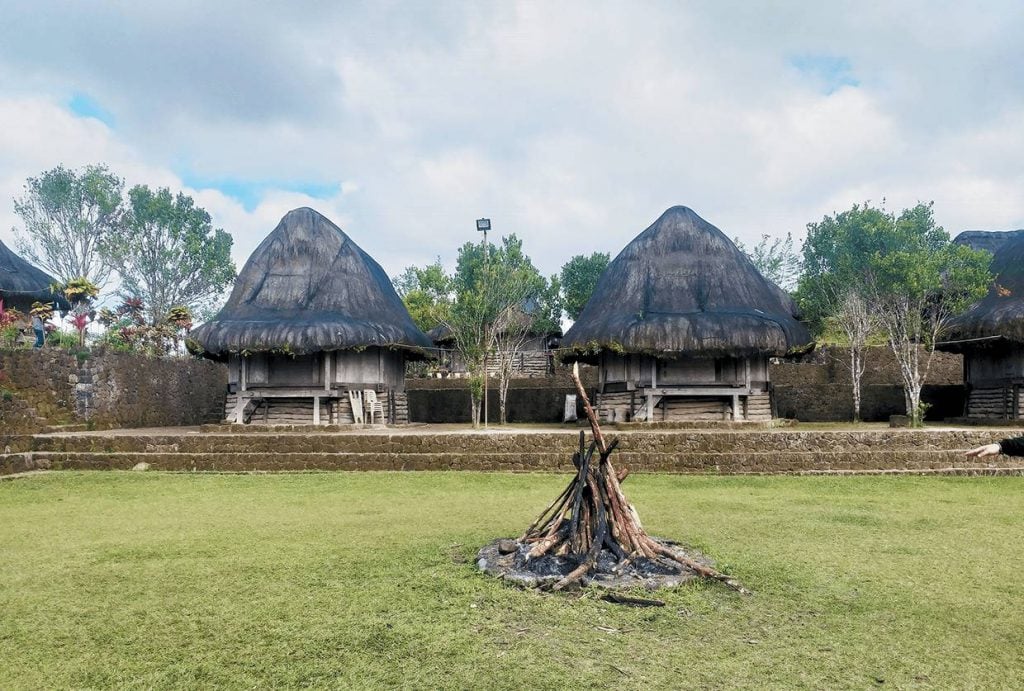 Awichon has the most spectacular view of the mountains of Lubuagan. They have cottages for overnight accommodation. Another popular stopover for a mountain view is the Sleeping Beauty in Tinglayan and Tanudan. This is the silhouette of sleeping Dinayao, the legendary lass from Tanudan, who mourned the death of "Binsay," a brave Tinglayan warrior. It is considered a Monument of Love and is included in the new provincial seal.
While in Awichon, we were served with slow food from Pasil. Kalinga has a rice variety called "unoy" which can only be found in three places in the world. Another slow food, chong-ak, is an endangered heritage food. During our lunch in Awichon, there was a demonstration on how to make inandila, a natural delicacy made of sticky rice with muscovado.
Naneng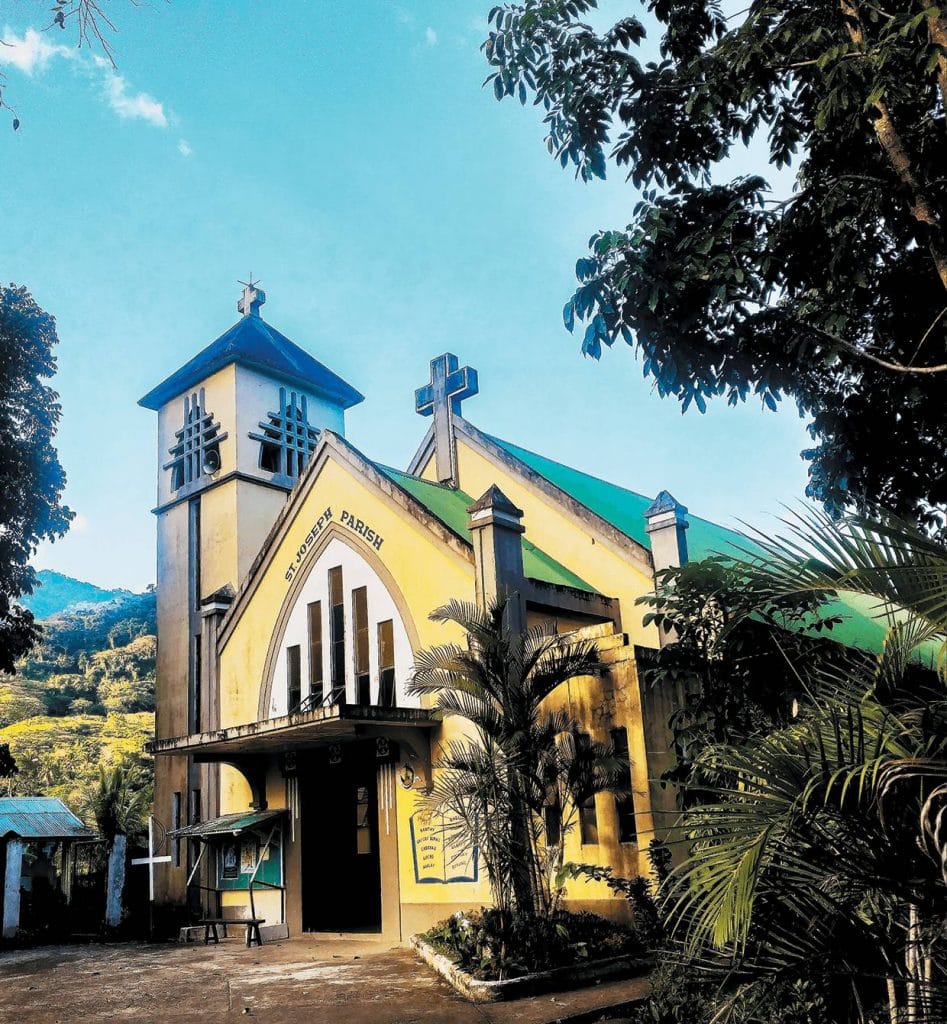 Another cultural village is Naneng which means flood. This town was inundated when Chico River overflowed but the houses remained intact. If the Spaniards were not successful in spreading Christianity in the Cordilleras, the Belgians were. They established a mission in Naneng and built St. Joseph Church in 1927. This quaint village is also known for its weaving tradition. An ideal place for homestay and a good jump-off for white water rafting in Chico River, Naneng was judged one of the best Cordilleran cultural villages.
Guinness Book of World Records
Earlier this year, Kalinga was listed in the Guinness Book of World Records as the largest gong ensemble and the largest pot dance. Beyond this world record, Kalinga is blessed with natural wonders and a brave race. Tattooing, weaving, white water rafting, among others, make Kalinga a unique destination.
Bodong
Headhunting and tribal wars are things of the past. The Kalingas now embrace Bodong which is a peace pact or treaty among tribes. This unique judicial system has also been adapted in Ifugao and the Mountain Province. From Macli-ing Dulag's courage to Whang-od's tattooing craft, Kalinga has been the home of ancient traditions. Let us not forget that Kalinga means fighter and the y'Kalingas will always fight for their traditions and freedom.
(Thank you to the Tourism Promotions Board, Lorraine Ngao-i (0949-128-3547) of Kalinga Tourism, Atty. James Tagaotao of Lubuagan and the people of Kalinga for making this a memorable trip).
* * *
JP Ordoña (Manilakad) leads Manilakad Walks in Intramuros, Binondo, Quiapo and more. Let him guide you to several walking destinations in Manila. Manilakad (JP Ordoña) can be reached on Facebook Messenger or through text at 0916-3597888.