Looking for places to beat the summer heat?
While Tagaytay is always the top of mind destination for those based in the metro, there are alternative destinations near Manila where weather is also generally cooler.
Here are some resorts near Manila where you can cool down with refreshing scenery and enjoy fresh mountain breeze on day trips or overnight stays.
Mount Purro Nature Reserve
Mount Purro Nature Reserve is a simple and sustainable family-run eco-park in the foothills of the Sierra Madre Mountain Range in Antipolo, roughly a 1.5-hour drive from Metro Manila. The temperature in the area is often compared to Baguio (especially at night), minus the long drive.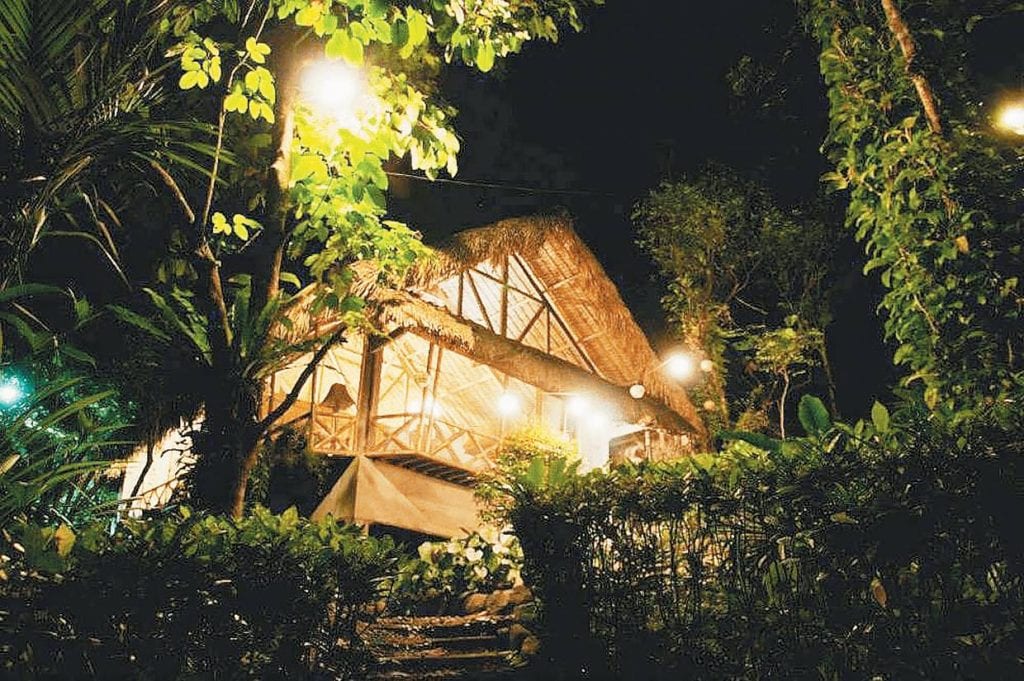 The resort is open for day trips, camping, and staycations with comfortable farm-style loft, ground cottages, and Dumagat Model homes for overnight stays.
Rates range from P4,000 to P6,000 a night.
Guests can catch the sunrise during a beginner-friendly forest hike up Malvar's Peak or go for a river walk. Mount Purro also has a swimming pool, an in-house restaurant, a nature playscape for kids, and open air huts surrounding a bonfire pit area.
Mount Purro Nature Reserve is located in Barangay Calawis, Antipolo, Rizal.
For inquiries and room rates, visit their website.
Martessem Mountain Resort
Tanay has really boomed in popularity as a result of the pandemic. This mountain town in Rizal is roughly just a two-hour drive from Metro Manila, yet temperatures are known to drop to 21°C in the evenings and early mornings even during summer months.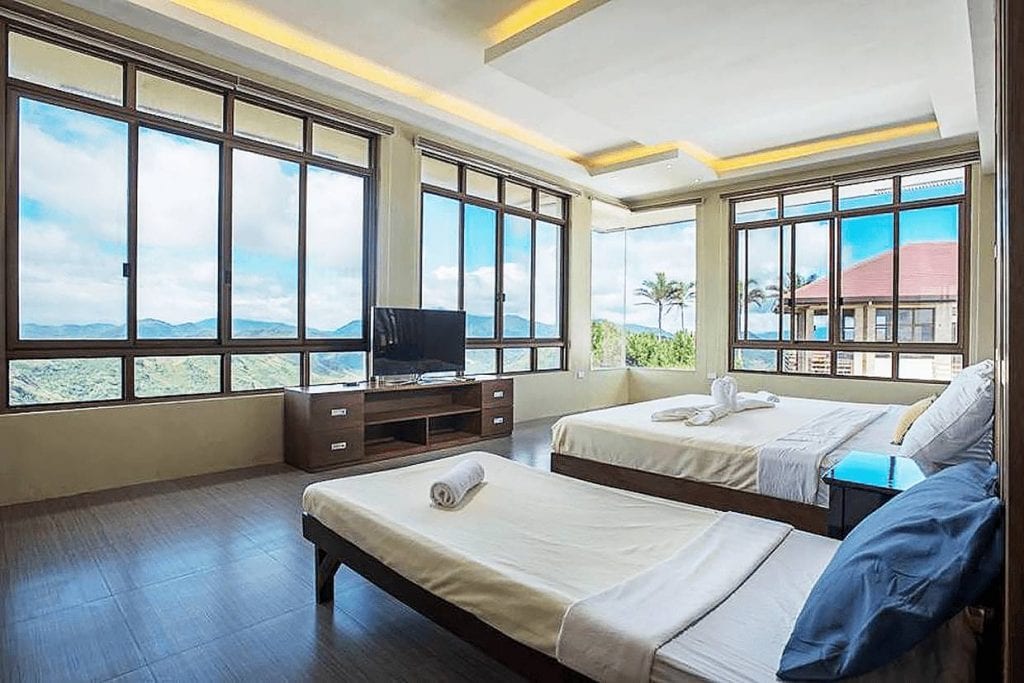 While there are many places for back to basics camping or glamping, there are also a few family-friendly leisure resorts with more amenities. One of the larger establishments in the area is Martessem Resort, located on a hilltop 2,000 feet above sea level. Previously just a restaurant popular among motorcycle riders, Martessem has expanded as an events venue with guest rooms and activities. They have a swimming pool for checked-in guests, horseback riding, a spa, koi pond, and lagoon.
During certain months, you can wake up to a scenic view of the sea of clouds here. This resort also brings you closer to the Pililla Wind Farm and Daranak Falls, if you want to extend your stay.
Martessem Resort, Sitio Mayagay, Marcos Hi-way, Cuyambay in Tanay, Rizal.
For inquiries, visit their Facebook page.
La View Mountain Resort
La View Mountain Resort is a cafe, restaurant, and resort in the mountains along the Marikina-Infanta Highway in Real, Quezon. The area roughly just a two- to 2.5-hour drive from Manila is known as Little Baguio and is commonly frequented by motorcycle riders because of the foggy and cold weather.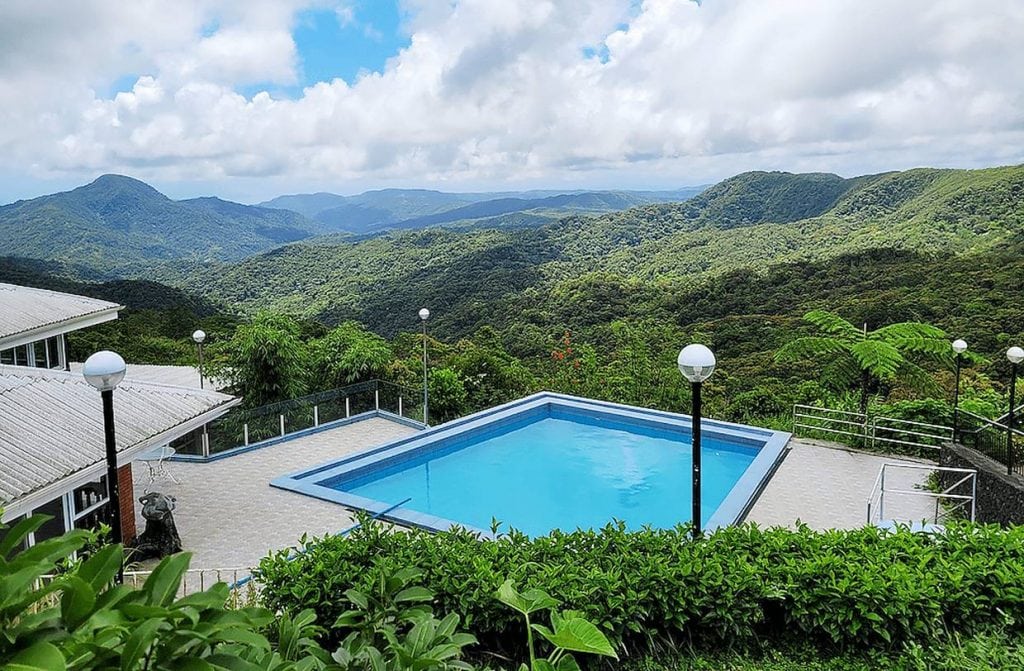 La View offers a wide range mountain view, cabin style interiors, and cool weather. Aside from catering to walk-in restaurant guests, they also offer rooms for rent, including cozy A-frame cabins and Barkadahan villas for larger groups. Rooms start at P4,000 a night for two guests with breakfast.
Take a dip in their infinity pool or enjoy hot chocolate or coffee with the amazing view of the mountain ranges. You can also stop by the Km 90 Little Baguio Botanical Garden nearby or drive on further to visit other eco-parks and waterfalls. Take note that WiFi is a bit weak in the area, so be prepared for an off-grid/digital detox stay.
La View Mountain Resort. 93 Marikina-Infanta Highway, Real, Quezon Province.
For inquiries, visit their Facebook page.
Caliraya Ecoville Recreation and Farm Resort by Cocotel
Caliraya, a lakeside area situated between the towns of Lumban, Cavinti, and Kalayaan in Laguna province, is known for being one of the windiest areas in Southern Luzon. Located 1,200 feet above sea level, Caliraya is known for its cool temperature, usually around four to five degrees cooler than Manila and it can feel even colder because of the windchill on breezy days. Getting here is about a 2.5- to three-hour drive east of Metro Manila.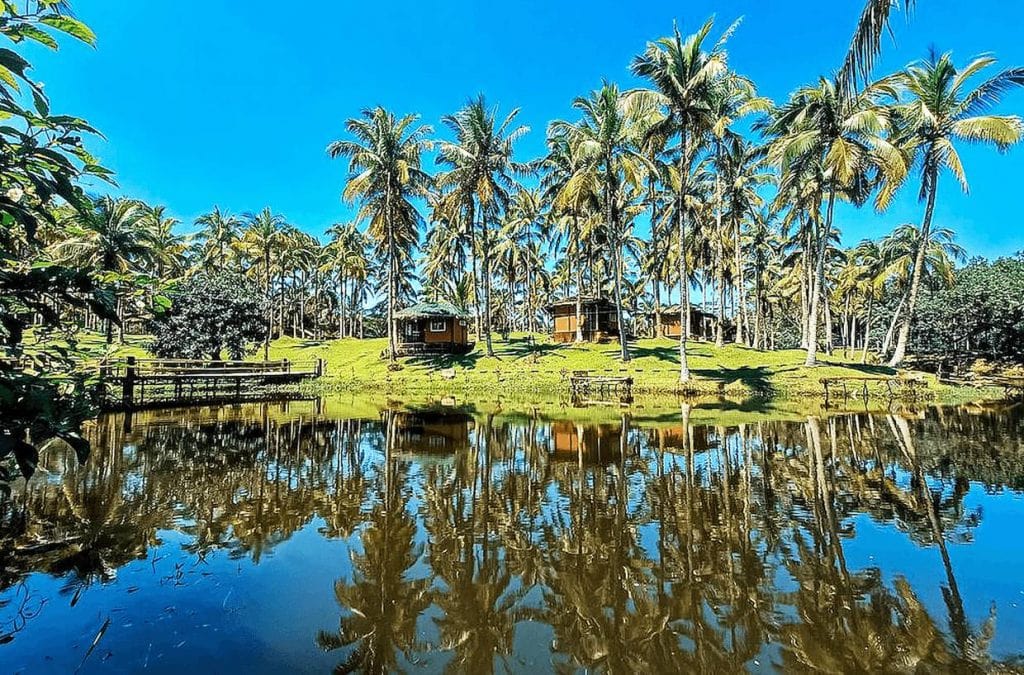 Caliraya Ecoville Recreation Farm is a lake and farm resort that offers various accommodations ideal for families, couples, and groups. They have premium lakeside cottages and air- conditioned hotel rooms to choose starting at P2,999 per night. There are also more basic accommodations like Nipa Hut rooms and spacious grounds for camping for those who want to enjoy the great outdoors.
The 20-hectare facility has a two-hectare fish pond, campsites, nature trails, dining and indoor game area.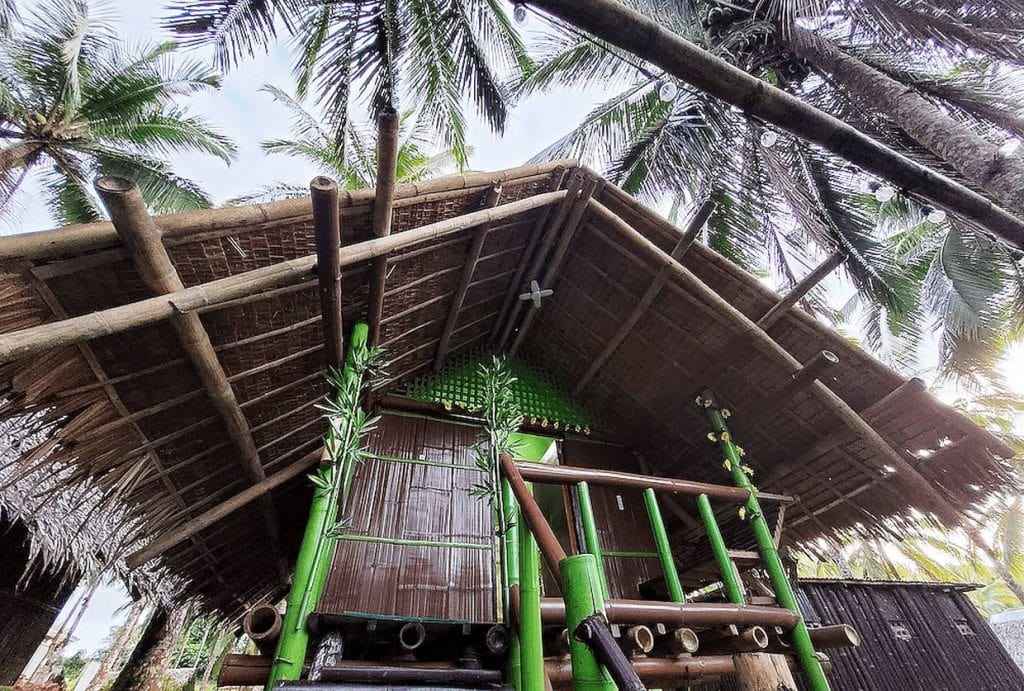 Guests can enjoy kayaking, stand-up paddle boarding, fishing, soft archery, Caliraya Lake boat tours, and other nature activities.
Caliraya Ecoville Recreation and Farm Resort by Cocotel, Lumban – Caliraya – Cavinti Road, Cavinti, Laguna.
For inquiries, visit their website.
Batis Aramin Resort and Hotel
Some destinations in the foothills of Mount Banahaw enjoy cooler weather because the climate system of the mountains causes rains to be evenly distributed throughout the year.
Batis Aramin Resort and Hotel in Lucban sees a lot of cloudy and rainy days, which can be a welcome respite from the Manila heat.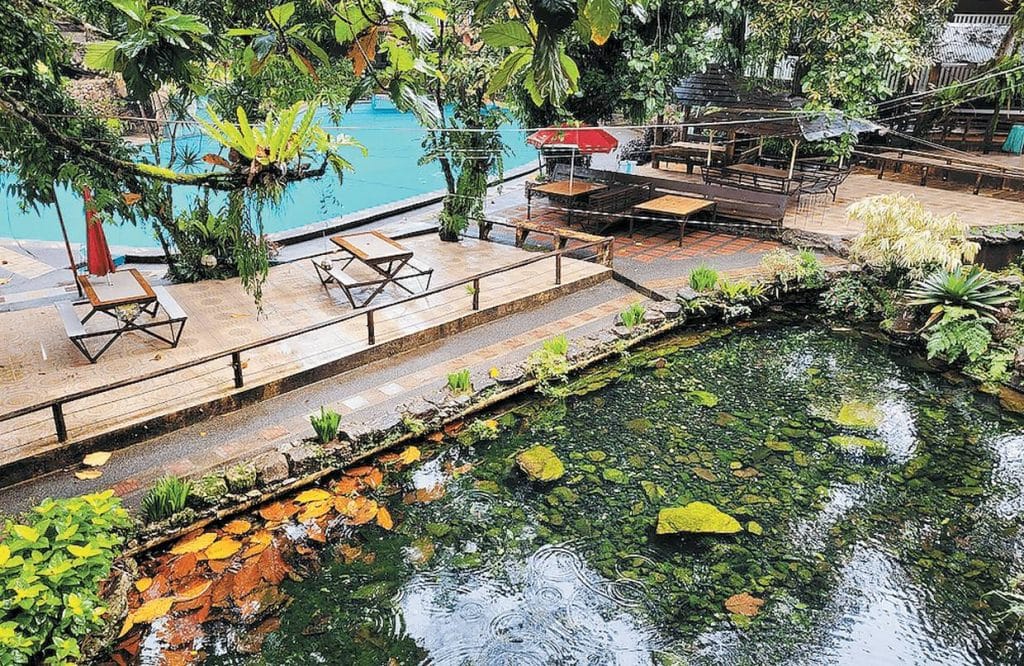 The resort near the famous Kamay ni Hesus Shrine is roughly a three to 3.5- hour drive from Manila. Batis Aramin offers various room types for couples, families, and larger groups.
Basic rooms for two start at around P2,750 per night with a consumable food voucher of P500 for a total of P3,250.
To cool down, guests can take a dip in one of the resort's many swimming pools.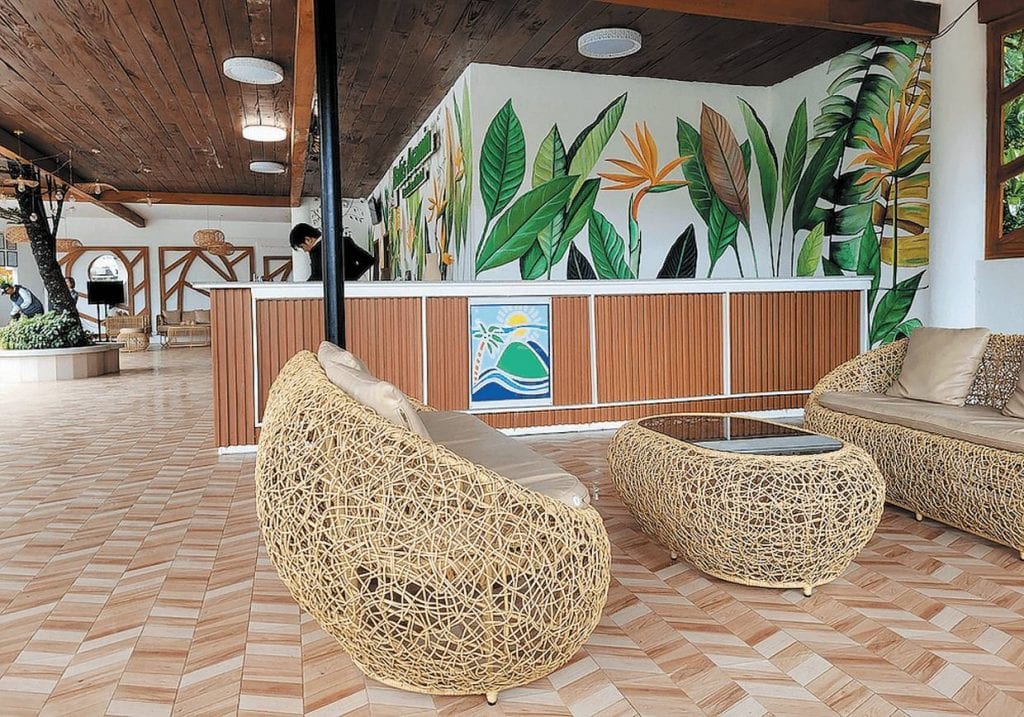 The resort also has lush gardens, nature trails, an adventure park, and IG-worthy photo areas including flower fields and hobbit houses on the premises that day trippers can visit.
Batis Aramin Resort and Hotel is located along Tayabas Road in Lucban, Quezon.
For inquiries, visit their Facebook Page.
Keep your cool this summer (and avoid getting a heat stroke) by heading to these mountain destinations with family and friends.