It's summer again and one way to beat the heat is to head to the beach and enjoy the waves. Or one may choose to have a seaside home.
Seafront Residences, the beach development in San Juan, Batangas by Aboitiz Land is the perfect destination for those seeking a seaside home.
The real estate arm of the Aboitiz group offers a family-friendly environment, and now with the annual Seafront Summerfest, it is a must-visit destination all summer.
Summerfest festivities at Seafront Residences at San Juan, Batangas are open from March to June.
Thus, Seafront Residences invites everyone to embrace the sun, sand, and sea at Sunkissed: Seafront Summerfest 2023 which lines up plenty of summer activities for the family until June.
The festivities started yesterday wth Heirlooms in Fruition, a weekend to celebrate heirloom pieces that can be enjoyed today and passed down to future generations from Jewelmer and Seafront Residences. Learn more about the fascinating world of pearls as Jewelmer's Pearl Talk unlocks the mysteries behind this sustainable treasure.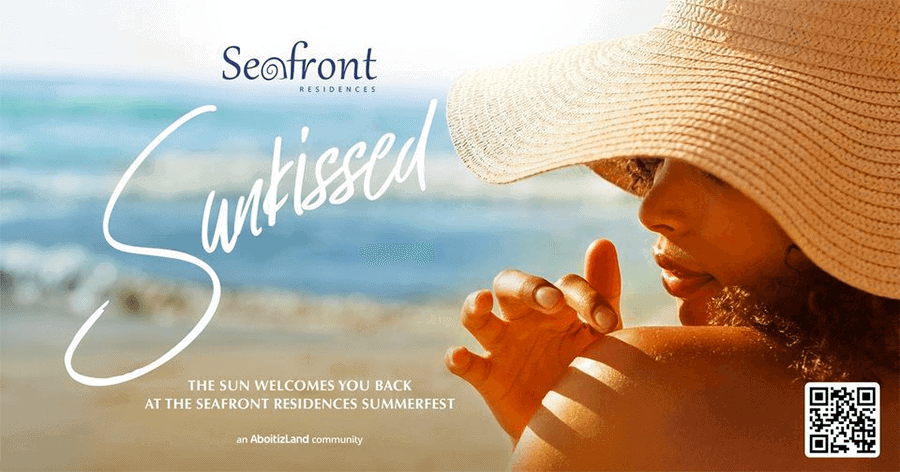 Aboitiz Land will also launch The Tides at Seafront Residences, a weekend market that will be open all weekends starting March 25 until June featuring well-curated merchants offering great food for all ages.
In April, Beach Volleyball Republic will be back at Seafront Residences to hold a beach volleyball tournament featuring top players from the well-known professional and collegiate teams as well as seasoned beach volleyball players AJ Pareja, Bea Tan and Bianca Lizares.
The month of May brings Music by the Beach, where up-and-coming artists will perform. In June, the grand opening of The Ultramarine at Seafront Residences will take place, adding to Seafront Summerfest's excitement and providing gastronomic treats for all.
Innovating lifestyle
The property offers a range of choices, including houses and lots, residential lots, and condominiums called villas. The development is gaining popularity among wealthy buyers, including high-net worth couples, millennials, business owners, those looking for an investment portfolio addition, a summer home, or an upgraded work-from-home setup with easy access to the beach.
Seafront Villas are also great investment pieces, especially for people looking for low maintenance properties that can be rented out on weekends or leased to tenants. The development is accessible through the STAR tollway and South Luzon Expressway, facing Tayabas Bay's beautiful coastline.
But this unique summer escapade isn't the only reason to visit Seafront Residences. Since its launch in 2017, Seafront Residences has enjoyed 381 percent property value appreciation.
In addition to this, the Seafront Villas are available at only P22,800 monthly until March 31, 2023, while residential lots are available starting at Php 14,000 monthly until the same date.
This makes the property not just a destination, but a worthwhile investment.
Seafront Residences is a thoughtfully planned residential community designed to provide a peaceful and serene environment for its residents. Living in Seafront Residences is a tranquil and rejuvenating experience, as the community is designed to provide a healthy and active lifestyle.
The community is also a thriving one, with friendly neighbors and a sense of community spirit that fosters a close-knit and supportive atmosphere.
For more information, https://www.seafrontresidences.com.ph