There is always something distinct about the developments of Eton Properties Philippines.
For one, you will see them in good, coveted locations such as prominent areas or corner lots and more importantly, they are uniquely created to cater to the needs of the different markets.
Its Blakes Tower project in Makati is no exception.
It's no surprise that the development won "Best Mixed-Use Development" in the 2022 Carousell Property Awards, adding another to Eton's cap.
"We are pleased to present the Best Mixed-Use Development award to Eton Properties' Blakes Tower for their exemplary efforts to fulfill the growing demands of Filipino home seekers," said Shine Resurreccion, Carousell Philippines' country representative.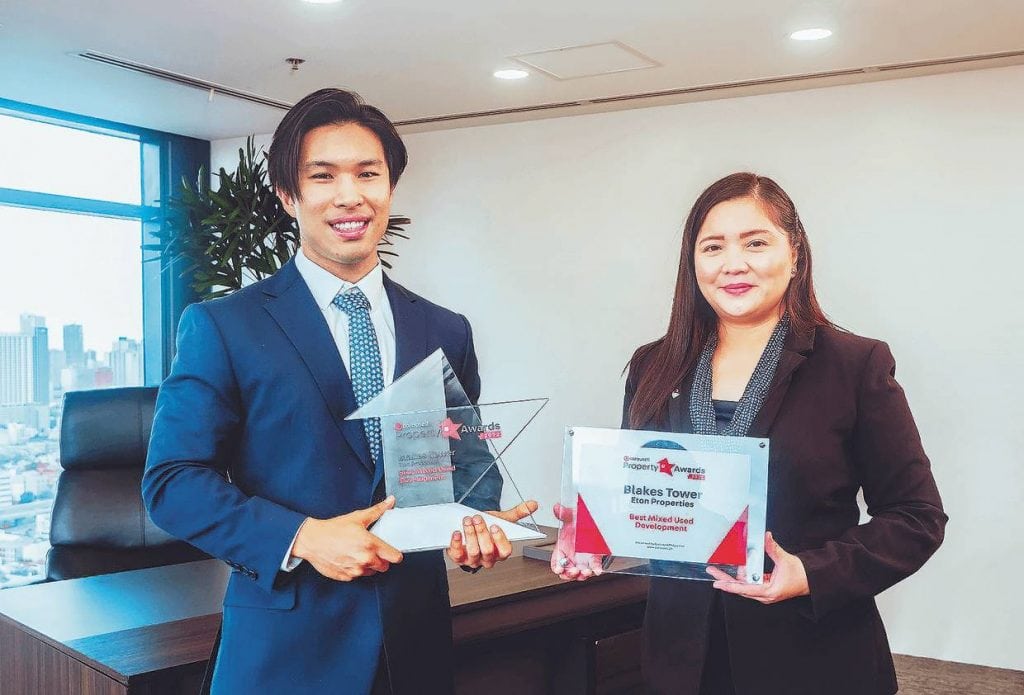 Curated property components
Indeed, Blakes Tower brings together an exciting mix of curated property components — a testament indeed to the passion of the Filipino worker, as Resurreccion said.
"The mix of residential spaces and offices is well-designed for today's knowledge workers who value flexibility and agility — a testament to their passion and our aligned vision to provide every type of home for every Filipino," she said.
Blakes Tower, within the Eton WestEnd Square in West Makati, has 36 storeys, with an office portion, alongside residences for lease, capitalizing on the work-life integration that is very much relevant now after the pandemic.
It has 11 office floors and 15 residential floors, the rest of the floors dedicated to amenities and parking.
Blakes Tower is a game changer, giving users more options or easier mobility — their office is near their home, more appropriately, in the same building in fact.
With a residential component, Blakes Tower is in fact an ideal one-stop-shop for employers who would like to provide a safe residence for their employees within the same building of their workplace. Meeting, breakout rooms and recreational amenities would also be accessible for both Blakes Tower office workers and residents to promote productivity and make seamless work-life integration possible.
It also has small and flexible office units to keep up with the current market demand.
"Businesses these days prefer small office spaces to save on office expenses like utilities, supplies, among others. With today's hybrid business model of having a work-from-home arrangement and only essential departments having the need to report daily, shifting to a smaller office can significantly cut down costs for companies," said Kyle Tan, executive director of Eton.
Easily accessible
Yet this isn't the best part. More importantly, Blakes Tower is easily accessible through the LRT-1 train, public buses, jeepneys, cabs, and tricycles, with major commercial centers just a few minutes away.
The Eton WestEnd Square development, where Blakes Tower is situated, also features eWestMall, which houses two floors of retail spaces, ensuring no shortage of different lifestyle options.
"We would like to thank Carousell Property Awards for the chance to showcase our mixed-use building, Blakes Tower; and for recognizing its potential, inventiveness and quality of work that we strive to deliver in all our developments. With this recognition, you have inspired us to raise the bar, and bring our company to greater heights," said Tan, son of the late Lucio "Bong" Tan Jr. who headed Eton until he passed away in 2019.
This is the second time that Blakes Tower has received such recognition. The project was cited as highly-commended "Best Mixed-Use Development" in the 2021 Philippines Property Awards where Eton Properties was also given a Special Award in ESG for its Environment, Social, and Governance best practices.
Eton Properties is the real estate brand of the Lucio Tan Group, one of the biggest business conglomerates in the Philippines.
Its foreign counterpart, Eton Properties Ltd, is an established real estate brand in Hong Kong and mainland China. With an extensive land bank in strategic locations all over the country, Eton specializes in high-end and mid-income high-rise and horizontal residential developments, office projects, commercial centers, and mixed-use township developments.