Whenever Love Month comes around, you can expect the usual spots in places like Antipolo and Tagaytay to be crowded, especially during weekends. These days, it's getting harder to find restaurants near Manila where you can enjoy refreshing views, quality food, and the company of your loved ones, without the long waiting time or terrible traffic.
In case you don't want to join the usual crowd, here are a few new restaurants with a romantic vibe in alternative weekend destinations that you can add to your travel wishlist.
Cafe Giya
Eastridge in Angono has become a popular alternative destination among weekend trippers based in Manila. The hilly private subdivision, which also houses the Angono-Binangonan Petroglyphs, is home to popular dining establishments and cafes, as well as ArtSector Gallery, a museum cafe that offers a view of the cityscape.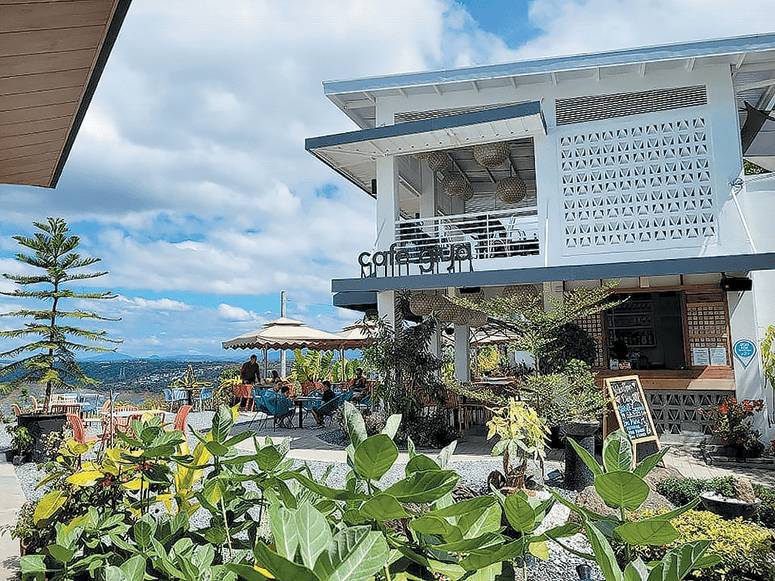 The latest dining destination here is Cafe Giya, a charming al fresco cafe opened in November 2022, that offers a romantic pit stop to enjoy coffee and refreshments. The cafe is pet-friendly and bike-friendly, for those who want to combine their dining with cycling adventures near the city.
Cafe Giya, Extension, G/F Cafe Giya Building, Block 2, Village East Executive Homes, 3 Col. Guido, Angono, Rizal
Palpitate Coffee Tanay
Palpitate Coffee is a minimalist aesthetic coffee chain with several locations in Quezon City, Taytay, San Mateo, Clark, and Antipolo. The cafe is known for serving specialty coffee, along with tasty dishes and sweet bites to eat.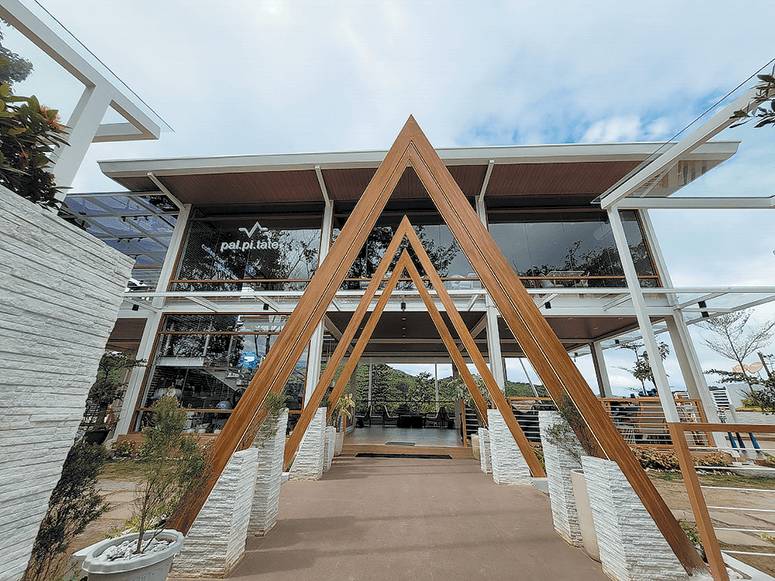 Their newest branch, which opened in December 2022, is located in Brgy. Cuyambay in Tanay, Rizal, just a little off the main highway frequented by road trippers. Visitors can get a refreshing and unobstructed view of the mountains here while enjoying their drinks. The two-story cafe also has a mini-playground for kids.
Palpitate Coffee Tanay, 916 Cuyambay Rd, Tanay, Rizal
Balconahe Pililia
Fancy a meal or drink with a view of windmills and a lake? Balconahe in Halayhayin, is a cafe and restaurant on the way to Pililia Windmills in Rizal, that opened just last October 2022.
Located along Manila East Road, on the way to the towns of Caliraya and Pagsanjan, Balconahe Pilillia serves unique yet affordable dishes like Chicken Biryani, Pad Thai with chicken and shrimp, Laguna Bay Seafood Chowder, Chap Chae, and Seafood Pasta, to name a few. They also serve family-style dishes for sharing, solo rice bowls, snacks, and iced and hot beverages.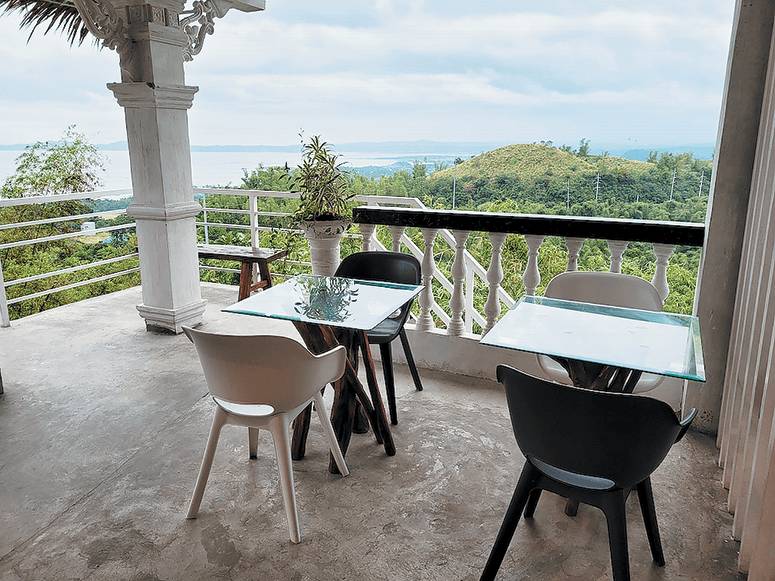 Guests can chill out literally and enjoy the strong breeze at the Sky Lounge view deck, which also has a small dipping pool, on the top floor of the cafe.
Balconahe Pilillia, Kawayan Farm St. Laak, Pililla, 1910 Rizal
Tomato & Basil Cafe
For those taking road trips to Batangas, Tomato & Basil Cafe is a hidden gem in Mataas na Kahoy, with its refreshing scenery overlooking Taal Lake. Experience dining under the canopy of trees, with views of nature and breathe in the fresh air at this farm cafe on weekends.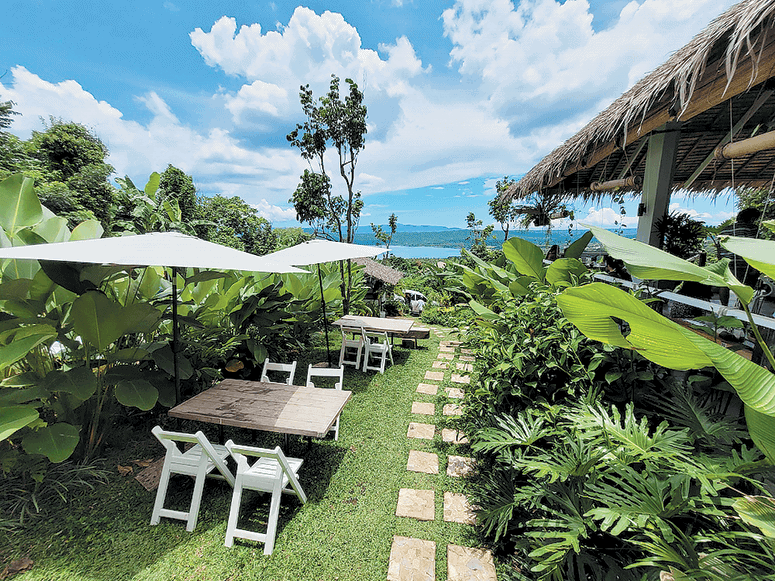 Their breakfast menu specialties include Beef Tenderloin Saplicao, Blueberry Pancakes, and Crispy Chicken Brioche. They also serve fresh fruit smoothies with seasonal fruits and homemade yoghurt, coffee, basil tea, and more.
Tomato and Basil Cafe. Purok 7, Brgy. San Sebastian, Mataas Na Kahoy, Batangas
Roadside Casa
Chances are if you're driving down South to the beach in Laiya or onwards to Quezon, you'll have to pass through the town of San Pablo in Laguna. To ease the journey and traffic, you might as well take a break for a good meal somewhere.
Casa San Pablo is a well-established bed-and-breakfast and garden venue in the area. Their newly opened Roadside Casa, which launched in December 2022, is a pizzeria and cocktail bar that offers a casual, yet romantic al fresco dining experience for visitors, even those who aren't checked in.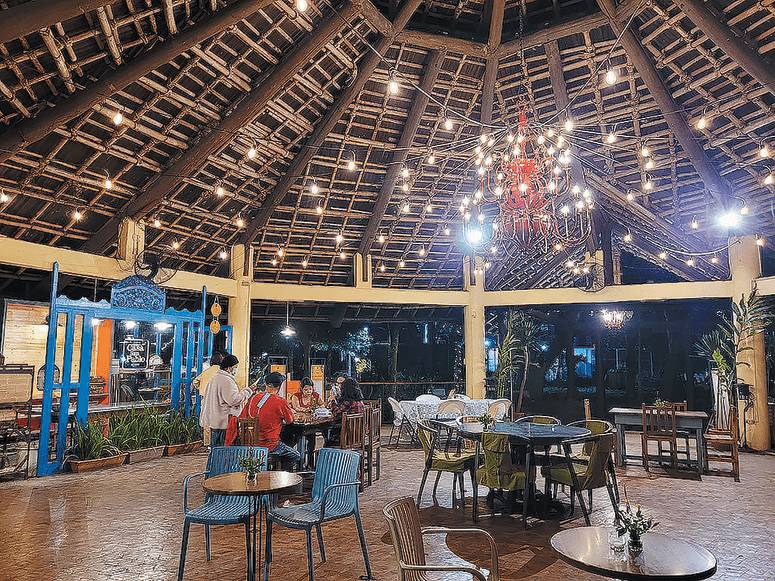 Guests can enjoy acoustic music with the rustic ambiance and chow down on unique dishes like Sisig & Kulawo Artisan Pizza or Kesong Puti with Garlic Pizza paired with cocktails perfect for relaxing nights.
A new attraction here is a mural recreation of Van Gogh's Starry Night in a large empty swimming pool right below the restaurant's dining area, making a perfect backdrop for selfies and unique photoshoots.
Roadside Casa, Casa San Pablo, 38C7+QWH, Colago Ave, San Pablo City, Laguna