Tycoon Edgar "Injap" Sia II has set his sights on the world arena.
He is bringing his Hotel 101 brand outside the Philippines, making it the first Filipino-owned global hotel brand.
Toward this end, DoubleDragon Corp., the listed holding company chaired by Sia, through its Singapore-listed subsidiary Hotel101 Global Pte. Ltd. will tap the offshore equity venture capital markets for a $125 million capital issuance.
This would prepare Hotel101 Global for an initial public offering in the coming years.
DoubleDragon said its board approved a $125 million dollar-denominated Series A and Series B offshore equity capital issuance by Hotel101 Global.
Hotel101 Global will be DoubleDragon Corp.'s vehicle for all Hotel101 developments outside the Philippines.
Hotel101 Global is intended to be the future overseas IPO vehicle for the DoubleDragon Corp.'s international expansion of Hotel101.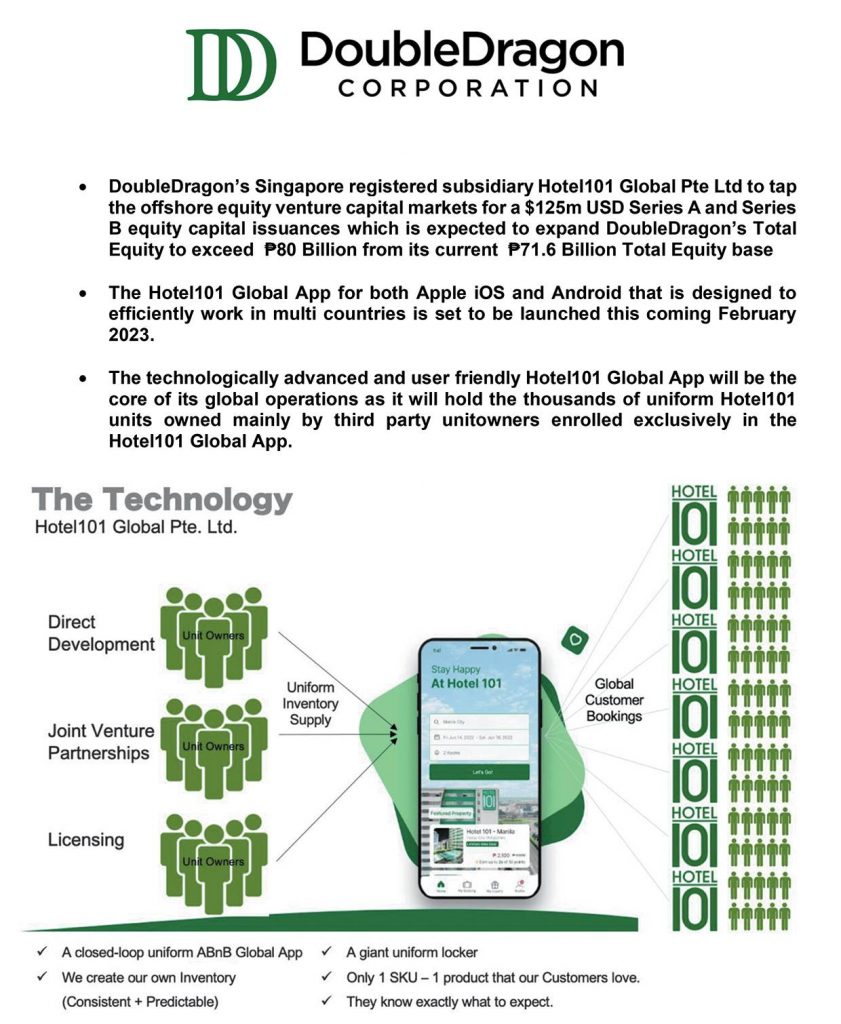 "This capital exercise would also enable Hotel101 Global to achieve its aspiration of eventually becoming a listed company in a stock exchange abroad as Hotel101 Global trails its way toward its vision to eventually become one of the Top 10 largest hotel brands in the world," Sia said.
Hotel101 Global is creating a portfolio of over 200,000 rooms by 2035 to be developed through direct investments, joint ventures with local companies in other countries, and through brand and concept licensing arrangements.
Series A offshore institutional investors will have the opportunity to be one of the first batch of venture capital investors that can take early equity positions in Hotel101 Global.
The first Series A tranche of Hotel101 Global Pte Ltd Series A is set to launch in January 2023 with a series of investor calls with offshore venture capital institutions.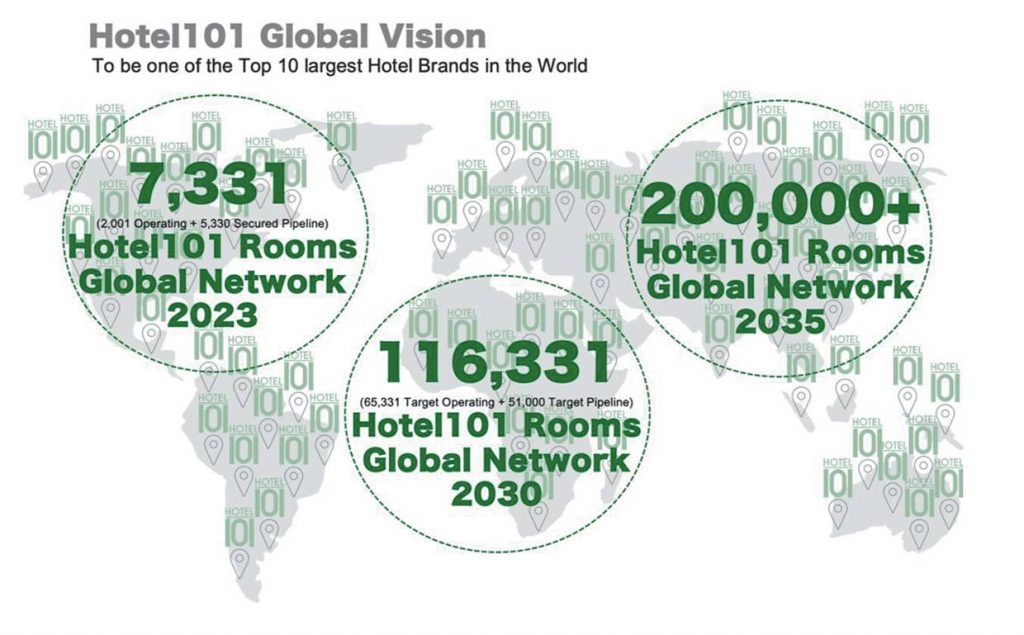 Hotel101 rooms globally are generally uniform in size and caters to the mid-end market, enabling a highly efficient booking process allowing guests to know exactly what to expect in a Hotel 101 wherever it may be located.
The concept patent of Hotel 101's pioneering condotel concept has already been filed and the Hotel 101 trademark and country specific domains have been secured in various countries globally.
The Asset Light Hotel 101 concept allows DoubleDragon to generate revenue and income twice.
The first is from the pre-selling of the Happy Rooms, then second, after the project is constructed, it generates long term recurring revenue from hotel operations.
DoubleDragon Corp. is also launching in February next year its Hotel 101 Global App for both Apple iOS and Android that is designed to efficiently work in multi-countries.
The first overseas Hotel 101 overseas will be in Niseko, Japan with about 518 rooms and is expected to generate $137.3 million in hybrid condotel pre-selling sales revenue starting in the first quarter of 2023.
In all, Sia said DoubleDragon envisions the homegrown Filipino Hotel 101 brand to become world-class in all standards and create job opportunities for Filipinos who reside in the Philippines or abroad.
It also aims to bring pride and honor to each and every Filipino from anywhere around the world where it may eventually locate and operate.