Loud cheers and ceremonious laughters were heard with every swing of a golf club at the luscious greenery of the beautiful Sherwood Hills Golf Club in Cavite. There were plenty of smiles and cheers to punctuate the momentous occasion.
This is how employees and executives of Suntrust Properties, Inc. (SPI) celebrated the company's 25th year in the real estate industry last November 14. For lawyer Harrison M. Paltongan, president of SPI, he chose golf-playing as part of the group's celebration, as the sport closely mirrors the way Suntrust is run.
"We did not just play golf this morning. Lahat ng mga recoveries na sinabi ko about Megaworld, Suntrust, and Sherwood were because of certain principles and values that we all demonstrated when we learned and played golf. Itong mga values na 'to are things that we should apply in our work and lives," he said in a special message in front of SPI employees.
For 25 years, SPI has recovered from a lot of setbacks and has risen to various levels of success thanks to the valiant efforts of their employees to provide quality homes to the Filipino people. And SPI gives back to these employees by allowing them to experience a variety of events such as various charities, a sportsfest, a golf tournament, a cheerdance competition, and many more. Truly, it was a day to remember for everyone at SPI.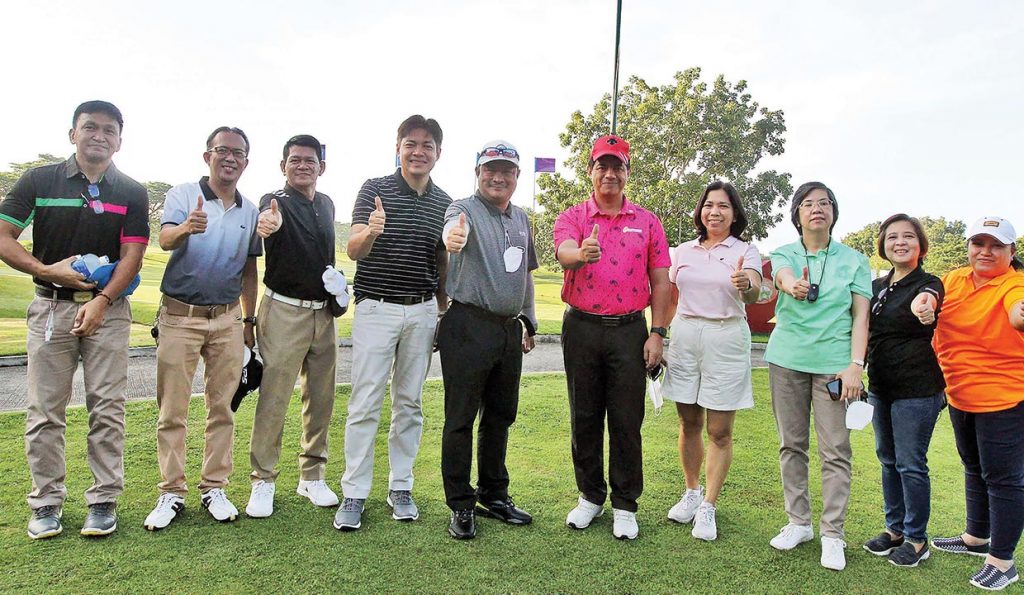 Secret to success
SPI employees and executives started the morning right with a hearty breakfast and a briefing of what to expect from their company's silver anniversary celebration. Afterwards, they enjoyed performances from the cheerdance competition and prepared themselves for the golf tournament, as well as enjoying snacks from the food kiosk and doing fun poses in the photobooth.
An afternoon program took place after lunch, which began with an invocation led by SPI first vice president for sales and marketing Jerry R. Rubis. Senior vice president and lawyer Basilio C. Almazan, Jr., then, kicked off the program with his welcoming remarks, putting the spotlight on SPI's "best kept" secret to its success: its employees.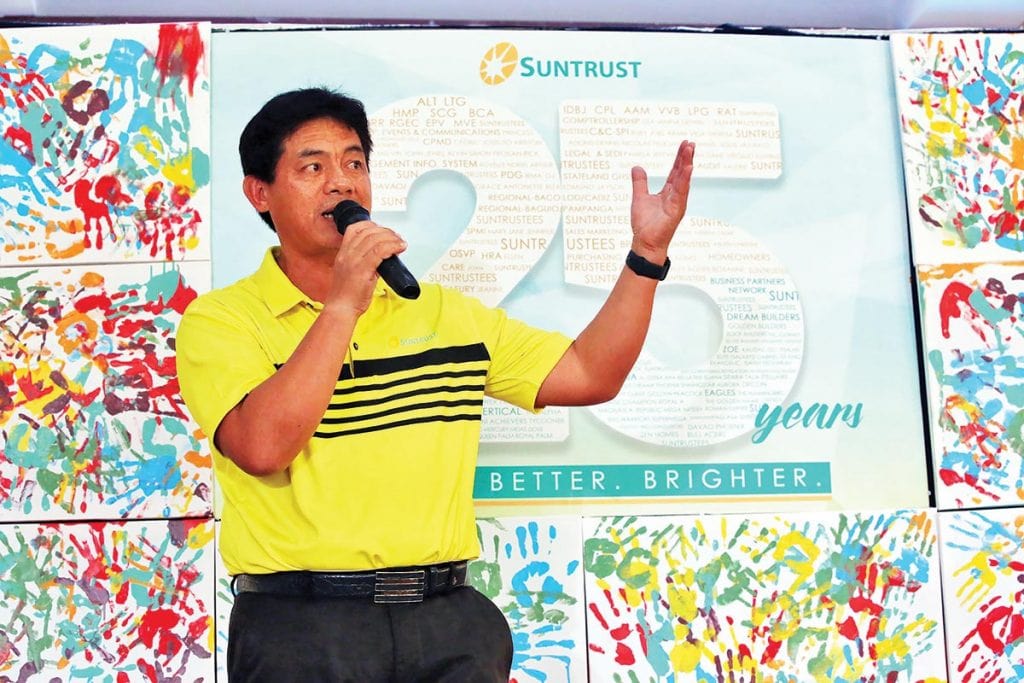 "You are the most special reason for this occasion. Kayo mismo 'yon! The Suntrust employees," he said. "Ang success ng Suntrust is never about one person, it's never about the executive committee alone, it's never about the managing committee alone, it's about all of us. 'Yan po ang essence ng ating lahat."
Almazan, then, emphasized how every employee will always have a home and family in SPI.
"Suntrust is our family and our home. For me, dalawa ang importante lagi: Competence and character—the way you treat each and everyone as a family, because that is who we are. We will always treat this company as our home and our family," he explained.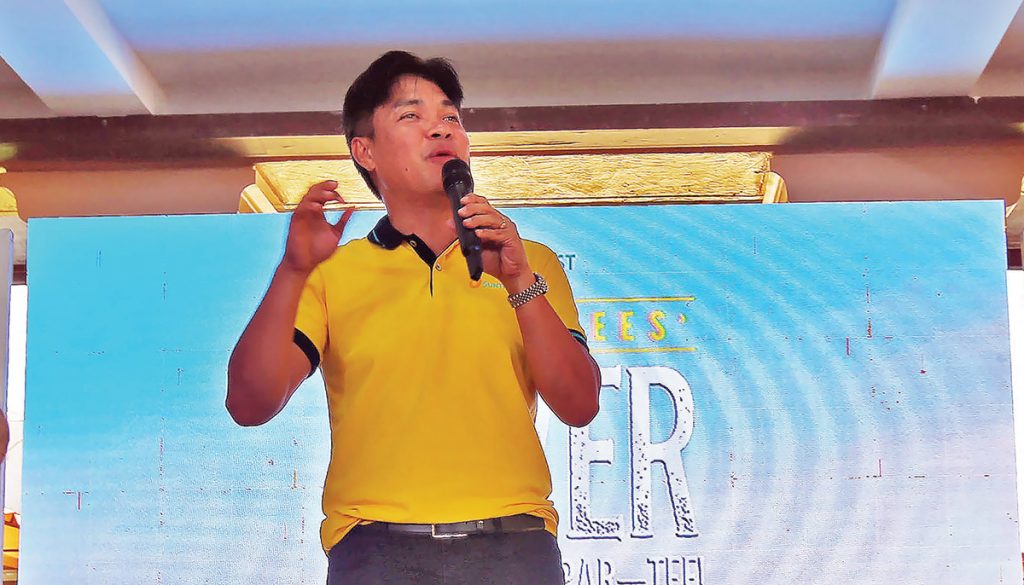 Moreover, he emphasized the need to be continually inspired to do work, and treat every day as their first day on the job.
"We have to continue to be inspired, having that excitement from day one up to forever. Dapat 'yon ang baon natin papunta sa beyond," Almazan told SPI employees. "We (also) have to love our work because this is the work giving joy not just to ourselves but also to our families. Kung wala tayong trabaho dito, wala tayong mailalapag na pagkain sa pamilya natin, which is very very important."
SPI abides by certain values and principles, embodied in their creed. This creed is recited by employees everyday to remind themselves of how the company progresses in the industry. Almazan reminded the SPI employees that they should value their creed and take what it means to heart.
"We have to empower ourselves. Ano ba sabi sa creed? We are leaders. Anyone of us here is a leader. Empower yourself. Hindi mo na kailangan maghintay for somebody else to tell you. Dapat 'yon 'yong baon mo para sa magandang kinabukasan, para sa sarili mo at para sa Suntrust." he said.
He concluded his speech by talking about SPI's resiliency throughout the years, especially with the many crises it has faced in the past, including the 1997 Asian Financial Crisis and the COVID-19 pandemic.
"We are still here, strong and united. We're very very resilient. Because we are a family, we are a team, we have that resilience to overcome kahit ano pang dumating sa atin na pagsubok. Whether financially, economically, health-wise or whatever, kayang-kaya natin 'yan because we are a team," Almazan said. "Always remember na ang susi sa tagumpay ng Suntrust ay 'yong sinasabi ko kanina. We are all the secrets of Suntrust and we should be proud of that."
Giving back to the community
Later in the day, an awarding ceremony took place for the winners of the golf tournament and cheerdance competition. Awards were also given to participants during intermission numbers as well as those who took part in a special game for the company's executive and managing committees.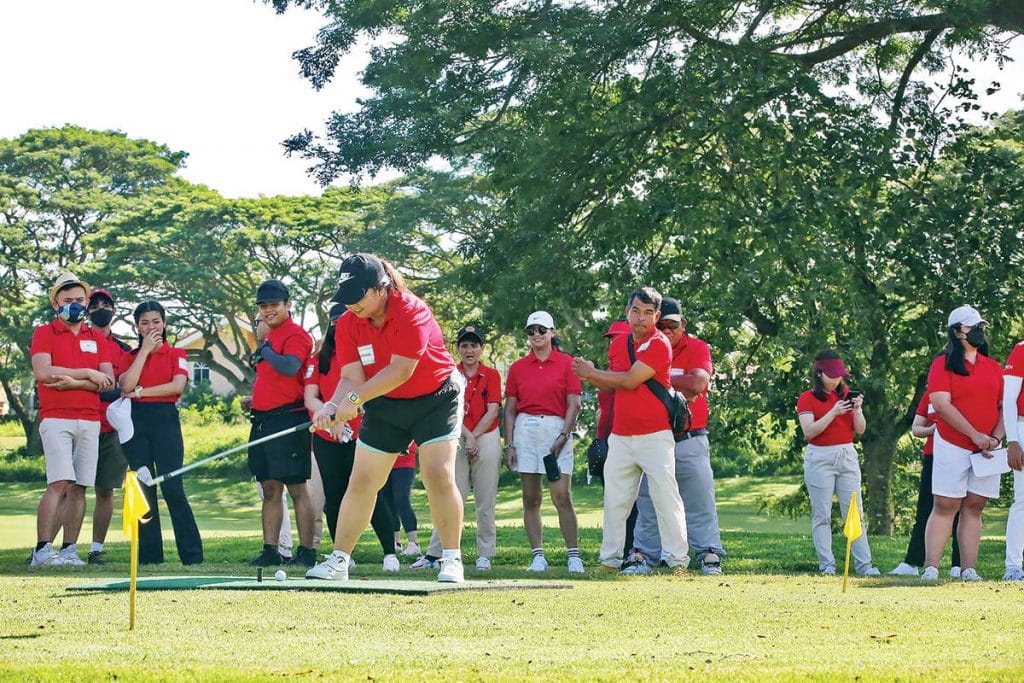 SPI also honored the employees who took part in the '8 Rays of Suntrust', a series of community activities that aimed to empower Suntrustees who uplift the lives of others.
'8 Rays of Suntrust' began last September 3, with a livelihood boot camp in Lipa City, Batangas called "Bente Seen Kong Pag-Asa" which was a crash course on beauty and wellness conducted by accredited TESDA trainers to selected beneficiaries.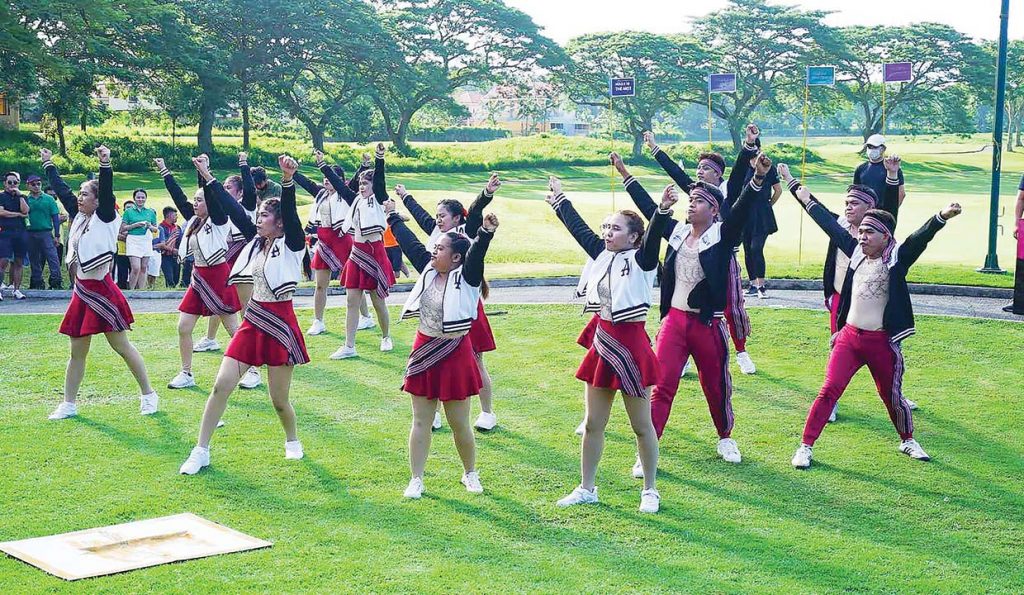 Last September 17, SPI employees conducted its second leg of the program in Pasig City with "25 Wheels of Life" which saw them turn over 25 wheelchairs to mobility-impaired residents of the city.
Another program took place on the same day which was called the "EmbRAYS of Kirana," where selected beneficiaries in Pasig City were given special treats from volunteer employees and sponsors, including donations, dental check-ups, hair treatments, and many more.
In September 24, SPI employees brought smiles to members of Bahay Aruga through their "Bentesingkong Aruga" program where they initiated a gift-giving and donation drive to the aforementioned non-government organization that provides free shelter to cancer-stricken kids in Manila.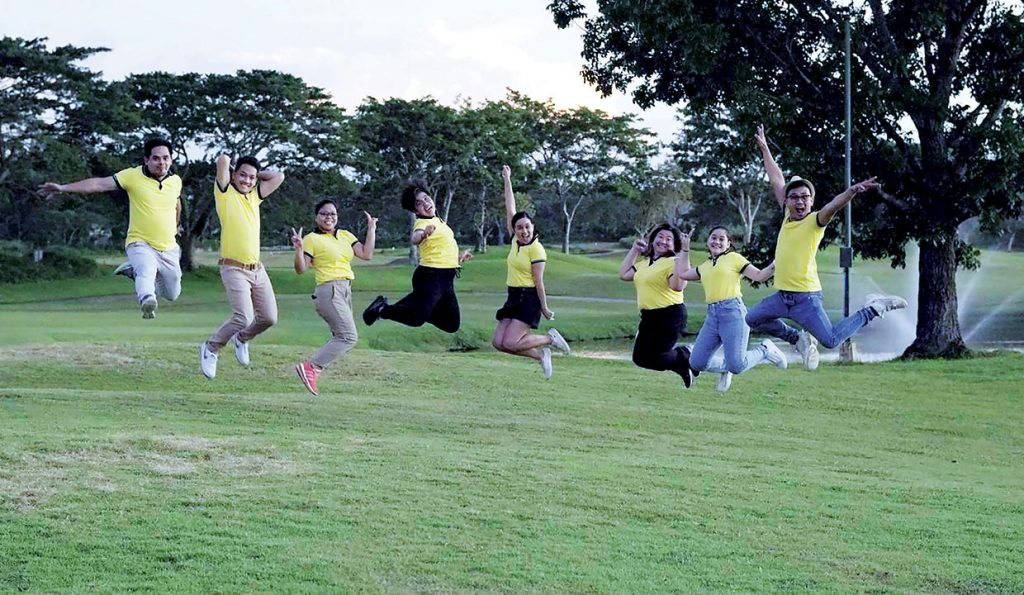 In their "Fountain of Goodness" project in Cavite, SPI employees gave their time and resources to help Bukid Kabataan, a shelter and recovery home for children scarred by their tortured past. The place provides food, shelter, clothing, education, and counseling with the hope of giving full healing for the children so they can live a normal, meaningful life one day.
In the sixth leg of the program, SPI employees donated to children, persons with disabilities, and the community of Barangay Manibaug in Porac, Pampanga in their "25 Beams of Happiness" program, giving them school supplies, wheelchairs, and basic needs, respectively, as well as dental missions and a tree planting event.
"Lyamado Bentesingko" is the seventh leg of the '8th Rays of Suntrust' program which saw SPI employees conduct a livelihood seminar to nearby barangays of Calamba, Laguna. Basic hair-cutting and massage therapy were taught in a series of workshops with the help of TESDA and Suntrust contractors.
The final leg of the program took place in Quezon City where SPI employees offered medical assistance through dental and eye check-ups to residents of the area. Through the help of Suntrust contractors and partners, as well as volunteer dentists, the Philippine Association of Optometrists, Inc. and members of the barangay council, "Clear Eyes, Sparkling Smiles" was a complete success.
Commending hard work
In a surprise video message, Megaworld Corporation COO and senior executive vice president and Suntrust vice chairman Lourdes T. Gutierrez-Alfonso congratulated SPI employees and executives on their silver anniversary.
"I am glad that you are taking this time to mark this milestone in a way that highlights your unity and uplifting spirit. The Lord has given this company the gift of achievement and progress year after year. Today, on your 25th year, He has guided you to this point in your history where you can look back and truly appreciate how far you've come," she said.
Gutierrez-Alfonso lauded the purpose and passion every SPI employee shown in their work despite the effects brought about by the COVID-19 pandemic.
"You were committed to doing your best amid the influx of challenges. You were steadfast in working on both individual and collective goals for the good of the company and you never lost hope when the market situation seemed disheartening. In the past years, more than ever, you've strengthened your communication and collaboration and made things happen together," she explained.
"Many other crises came your way but you have been able to come out better and more prepared on the other side," she added.
Suntrust chairman Dr. Andrew L. Tan also addressed SPI employees in another video message, praising them for remaining resilient amidst trying times for the past two years in the COVID-19 pandemic.
"The past few years have certainly been challenging for everyone. The pandemic brought us valuable learnings but it also brought out the best in us. We remain strong, resilient, and supportive of one another," he said. "I have seen how Suntrust has grown and evolved through the years. I am confident that you are continuing on the right path."
Tan, then, recalled how SPI is no stranger to overcoming obstacles, as the company began during the 1997 Asian Financial Crisis and faced different setbacks like the 2010 global financial crisis and the COVID-19 pandemic, but emphasized that the real estate company is still here rising from various successes.
"Suntrust is still here, going strong and celebrating its silver anniversary. That is truly something to be grateful for and as part of the Megaworld company, the journey of Suntrust closely resembles that of Megaworld which was established during trying times in our country's history," he looked back. "We have been able to rise above various difficulties across different industries. The entire group has a strong foundation and, together, we have the momentum that will drive us forward during those post-pandemic times."
Echoing the statement of Almazan and Gutierrez-Alfonso, Tan commended the SPI employees for their hard work throughout the years, which contributed to the success it has as a real estate company for 25 years.
"I've said before that people are the lifeblood of the organization. I believe this still holds true and it is our people that keeps Suntrust a winning company. I would like to applaud the hardwork of every employee and Suntrustee. Thank you for your hard work, loyalty, and malasakit. There are no small roles in the team. You are all vital to the achievements of the company," he said.
Life lessons from golf
The anniversary wall of the company was then officially unveiled, showing all painted handprints of employees and executives depicting the unity and togetherness of the SPI family.
Closing the event was SPI president Paltongan who started off his message by highlighting the key term malasakit which has guided the employees through the years. "We always ask the basic question 'Is this good for the company?' If so, we do it because it will also be good for ourselves," he explained.
In the week leading to SPI's 25th anniversary, SPI employees were given after-office golf trainings so they can enjoy the sport more. Paltongan said there are lessons in golf that mirror work and life.
"We must always have a vision to create something out of nothing, one clothed with focus, courage, and determination. Like in golf, we learned it even if it was hard. We never gave up. We saw the challenges and fun doing it. In life, we do not get everything we want. So we keep learning and getting better," he explained.
Apart from having a vision, Paltongan explained the importance of trusting in your team "You need to believe it is a winner, so you can give your all. So you must contribute and help each one do the same. That was why we trained. It is the same in our work. We must always enhance our skills and discover our God-given potentials," he added.
He concluded his message by highlighting the corporate social responsibilities participated in by the employees. "Charity is a privilege. Not everyone can be a giver. As a team we made these series of events successful. It was not only for the beneficiaries but it was also for us. We saw the power in each of us to bring a smile to them—and to bring them hope."
He then thanked all who brought SPI to its 25th year: " To our clients and homeowners, employees, selling suntrustees, contractor partners, our suppliers, agencies and service providers, banks and insurers, our media partners, our joint venture landowners, and our chairman and our board."
#BrandedUp