In the Pole Position of Cebu's Long-term Growth
Cebu, touted as the Queen City of the South, is already a global tourist hotspot, but it still has much to offer beyond colorful festivals, historical landmarks, and stunning natural attractions.
As the top economic capital in the south, Cebu's rapid growth has set the pace for progress in the Visayas and Mindanao.
In sync with Cebu's upward track is Ayala Land Inc., the first developer to stake a huge capital in the province when it built the Cebu Business Park in the 1980s.
Since opening Ayala Center Cebu in 1994 and launching Cebu IT Park in 1996, Ayala Land has stayed the course as the most committed and influential developer on the island.
"The Ayala Land estates have served as a catalyst for major businesses, especially the I.T. BPM companies around Cebu Business Park (CBP) and Cebu I.T. Park (CITP). The industry has progressively developed over the last few years. The industry was thriving in CBP and CITP, and continuously attracted more business relocators and ventures to be in the vicinity given the Ayala brand," said Buddy Villasis – Executive Director of the Cebu I.T. BPM Organization (CIB.O).
Then and Now: Proven Commitment to Long-term Growth
It all started over 30 years ago. Armed with a bold vision, Ayala Land began the development of Cebu's first modern business district – the Cebu Business Park – in 1989.
Aligned with the Cebu government's farsighted vision, Ayala Land drafted a long-term blueprint to transform the city's 50-hectare golf course property into a prime, integrated, mixed-use capital.
The rest, as they say, is history. Today, that vision has expanded beyond Cebu Business Park.
Ayala's estates in Cebu now include the adjacent Cebu IT Park in Lahug, Gatewalk Central in Mandaue, South Coast City in South Road Properties, and Seagrove in Mactan.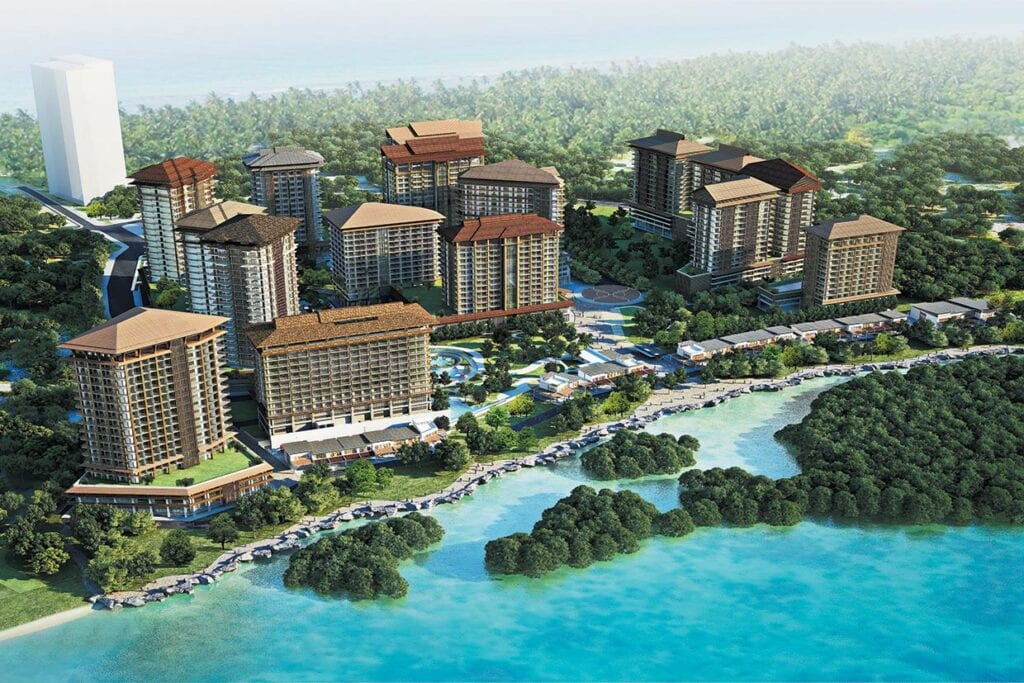 "While we have created newer estates, we also continue to strengthen our core in Cebu Business Park," said Yeng Tupaz, Ayala Land VP and Sr. Estate Development Head.
"Starting in 2021, we embarked on an extensive redevelopment program to update CBP's infrastructure, use of open spaces, site resilience, and pedestrian and bicycle mobility. We are here for the long haul. We will continue to invest and reinvest in every estate we build in Cebu for generations to come."
Indeed, Ayala's five Cebu estates – now spanning over 130 hectares are built for the long term. They are constructed meticulously and constantly updated, reflecting Ayala's longstanding mission of nurturing land for the future.
Pioneering Centers of Culture, Tourism and Commerce
Cebu Business Park and Cebu I.T. Park are at the heart of Cebu's developments in the city. Both districts have become integral to the way of life of Cebuanos. Cebu Business Park is the city's thriving central business district, while Cebu IT Park is the region's I.T. capital and has evolved into a vibrant work and lifestyle hub.
To support Cebu's unstoppable growth, Ayala also teamed up with SM Prime to develop South Coast City, a new business district poised to replicate the success of Makati and Mall of Asia in Cebu. Located along the Cebu South Coastal Road and fronting the Cebu Strait, South Coast City is a 26-hectare master-planned gateway estate linking North and South Cebu with Mactan.
Within South Coast City is Cebu's new prime commercial destination, The District Square. With only 11 lots, The District Square is an exclusive address set to become a world-class progressive business district beside large-scale attractions such as the SM Arena, SM Convention Center, and the South Coast City Park.
Seagrove in Mactan, meanwhile, is Ayala Land's first ecotourism venture in Cebu. It is envisioned to meld nature and tradition with its breathtaking views, tropical features, and keen attention to cultural heritage. Once complete, Seagrove will beckon travelers to experience world-class resort amenities, local cuisine, unique arts and crafts, and thrilling adventures amid Mactan's amazing seascape.
Unique Value Proposition
Ayala Land's Cebu estates benefit from decades of experience and insight, coupled with the company's sterling record of investments.
Cebu Business Park's value appreciation over the years is amongst the highest in the region, rising from P10,400 per square meter in 1990 to P280,000 per sqm today. All these directly translate into solid values that appreciate year after year.
"Ayala is unfaltering in its dedication to shared value growth," added Tupaz. "We always strive to build solutions that leave a net positive impact for our communities, country, and environment."