Procore Technologies Inc. revealed in its benchmark report 'How We Build Now 2022 – Tracking technology in Asia Pacific Construction in 2022 some changes in the construction industry, the current market standing of the industry, the digital maturity and adoption of construction technologies, as well as the challenges and opportunities that businesses within their scope are facing.
The leading global provider of construction management software found that in the post- pandemic outlook, the construction industry is still facing significant drawbacks:
58 percent of the respondents found that the top challenge for them is the increase in cost of raw materials, followed by the safety of working environments at 44 percent of the respondents' concern, and the increasing productivity at 40 percent.
However, 98 percent of the respondents, expressed confidence about industry conditions over the next 12 months, with an overwhelming majority also expecting an increase in the number or value of projects over the same timeline.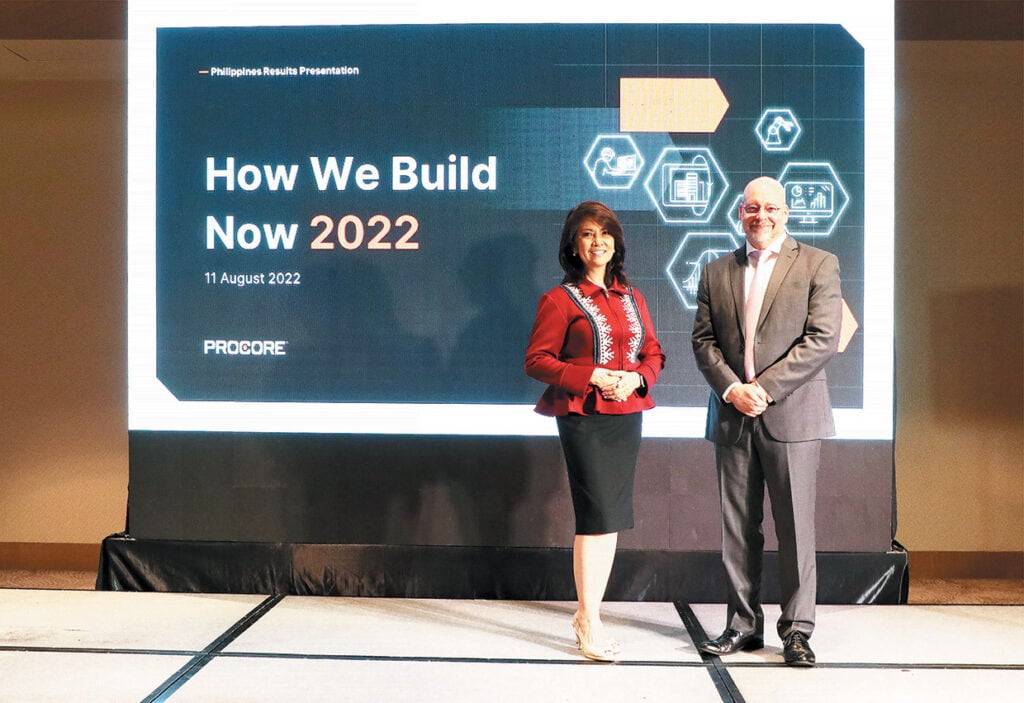 Technology as solution for challenges
Twenty-six percent of construction businesses are already on the digital-first basis, with 56 percent being 'well on the way' in their digital transformation journey; two-thirds of Filipino construction decision makers reported an increase in their digital investments during the last two years.
Further research from Procore also found that 55 percent of Filipino respondents recognize the benefits of construction technology.
But the journey to total digital transformation cannot be achieved without obstacles.
Procore found through further research that there are concerns about data security, and the cost of totally jumping to digitization.
"A key issue with construction technology lies with a history of it being built by tech people, not construction people. This creates a mismatch of expectations between what businesses want technology to do, and what it can actually do," said Bruce Wells, vice president of Procore Asia.
"As a cloud-based software provider created by construction professionals for construction professionals, Procore is rooted and solely dedicated to the advancement of the industry. Procore understands the pain points that the industry faces, and we build solutions to directly address them."
The Future of Construction Technology in Philippines
Across the Asia Pacific region, Procore's research found that the Philippines is a frontrunner on the "digital maturity curve" – with above average adoption rates for technologies from Internet of Things (IoT) to drones, telematics/asset-tracking to big data analytics.
Filipino construction decision makers expect technologies such as digital project management platforms, big data analytics and pre-fabrication, telematics/asset-tracking and traditional BIM, to drive changes in the next three years.