Federal Land Inc. is one of the country's biggest property developers, growing from a home builder to one that has built—and continues to do so—living spaces, retail establishments and communities that help Filipinos live their best life.
Thus, it is a company that has transformed the Philippine real estate landscape through timeless and unique developments.
Part of Dr. George S.K. Ty's conglomerate GT Capital Holdings, Inc., one of the biggest business groups in the Philippines, Federal Land was founded by the late Ty, one of the country's biggest visionary tycoons, 50 years ago.
Today, it is now under the able leadership of his son, Chairman Alfred V. Ty.
Fifty years on, Federal Land is certainly in a league of its own because the company is so much more than just a builder.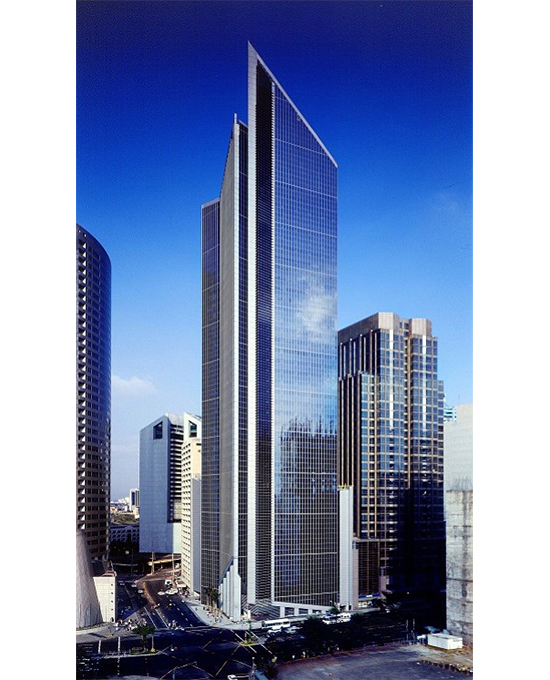 Love for Architecture
"Our late founder, Dr. George S.K. Ty's love for architecture has molded the company to expand its portfolio into delivering large-scale and quality developments," Chairman Ty said.
Indeed, the story of Federal Land traces its roots to Dr. George Ty's love for architecture and bold vision of creating a lasting legacy.
Fascinated indeed, by the magic of architecture as a means to address the shortage problem in housing, Dr. Ty took subjects on it back during his university days although he did not become a full-fledged architect.
Still, he never lost his love and a keen interest in the field and this showed in his companies—he was a hands-on tycoon not just in running his conglomerate but in designing some of the branches of banking giant Metropolitan Bank and Trust Co., and later on to every edifice and structure built by the Ty Group during his time. He was involved in the planning and how each space was used—taking into consideration form and function; elegance and efficiency, and interest and innovation.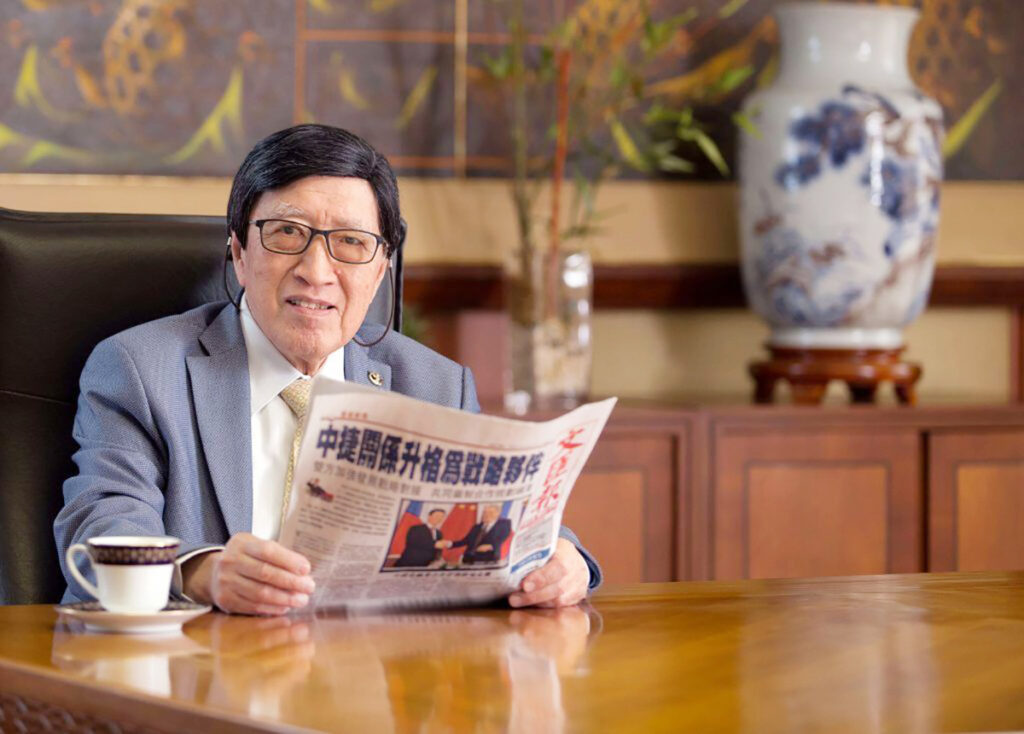 The testaments to this passion and love for architecture still stand. One will see it in the towering buildings and the different structures owned by GT Capital Holdings—from banks to homes.
Indeed, from designing bank branches, Dr. Ty moved on to sketching homes. He had a keen eye for good locations, and saw the potential of areas to redefine a certain landscape.
The Seeds of Federal Land
It was this which sowed the mighty seeds of the property development arm, Federal Land Inc.
Founded in 1972 as Federal Homes, Federal Land's first completed projects became Manila's first high-rise office and residential towers—Soler Tower, Tytana Plaza and Mandarin Mansion—built in Binondo, Manila, home of the Filipino-Chinese community and the financial district of colonial Manila. At the same time, Federal Homes built townhouses along Roxas Blvd. and United Nations Ave. with the Midtown Executive Townhomes built on the land where the house of Dr. Ty's parents used to stand.
After this, Federal Homes developed more notable high-rise buildings, the Escolta Towers, Skyland Plaza, Ylaya Mansion and Federal Towers.
These developments still stand and have made Federal Homes a known property developer.
Its next phase came in 2002 when Federal Homes changed its name to Federal Land Inc., signifying the company's growth – an expansion of its focus from just residential and office buildings to include commercial developments. It also signaled its inevitable entry into the big leagues of the property sector and position as one of the key revenue drivers of the George Ty group.
Federal Land is committed to creating nurturing communities at par with the rest of the world, and developments that make a difference in the lives of the people and the communities it operates. This is through its master brands Federal Land, which creates thoughtfully designed and innovative developments; Horizon Land, which creates quality and affordable family-friendly communities; and through strategic partnerships for landmark projects that cater to discerning individuals who seek finer things in life.
Bold Vision, Pioneering Spirit
This was a reflection of Dr. Ty's bold vision—he saw infinite possibilities where others saw none.
The rest, as they say, is history. This rare trait enabled Dr. Ty to build a conglomerate from scratch. It is now a listed holding company with investments in banking through Metrobank; automotive manufacturing and distribution through Toyota Motor Philippines Inc.; automotive financing through Toyota Financial Services Philippines Corp. and Sumisho Motor Finance Corp.; insurance through Philippine AXA Life Insurance Corp.; infrastructure through Metro Pacific Investments Corp.; and real estate development through Federal Land.
Federal, The Capital City
The property business took the name Federal, which means "capital city," embodying the company's mission of creating dynamic communities for the Filipino family.
Unity, harmony, and assembly are also what Federal Land aspires for and one will see this in every community that proudly bears its name.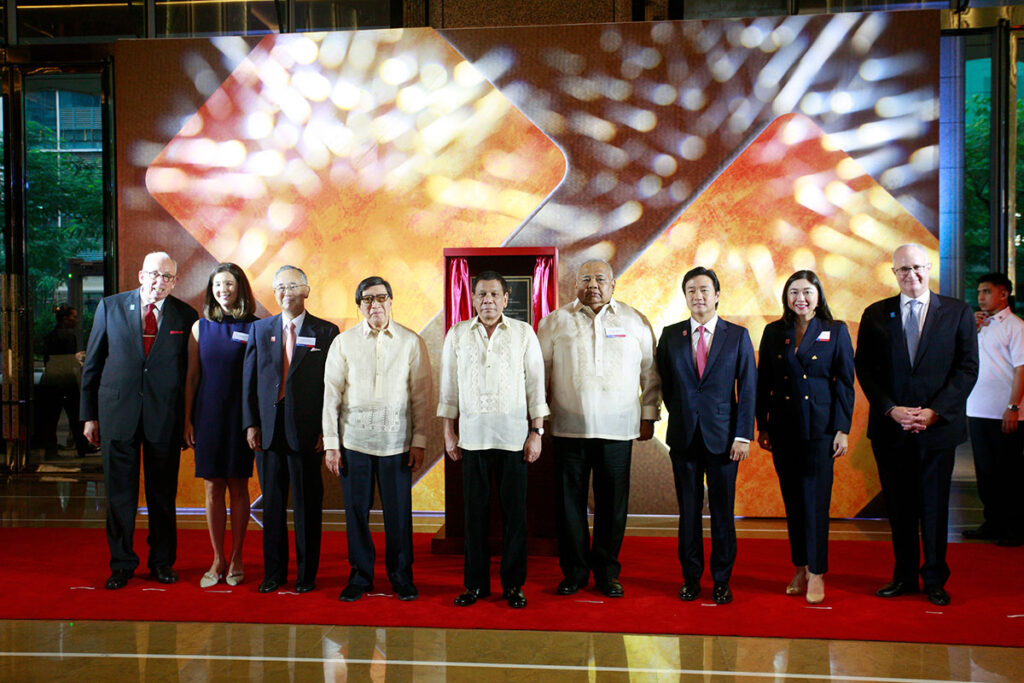 From its early beginnings in Binondo and Manila, Federal expanded to Makati, following the lead of Metrobank which had started putting up branches in what became the financial district of the country.
Thus, in the 1970s, Federal built the Metrobank Plaza headquarters, one of the first few tall buildings in Makati.
Then came the Metrobank building at the prime spot on the corner of Ayala and Buendia Ave., which housed the first headquarters of the Asian Development Bank.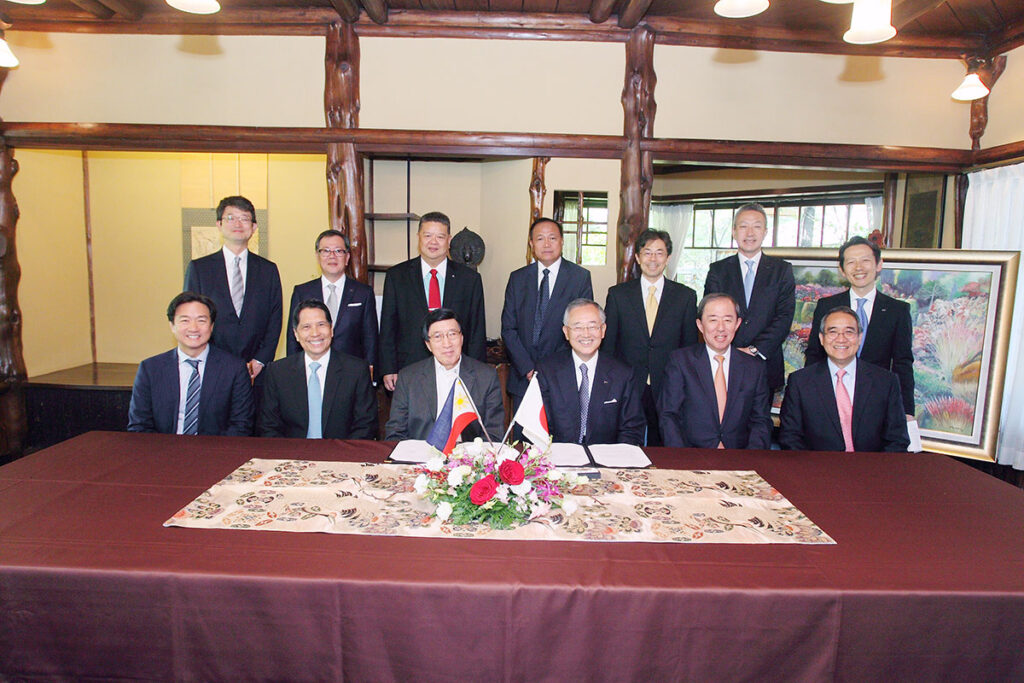 It has since been redeveloped into the distinctive, towering and glittering GT Tower International that has redefined the Makati skyline of today.
But Federal Homes is as much a home builder as it is a developer of buildings.
In 2002, as Federal Homes became Federal Land Inc., its focus expanded to commercial developments and nurturing communities—from just residential and office buildings.
This sealed the company's entry into the roster of the big leagues of the property sector and cemented its position as one of the key revenue drivers of the George Ty group.
Today, many of Metro Manila's towering landmarks are products of Federal Land.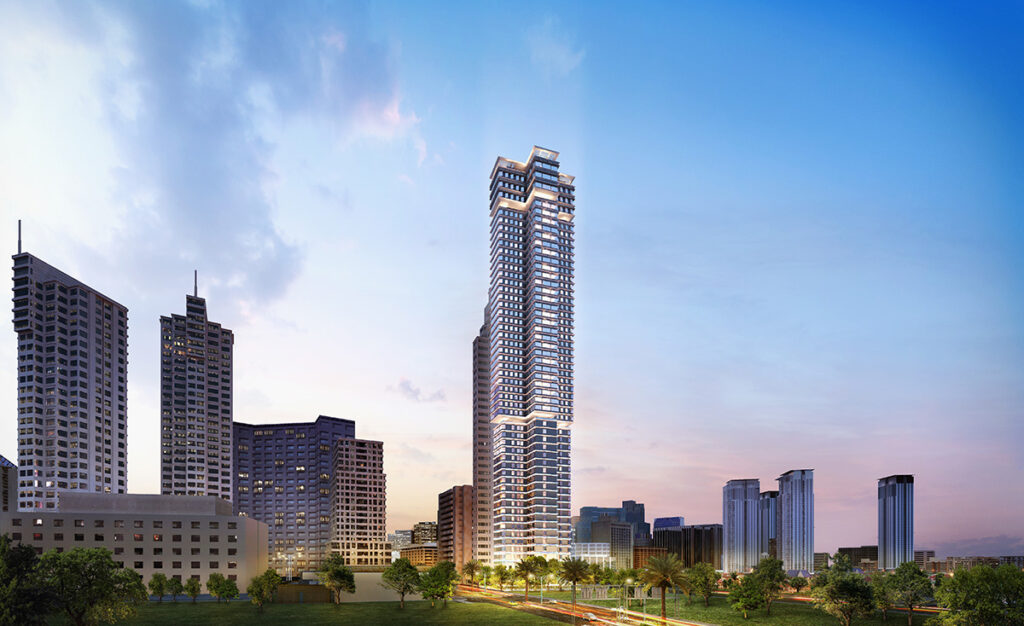 Federal Land partnered with integrated financial services group, ORIX Corp. to develop the two-tower luxury development Grand Hyatt Manila Residences. Federal Land is also part of the joint venture behind The Estate Makati, an ultra-luxurious residential tower.
The Estate Makati is a joint venture between Federal Land and SM Development Corporation and designed by the world-renowned Foster + Partners, again another first for the Philippines.
The upscale development is already rising in the upscale Apartment Ridge area and will also be the tallest building along Ayala Avenue. It is also among the few remaining and coveted Ayala Avenue addresses.
Energy and expertise
But Federal Land is more than just the number of buildings and homes it has built.
It is also about the time, energy, and expertise the company devotes to designing homes.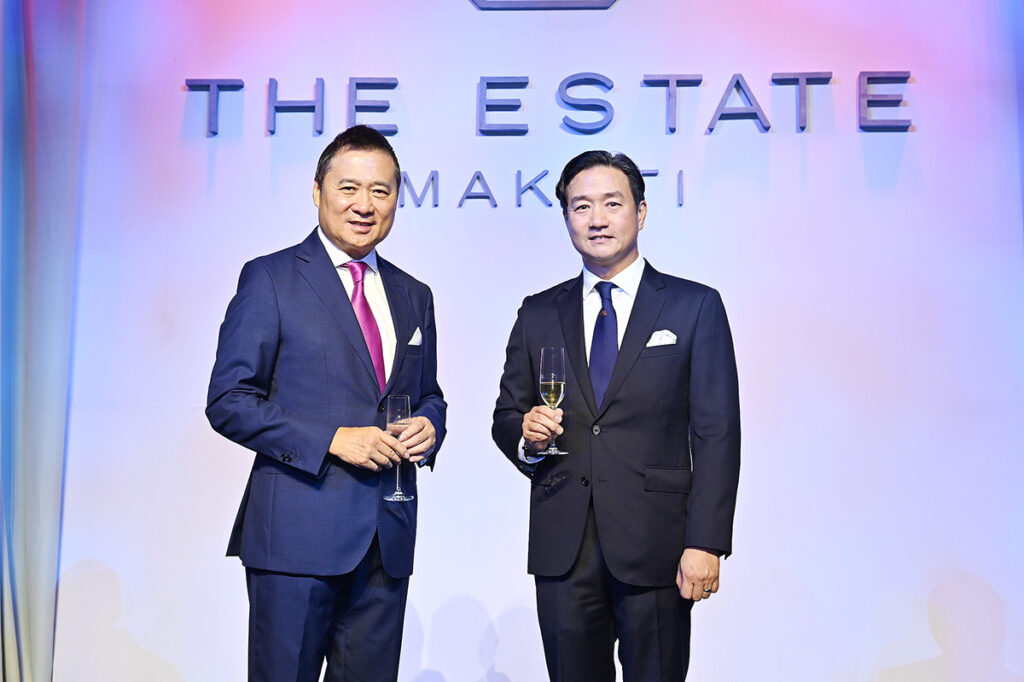 Federal Land takes design and structure as integral components in planning the project. It strives to strike the balance between remarkable architecture and innovative design as it creates modern-day structural icons that reflect the country's progress.
Structural integrity and strong engineering are the guiding forces behind each new development. From the time it lays the foundation of every home or tower, it harnesses technology and expertise to construct well-built spaces that adapt to people's changing lifestyles without compromising the standards of safety, durability and quality.
"We continuously develop as a company, learning to provide what our clients truly value. We make sure that we don't just make structures, we create spaces that elevate the lives of thousands of Filipinos. With careful master planning, we help build the nation's future, one development at a time," Chairman Ty said.
What makes Federal Land distinct is the company's commitment to designing homes that are remarkable, sensible, and tailored to the needs of its intended residents.
"Understanding the preferences of the market matters. We listen to what each generation of Filipinos need to give them a balanced life through the Federal Land communities we build," Federal Land President and Chief Operating Officer Thomas F. Mirasol said.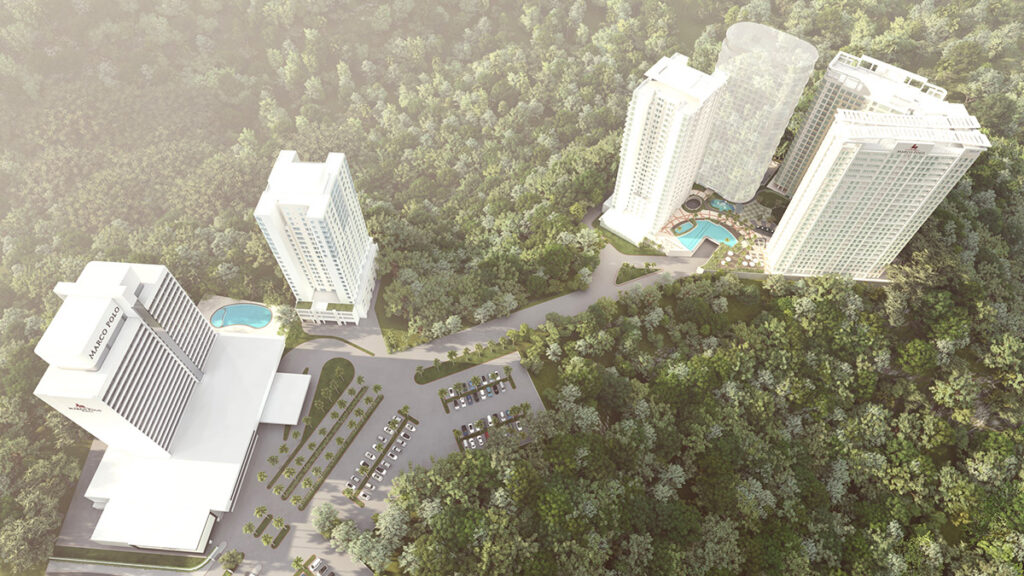 Federal Land was founded on a commitment to build communities that reflect the character of their location and the energy of the times. The Four Seasons Rivera, for example, is designed to meet the feng shui sensibilities of the Filipino-Chinese community in Binondo. Peninsula Garden Midtown Homes offers wide open spaces ideal for raising a family in the middle of Manila. The Quantum Residences in the university belt caters to young adults transitioning from students to professionals. Marco Polo Residences presents panoramic views of the sea, sky and city atop the hills of Cebu City. Mi Casa offers an island paradise vacation experience every day in Manila Bay Area. The Grand Midori Ortigas promises the calmness of Zen living amidst the bustling Ortigas Center. Grand Hyatt Manila Residences provides the utmost comfort and luxury for those with discerning tastes in Bonifacio Global City.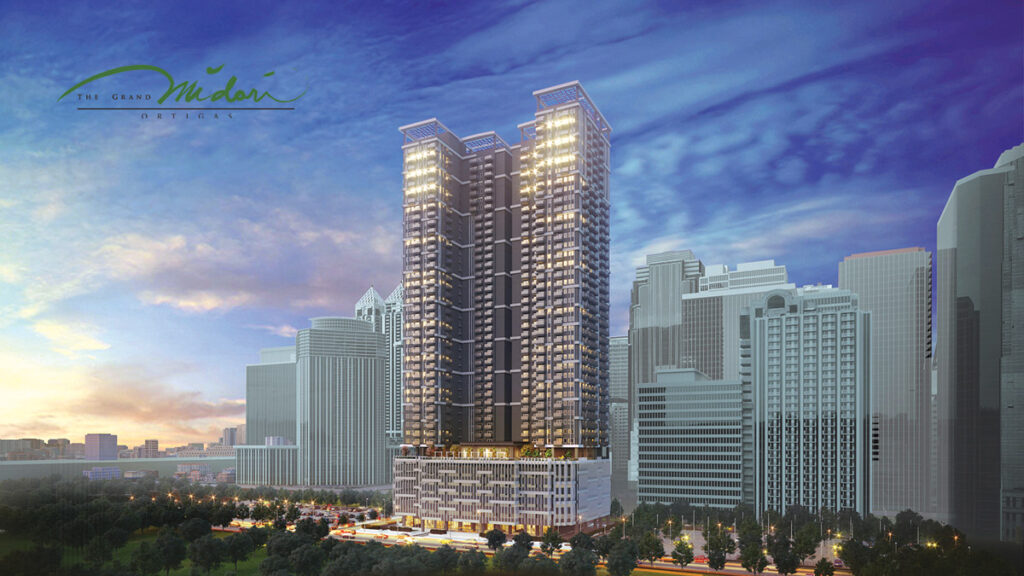 Aside from developing real estate projects, Federal Land ensures the welfare of its residents through its property management company. Federal Property Management Corp. (FPMC) is a subsidiary of Federal Land, Inc. that manages the fully-owned properties of Federal Land. FPMC is engaged in property management services including day-to-day building operations, building administration and maintenance, commercial areas maintenance and technical services.
Excellence in execution
Federal Land's track record of quality, reliability, and integrity did not go unnoticed, with the company receiving numerous accolades over the years. The latest among its achievements is the five stars citation of The Seasons Residences as Best Residential High-Rise Development in the Philippines by the International Property Awards Asia-Pacific.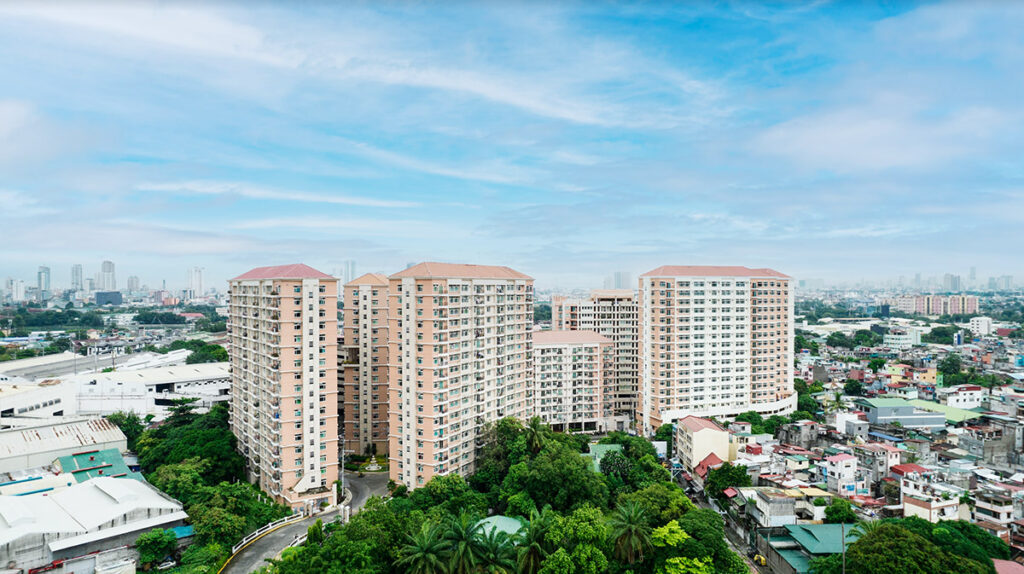 Other notable awards collected through the years are 2022 Award Winner for Best Residential High-Rise Development in the Philippines from International Property Awards Asia-Pacific for Grand Hyatt Manila Residences; 2022 Award Winner for Best Residential High-Rise Architecture in the Philippines from International Property Awards Asia-Pacific for The Grand Midori Ortigas; 2021 Highly Commendable for Best High End Condo Development from PropertyGuru Property Awards for Mi Casa; 2020 Top 10 Developers in the Philippines from BCI Asia for Federal Land; 2019 Gold Award for Outstanding Developer from Fédération Internationale des Administrateurs de Biens et Conseils lmmobiliers (FIABCI) for the Grand Hyatt Manila Residences; the 2019 Brand Leadership Award from CMO Asia; the 2018 Best Luxe Condo of the Year from The Outlook by Lamudi for the Grand Hyatt Manila Residences; the 2017 Gold Award for Outstanding Developer from Fédération Internationale des Administrateurs de Biens et Conseils lmmobiliers (FIABCI) for The Grand Midori Makati; and the 2007 Developer of the Year Award from Chamber of Real Estate and Builders Association (CREBA) for Marquinton Residences in Marikina.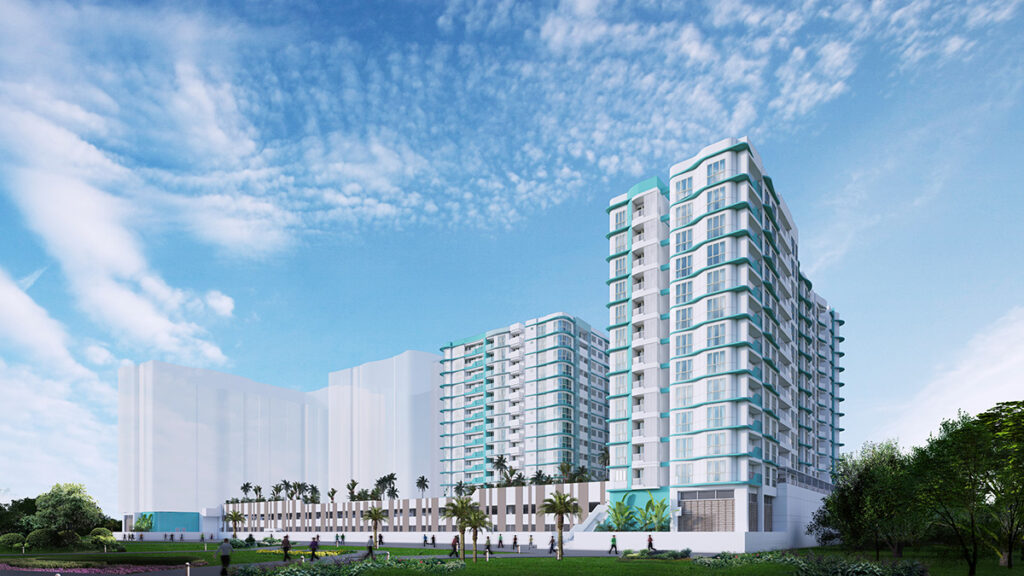 Partnerships with foreign giants
It's no surprise that it is the chosen partner of many foreign companies that opted to expand in the Philippines.
Federal Land has a long history of collaboration with leading companies here and abroad. This was born out of Dr. Ty's philosophy of partnering with trusted global firms to integrate world-class best practices into the local industry. Dr. Ty had always emphasized the four pillars of partnerships: mutual respect, mutual trust, fairness/transparency, and cooperation.
In 2012, for instance, Federal Land formed a joint venture with Orix Corp. for a mixed-use development at Bonifacio Global City which includes luxury, five-star hotel Grand Hyatt Manila and Grand Hyatt Manila Residences, the first residential tower to carry the esteemed Grand Hyatt distinction in Southeast Asia.
In turn, the development has also given rise to a partnership with the global hotel chain Grand Hyatt Hotels Worldwide.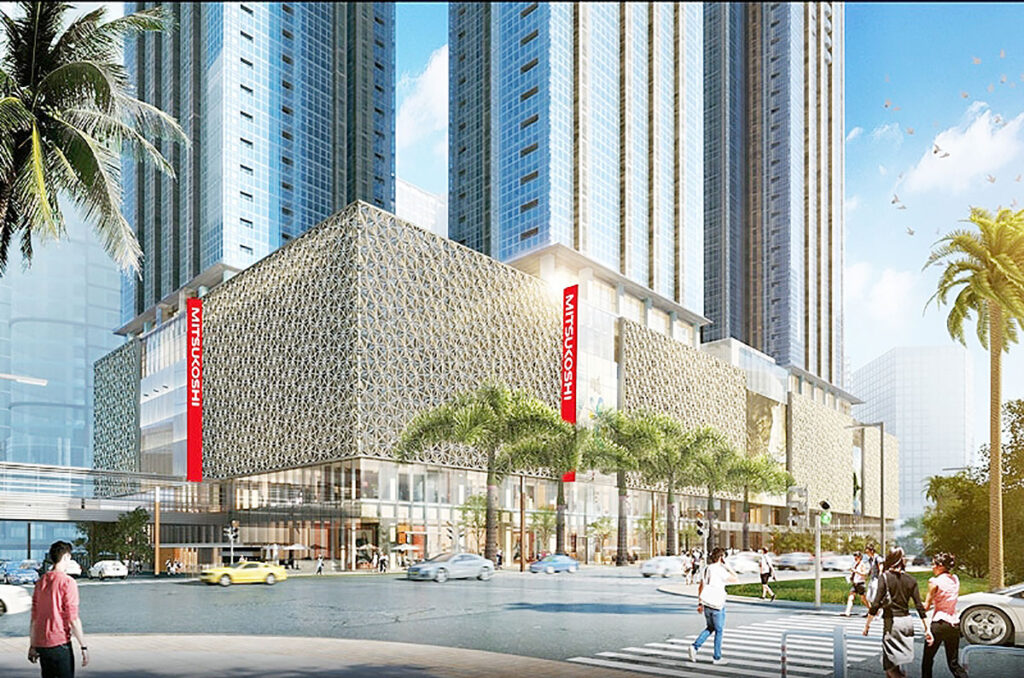 In the same development, Federal Land also promises to weave masterfully Japanese design and Filipinos' need for warmth and connection through the soon-to-rise The Seasons Residences, a four-tower flagship development that is a partnership between the company, Nomura Real Estate Development Co. and Isetan Mitsukoshi Holdings Ltd.
Unique to the four-tower high-rise condominium is the highly-anticipated MITSUKOSHI on the podium level. The first in the Philippines, MITSUKOSHI will provide the ultimate Japanese shopping experience through its carefully curated shops, signature supermarket, and Omotenashi, the renowned Japanese hospitality.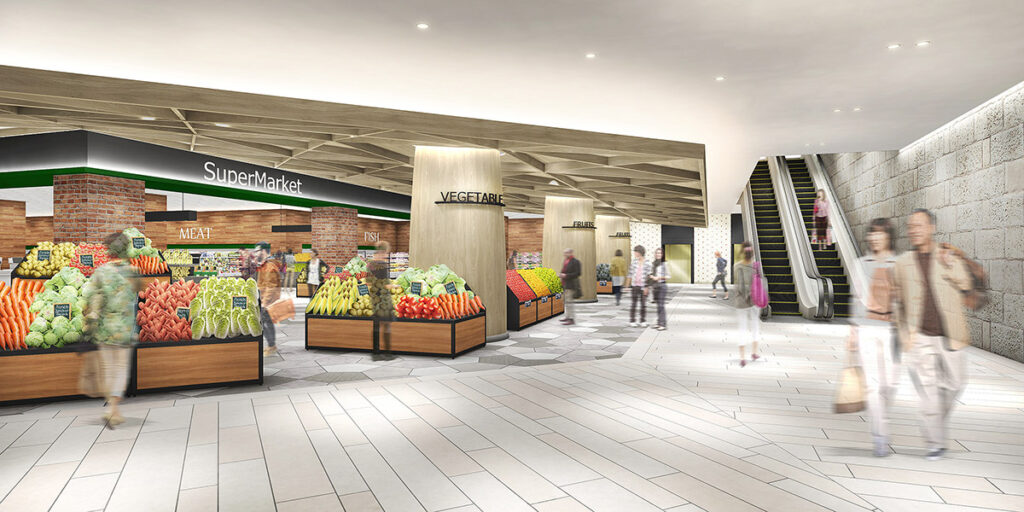 The Seasons Residences is rising alongside the towering and glittering Grand Hyatt Manila at the heart of Bonifacio Global City within Federal Land's 10-hectare master planned development, Grand Central Park.
Nikken Sekkei, the Tokyo-headquartered Japanese design firm, collaborated with Manila's CASAS+Architects for the overall conceptual design of The Seasons Residences.
The Grand Midori Ortigas is Federal Land's first foray into Ortigas center. The company engaged the services of renowned Japanese architecture firm Tange Associates as Design Consultant to ensure the infusion of Japanese aesthetics, technology, and innovation in its architecture.
Federal Land, along with its partner SM Development Corporation, also brings to the country the first Foster+Partners tower, The Estate Manila. The group designed The Estate Makati in a cruciform shape, infusing a unique combination of function and form to provide a discerning lifestyle for its residents.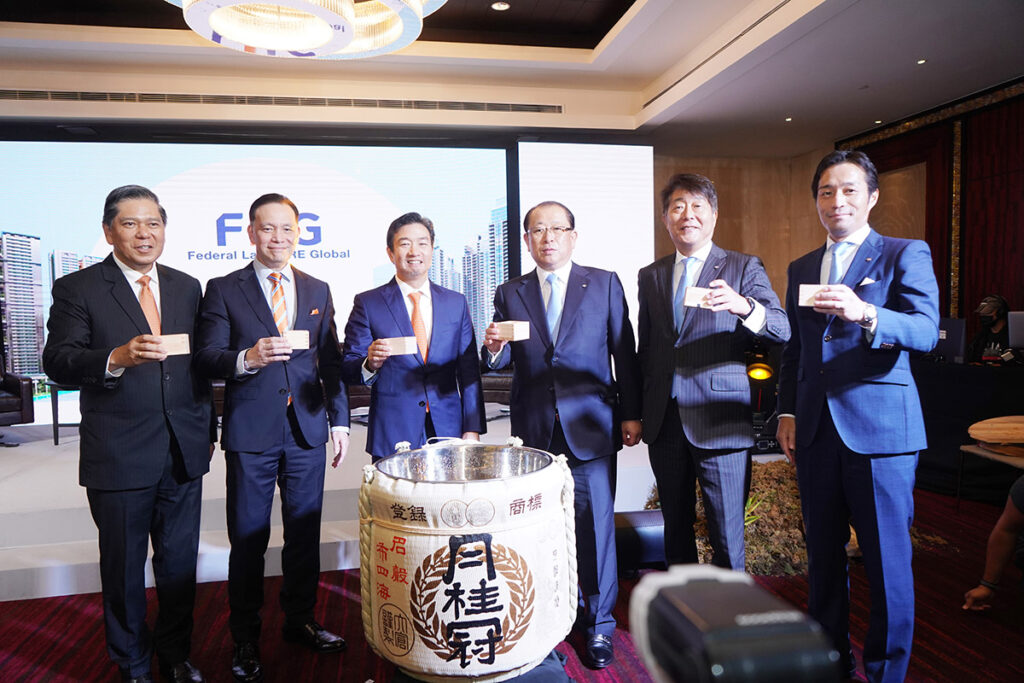 Marking a new chapter for Federal Land Inc. is its partnership with Tokyo-headquartered Nomura Real Estate Development Co., Ltd. (NRE) for a newly-formed joint venture, Federal Land NRE Global Inc. or FNG.
FNG is a perfect marriage of vision and values, said Federal Land chairman Alfred Ty.
"This is a perfect marriage of vision and values. We share a common long-term outlook, anchored on creating world-class developments that enrich the way people live. It's a true synergy wherein we raise each other's performance, whether in architecture, technology, construction, management, or most importantly, to the quality of service rendered to our customers," Ty said in a press conference on Aug. 9 announcing the partnership.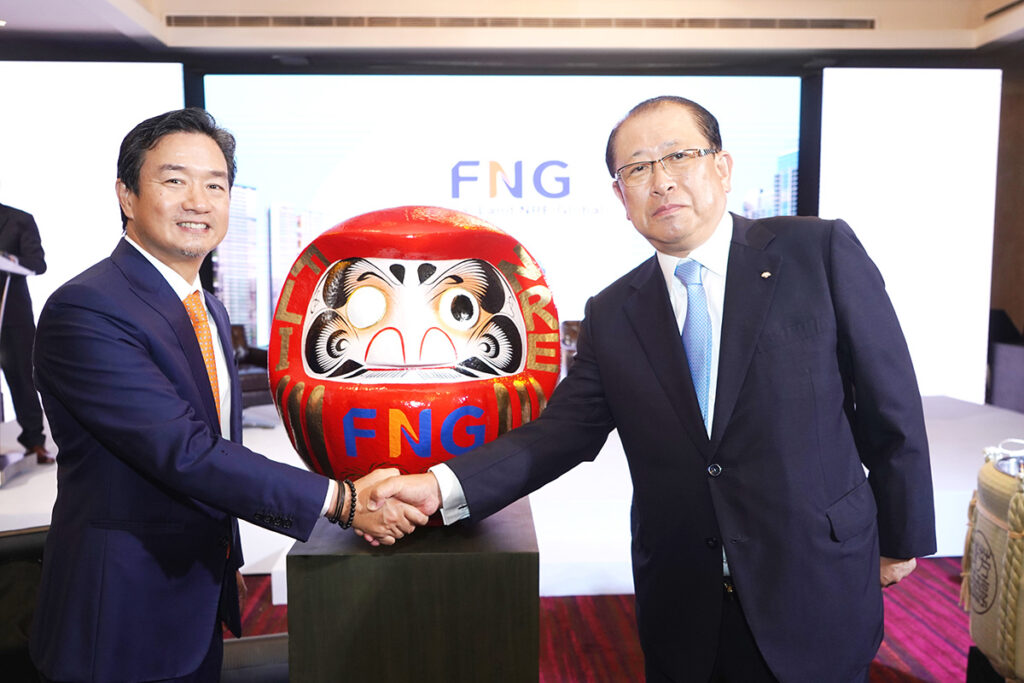 FNG will initially develop four areas of land development with a total area of about 250 hectares in Metro Manila, Cavite, and Cebu, comprising residential, office, and commercial facilities. The partnership aims to create 6,000 job opportunities within the first five years of operations, such as administrative, engineering, and construction-related roles.
NRE chair Eiji Kutsukake is beaming with excitement as he trumpets a fusion of local and international real estate experiences, outstanding business performance, and comprehensive expertise in all aspects of property development and management.
It's a "spirit of equal partnership," one that was never before seen.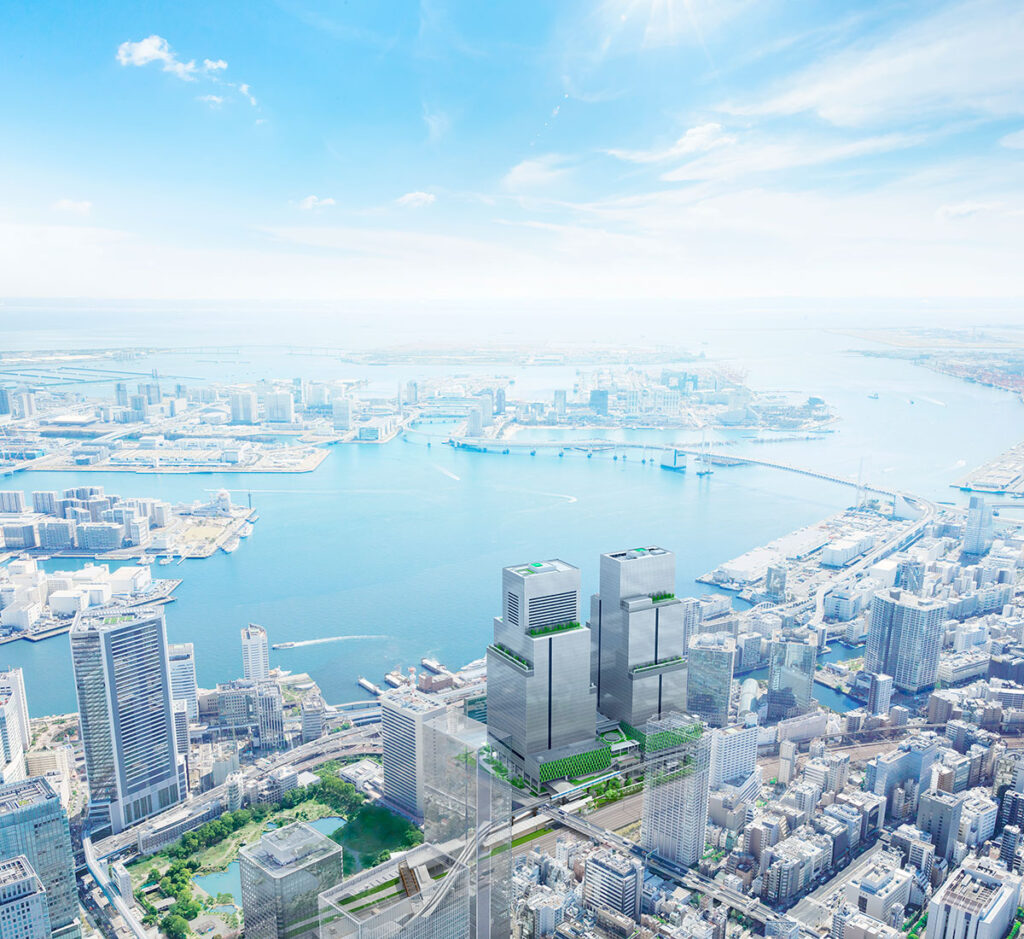 Indeed, the result is a company that would bring the best of Japanese innovation, technology, and design to the Philippines, combining it with Federal Land's knowledge of the market and a solid reputation for well-built and innovative properties.
There will be sprawling masterplanned communities in strategic locations, innovative features, sustainable solutions, and cutting-edge technologies that fit today's evolving and modernizing lifestyle, Ty said.
Federal Land president Thomas Mirasol said that through various discussions with the NRE Group, the partners agreed that it would be something big.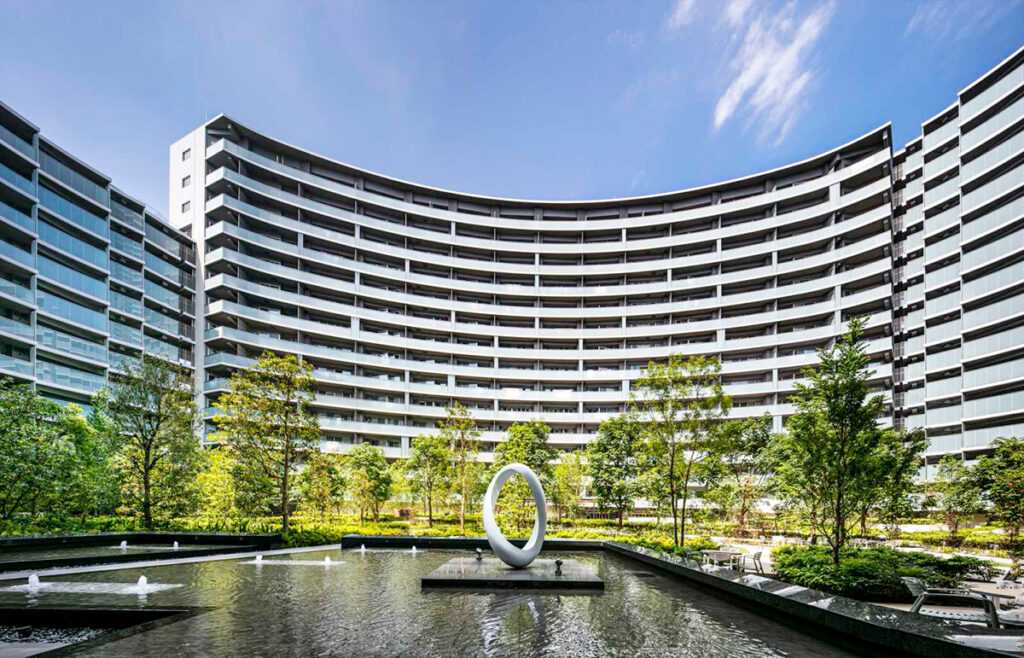 "It had to be lasting… As you can imagine, a joint venture of this scale requires expertise from various collaborators – designers, legal consultants, finance experts – and from two different countries… Countless hours, sleepless nights, and vital introspections were poured into this endeavor to turn this vision into a reality. This is how you know it's a fit – when teams come together with a united goal driven, and collaborative constitution: 'Never give up.
Thus, the next chapter of Federal Land's journey is indeed, FNG.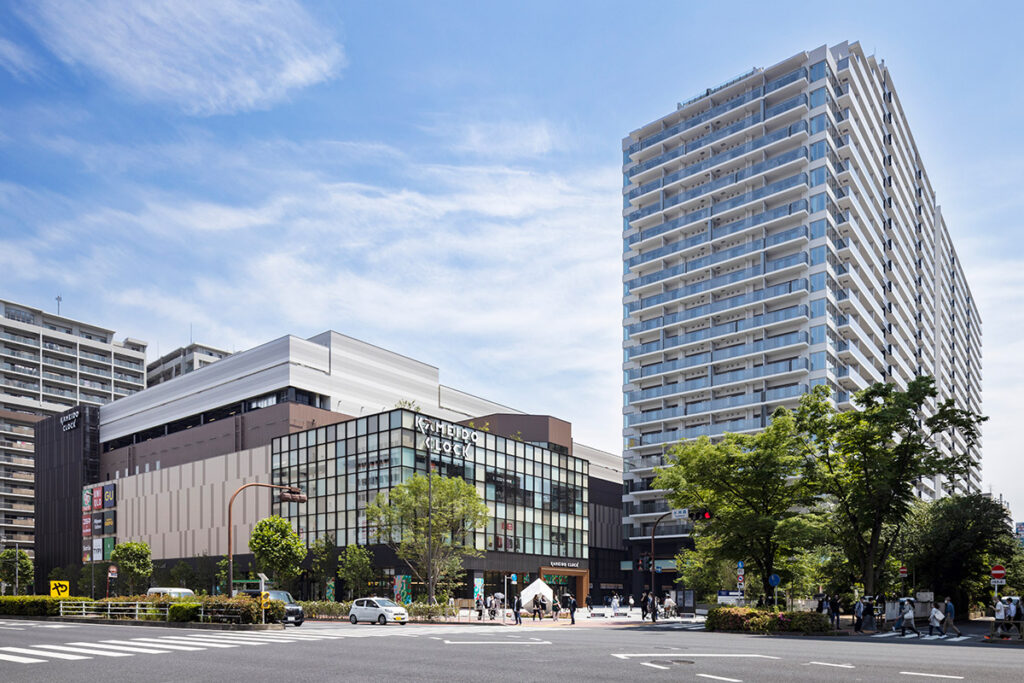 "FNG will allow us to do things we couldn't do alone. And so, we are thankful to the Nomura Real Estate Group for the belief, trust, and expertise.
Together, the horizon is limitless. This is just the beginning of plans we have made to realize in the next 30 years," Mirasol said.
At the end of the signing ceremony, held at the glittering Grand Hyatt Manila's Grand Salon, chairman Ty and chairman Kutsukake jointly painted a Japanese daruma doll.
The daruma doll represents perseverance and a constant reminder of what the Japanese call the ganbaru spirit or the ability to persevere.
The daruma doll signing is conducted to wish success for the business, in Japanese business custom.
Indeed, just like the daruma doll, FNG is determined to reach greater heights with the joint venture partners' shared values, commitment, passion and decades of experience.
Way forward
Today, 50 years on, Federal Land continues to shine; its towering buildings and five-star hotels glisten like diamonds under the Metro Manila afternoon sun.
It is a golden legacy indeed, coming from its humble beginnings in Binondo, Manila.
From a simple dream to build homes with Dr. Ty's passion for architecture, Federal Land has become a tried and tested developer that designs, builds and delivers, be it a residential, office, retail, or tourism development.
It is not about to stop, despite today's challenging times, because it is already an inextricable part of the Philippines' fascinating and ever-evolving growth story.
And perhaps, because, as it is with every good story, the best is yet to come.